Eau-de-Wheeeeeeee!
Westford Hill Distillers, Ashford
June 2013
Westford Hill is internationally renowned and yet it's fairly likely you've never heard of them.
Westford Hill is on Chatey Road in Ashford and is owned and operated by Louis and Margaret Chatey and I'm pretty sure you don't live on a road named after your family.
Westford Hill sells its 200 mL bottles of booze for $25-$35 because they can. And because they should.
Westford Hill sells a special bottle of Poire Prisonniere ("Prisoner Pear" you heathens) eau-de-vie for $75 if you're lucky. Because they can.
What is Poire Prisonniere What is eau-de-vie? What is the plural of eau-de-vie? (it's eaux-de-vie because it's like "mothers-in-law" or runs batted in which is why you are a terrible person if you say RBI's.) Anyway, where was I? Oh yeah, What's Westford Hill and how are they doing what they do up in Ashford and why don't you know about them?
Because they are up in Ashford. Duh.
Today, in 2016, they are only open by appointment and on special open house days. In 2017, at some point, they will have a tasting area and have visiting hours. We visited on a special open house day in 2013.
Yeah that's right. I brought my kids (and my wife).
But back then, Connecticut law didn't allow for tastings at distilleries so all they had on offer were delicious snacks and they were very welcoming to children. Once they have tastings and such, perhaps not so much… but the owners Louis and Margaret Chatey were super nice during our visit. And my sons are angels.
Angels I tells ya.
As I was saying, Westford Hill is building out a tasting room that should be open to the public sometime in 2017. And as they're part of the new (2016) Connecticut Spirits Trail, I envision them getting more much deserved notoriety and respect.
I must admit that eaux-de-vie aren't exactly my favorite things to drink in the universe. But I've come to appreciate what goes into distilling high quality brandies and know that the Westford process is no joke. And Westford Hill does all of their distilling (and barreling) in Ashford.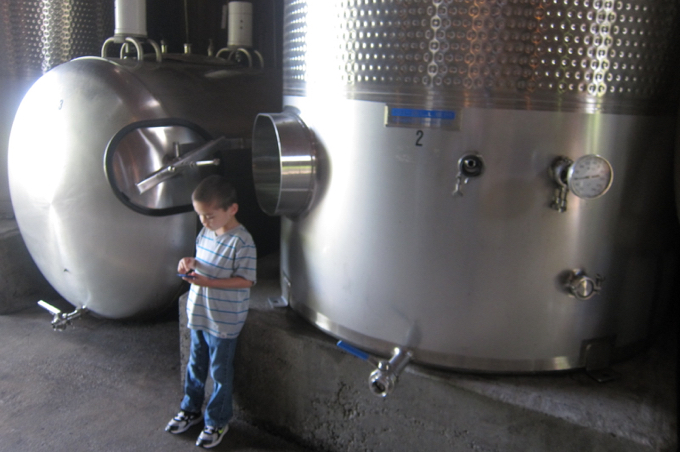 They use whole fruit and say they inspect each one for quality. They want perfect fruit at the peak of ripeness for the most sugar content. They mash the fruit that needs to be mashed (pears and apples) or simply use the whole fruit (cherries or berries), dump them into stainless steel vats, throw in some wine yeast to let it all ferment for a few weeks. Then they distill it, collecting only the "hearts" of the distillate – the cleanest, clearest portion.
The water of life!
This stuff is like 70% alcohol at this point in the process, which is a bit much. The brandy – and this is a type of brandy – rests in glass for a year before the final process; adding spring water to lower the proof. And voila! Your eau-de-vie is ready!
If only it were as simple in practice as it is on paper. One 200-milliliter bottle of kirsch requires five pounds of cherries. These types of brandies require a TON of fruit, which is good for local fruit growers. Westford Hill has been licensed since 1998 and has quietly been making these sort of elite elixers for quite a long time. They know what they're doing.
Margaret Chatey says:
Eau-de vie means "water of life." It is neither wine nor liqueur. It is fruit brandy, the clear, distilled natural essence of fresh fruit, captured in a bottle and unleashed in a single sip. Serve slightly chilled or at room temperature. Savor between courses, with dessert or after dinner. Try it in a martini or with your favorite mixer. And eau-dovie is always an intriguing gift alternative to wine. Enjoy!
And that's the whole thing with eaux-de-vie. People who love them will tell you that they capture the "essence of fresh fruit" and that they are pure and clean and beautiful. As I've said, I've not yet reached the palate-level: Elite and haven't yet come to appreciate the subtleties of eau-de-vie.
Westford Hill makes several eaux-de-vie: Framboise (raspberry) which uses two pounds of berries to yield a single ounce of spirits. That's pretty bonkers – and it's why Westford Hill is one of the best in the business. Pear William made with Connecticut-grown Bartlett pears. Kirsch (cherry) made from New York cherries – five pounds of them per 200 mL bottle. And Fraise (strawberry) which Jacques Pepin apparently loves.
But there's more. Westford Hill makes the aforementioned Poire Prisonniere. This is sold in heart-shaped bottles (750ml) with full-size Bartlett pears grown inside, and preserved in the distillery's award-winning Pear William eau-de-vie. Holmberg Orchards in Ledyard does this for Westford Hill.
As you can imagine this isn't an easy process.
I don't wish to give the impression that Westford Hill is overpriced. I want to make you understand that their stuff is super high-quality and the prices are justified.
They do more than their own eaux-de-vie. They make a a vodka called Rime Vodka and an aged apple brandy that spends time in barrels, but they also do some contract work. I'm not sure how it all works or which brands are made there when you read this, but Cape Moonshine was one (I think they're out of business), and Peel Liqueur is another. Peel makes a "Bananacello" so now you know where to get all your banana infused cream liqueur needs.
Also, and I'm not sure they're still doing this one but I hope they are, Westford had an exclusive contract with Subarashii Kudamono. And I don't have to tell you how awesome Subarashii Kudamono is.
Subarashii Kudamono grows Asian pears in the US. The best Asian pears grown in the US. And I love Asian pears. When we visited, I was told a whole story about the exclusivity of Subarashii Kudamono and how the pears from their Pennsylvania orchard are sought out around the world and the fact that Westford Hill did an eau-de-via with/for them was a big, big deal.
As in, people around the world took note of this relationship (which began in 2007) and Westford gained from it. Sorry, I don't remember the details, but I did buy a bottle of it – for $35, not $76.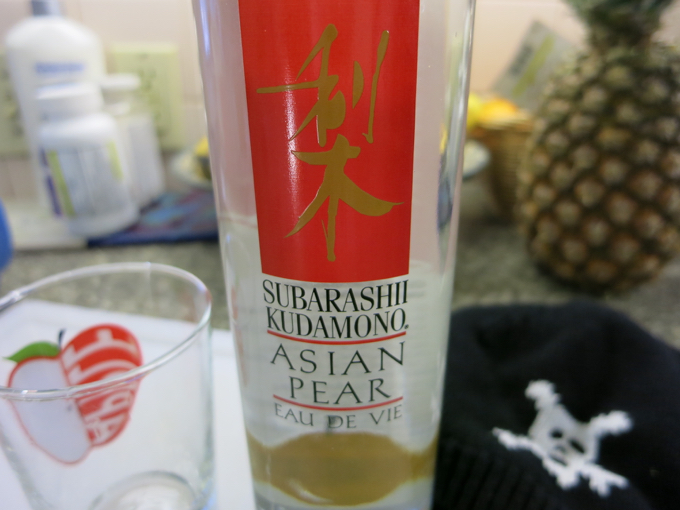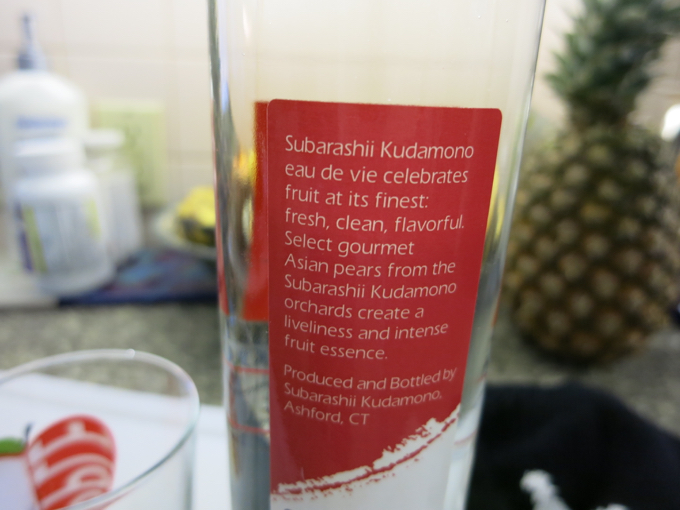 I liked it more than the other eaux-de-vie I've had; it was perhaps a little sweeter than the other varieties, I'm not sure.
I learned a lot at Westford Hill and I love that they are Connecticut's longest running distillery (by, like, two decades) AND that they are beloved by fans around the globe and yet, they remain humble and tiny up in Ashford. I'm excited for them to expand and build out a tasting area.
I'm guessing that new tasting room will be over this asphalt pad that was off the back of the barn. Sorry, Calvin, your dancefloor is closing.

Westford Hill Distillers
CTMQ's Distilleries