CONNECT(icut)
Plymouth/Thomaston/Watertown, 1.6 miles
March 2009
This trail has been discontinued.
There's no need for this post. Really. It's a nice connector trail to have available, as one can hook up from the Jericho to the Mattatuck and continue west or east. It's just not necessary for me to bother writing it up. Just look at this picture. It's of nothing. Really.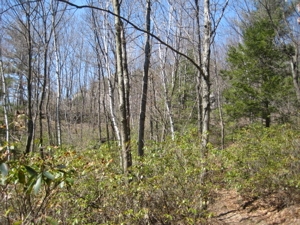 It connects to the Whitestone Cliffs Trail to the east, follows an old woods road down the hill to Route 262, follows the bank of the Naugatuck River, crosses the bridge, passes underneath Route 8, and then enters the woods to ascend a hill, finally connecting with the Jericho Trail.
But here's the thing: For people like me that want to hike the whole Jericho Trail, this connector chops off the last half mile or so. And that's just not going to happen. (Well, it did happen, but then I still walked that mile of the Jericho.)
The walk along the river is nice I suppose and the official CFPA sign probably contains the most characters of any CFPA trail name. So there's that.

Waterbury Area Trails Intro
CFPA Map