Wyndham Land Trust
Brooklyn, Eastford, Killingly, Plainfield, Pomfret, Putnam, Thompson, Woodstock
Hm. The Wyndham Land Trust ostensibly covers the town of Windham, but has no property there. In fact, according to this map, they've commandeered the entire northeast corner of the state. (Also known as Windham County, of course.)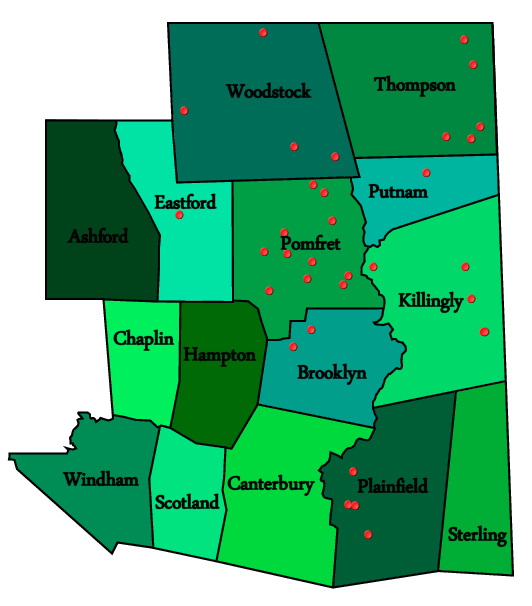 And good for them. Of course, they're "competing" with several other fine organizations that have the same mission in the Quiet Corner. The more the merrier I guess. I was surprised to learn that this land trust is almost as old as I am.
The Wyndham Land Trust is working hard to protect land in the Quiet Corner of Northeast Connecticut. The land trust was incorporated in April 1975, and the first parcel was protected in 1977. Today we have acquired over 50 parcels in ten towns totaling over 3000 acres. In addition almost 700 acres are protected through conservation easements or restrictions held by the land trust.

Birds sing and breed in the grassland meadows, swamps, and woods that we protect. Amphibians breed in our vernal pools, and wildflowers and native plants flourish on protected trust land. Land has been acquired through generous donations from people that wanted to leave a legacy of open space for future generations. Land has also been acquired through hours and hours of hard work from volunteers that believe in the mission of the land trust and believe in protecting this corner of the planet we call home. We invite you to join the land trust and share our goal of protecting land in Wyndham County. Our work is urgent.

The Preserves/Hikes:
If linked, I've hiked it.
Brooklyn
Booth Preserve
Killingly
Dunn Preserve
Yosemite Valley Preserve
Plainfield
Fitz Preserve
Tallinghast Preserve
Pomfret
Aicher Preserve
Bosworth/Butts Preserve
Buttner Preserve
Duck Marsh Preserve
Holzer Preserve
Lyon Preserve
Tucker Preserve
Valentine Preserve
Wright Preserve
Thompson
LeClair Preserve
Robbins Preserve
Tamler Preserve
Woodstock
Harvey Preserve
Hauser Preserve
Little River Greenway
Rapoport/Spalding Preserve
Rocky Hill Refuge

CTMQ's Land Trust Trails Page