Spicey!
Spicebush Swamp, West Hartford
Here's something many West Hartford residents don't know: Spicebush Swamp, a couple miles south of it down Mountain Road, is actually somehow also part of Westmoor Park. This little piece of land is really sort of lame. There is a nice little pond there which is open for fishing only to kids under 16 which is a nice concept. But the trails behind the pond are really poor and just INFESTED with mosquitos during mosquito season.
Also, this place (being a swamp) floods every time it rains more than a drizzle. It's always muddy and soggy and, well, like I said – it's just not a fun place to spend too much time in my opinion.
I walked as much of this place as I could; taking every trail I found until it petered out. I got bitten by mosquitos for the cause. But really, Spicebush Swamp exists for the fishing pond and for the parking lot for cops to hangout and catch speeders.
Beyond that? Don't bother.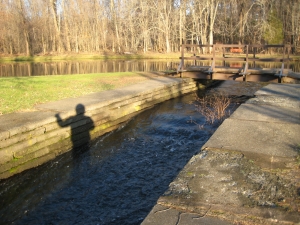 CTMQ's West Hartford Town Trails
CTMQ's visits to Westmoor Park
CTMQ's hikes at Westmoor Park