Priam and Proper
Priam Vineyards, Colchester
October 18, 2008
After two stops at South Glastonbury sites, Damian was being so good we decided to continue down Route 2 and press our luck. (As you can imagine, I always have a contingency and/or extra side trip plan in my back pocket on all of our adventures.) Priam Vineyards is easy to find, only a couple minutes off of Route 2 – somewhat of a rarity on the Connecticut Wine Trail.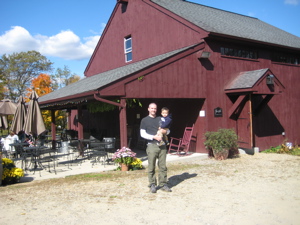 Their rutted dirt and stone driveway, unfortunately, is not. These people are rather well-to-do and their wineries and nearby homes are always super nice. Why can't any of them seem to be able to pave their driveways? Wah.
Update: This has since been remedied.
We entered the tasting room and were greeted warmly. Damian asked to be set down to wander around. Here are some snippets from the Priam website:
The seasonally beautiful surroundings offer a number of outdoor activities throughout all seasons. Mohegan Sun Casino, Moodus Resort Area, the Goodspeed Opera House, the Spa at Norwich Inn, the Mystic Seaport, a number of state parks, including the Airline Hiking Trail are just minutes away. It's a wonderful weekend destination for the entire family.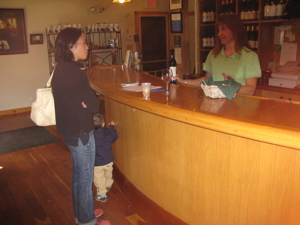 Not to nitpick, but Mohegan Sun is about 35 minutes away with minimal traffic and the Moodus Resort area has closed. But if you're located in Colchester, I suppose you need to stretch it.
2018 Update: The above blurb from Priam's website STILL says this. It has been over a decade now since the last of the Moodus resorts closed.
2020 Update: These things seem to have finally been removed.
The beautiful surroundings of the area offer a number of outdoor activities from hiking, fishing, canoeing and golf, to horse-back riding and cross-country skiing. Priam Vineyards' 40 acre farm has 24 acres of grapes in production, with a breathtaking 35 mile view of the New England countryside. We benefit from the unique microclimate of the hills of New London County, just 15 miles from Long Island Sound.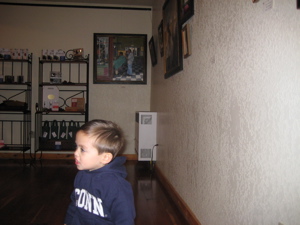 Sheesh, I enjoyed my first visit to Priam, but they need to lay off the product. The closest point of the Sound as a crow flies is still 25 miles away. I'll write them a letter.
Priam grows classic European varietals: Cabernet Franc, Cabernet Sauvignon, Gewurztraminer, Chardonnay, Riesling, Muscat and Merlot as well as French-American hybrids: Cayuga and St. Croix. The rich gravelly soil mimics that of Graves, France. Our climate is very similar to the Alsation region of Northern France and Germany. This combination along with the sloping hillside and constant breeze provide the perfect climate for these varietals. We are only an hour away from Graves, France.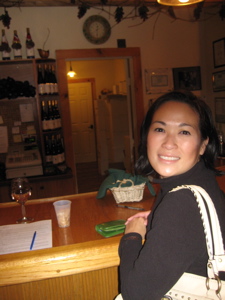 Okay, I added that last sentence myself. The tasting room is pretty cool in that it displays the works of local artists. I don't think we've seen that in our other vineyard visits up to this point. Damian enjoyed the one of the woman (tastefully) taking a bath, pointing at it and saying, "Ba! Ba!" for "Bath." The boy loves his baths.
2018 Update: Yeah, I know. About half of the wineries in our state display local artists. But that joke about Graves, France just made me laugh 10 years after I wrote it. So there.
Hoang did most of the tasting as I was busy corralling Damian. He was having fun walking amongst the legs of random other tasters and then found his way back into the area where the women were pouring the wine. There were about 100 wine glasses for him to break, but he sort of stood staring at them until I fetched him, mesmerized perhaps by the damage he could wreak.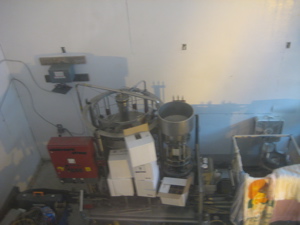 Priam Vineyards was founded in 1998 by Gloria Priam and Gary Crump. They merely wanted to make their own wine, but upon tasting it, they realized it was good enough to charge people $18.50 per bottle and a business was born. To the actual wine!
My memory is that we were only given 4 glasses for the $6.00, which is less than usual. (We did get the glass, though, which is nice. My recall is also a bit fuzzy… If we wanted, we could have dropped another dollar to taste some others (each.) Or 50 cents to have some chocolate.
Anyway, the Riesling (a wine I typically hate) was not sweet at all and we were told that was because the grapes were picked before they froze. It still wasn't great. The Cayuga was decent and the Chardonnay blend (Salmon River White) was too oakey for us. The red we tried was fairly good, though.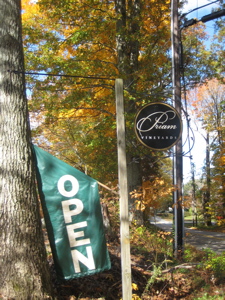 Priam also has seasonal farmer's markets and local cheeses for sale at certain times. They have food events and a large, very nice patio for dining and such as well.
As I lightly edit this page in 2018, I read on their site that Priam is now "a completely solar-powered winery and sustainable vineyard," which is cool. We visited Priam a few more times after this 2008 visit and it just never stuck with me as one of the better wineries. I go to Cato Corner Farm mere minutes away a couple times per year, but haven't made the effort to get back over to Priam.
I guess that says enough.
2020: No it doesn't. Priam is totally different now from when I wrote this page. For one thing, Gary Crump from Priam left and opened Chateau Le Gari' down route 2 in Marlborough. He's been completely ghosted from the Priam site. They had a kitchen for a while, but that didn't seem to work out, so now they partner with Gourmet Galley to cater. They've also moved into being a wedding facility as much as a winery. And good for them.

Priam Vineyards
CTMQ's Visits to Connecticut Wineries