Whining
Connecticut Wineries and Meaderies
Skip down to The Wineries
Skip down to The Meaderies
Skip down to The Wine-Like Cideries
The Connecticut Wine Trail adopted a new slogan in 2012: "Taste the Adventure!" This didn't particularly strike me as the best possible choice, so I asked a few people for their reaction to it. My wife Hoang replied, "It's telling me to lick a mountain." Delicious.
The Connecticut Farm Wine Development Council promotes and runs the annual Passport program which is one of the best things to do in the state. We started completing passports in 2008 when the number of required visits was 10. By 2011, that number had jumped to a still-manageable 16. In 2019, to qualify for the incredible grand prizes, you must visit and be stamped by 35 wineries.
(Note: you can win an awesome trip to Spain. For breweries, you need 50 stamps to win a trip to… a brewfest in a warehouse in Wallingford, CT.)
Sure, you can walk into the tasting rooms and ask for a stamp and leave if that's your style. I was never able to bring myself to do that back when we were completing this thing every year though.
There are around 40 wineries that participate in the Passport program but fewer on the official Connecticut Wine Trail. The Trail is a state thing that has requirements about longevity and production volume whereas the Passport simply includes all the viable commercial wineries who wish to participate. Or something.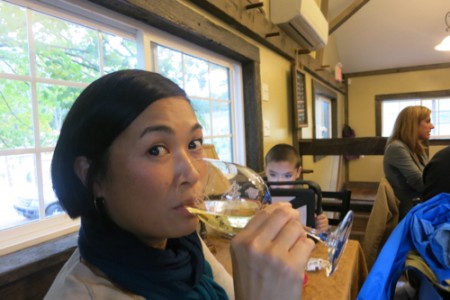 Over the years, I've had a few things to say about our wineries. The state has as well, busting a bunch of them for using a higher percentage of non-Connecticut grapes than is allowed by law. Not that anything actually happened to them by way of a punishment. The number of wineries has grown since I began following it, but it has been far-surpassed by Connecticut breweries.
Yet, most of our wineries are pretty, whereas the vast majority of breweries are not. The wineries are often located on hillsides or along river valleys down backroads in pastoral settings, in large, modern buildings built by wealthy retirees. That alone makes many worth visiting; the chance to escape a bit and just enjoy an afternoon.
Most of my visits linked below were at more than a decade ago, so please forgive any youthful exuberance and/or terrible pictures. (But I do keep up with an accurate listing.) Cheers!
Connecticut's Wineries
Links take you to my visits
Bethlehem Vineyard, Bethlehem
Maywood Gardens Winery, Bridgewater (Private estate)
Digrazia Vineyards, Brookfield
Chamard Vineyard, Clinton
Priam Vineyard, Colchester
Heartstone Farm & Winery, Columbia
Cassidy Hill Vineyard, Coventry
Shelter Rock Winery, Danbury
Staehly Farm Winery, East Haddam
R Dee Winery, Enfield
Brignole Vineyards, East Granby
Arrowhead Acres Winery, Franklin
Crystal Ridge Winery, Glastonbury
Joseph Preli Farm Winery, Glastonbury
Miranda Vineyard, Goshen
Sunset Meadow Vineyard, Goshen
Lost Acres Vineyard, Granby
Bishops Orchards Winery, Guilford
Gio Valley Vineyards (Not open to the public)
Southern Connecticut Wine Company, Killingworth
Lebanon Green Vineyards, Lebanon
Holmberg Orchards, Ledyard
Maugle Sierra Vineyards, Ledyard
Haight-Brown Vineyard, Litchfield
Sunset Hill Vineyard, Lyme
Chateau Le' Gari', Marlborough
Connecticut Valley Winery, New Hartford
Jerram Winery, New Hartford
Aquila's Nest Vineyards, Newtown
Rosabianca Vineyards, North Branford
Rose Vineyards and Winery, North Branford (Not yet open)
Land of Nod Winery, North Canaan
Coppola Wine Enterprises, North Haven
Jonathan Edwards Winery, North Stonington
Sharpe Hill Vineyard, Pomfret
Arrigoni Vineyard, Portland
Dalice Elizabeth Winery, Preston
Preston Ridge Vineyard, Preston
Umpawaug Farm Winery, Redding
The Vineyard at Hilly Land, Scotland
Jones Winery, Shelton
White Silo Winery, Sherman
Rosedale Vineyard, Simsbury
Blue Heron Vineyard at Foster Farm, South Windsor (not yet open)
Saltwater Farms Vineyard, Stonington
Stonington Vineyards, Stonington
Gouveia Vineyard, Wallingford
Paradise Hills Vineyard, Wallingford
Hopkins Vineyard, Warren
Spring Hill Vineyards, Washington
Hawk Ridge Winery, Watertown
Savino Vineyards, Woodbridge
Black Lion Vineyard, Woodbury (Probably not opening)
Walker Road Vineyard, Woodbury
Taylor Brook Winery, Woodstock
Closed Wineries (since 2008)
Heritage Trail Vineyards, Lisbon, November 2008 – (Closed 2012)
North Winds Vineyard, Watertown, July 2010 (Closed 2013)
McLaughlin Vineyards, Newtown, November 2008 (Closed 2016)
Fitch Claremont Vineyard B&B, Bozrah (Closed 2020)

Meaderies
Dragonfire Meadery, Coventry (Not yet open)
Nordic Moon Meadery, Ellington
Bergen House, Middletown (Not yet open)
Mad Moose Maed, South Windsor (Not yet open)
Barrett's Legacy Mead, Sprague (Not yet open)

Wine-like Hard Cider:
(For carbonated beer-like cider, go here.)
Hogans Cider Mill, Burlington
Deercrest Farm, Glastonbury
Clark's Farms at Bushy Hill, Granby
Bishop's Orchards, Guilford
Holmberg Orchards, Ledyard
BF Clyde's Cider Mill, Stonington
Cidery at Averill Farm, Washington


The Connecticut Wine Trail
Check out pictures of Hoang drinking wine at a bunch of wineries