Worth the Trip
Worthington Vineyards & Winery, Somers
August 2023
I'm old enough to remember when the large majority of Connecticut wineries were tiny hardscrabble operations in modestly attractive environs. There was nothing like Worthington 20 years ago. This place is stunning. It's so nice, in fact, that it wouldn't really matter what the wine tastes like to be honest.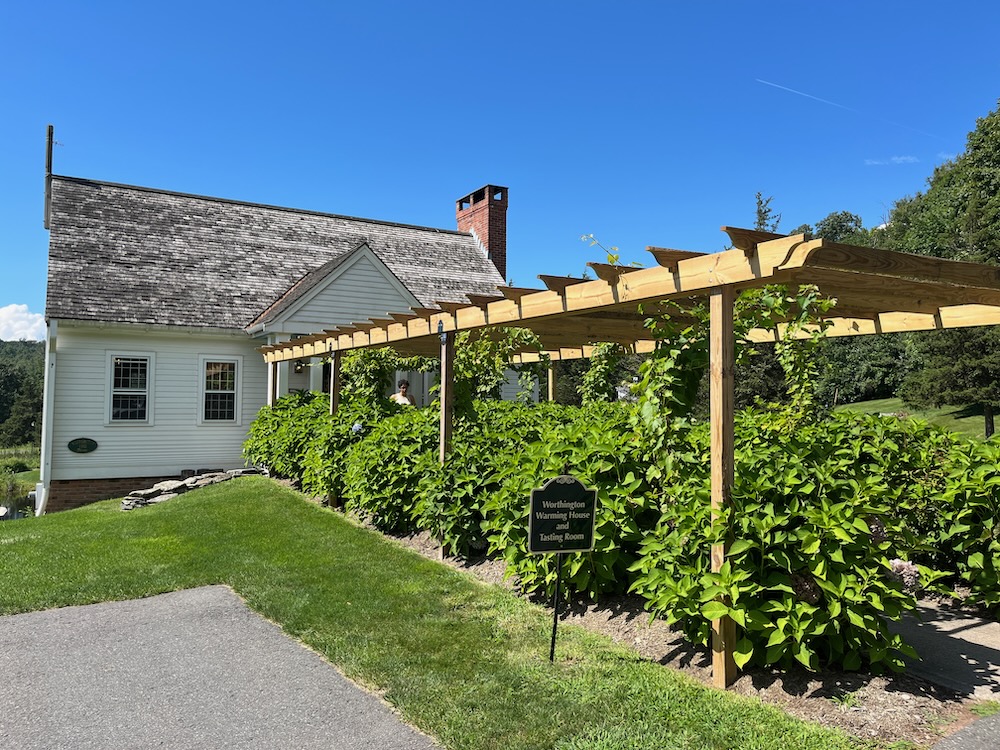 And maybe that's an actual business strategy. Spend the money and time on the grounds and the people will come. I have no problem with that. And I have no problem with the fact that – at least for the first few years of Worthington's existence – they're upfront about the provenance of their grapes. (Hint: It's not Somers, Connecticut.)
You certainly need a hook to get people out here to northern Somers. And that hook is strong because on the beautiful summer day I visited, Worthington was packed. There were at least 300 people spread out across its 98 rolling acres of gardens, terraces, ponds, and woods.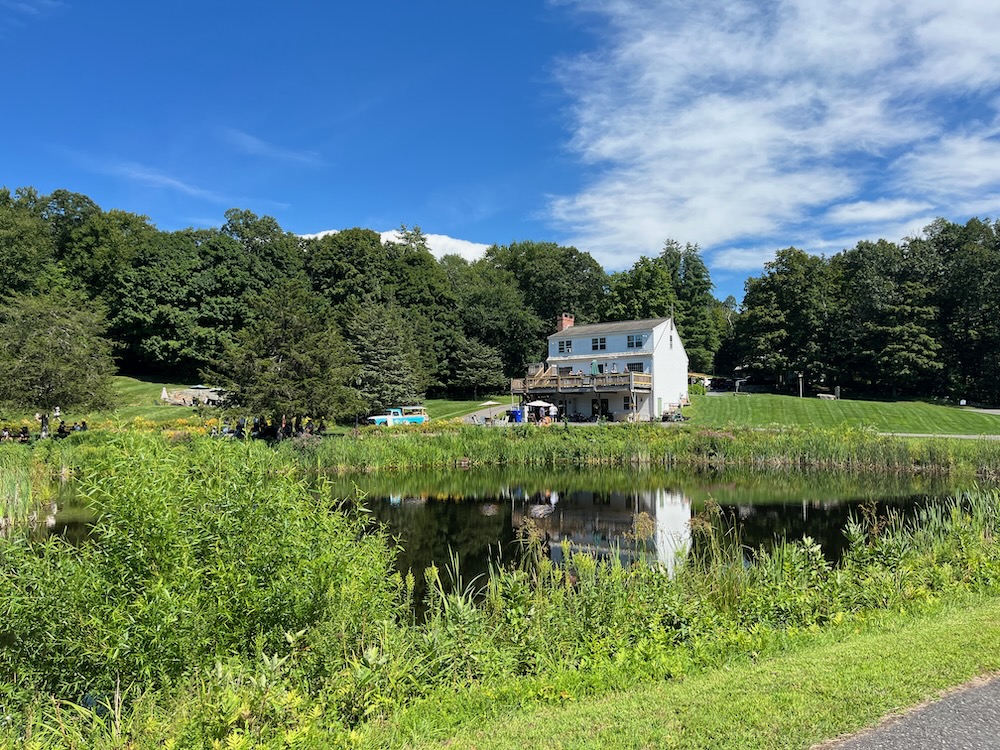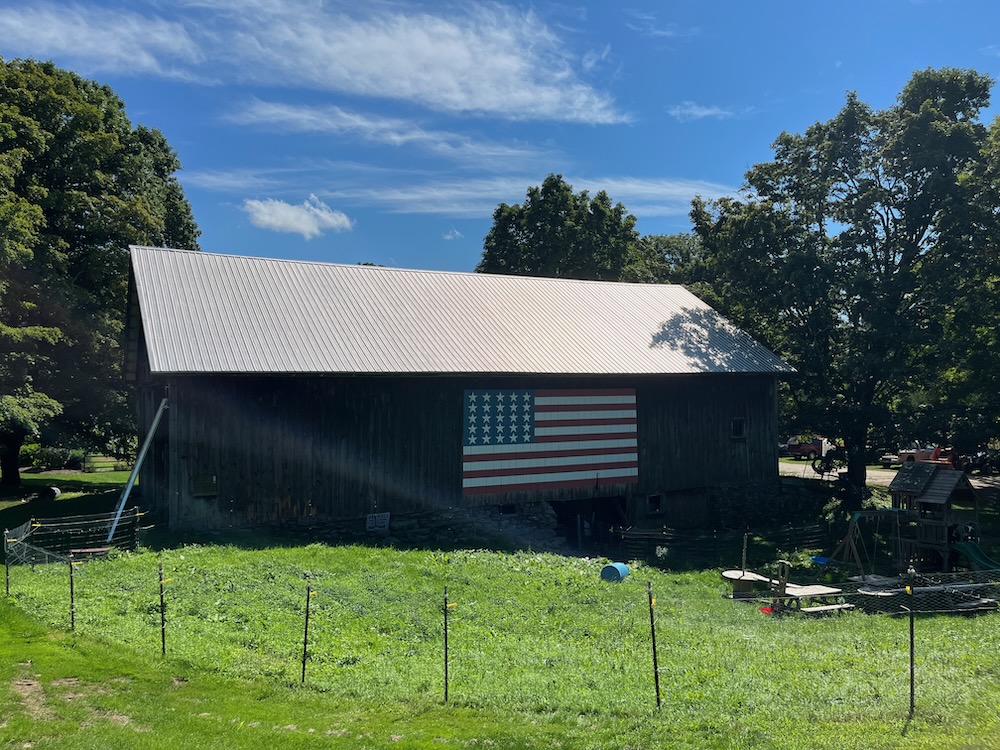 As for me, I was up here to hike. The winery came as a mid-hike bonus/surprise/oasis. Never mind that I was completely out of place as a sweat-soaked, unshaven bum, but my twelve bucks was as good as anyone else's. Right? Right.
This property used to be a turkey farm. Then a local real estate developer named Dan Roulier spent more than two decades expanding and beautifying the place into a park-like setting, welcoming visitors for recreation, day camp programs, charity events and occasional private gatherings like weddings.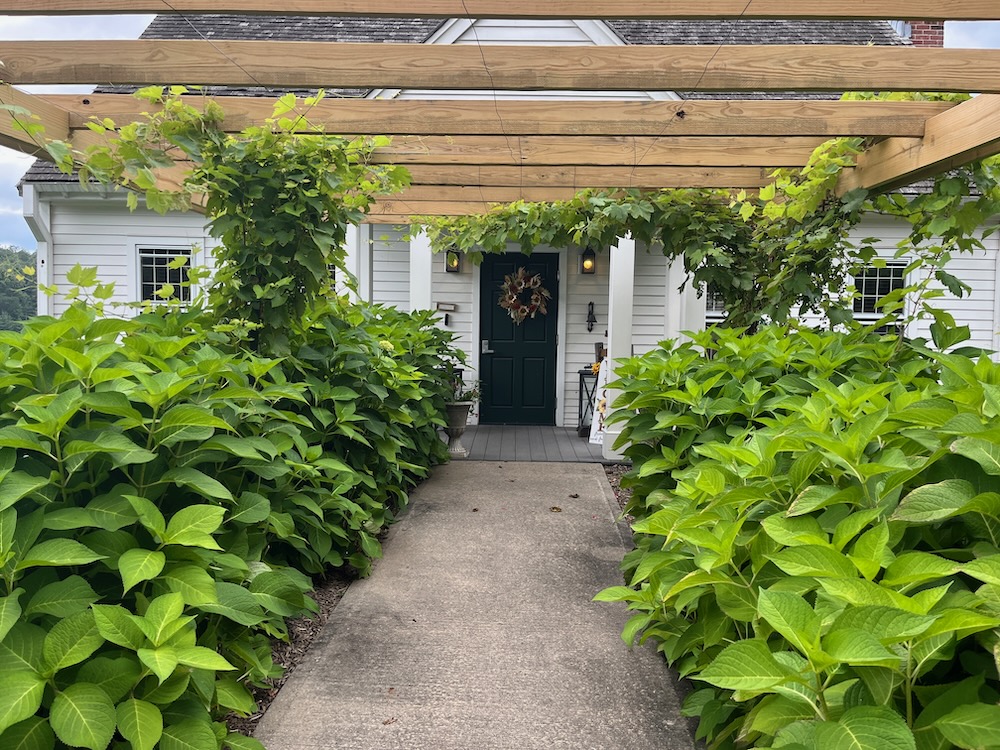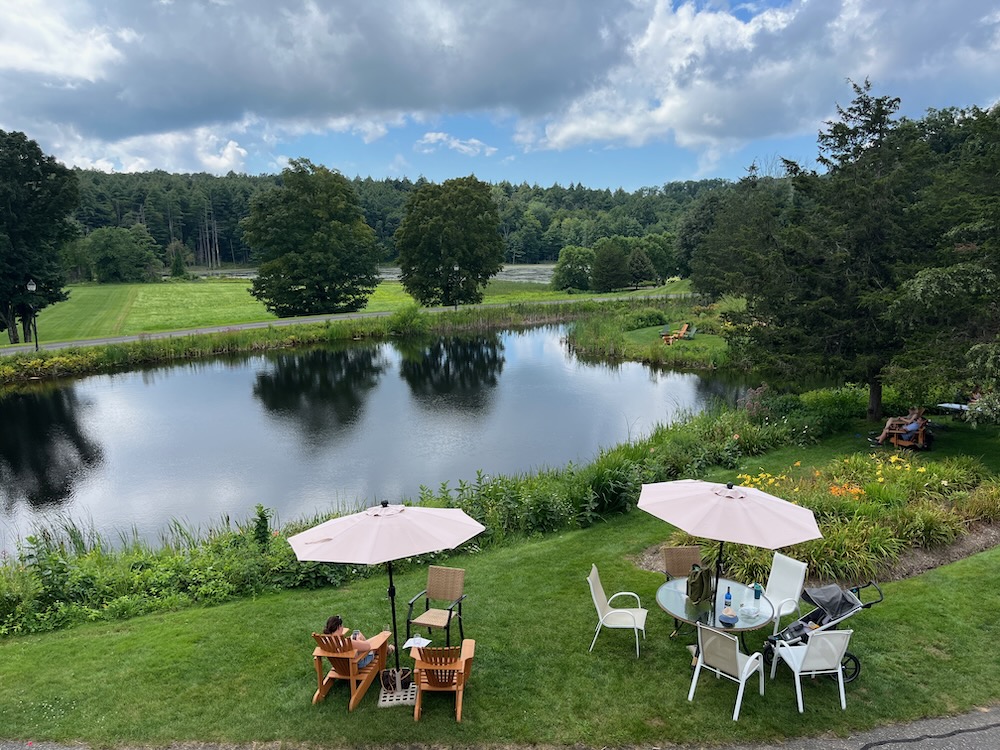 I visited a couple years before Roulier sold the property to the Murdoch family in 2020 because there was a covered bridge and an impressive G scale model train layout. The bridge is still there, used for private events and photography sessions. The train layout appeared all but ripped up in 2023, but perhaps its salvageable.
I recall reading about Roulier's battles with Somers on liquor permits and such for his property and I think that, coupled with the pandemic, prompted him to sell. It took nearly another two years for the town to establish new zoning changes and regulations, winery co-owner Mark Murdoch said.
When you visit us at Worthington, you will encounter a truly unique experience found nowhere else in New England. From the natural beauty of the beaver created pond to the numerous patios, walking paths, and picnic areas, all surrounding he centerpiece of our farm – the stunning covered bridge. Each season offers a unique experience of beauty and harmony with nature. We hope that you can join us to spend an afternoon enjoying a picnic lunch, a walk through the trails, or to celebrate your memorable event.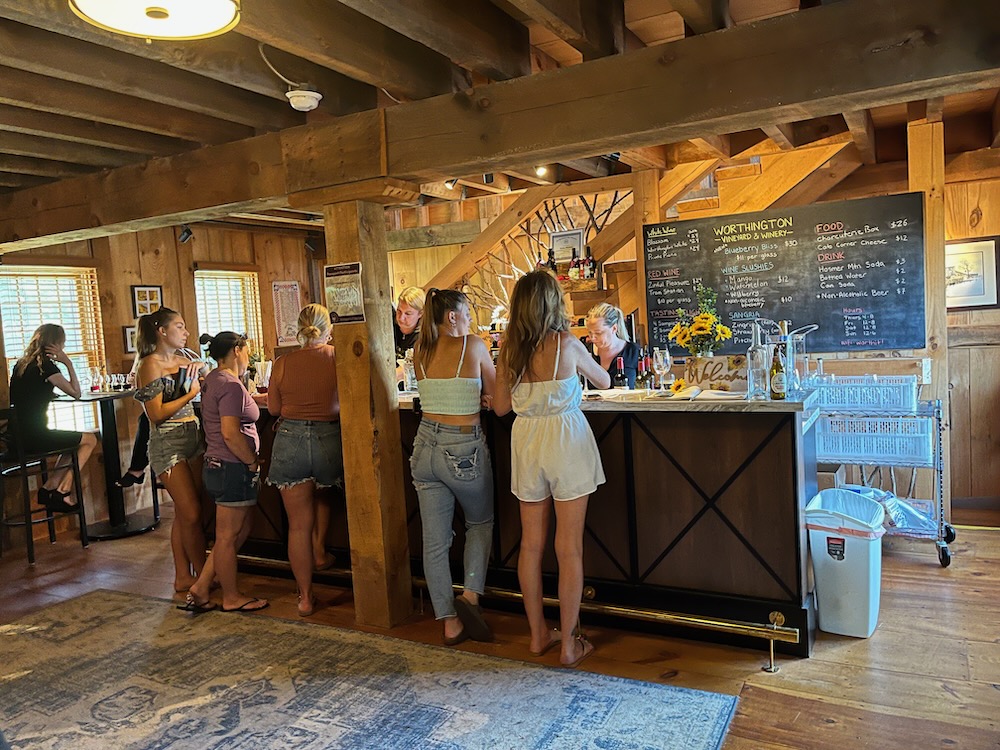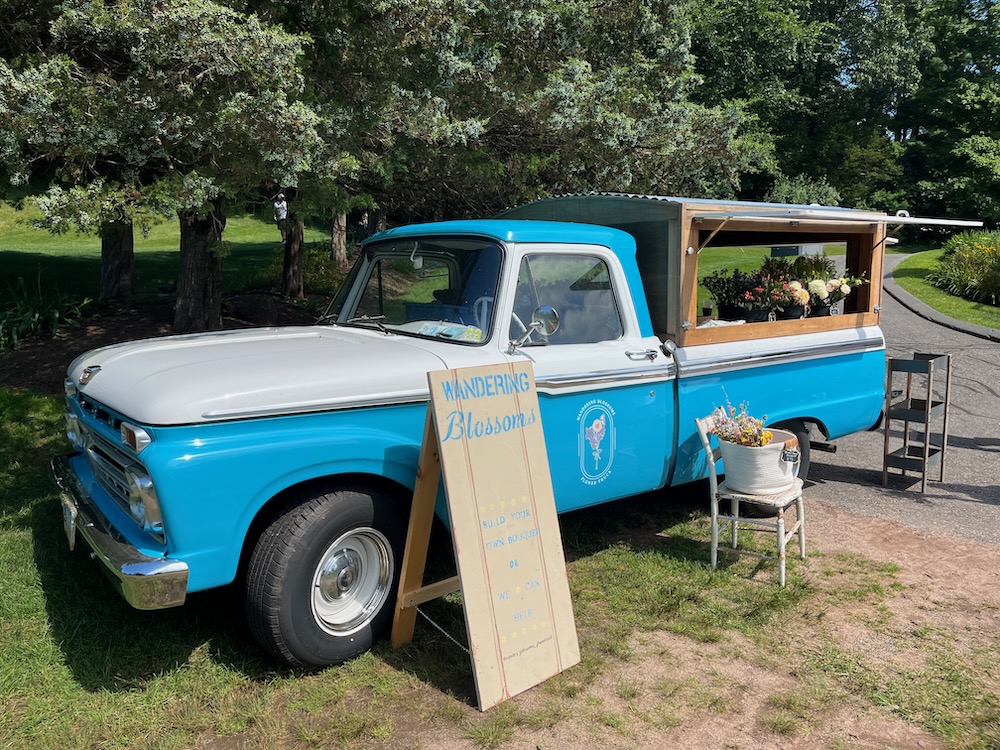 Opened in 2022, it's certainly unique to Connecticut, I do know that. And not just because of the bridge and grounds. I've never hiked a couple miles with a winery pitstop before finishing. (I'm sure it's possible somewhere, but I don't feel like doing the the research. Here, the winery promotes the accessibility of the Aya-Po property that shares a long property boundary. If you know where to go, the Aya-Po parking lot is a very short walk through the woods off the green trail.)
I emerged from the woods; shirt completely drenched and stuck to my skin, old dirty baseball cap worn in a fruitless attempt to save me from the thick clouds of gnats and mosquitoes, and thick post-vacation stubble. This was going to be fun.
The employees did not look at me funny. In fact, the woman who served me never gave me the impression that there was anything different about me and the 300 other people there. (I can assure you, there most definitely was.) I ordered a flight of wine, paid, and absconded outside to the deck.
From my vantage point, I could take in a wide swath of the property. Visitors with their picnic lunches were spread out across many acres. On the lawns, on the Adirondack chairs, in the shade, in the sun… this joint is certainly beautiful. Tons of flowers were in bloom all over too.
And to think this was once a turkey farm. And that the owners started out with crab apple jam from fruit picked up off their lawn. (In their own telling, "people loved" their crab apple wine. I refuse to believe that. True or not, that love spurred the idea to make wine people might actually like. And here I was…
Amidst sundresses and pressed Polo shirts. Dripping sweat and guzzling water. I'm a peach.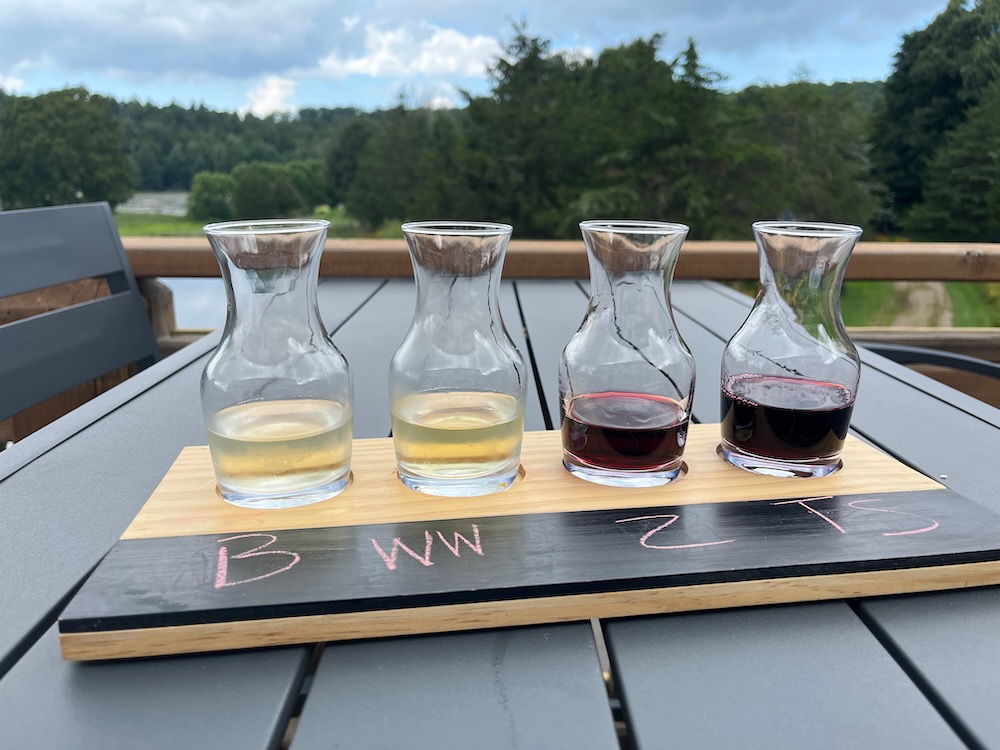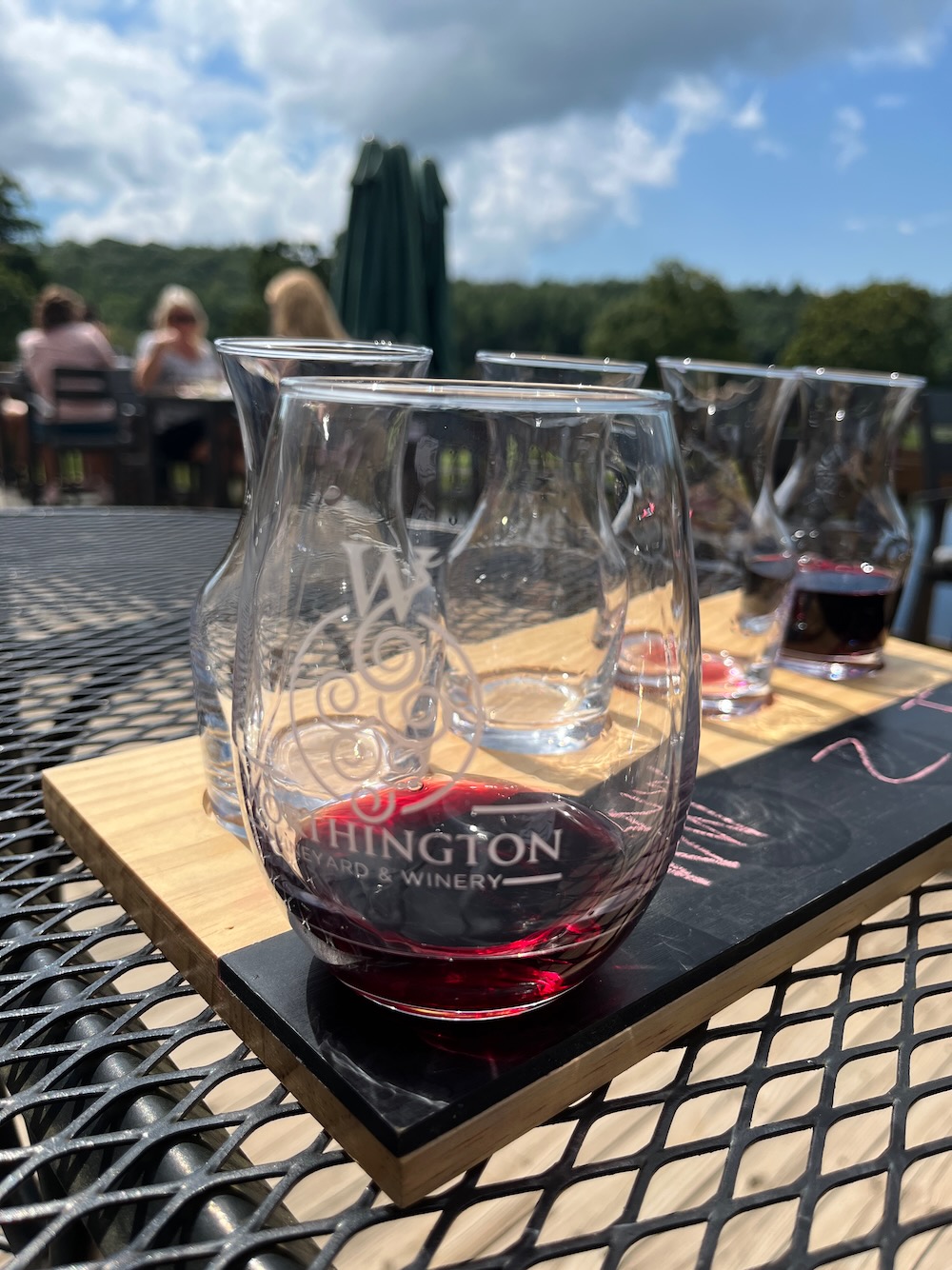 You can play bocce here, canoe, kayak, paddleboard, hike… get married, host a party, get wasted, buy fresh flowers, eat, heck, I don't know… you can do pretty much anything.
Except camp out apparently. There's a TENTRR site well away from the winery which you can book for a hundred bucks a night – if and when Somers allows it. For some reason this arrangement isn't allowed in Somers, although it operated for quite a while and many people stayed in the "luxury" tent on the far end of the pond. (I came across it while hiking around and was wondering why it wasn't advertised.)
As far as the wine is concerned, it's fine. Better than "Connecticut-Average." And again, all those people buying bottles and walking a quarter mile away to enjoy them with friends and lovers really aren't going to be all that discerning. And you darn well know a bunch of them have secreted non-Worthington hooch in their giant picnic baskets.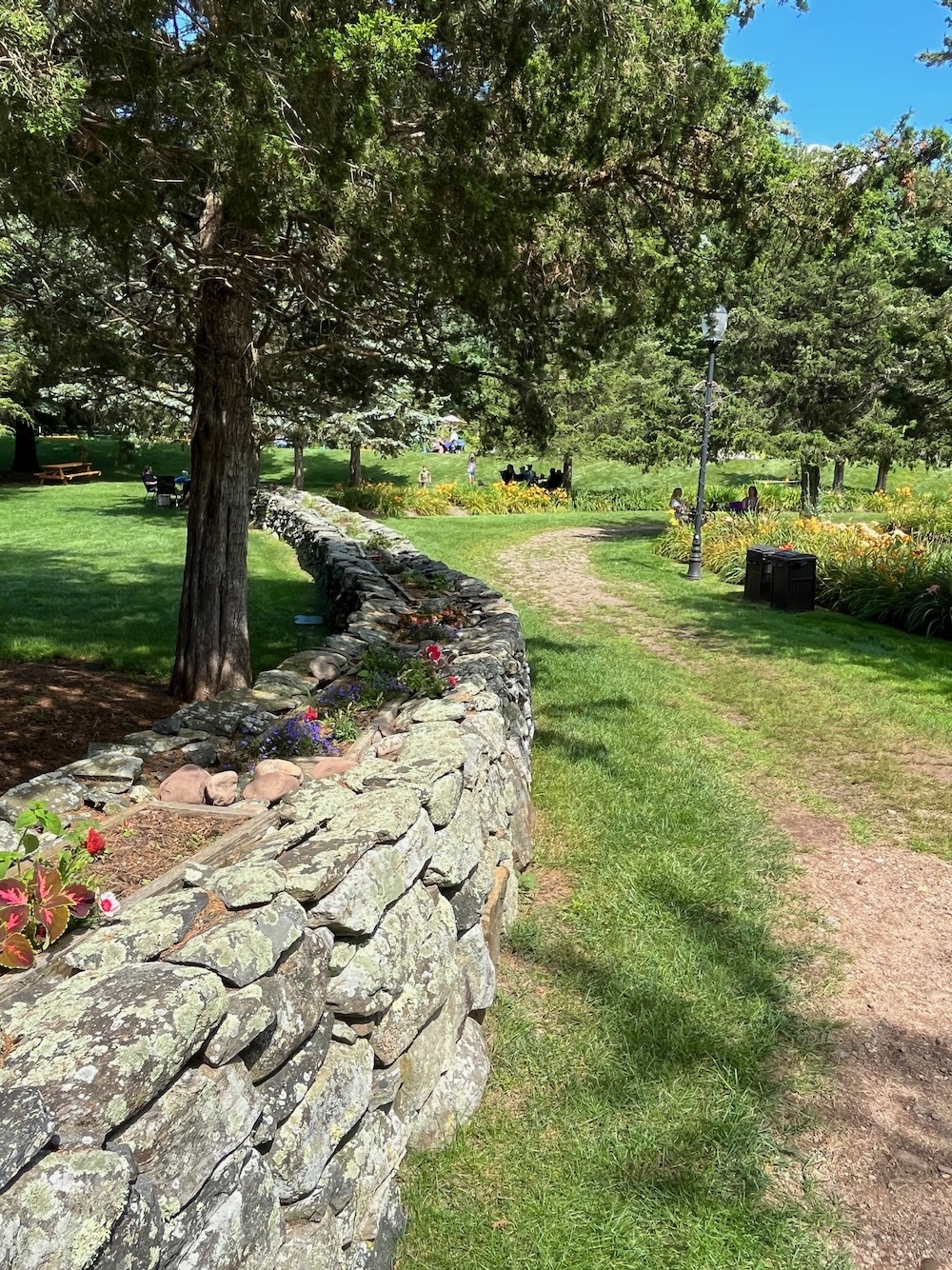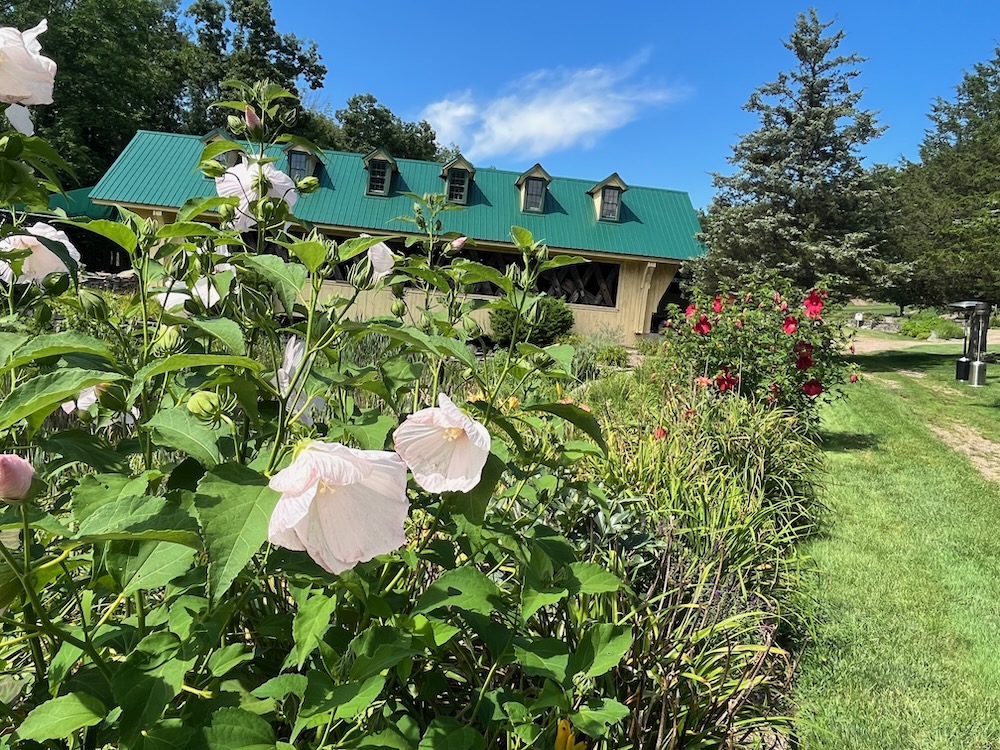 I like the tasting flight option here and they even offered me stemless or stemmed glass! Fancy. They offer a nice mix of whites and reds and like I said, they are up front about all the non-Connecticut grapes they use – but are rightfully proud of their estate grown wines as well.
Their "centerpiece" wine is Worthington White, a mix of estate Cayuga and old school Finger Lakes Cayuga grapes. A little sweet for me, but that's to be expected with this varietal. It is still one of the better all-Cayuga wines I've had in recent memory.
The Blossom white was my favorite of the bunch. It's just a sauvignon blanc from Chile. I mean, it's cool that this Somers, Connecticut vineyard is serving me cheap Chilean grapes… because I happen to love cheap Sauvignon blanc. This one isn't nearly as good as the cheap(ish) New Zealand bottles we drink at home, but whatever. I'll take it.
They are growing a ton of grapes here; the vines are in full view as you enter the property. The varietals include Chambourcin, Cayuga, Corot Noir, Vidal, Marechel Foch, and Frontenac Blanc grapes. The usual New England line-up.
The two reds I had – Zinful Pleasure and Train Station Red were inoffensive, fine, and forgettable. They use grapes from California, and both weren't bad. I know this doesn't read like an endorsement at all, but from me it certainly is. I'm not buying bottles of this stuff, but I'd drink a glass in the middle of a hike again. (Though I guess not the 15% Zin; that's a powerful wine!)
As it was a hot summer day, there were a slew of sangrias and slushies available. They have lots of slushie flavors including dragonfruit. C'mon. Dragonfruit has no flavor, pretty as it is. Oh wait, they mix that with the Zinful Pleasure so I guess that's neat. (Tons of people were getting various slushies, and several were openly raving about them. I think they're made with real fruit which is pretty cool. Maybe next time for me…)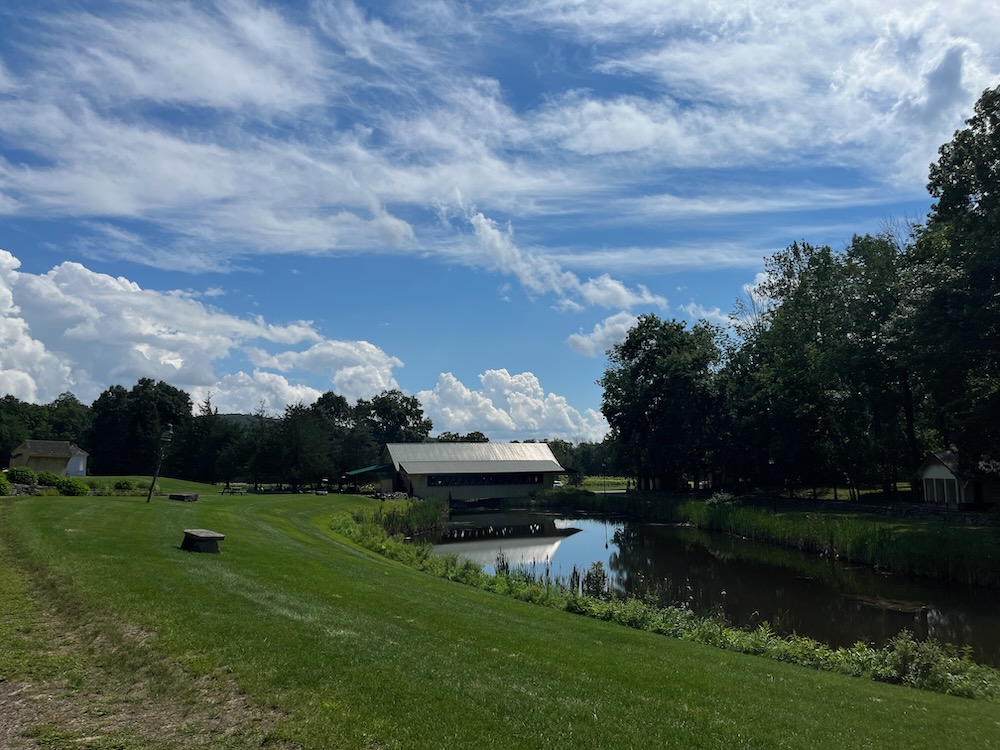 Worthington offers a "Charcuterie Box", which is a full assortment of crackers, snacks, cheese, meats, and fruit. More impressively, they also serve Colchester's Cato Corner cheese!
From crab apple jam to crab apple wine to a very popular winery on an absolutely gorgeous piece of property, tucked away in Somers not far from the Massachusetts border. I realize not too many people just happen to find themselves in Somers, but if you do, stop here. In fact, I'll give it even more of an endorsement – make the effort to come here.
It's Worth it.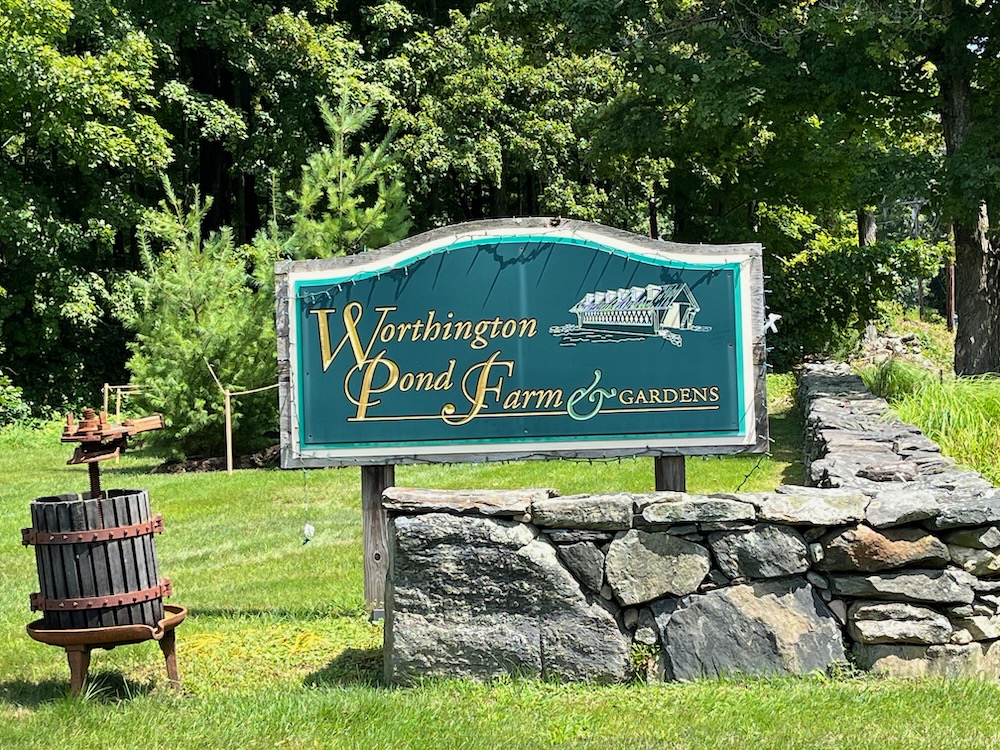 Worthington Vineyards & Winery
CTMQ hikes the Worthington Vineyards Nature Trails
CTMQ's Visits to Connecticut Wineries