Don't Dawdle NorWalk Here – Run!
Norwalk (Google Maps Location)
April 18, 2009
2012 Update: We revisited the aquarium (again, with extended family, this time from Seattle) and were very impressed with the massive new reorganization of the joint – not reflected on this page. Some stuff got shuffled around, but all the hits are still here and presented beautifully. Norwalk doesn't have the tourism push that Mystic has, nor does it have as much outdoor fun as Mystic, but it has many other things going for it that I talk about below. Notably, SoNo is a great place to hang out, eat, drink and check out some other cool cultural stuff. Well done, Norwalk Aquarium, well done.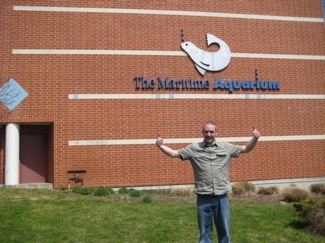 Hooray! I did it! I made it to 100 museums with my brain still intact and my marriage still as strong as ever. Heck, even Damian doesn't hate me.
If the next five or six hundred museums in the state are as fun and rewarding as these first hundred, I'm a lucky guy. As if to hammer that point home, I was very lucky to celebrate this momentous century mark with not only Hoang and Damian, but also up from Delaware were my sister Karin, her husband Brian, their brood of four (Christine, Joseph, Rachel and Stephen), as well as our friend Caroline who lives nearby and can't get enough of museums… Or Damian, I'm not sure. It was a real 100th museum party if there ever was one. Which I'm guessing there hasn't been.
Ever.
I scrambled in the weeks leading up to the aquarium in order to make it my 100th. And for good reason; the aquarium is big, it appeals to young and old alike and well, and it's a heck of a lot of fun. In retrospect, it was very good planning on my part as it was certainly fun later that night to celebrate CTMQ's 100th museum with cake and ice cream with all the kids.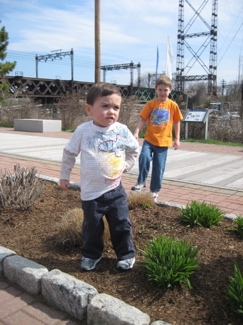 Now you may be thinking, "An aquarium in Norwalk? I thought we only had the Mystic Aquarium?" Not only are you hopelessly wrong, but you are misguided as well. This one in Norwalk, depending on which ticket you buy (there are several IMAX movie/other options), is about half the price of its Mystic counterpart. While both are located very near the very busy I-95, if you are cool like us, SoNo (South Norwalk) is ten times better to hang around than the touristy Mystick Village near the eastern aquarium.
And, on top of that, I'll go so far as to say we enjoyed the Norwalk aquarium more than the Mystic one. I know, I know, that's blasphemy to some people. But it's true. Now, that opinion may be skewed by Damian being older and more into it or our nieces and nephews running about, but I honestly think Norwalk's is at least as good as Mystic – again, for about half the price. (Though you do have to pay for parking in Norwalk and if you do go out to eat here, it is more expensive, but whatever.)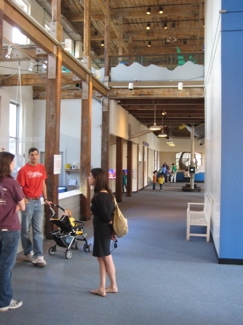 And don't get me going on all the nearby museums and "best of" restaurants in SoNo. While the Mystic Seaport is hands-down one of the top three things to see in Connecticut, it's tough to beat Norwalk for variety.
A Brief History of The Maritime Aquarium:
In the mid-1970s, the city of Norwalk under the direction of then-Mayor William Collins undertook the South Norwalk Revitalization Project. The goal of this program was to preserve the historic architecture of South Norwalk, affectionately dubbed SoNo, and revitalize the neighborhood. The Washington Street National Historic District was established, and 32 buildings were placed on the National Register of Historic Places.
However, it would take more than old buildings to turn SoNo around. Plans were drawn for a major attraction that would bring people and tourism dollars into SoNo. The City of Norwalk and its Redevelopment Agency, along with The Oceanic Society, the Norwalk Seaport Association, and the Junior League of Stamford-Norwalk made a major commitment to developing the new maritime center, complete with an aquarium featuring live animals from Long Island Sound, an IMAX theatre with an eight stories wide and six stories high screen, and a boat collection.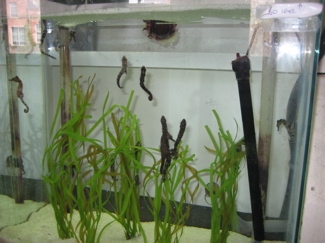 In 1986, ground-breaking ceremonies took place on the site of a former 1860s iron works factory, an abandoned brick building on the SoNo waterfront. What was then called The Maritime Center at Norwalk opened on July 16, 1988.
In July 1996, The Maritime Center at Norwalk changed its name to The Maritime Aquarium at Norwalk to better identify itself to the public and underscore the increasing importance of the live animal exhibits.
The Maritime Aquarium has been at the center of a major turnaround in South Norwalk. SoNo now bustles by day with unique shops, boutiques, coffee shops, and delis, and by night with nightclubs, acclaimed restaurants, and cinemas.
Annual attendance now averages over 500,000 visitors, making it one of the largest attractions in Connecticut (and the largest in Connecticut within 100 miles of New York City). Among the Aquarium's visitors are more than 150,000 schoolchildren on field trips, many of whom participate in marine-science programs offered by an active Education Department.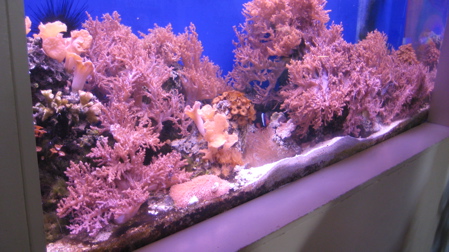 To support the growing number of visitors and educational programs, The Maritime Aquarium completed its first major expansion project. Opened in April 2001, the new $9.5 million Environmental Education Center (funded through corporate, private, and state contributions) boasts new classrooms and high-tech educational equipment, plus a new main entrance, larger gift shop and 180-seat food-service area. The move from the old gift shop also allowed for the addition of loggerhead sea turtles to the Aquarium's growing animal collection.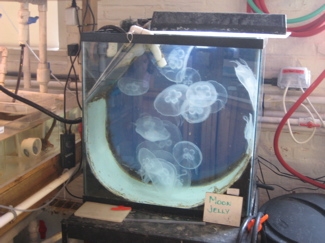 In 2005 The Maritime Aquarium adopted a new mission statement which rededicated the Aquarium to inspiring its visitors to preserve and protect Long Island Sound and its inhabitants. To that end, the Aquarum is currently engaged in an extensive master planning process which will lead to expansion in its exhibits and programs and an even sharper focus on the conservation of Long Island Sound and all the world's oceans.
Well there you go. Obviously, I didn't write that little history section but felt it was important to share. And since I have a billion pictures from this place, the more verbiage the better. Yeah, right… I see you rolling your eyes. Punks.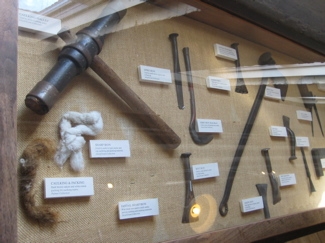 After enjoying some coffee with Caroline at a nearby shop, we convinced her to join us and after meeting up with my sister and her crazy kids in front of the aquarium, we were ready to go. Whoa – not so fast! It looks like there are some exhibits outside!
Indeed there are; a nice write-up about the barnacles on the piers in the harbor as well as some information about the history of Norwalk's shipping industry. Educational boats also depart from here out into Long Island Sound and – let's go inside. And when you've got five kids ranging in ages from 1 to 8, that's no easy task.
We all decided against the IMAX theater experience and the "Thrill Ride" thing, which I'm sure were cool, but again, with kids ranging in ages from 1 to 8, it just wasn't happening. (These attractions also double the entry fee.)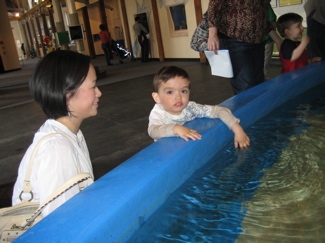 Once inside, I was a bit disappointed. If first impressions are important – and they are – the Norwalk Aquarium needs to do some work. We were all a bit confused at the outset, as we strolled into the first large, rather unadorned room. I didn't get it; this place was totally lame, I thought. The cavernous space has a few old boats lying around and a bunch of tanks containing live specimens – but not what you'd expect at an aquarium. The pipes are exposed and the whole viewing space is sort of messy and unattractive.
But, upon closer inspection, the exhibits here explain how the aquarium raises such difficult to raise things as seahorses and jellyfish. Okay, that's pretty neat, but certainly wasn't kid friendly. And neither is the Rosenfeld Collection. While owned by the Mystic Seaport, there were several photos on view here. The collection is one of the largest archives of maritime photographs in the US. This collection of nearly one million pieces (holy crap), documents the period from 1881 to present. The Collection represents the evolution of photographic technology and developments in the maritime industry over the last century.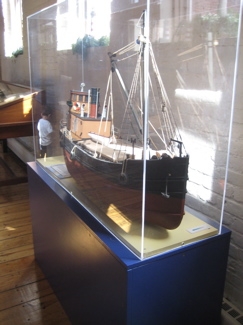 The Rosenfeld's were particularly fond of America's Cup racing, dating all the way back to 1885 as well as powerboats and all the socialites who hung around such things 100 years ago. Back when I wrote up the Mystic Seaport, I mentioned just how comprehensive their collection of EVERYTHING is… And this only adds to that. Amazing. But that's them, and we were in Norwalk staring at baby jellyfish wondering if and when this place ever got cool.
Caroline kept laughing and telling us that it does, but we weren't buying it. Why would they stick this stuff in the first room? Before I could wonder about that anymore, the kids had raced to the end of the room and found the ray tank. Stingrays are members of the same family as sharks: they have skeletons made of cartilage, not bone. Rays are common in coastal tropical and temperate marine waters around the world.
There are more than 30 known species and the Aquarium's Ray Touch Pool features three: cownose, Southern and – the largest Atlantic species – the roughtail. Stingrays have barbs on or at the base of their tails but they're not used aggressively, only in defense. The rays in the Ray Touch Pool have had their barbs removed. These docile animals will let you stroke their backs as they swim by.
Now we're talkin'. The kids loved this tank and even Damian was able to feel the rays' smooth skin as they drifted by. Of course, after 15 minutes of this Damian began splashing (hey, it's fun) and it was time to move it along…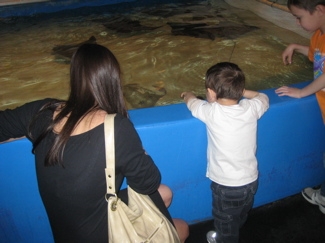 We turned around to head to the next exhibit and… MY NAME IS KIIIIIIIIIIIIIIIIIIIIIIIIIID… KIIIIIIIIIIIID ROCK!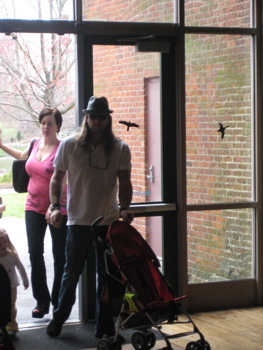 Baw –wit-ta baw bang bang da boogie… Holy cownose ray, it's Kid Rock! Enjoying a day out at the Norwalk Aquarium with his family! This made Caroline's day and her hanging out with us all was now totally worth it. I hope she got an autograph.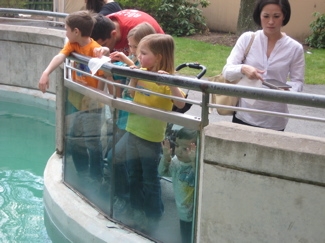 Once outside, and after a minor Damian tantrum having been removed from the ray tank, everyone was once again having fun watching the crazy seals swim around their tank. The harbor seal pool at The Maritime Aquarium is where you'll find several of our most popular residents. What many people don't know is that harbor seals can also be found in Long Island Sound during the winter! And while these furry marine mammals may look cute (…many people say their faces look like a Labrador retriever's…), the 1973 Marine Mammal Protection Act prohibits people from hunting or even approaching a wild seal. You'll never get a better look at a harbor seal than here at The Maritime Aquarium.
Seals are always fun. And so are penguins. The aquarium has a new African Penguins exhibit. Just past the seals and some more old boats, there is a nice viewing platform to watch the penguins swim around in their tank. "They waddle comically on land but swim gracefully in the water, all while dressed semi-formally in black-and-white attire," is how the aquarium puts it.
They're found in surprising places: not just Antarctica but in Africa and also at The Maritime Aquarium at Norwalk, in "African Penguins," a new special exhibit featuring a small colony of African penguins. They're stealing hearts daily in an outdoor display on the Aquarium's riverfront courtyard, with plenty of viewing windows above and below the water line.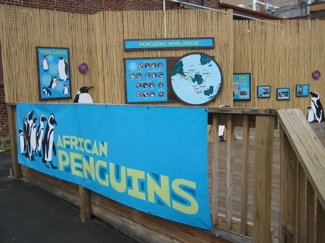 Helpful ID signs help you tell who is who. Other displays give info about all 17 species of penguins and their conservation status. I found this to be a hugely positive thing here in Norwalk. It seemed to me that they had more information available to read than up in Mystic, but don't quote me on that.
The stars of the "African Penguins" exhibit came to Norwalk from The Great Plains Zoo in Sioux City, S.D. They'll be at The Maritime Aquarium until December 2010 (so don't blame me if you're reading this after they are gone).
After the penguins, we all sort of split up around the aquarium. At this point, I realized this place was much, much bigger than I initially thought it was. It's also sort of difficult to navigate in any logical way, so the older kids went off with their father, the baby with my sister, Hoang took Damian who knows where, and Caroline and I sort of ventured off independently. The various groups bumped into each other every so often, and it all worked out in the end. As such, I can't really present this story in a coherent order either, as I spent half my time looking for family to make my pictures a little better. But be assured, I saw everything.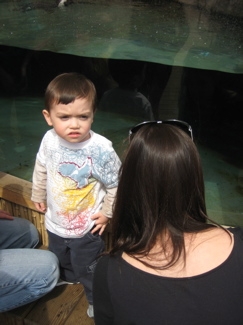 Notice that the kid on the left is on a leash. And notice Damian staring down Caroline for donking his head.
Also, I think at this point I'll pretty much let the pictures do that talking. Who actually reads this stuff anyway?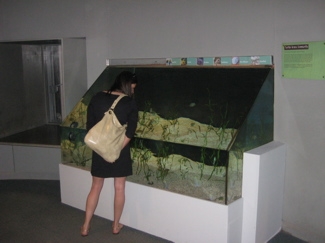 Caroline has an affinity for tidal grasses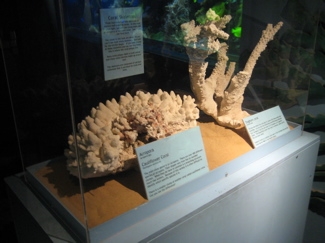 Coral. Too bad that "Real World" woman ruined that word for me forever.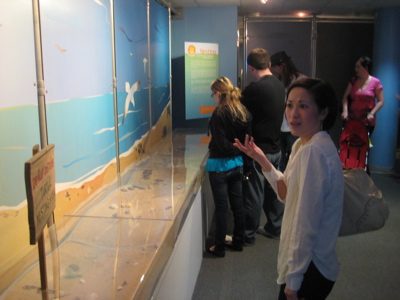 Ignore Hoang's silliness… And notice Kiiiiiid Rock again in the background!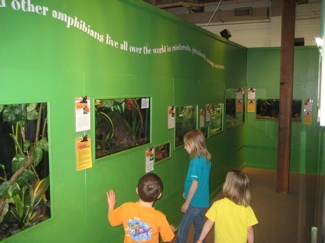 The nieces and a nephew check out the amphibian room!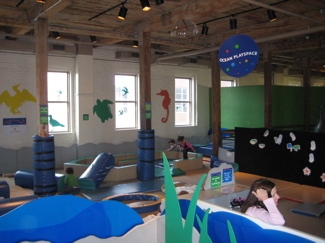 There's a toddler play area too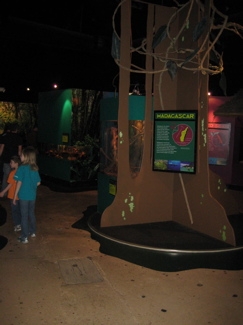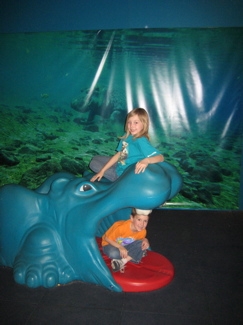 Christine and Joseph (and I) checked out the African exhibit
I didn't waste any time getting started on my second hundred museums by taking Hoang and Damian out to Action Wildlife in Goshen the following weekend. Then I sort of calmed down for a few weeks before beginning the summer museum season in earnest. Maybe I'll do something small for museum 200, but won't really celebrate again until 300 (about the half-way point), whenever that may be.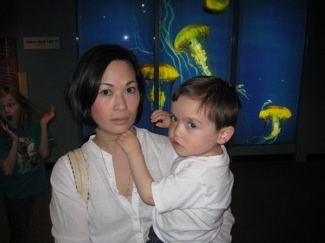 Maritime Aquarium
CTMQ's Aquariums
Firsts, Onlies, Oldests, Largests, Longests, Mosts, Smallests, & Bests