A Quick One
Fairfield (Google Maps Location)
June 13, 2009
Oh man. I'm busted. Busted, busted, busted.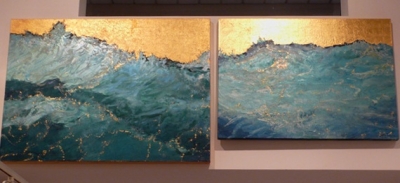 You see, with art museums I rely heavily upon their websites to better be able to describe the collections semi-intelligently. So far, I've been able to "get by" via this method. However, as I sit here about to write about my visit to Fairfield University's Walsh Art Gallery, I can't find a darn thing about the exhibits I saw there a couple months ago.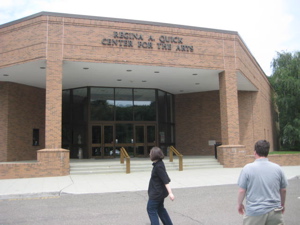 Uh-oh…
Even though I had some traveling companions with me (Rob and Yvonne, up for the full day of exploring Fairfield and Norwalk with me from Brooklyn), I don't think they'd be able to help much. Yvonne was not a fan of the exhibit and Rob… Well, Rob knows as much about this stuff as I do.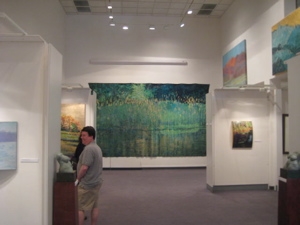 If I were smart – and CTMQ readers know otherwise – I'd just throw up some pictures, say I was there and it was lovely, and be done with it. But I simply can't do that… And I did just find the brochures I picked up from the gallery, so let's get to it.
The Walsh Gallery is located within the modern (opened in 1990) Quick Center for the Arts in the heart of the beautiful Fairfield U campus. It houses a couple theaters in addition to the art gallery, and their website states, "The Center has quickly become known as one of the finest concert halls in this country." Just because I'd never heard of it in my life shouldn't take away any of their bravado.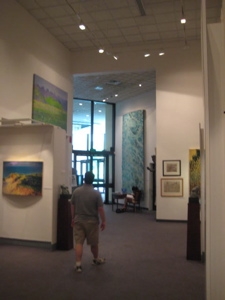 We arrived right at the opening time and were greeted by the typical bored gallery maven, who barely looked up from her laptop and waved us in. It's a very nice, open and bright space. It's not as antiseptic as other college art galleries and the floor was even carpeted. At about 42′ x 33′, it's not big, but the walls are two stories and it feels much larger than the space actually is.
The exhibit was called Wetlands: A Spirtitual Refrain by local artist Ernest Garthwaite. Hmm, let's see if I can Google him and make this report oh-so much easier… A-ha! Awesome. Not only is he there, but he describes this exhibit. In fact, the pictures on his site (at the time of this writing) are from the Walsh Gallery!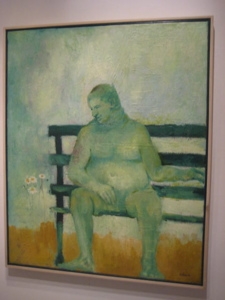 Today is my – and of course your – lucky day!
Garthwaite is an interesting artist. He uses a variety of media and has a very eclectic collection spanning a fifty year career in art. And allow me to say that I found his work to be pretty cool. Everything from sculpture to oil and acrylic to masterfully adding gold leaf to his art. That's right, real gold.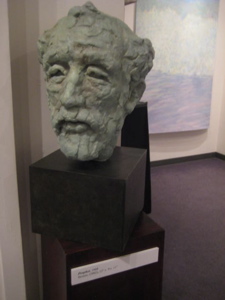 Here's a bit more about Garthwaite, in his own artsy words:
Ernest Garthwaite has been documenting the North American landscape in his paintings for fifty years. Braiding ongoing concerns of beauty, social ethics, and environmental responsibility, his work is an invitation to see the land with both eyes and heart. This sensitivity can be traced to his parents early nurturing on Saskatchewan's wide prairies and his coming of age in Wisconsin's rolling hill country. His paintings are meditations on a Native American respect for the land and their definitive interconnection with the natural elements. As an environmentalist, he has made it his passion to record and interpret natural spaces, often paying homage to original tribes by name, while depicting his own sense of the sacred in wetlands, waterways and fields.
Exactly what I was going to say. His bio continues until I ran into this: "From his studio in the shoreline town of Old Greenwich, Connecticut…" Which I guess means Garthwaite is a rather successful artist. Shoreline in Greenwich? Not cheap.
Since the gallery changes exhibits entirely, I won't dwell too much on what we saw. I think this bit from his website (though not his words) sums up his work nicely:
Using his signature-curved surface, the parabolic shape, Garthwaite shares a new perspective in viewing art – through the unity between light, color and natural phenomena. He achieves the implied movement of film and the physical presence of painting and sculpture. The viewer may experience subtle movements on and within the surface that awaken the senses and challenge the mind.
It's funny, some artists would rather die before putting their work out online like Garthwaite does, but I think he is confident that his works really only resonate in person. That's where they shimmer slightly and "change" from different angles. I applaud his confidence.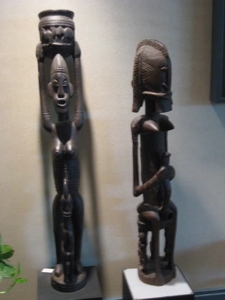 After viewing the gallery, we checked out the Quick Center's lobby where a bunch of… I'll guess… African sculptural art is displayed. I assume this is a permanent display, but I don't really know. All I know is that I should maybe use some pixellation on this post.
For the children.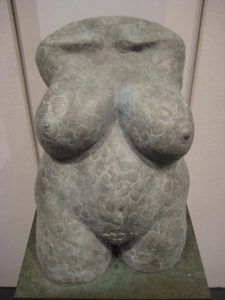 The Quick Center at Fairfield U