Everything Norwalk
I've been exploring and writing about Connecticut since 2006. After a decade, I began compiling CTMQ guides for each town in the state. I plan on "completing" Norwalk CTMQ-style… as well as the other 168 towns, cities, and boroughs in Connecticut. That is the ultimate goal of CTMQ.
If I've missed anything in town or if anything has closed or changed, please let me know.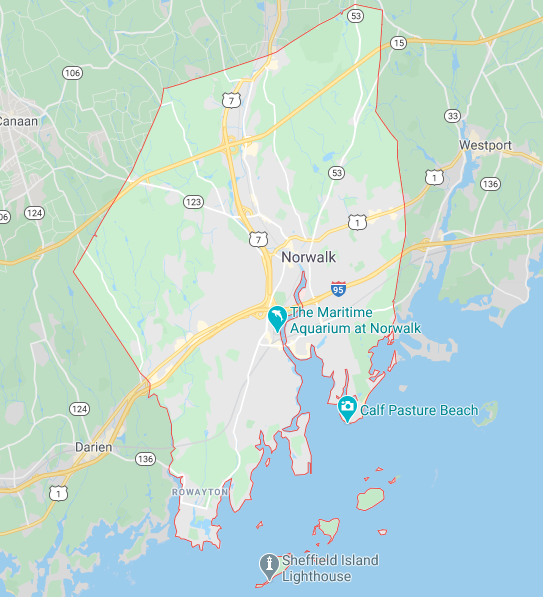 Museums
Rowayton Antique Tool Barn
Center for Contemporary Printmaking
Fodor Farm Homestead
Frank Raymond Maritime Museum & Boathouse
Lockwood-Mathews Mansion Museum
Maritime Aquarium
Mill Hill Historic Park (3 museums)
New England Auto Museum (Potential future museum)
The Norwalk Art Space
Norwalk CC Art Gallery
Norwalk Historical Society Museum
Seeley-Dibble-Pinkney House
Rowayton Arts Center
Sheffield Island Lighthouse Museum
SoNo Switch Tower Museum
Stepping Stones Museum for Children and revisit
The Stone Barn at Farm Creek Preserve
Hikes, Bikes, & Paddles
Norwalk Land Trust Trails – Intro
Farm Creek Preserve
White Barn Nature Preserve
Wood Acre
Norwalk's Town Trails – Intro
Cranbury Park
Sheffield Island Trails
Multi-Use/Rail Trails
Harbor Loop Trail
Norwalk River Valley Trail – Intro
Section 1: Calf Pasture Beach to TBD
Canoe/Kayak Trails
Norwalk Islands Canoe and Kayak Trail
Food & Drink
Roadfood list: Letizia's
Roadfood list: Speedy Donuts
Roadfood list: Swanky Frank's (Closed)
CT World Food Tour, Venezuela: Valencia Luncheria
CT World Food Tour,Jamaica: People's Choice
CT Classic Diner Trail: Family Diner
CT Classic Diner Trail: Post Road Diner
CT Unique Restaurant Trail: SoNo Brewhouse (Closed)
CT Chocolate Trail: House of Knipschildt/Knipschildt Chocolatier/Chocopologie Cafe
CT Beer Trail: Iron Brewing Company (Closed)
CT Beer Trail: Spacecat Brewing Company
CT Beer Trail: Guvnor's Brewery (Closed)
CT Beer Trail: Hell or High Water Brewpub (Closed)
CT Spirits Trail: SoNo 1420 Craft Distillers
CT Kombucha Trail: East Coast Kombucha Company
Looking for your favorite restaurant? Here is an explanation as to why it's not here.
Everything Else
National Historic Landmark: Lockwood-Mathews Mansion
World's Most: Expensive chocolate
World's First: Business Computer
World's Largest: Dairy Store
US First: Chateau
US Best: Maritime Aquarium
CT Art Trail: Center for Contemporary Printmaking
CT Freedom Trail: Village Creek Neighborhood
CT Women's Heritage Trail: Lockwood-Mathews Mansion Museum
The Norwalk Islands
Greens Ledge Light
Peck's Ledge Light
Sheffield Island Lighthouse
SoNo Switchtower Museum Tower
River Park Covered Bridge
CT Cool Library Tour: Norwalk & South Norwalk
Norwalk's WPA Murals
Scandinavian Butik
A Taste of Holland (Closed)
Satan in CT Trail: Devil's Garden Road
Norwalk Wrap-Up
Completion Celebration TBD