SoNo More Bad Breweries?
Spacecat Brewing Company, Norwalk
December 2022
I imagine that those of you casual readers who don't really care about yet another brewery trying to make it in Norwalk (the Bermuda Triangle of Breweries) only care to know why a brewery is named "Spacecat." Totally understand.
My first thought was that with so many thousands of breweries in the world now, there are no more names available that make any sense. If you're opening a brewery now, you just throw random words like "cat" and "space" into a name generating program and voila! Spacecat!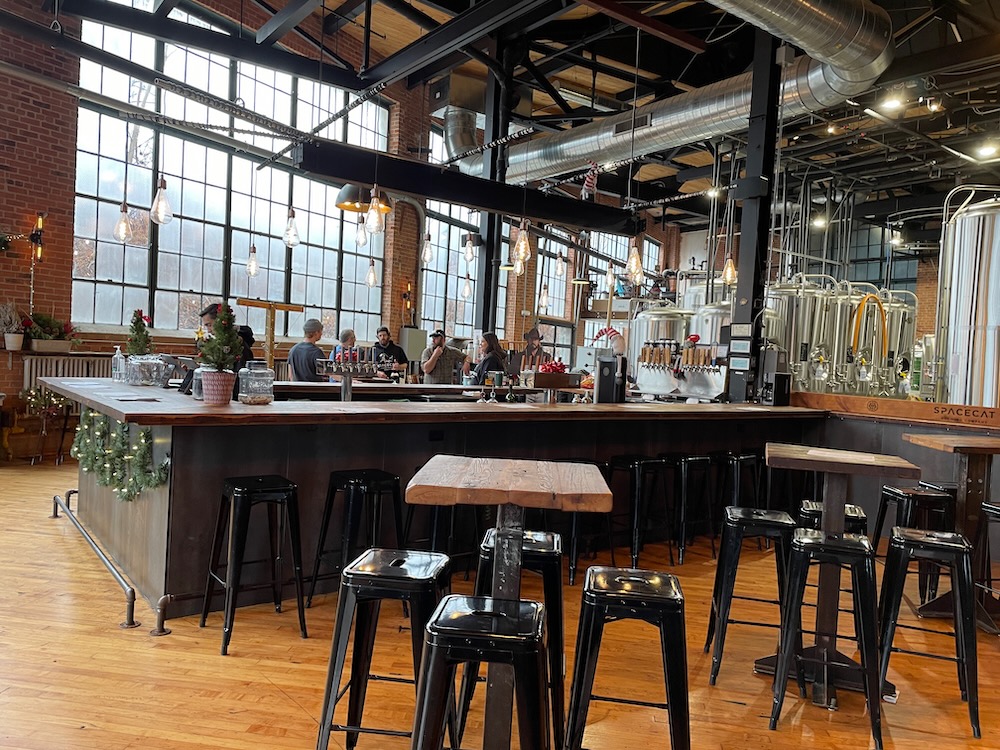 It turns out there's a story about the name, although it's really not much better than my hypothesis: About six years before the brewery opened, one of the founders bought a random piece of art from a German Etsy artist. It was of a cat in a spacesuit. From a CTBites article:
"When I tried to come up with names, I thought about Southern Connecticut Brewing Company, and really thought I had something when I said, 'Charter Oak!' but that's been a thing. One night, I looked at the picture and thought… Spacecat. Oh, yeah, that'd be good. The second I thought of it, I thought was it approachable, thought about possible can art, and if someone go to their buddies and say 'I'm drinking Spacecat.'" The logo was designed by Brian Steely, who created Nod Hill Brewery's logo.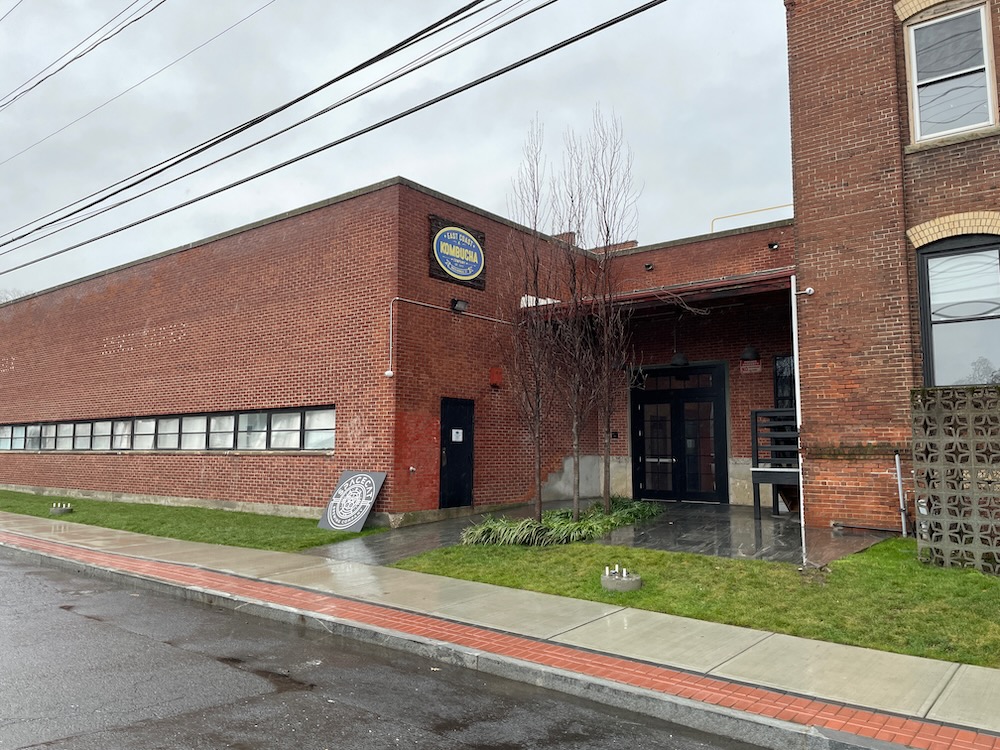 My favorite part of that isn't even "Spacecat." It's that he mentioned Charter Oak and how that's "been a thing." Charter Oak Brewing has been a thing for a relatively long time in Connecticut and in fact, during the ForeverTime they were "going to open" a brick and mortar brewery, South Norwalk (aka SoNo, the only abbreviated portmanteau in Connecticut I support) was the strongest contender for years. And, for what it's worth, Spacecat is a hundred times better than "Southern Connecticut Brewing Company." I've come to like Spacecat… as a brand.
But that matters not if the space and beer are… catty. (Craft beer in-joke! If a beer is "catty," that means it smells, and sometimes tastes, like cat pee due to oxidation issues.)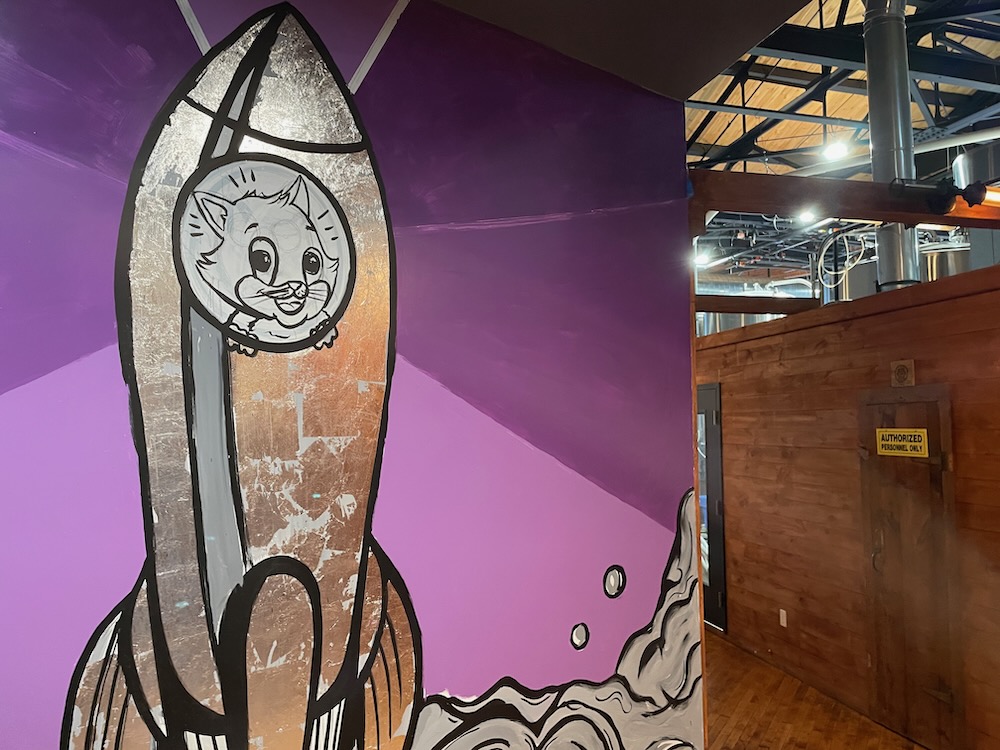 Spacecat found a nice, largish space in the historic J. & J. Cash textiles mill in South Norwalk. It's not in the heart of SoNo, but why would they even want to be? New England Brewing, SoNo Brewhouse, Guvnor's Brewery, Hell or High Water Brewpub, Iron Brewing Company… have all closed in SoNo proper since I began this website. Sheesh.
This has never made sense to me. SoNo is a fairly thriving downtown district with tons of millennials and visitors. New England Brewing is still going strong elsewhere of course, but the others? What the heck? Let's hope Spacecat can overcome this awful track record.
They opened in early October 2021 – another pandemic brewery!
And as mentioned, they're in a former factory – another industrial building brewery!
The Spacecat guys decided to delay their plans to wait out the pandemic to a degree. Smartly, they wanted to see how midsize Connecticut breweries fared through 2021. As it turned out, they did alright, so Spacecat moved forward and opened. They even went and snagged veteran brewer Roger Krakow from Two Roads Brewing, where he worked as a head brewer for a bit with the legendary Phil Markowski… who was the brewer at New England Brewing when they opened here in Norwalk in 1989, and… whoa! Spacecat!
I remember when I first heard that Spacecat was going to be a thing and sort of laughing at the name. Now that I've said it 40 times in my head writing this page, I can't get enough of it. Spacecat!
I entered from the side? Back? Both? I parked in the lot across the skinny street and walked past East Coast Kombucha's taproom. Yes, Connecticut's second kombucherie is right here next to Spacecat! Spacecat!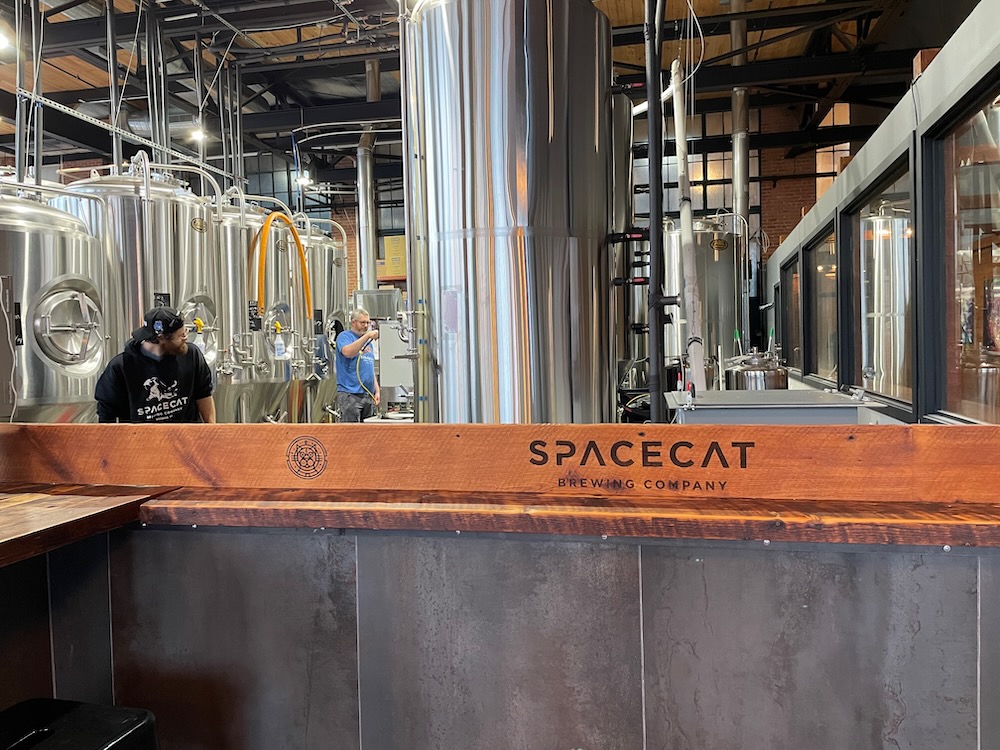 There are some artistic interpretations of spacecats on the walls into the brewery and no offense to our friends in East Hampton, I like the Spacecat art better than the Fat Orange Cat art. Spacecat! (Okay, I'll stop.)
The staff was ebullient at my arrival – right at the opening minute, more or less. No, not because I'm "CTMQ Guy," but just because they seemed like a really happy bunch – and had no clue who I am of course. It was Friday and this is a brewery after all. Good for them. I grabbed a menu and immediately smiled at the fact that it appears Spacecat is not a crappy brewery! I didn't see the word "lactose" anywhere except where it's supposed to be: in a milk stout description.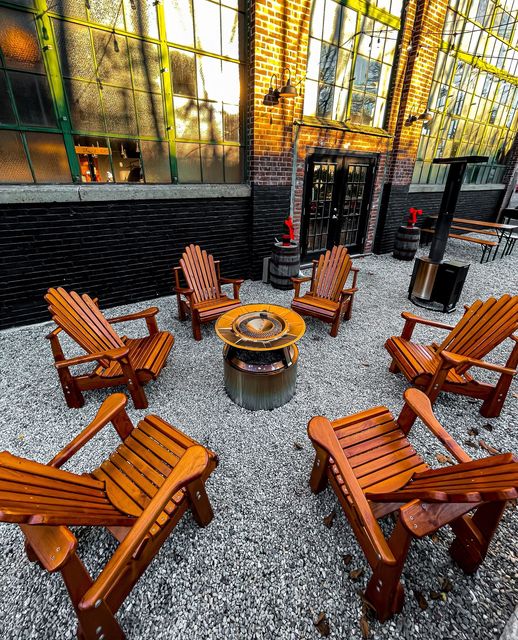 The line-up here looked good and I went with a porter, a pilsner, a kettle sour, and a west coast IPA! Hallelujah! Brewer Krakow has put such things as kolschs, marzens, Schwarzbiers, Helleses, wits, and plain old dry stouts on tap! Amazing. I should note that all the ABV's were within the normal range too; something I very much appreciate.
The taproom is quite nice; a couple unobtrusive TV's, and a large horseshoe shaped bar giving it an open, friendly feeling. Granted, I was alone at 2 PM on a Friday, but I imagine this place gets quite lively later on in the evenings.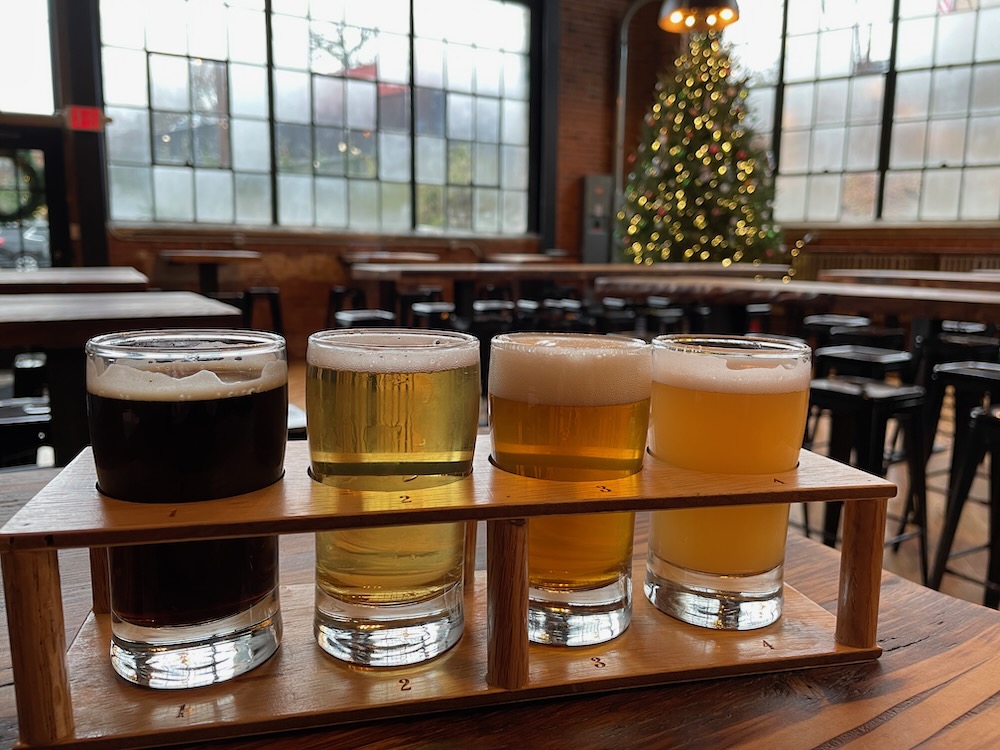 The porter, named Old Bill after a cat mascot for some military group, was a good standard porter – a bit of a rarity these days. The description basically says this is a beer brewed for and by old guys who like to drink this old guy beer. I'm okay with that. The pils was a German pils; quite biscuity and dry with an odd, slightly lemony aftertaste. I didn't hate it, but was a little perplexed by it.
The lime "gose" which is a kettle sour here, was a bit intense between a porter, pils, and bitter IPA. My fault I guess. Again, no lactose here. This is a sour beer. No joke. There was a sweet twinge in it, but I didn't get any classic gose attributes like coriander or anything. Just a lot of lime; a little too much lime.
The entire time I was here, the bar was playing great music. Legit 90's undergroundish college rock type music. I can't tell you how great that was – granted, breweries change their music up all the time depending on who is at the helm (during my last visit to Firefly in Bristol, my man was playing death metal, doom metal, and grindcore. I pledged a return. Music matters; for better or for worse).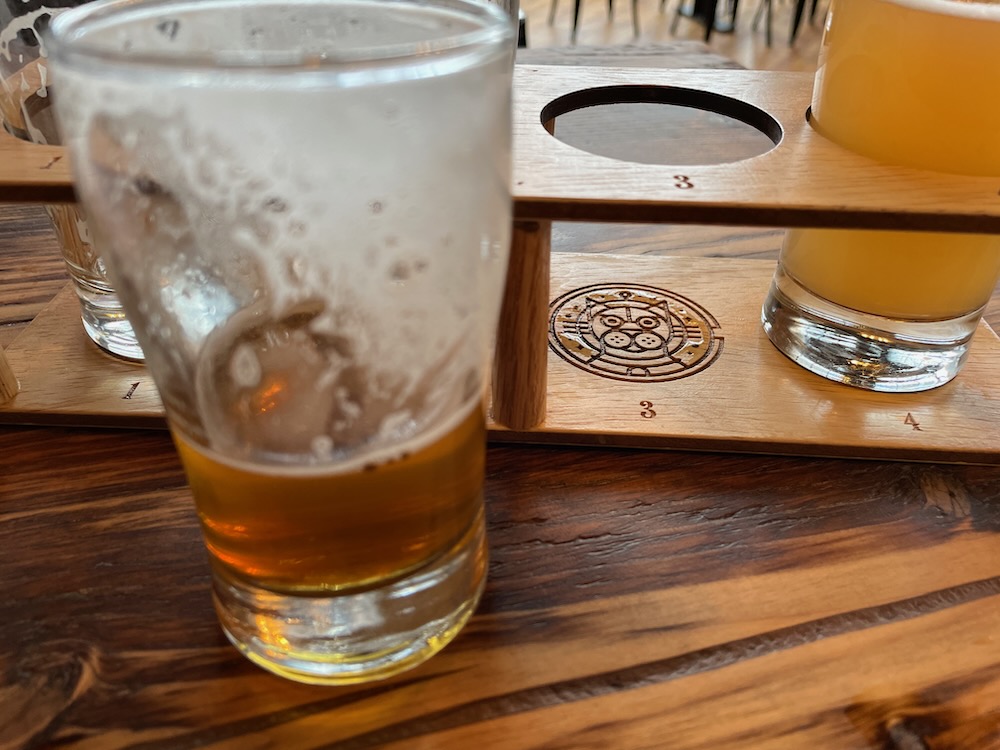 West. Coast. IPA. One of my holy grail beers at this point in my life. (The are: Black lagers, proper pales, and proper west coasts.) Spacecat's was bitter and clean and old school and delicious. Great way to end my flight.
I had much to do the day I visited Spacecat, and I was far from home. The brewery scene in lower Fairfield County has always been oddly weak; more in numbers than quality. Spacecat is pretty good! Better than all those failed Norwalk breweries of days gone by, that's for sure. May they keep playing good music, making good beer, and providing a good time.
Spacecat!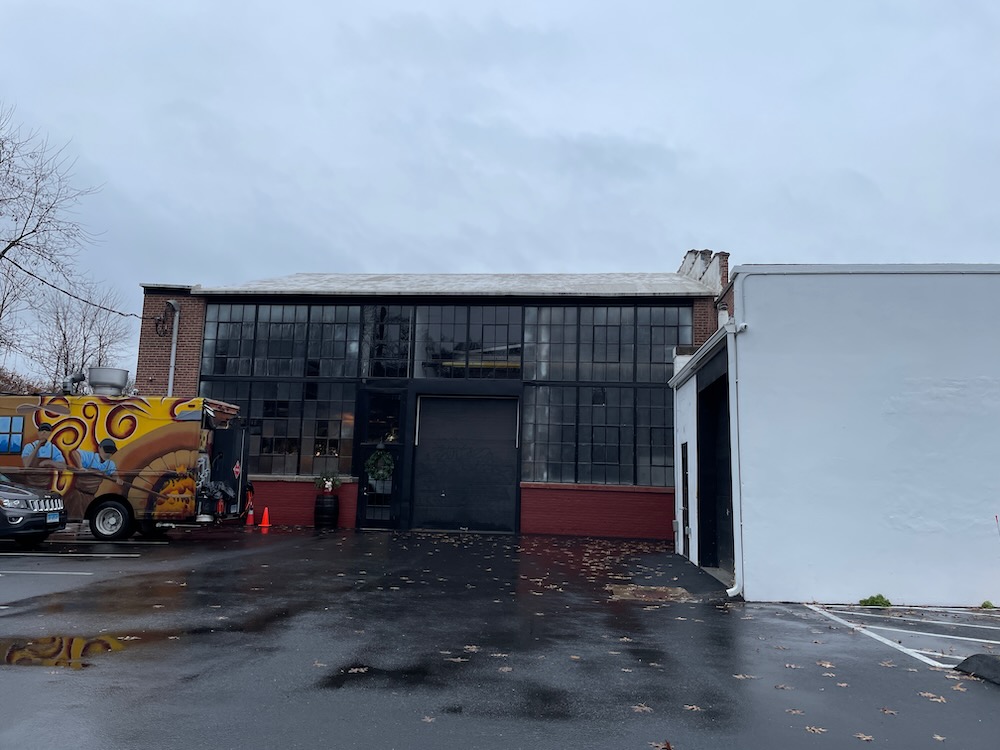 Spacecat Brewing Company
CTMQ's Breweries and Brewpubs