Doing the Kombucha-cha-cha
East Coast Kombucha Company, Norwalk
December 2022
"I hate kombucha."
"Really? My wife and I drink it all the time! We love it!"
"How? It tastes like vinegary garbage water."
"You just haven't had good kombucha!"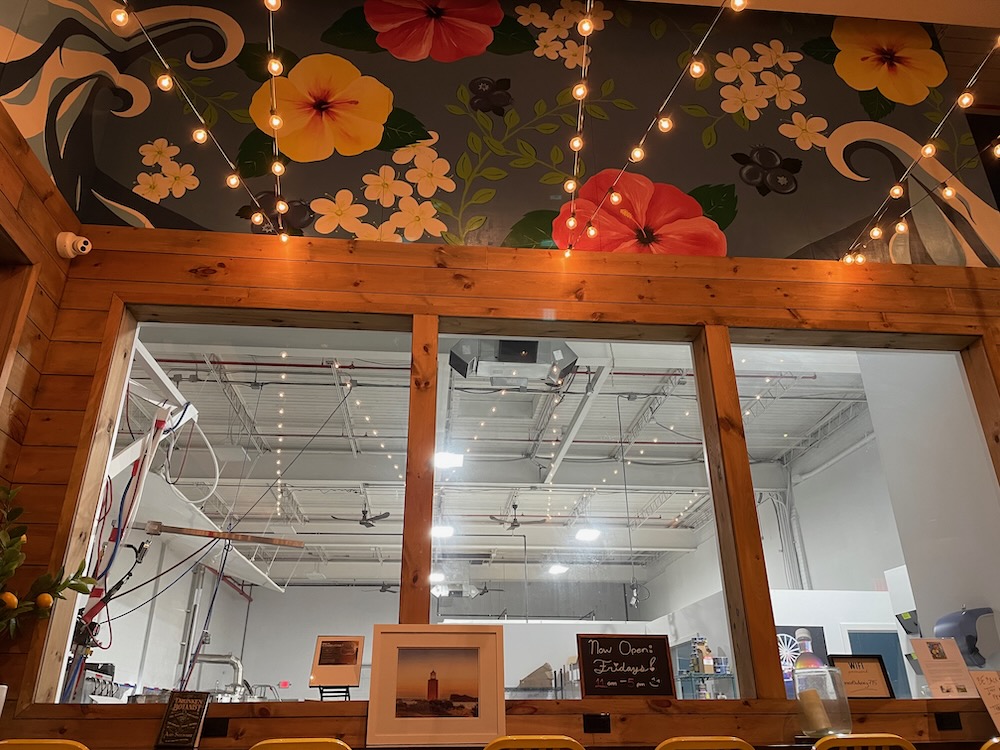 I've had this conversation a few times. I'm the negative person above. My pro-booch "friend" is an amalgam of several friends. It's fair to say that I've not had a lot of kombucha though, and perhaps I've just had bad luck. (At the same time, I don't really care to have "good kombucha" because I'd much rather just drink iced tea.)
I thought I was all done with kombucha after my one experience drinking locally fermented stuff from Cross Culture Kombucha in Danbury. In fact, I thought I was all done with kombucha because… why do I keep track of kombucha makers and write about them in the first place? Because kombucha is a fermented beverage? What a weird distinction I've made for this website.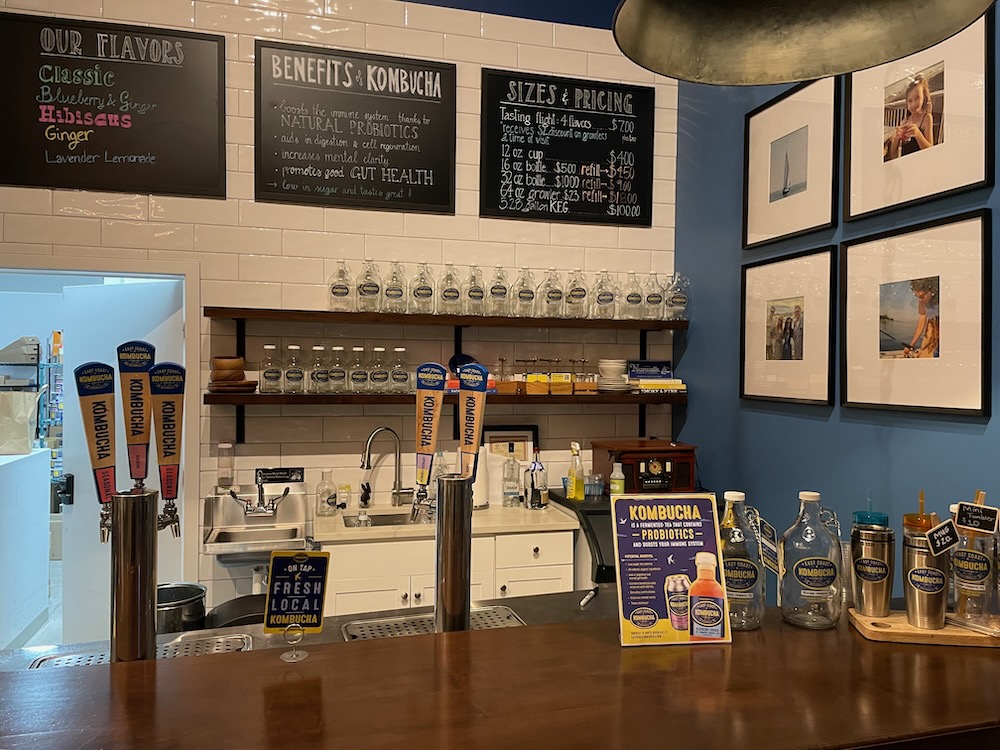 Regardless, here I am. Drinking kombucha in a converted historic textile factory in South Norwalk.
I came here to hit up Spacecat Brewing Company in the same building, not knowing that East Coast Kombucha Company had been brewing and operating their own taproom here since 2019. The old factory definitely feels like an old factory. For decades, this building housed the Park-Kit Safety Equipment Company, which manufactured First Aid kits. Now there's a brewery, a kombucherie, and an outfit that grow hydroponic vegetables.
I entered East Coast and looked around at the tiny "shabby chic" taproom and asked the guy if they do flights. I don't know why. Who wants flights of kombucha?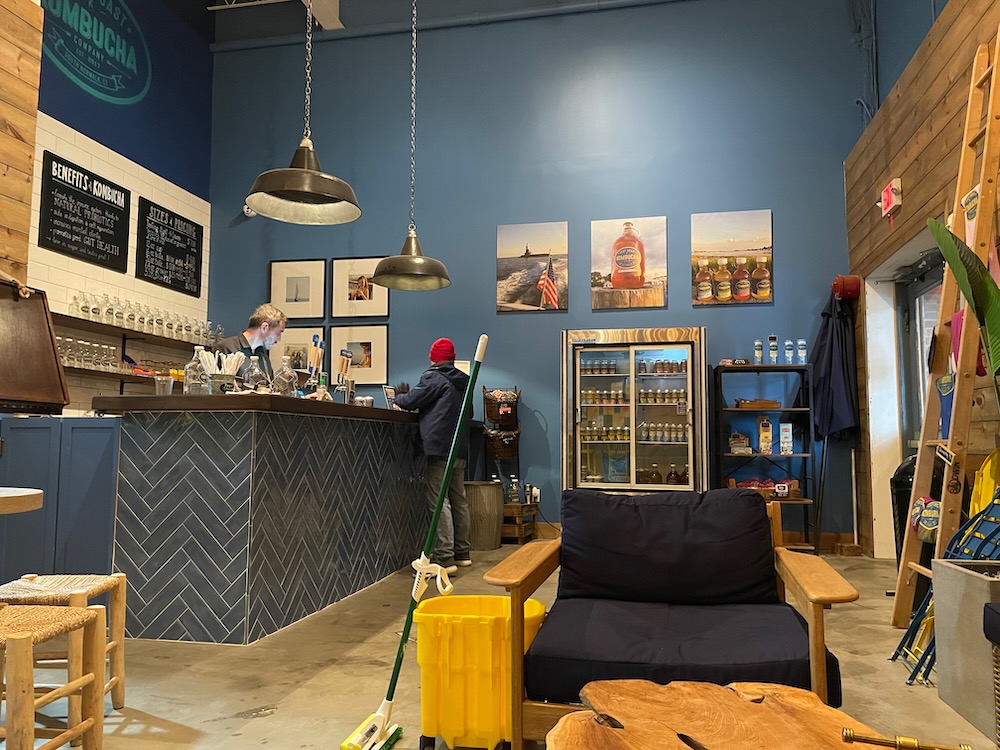 Yes. They do flights. Even have little flight holders. I guess I was going to drink a flight of kombucha.
I guess not all of you are hip enough to know what kombucha is. It's fermented tea. That's it: tea, water, sugar and a SCOBY (a Symbiotic culture of bacteria – lactic and acetic acid – and yeast). Typical kombucha is non-alcoholic, but I see some brewers are out there making "hard kombucha" now. If you make and sell the stuff, you describe it thusly: Kombucha is a refreshing, effervescent, fermented tea that's naturally sweetened but low in sugar-making it great alternative to soda. Kombucha has been enjoyed for thousands of years and each delicious sip contains healthy probiotics, organic enzymes and antioxidants.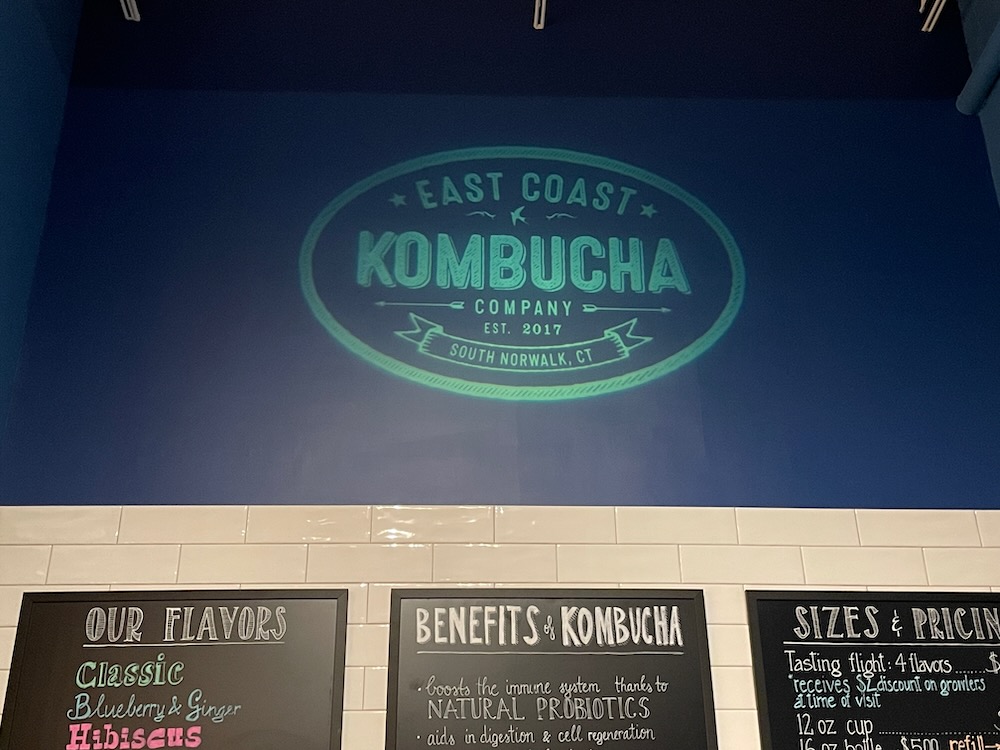 And I'm okay with that. My biggest issue with kombucha is that its adherents, acolytes, and marketers can't help themselves from attaching ridiculous health claims to the stuff. East Coast tempers the claims a bit, but boy do they loves the word organic… "Our artisan-brewed Kombucha begins with reverse-osmosis water for optimal taste. We then add premium organic teas, organic cane sugar and a SCOBY which creates the healthy probiotics and enzymes. We ferment for a few weeks, the add organic herbs and/or organic fruit juices to achieve our desired flavor. We never pasteurize, add probiotics, preservatives, sweeteners or artificial flavorings of any kind."
I can almost buy that. Just wish they didn't have this on their website: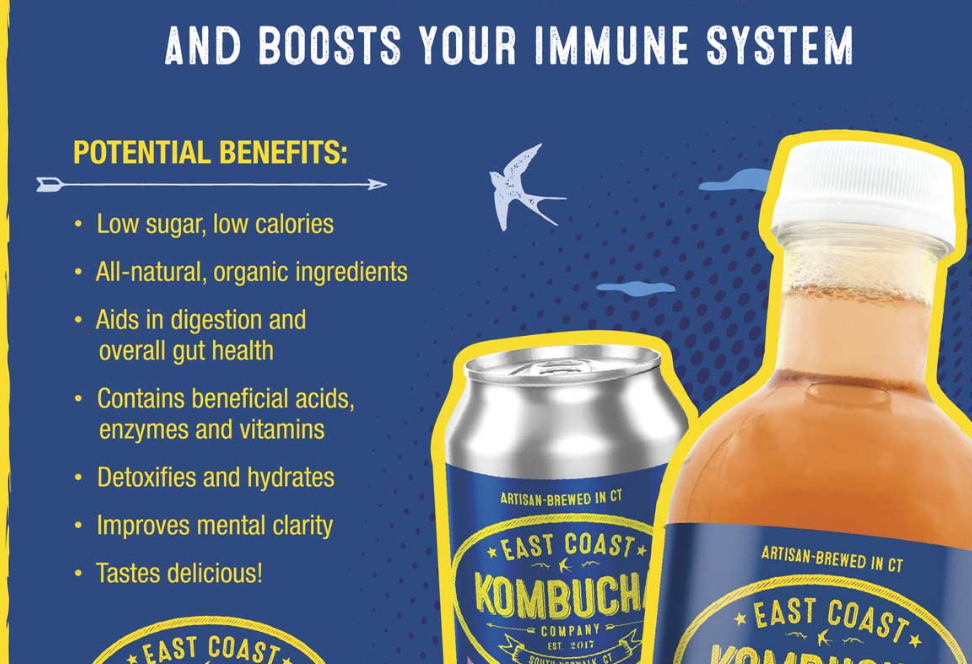 "Detoxifies." Sigh. It's flavored tea, people. With a bit of a funky taste. I have no idea who started this whole wellness thing with kombucha, but I don't like that person.
That person isn't East Coast founder Steve Gaskin. Although he worked in television production for decades before starting this place, he seems pretty down to earth. And the guy who served me was totally chill, and didn't try to sell me any snake oil during my visit. Much appreciated. (I should note that kombucha is not unhealthy at all. So it's not like the claims are hurting people. I think that's important.)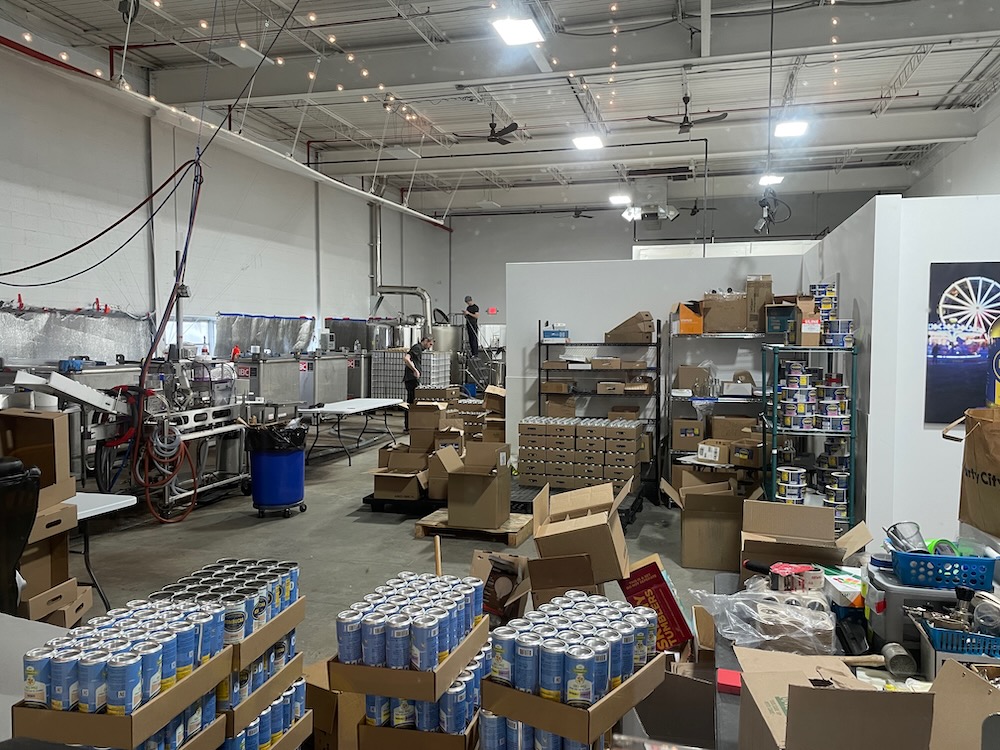 There were five flavors on tap; well, four flavored drinks and their classic. The classic is the brewery's base flavor and is made from a blend of black Assam, white peony, yerba mate and rooibos teas. So… tea. I like tea, but I didn't come here for straight up tea. I got the four flavored variants: Lavender-Lemon, Ginger, Blueberry Ginger, Hibiscus.
They make others as well. These include cherry, blueberry, elderberry and pineapple. There is also a line of CBD-infused kombuchas if you're into that. And if you're keen on how this stuff is made, you can even tour the brewery on Saturdays. Or at least you used to be able to. I can't imagine that's a big draw, but what do I know.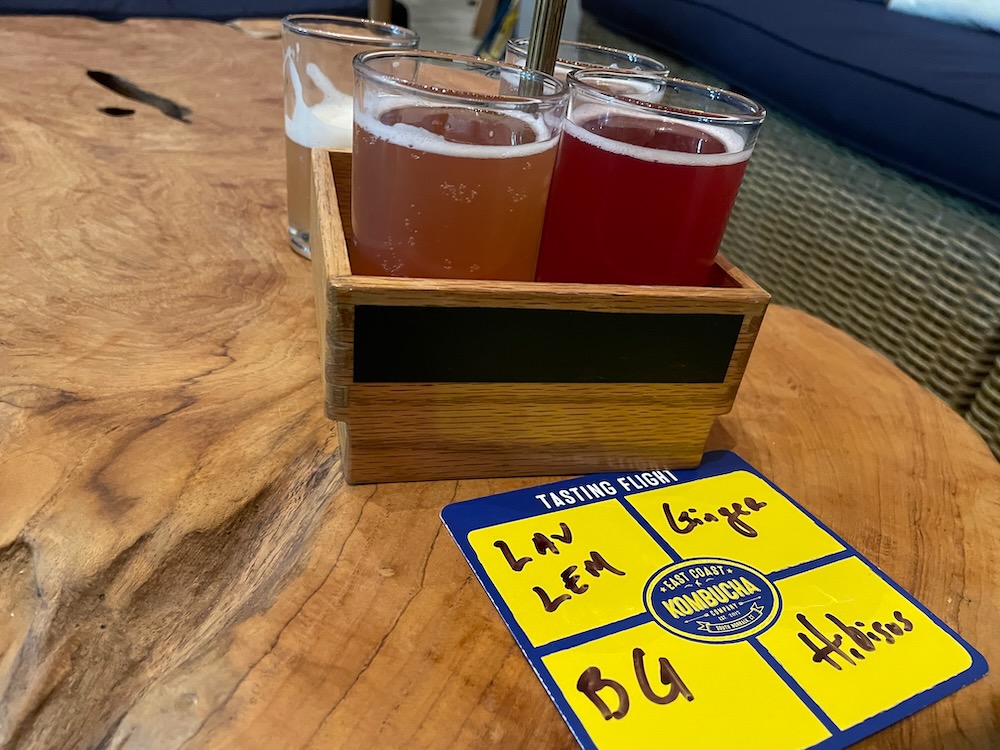 So there I was, sitting alone in the tiny taproom with my four samples wondering how I'd dispose of them discreetly. The guy working was cool enough to leave me alone as I sat down and admired the art work on the wall. (There's a beautiful donated mural by Tara McKiernan Kovach.)
Okay. Lavender-lemon. Hm. It's pretty good. Ginger? Not overpowering, not too medicinal, not bad. Blueberry-ginger? Didn't really work for me, but it wasn't gross like other kombuchas I've had. Hibiscus? Again, actual care has been taken here to balance the flavors well. If you are into this stuff, East Coast's "stuff" is really good. I didn't feel compelled to secretly dump full glasses of any of them.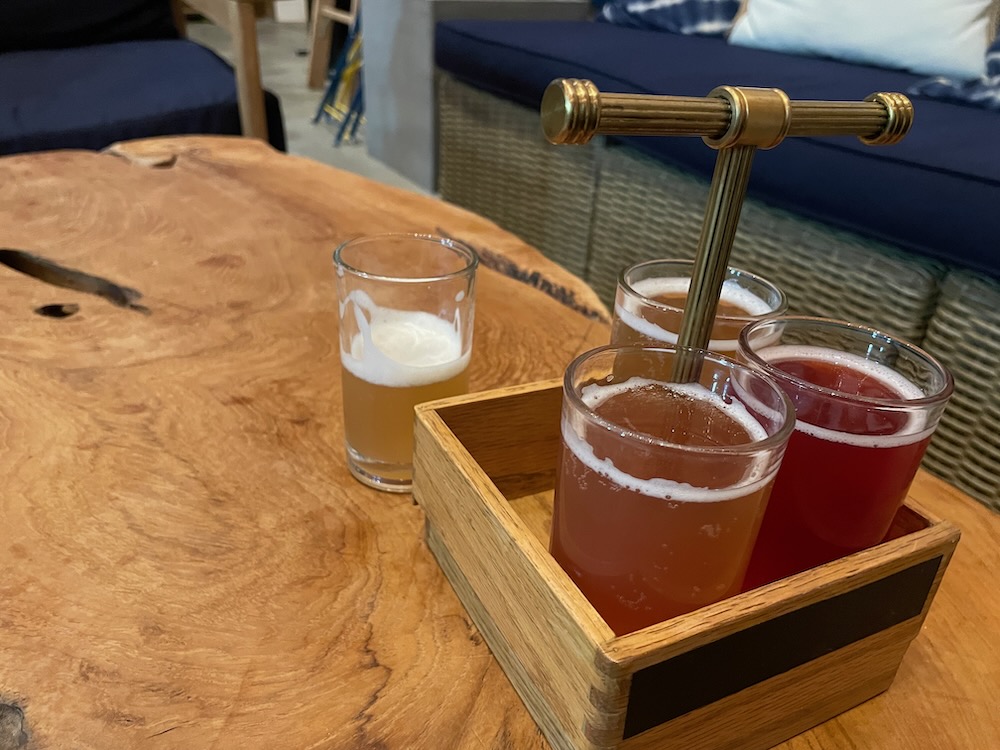 Each one tasted as advertised, but wasn't overwhelming, or acidic, or too sweet or anything. Take it from me, kombucha fans – a guy who doesn't drink kombucha and has never liked any kombucha he's ever had in the last decade – East Coast Kombucha is good kombucha. (Actually, maybe that means it's not good kombucha if I like it. I really don't know.)
The only downside of my experience was that downing four healthy samples of tea and then sitting in my car in I-95 traffic led to some serious bladder concerns and me squirming around in my seat until I was able to get to an exit doing what can only be called the… kombucha-cha-cha.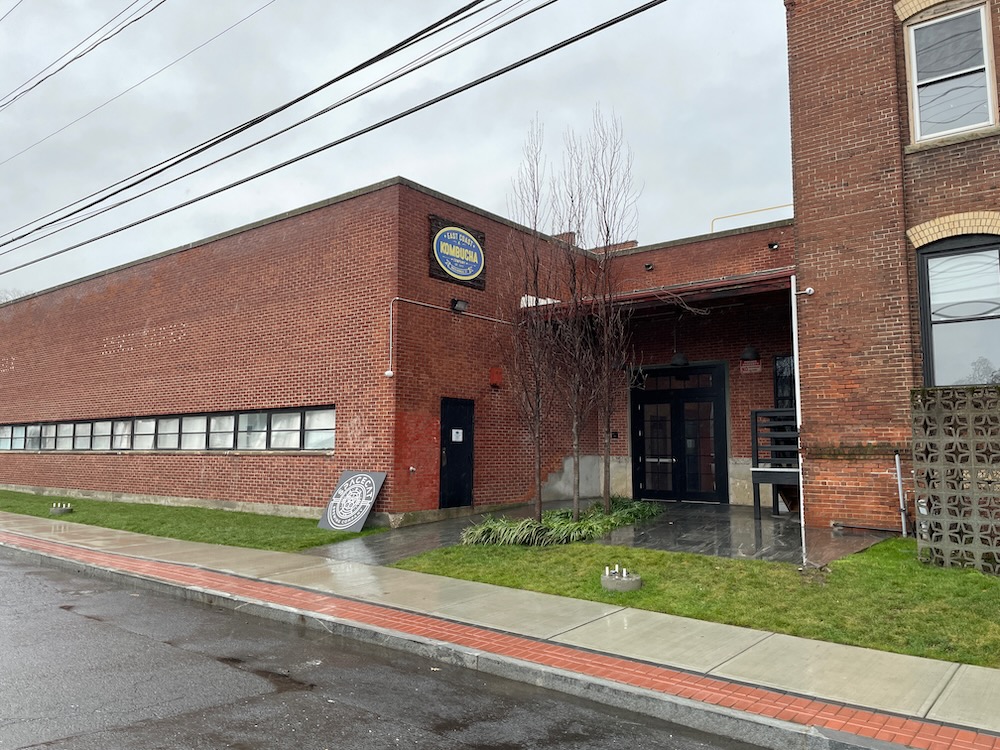 East Coast Kombucha Company
Cideries & Kombucheries