Stop the Presses! CTMQ is Here!
Norwalk (Google Maps Location)
June 13, 2009
The CCP is a Connecticut Art Trail site
Tucked into the midst of a full day of traditional museum going, I wasn't sure what the Center for Contemporary Printmaking was all about. And to tell you the truth, I'm still not entirely sure even after having visited.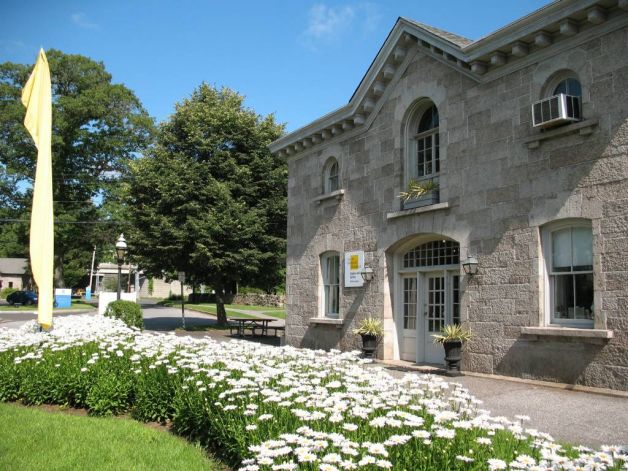 Perhaps merely because it was so divergent from the historical town and house museums my traveling partners for the day and I had been visiting all morning; I'm not sure. One would be correct in calling it an art museum, which is more or less how it bills itself – and that would be apt. It's just that the CCP doesn't have the usual rigor of a typical art museum, except in what type of art it displays in its two rather nice galleries.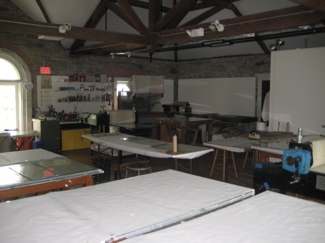 As you could guess, the CCP focuses solely on prints:
The Center for Contemporary Printmaking is a non-profit organization dedicated to the art of the print: intaglio, lithography, monotype, silkscreen, woodblock printing, paper works, book arts, and digital arts. CCP is a unique cultural resource, a place to discover, to experiment, to learn. The entire spectrum of printmaking arts is here to be explored through workshops, edition printing with master printers, exhibitions, community programs, and an Artist-in-Residence Program.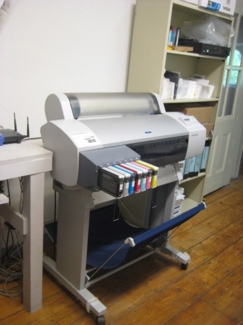 We arrived at the stone building, which is situated right next to the Stepping Stones Children's Museum and the stately Lockwood-Matthews Mansion, and parked in back. We wandered in the back door and stumbled through working print artists who didn't really seem all that bothered or surprised three random people were walking through their workspace. Like I said, this place is relaxed.
The exhibit during our visit was titled International Miniature Print 2009: Award Winners, so we were fortunate to see the best tiny prints in the world for that year! I'm not sure what the criteria on "miniature" was, but they were indeed tiny.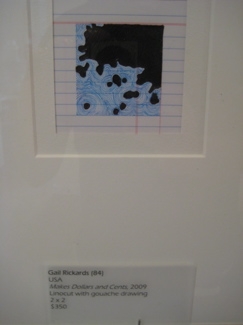 CCP is located in an historic landmark 19th century stone carriage house, an architectural gem transformed into an important and dynamic printmaking facility. It is fully equipped to accommodate all printmaking methods. Also located in the Carriage House is the Grace Ross Shanley Gallery, which is host to many intriguing exhibtions. The Helen Frankenthaler Printmaking Cottage located to the rear of the Carriage House is the home of the Artist in Residence Program. The cottage is fully equipped for printing and for overnight or long-term guests.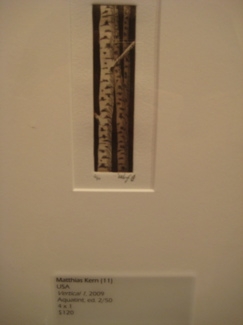 We did not get to see the Frankenthaler Cottage. But, who, you may ask, is Helen Frankenthaler? If you're ignorant like me, you have no idea. Turns out, she's a very important 20th century American artist! And, perhaps more importantly, she's an inductee in the Connecticut Women's Hall of Fame!
While largely recognized as a painter, Frankenthaler has created an immense body of work in the field of printmaking. Throughout her extensive career she has exhibited at such prestigious museums as the Whitney, the Guggenheim, and New York 's Museum of Modern Art. Her art has traveled on the American circuit from Fort Worth, to Los Angeles, to Detroit, and abroad in the 1960's and early 70's; Paris, Milan, London, Berlin, Montreal . She was one of only four American painters presented at the Venice Biennale in 1966. Frankenthaler has called Connecticut home since the early 1970's. She resides in Darien, CT, where she maintains her primary studio.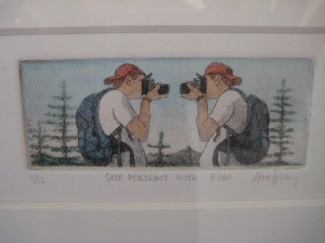 As we moved from the backroom with all the machinery that we traipsed through into the Grace Ross Shanley Gallery, I cannot provide any background on Miss Shanley. I'm sure she is/was a lovely woman.
The gallery space is well-lit and the various nooks and crannies really lent themselves to the miniature prints. The space in general isn't very large, so I think we were fortunate to visit during a fitting exhibition. The works were intricate and many were beautiful in their own way. One drawback of the exhibition was that in order to really see and enjoy the works, one had to get very, very close to them. This disallowed that typical art gallery experience of viewing a piece from different angles and distances – and I had to wait until other visitors moved along before I could check a particular print out closer.
On the flip side, when one has to get intimate with an object of art, one is almost forced to appreciate the piece a bit more than if he were to merely glimpse it while walking on by.
I took some poor photos of some of my favorites, like the fake Thom Yorke one or the one was printed to appear as though it was on blue-lined notebook paper (both above). That was pretty cool.
While I can't find anything online about it, there is another, very small, "gallery" up the stairwell to the 2nd floor and then in a small room upstairs. For an art museum of sorts, we were allowed to roam all over at will. I enjoyed that.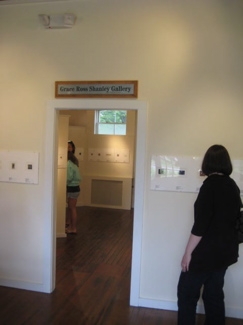 It appeared that three print artists were featured in the stairwell and upstairs: Vladimir Zuev, Randi Bull and Edward Landon. Zuev had his own exhibition here a couple years ago, and the CCP has honored him with a permanent collection.
From his own website:
Vladimir Zuev is a Russian artist specializing in graphic art. Over 10-year experience in printing graphic abstract etchings, ex-librises and woodcuts makes his works popular all over the world. Using multiple techniques, such as soft ground, engraving, aquatint his prints become a real masterpiece, and a thing most collectors want to own!
I didn't very much like his murky work. Sorry, Vladimir.
On to Randi Bull and this blurb from The New Canaan Advertiser via the Woodblock Dreams blog:
Ms. Bull moved to America from Norway as a baby and grew up in and around New York City. She began printmaking in the 1950s, and when she pulled her first woodblock print, she realized that this would be her preferred medium. She was already an accomplished printmaker when she encountered Japanese woodcut artists and their tools – the knives, gouges and baren.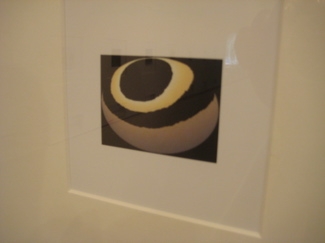 She applies oil-based inks, rather than the water-based inks traditional in Japan, to the carved blocks, a separate block for each color. Then she places paper on each block in turn and rubs it by hand with the baren, a flat disk covered with a bamboo leaf. For greater definition, she uses a wooden spoon to strengthen a line or particular area. Because each woodcut involves so much meticulous handwork, she limits them to editions of 35 to 50 prints.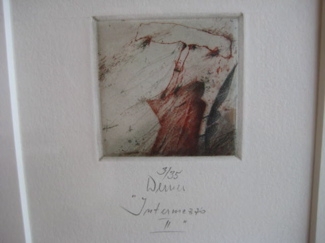 "I like everything about making a woodcut. I like the knives, the feel of cutting the wood, the white of the paper, the wonderful colors, and the luminosity the white paper and the black key block give. I like the shapes which materialize when you cut freely, both the shape you cut out and the shape that remains. I like the struggle with the grain of the wood, the fact that it has a life of its own. I like the step-by-step working out of the final print and the exciting transparencies of color over color. The logical or sometimes topsy-turvy solutions at times are quite different from the initial plan of colors. I love the mystery that arises when a print suddenly seems to work."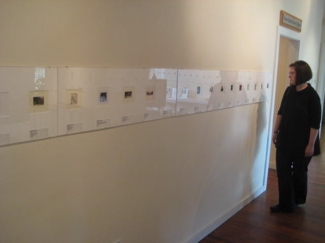 That leaves ol' Edward Landon – a local boy!
Born in Hartford, Connecticut in 1911, Landon, dropped out of high school to enroll in the Hartford Art School, and eventually moved to Greenwich Village in New York to study at the Art Students League. One of the important artists he would be indebted to was Arthur Dove, who encouraged his venture into the art of abstraction. In 1939, Landon was awarded a Guggenheim Fellowship to work on Non-Objective Painting. He eventually became intrigued with the silkscreen process and turned away from painting, helping to organize the group known as the National Serigraph Society. He served as its president and helped with exhibitions, lectures, and demonstrations. Landon is credited with more than 240 silkscreen prints and is recognized as one of the most outstanding and accomplished silkscreen printmakers of his time. Some of his notable abstract prints are, "Arrangement with Blue Major," inspired by his love of music; "Nothing Begins, Nothing Ends," and "Time Silhouette," relating to his studies of Nordic cultures.
I liked his stuff the best.
CCP hosts a variety of workshops and demonstrations throughout the year, so go there if you want to make a print.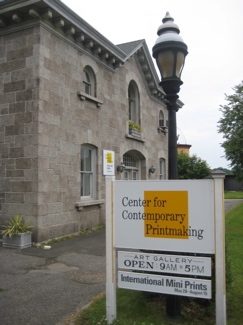 Center for Contemporary Printmaking