Art Space Needs to Continue Apace
Norwalk (Google Maps location)
December 2022
One of my favorite pastimes is reading internet comments from lower Fairfield County residents about how degenerate and awful Norwalk is. This "destitute" city has suffer the ignominy of being surrounded by New Canaan ($1.7M median house price), Wilton ($990K), Westport ($1.6M), and Darien ($1.8M). I'm not sure how this city even functions with a median household price of a paltry $506,000.
That was sarcasm if you're unfamiliar with this website.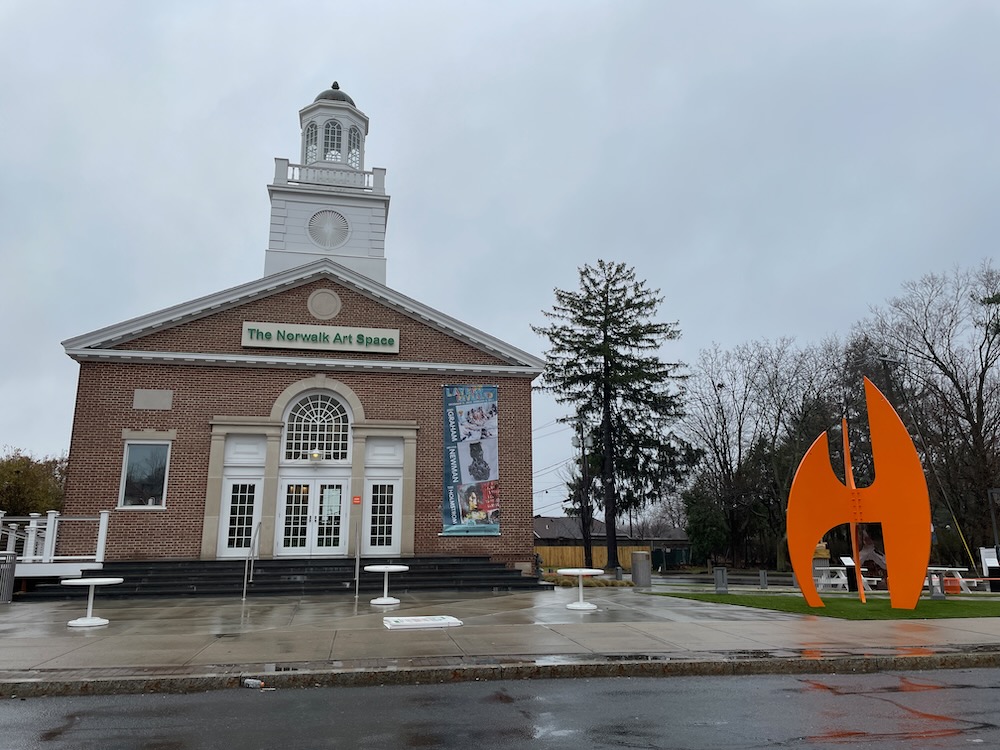 It's true, the wealthy people in those lily-white towns love whining about Norwalk – a perfectly fine and rather vibrant small city along Long Island Sound (Full disclosure: I live in West Hartford which loves whining about Hartford, but our "numbers" as compared to the above are not as ridiculous.)
For what it's worth, I rather enjoy Norwalk. There's actual stuff to do. In fact, I came down here to tour one place, was early, so I walked a few minutes to tour this place. And if this place didn't work out, there are plenty of other cool places to check out all within a few blocks of Mathews Park. You can't do that in stinkin' Wilton.
This this place is The Norwalk Art Space. And was a new place when I visited in late 2022.
The Norwalk Art Space at ADK House is a stunning, contemporary event space housed in a historic Norwalk building. Bathed in light from massive arched windows, the beautiful, newly renovated interior has multiple levels and a capacity of 210 people for a standing reception and 120 for a seated dinner… Featuring a 2,200 square foot gallery, versatile loft space, separate 450 square foot upper dining area, and an outdoor patio and sculpture garden, ADK House offers an inspiring and artistic backdrop for your next special event.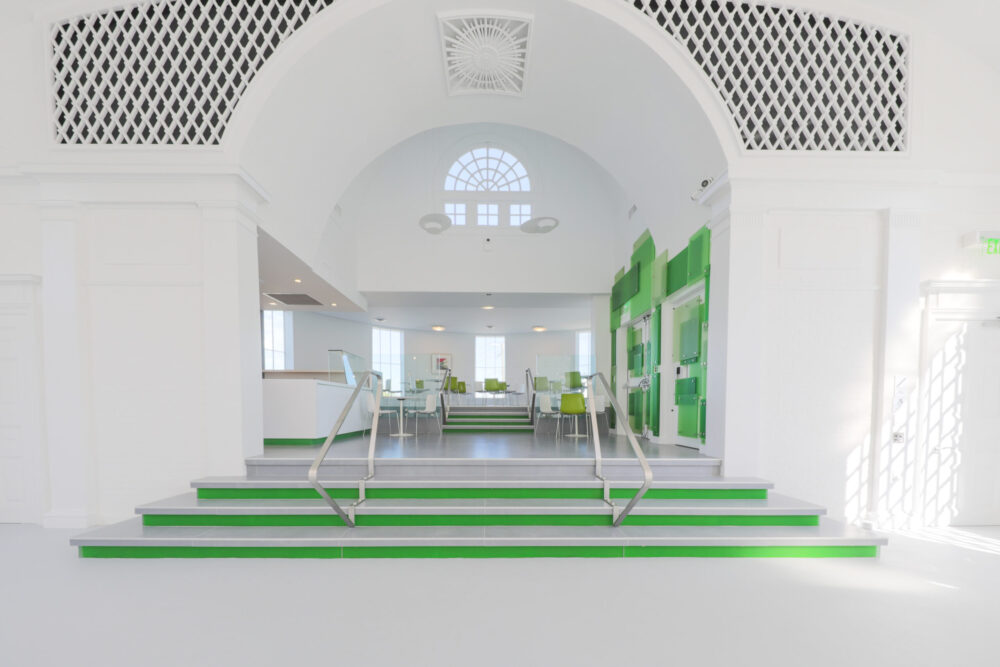 Smart. This Art Space place isn't just an art space place, it's also an events place – and it also has an nice little overpriced café. Perfect! I wish they gave us a little more background on the "historic Norwalk Building," but that's not important. (It appears to have been a church.) What is important is the name of the place now: The ADK House. Because "ADK" was an incredibly impressive woman.
The Norwalk Art Space was conceived and designed by Alexandra Davern Korry (1959-2020), a trailblazing lawyer, educator, and civil rights advocate. Alexandra wanted to create a space that would enhance educational opportunities for under-served students, promote under-represented local artists, and provide the public a welcoming space to enjoy art and music. Her family and friends can certainly be very proud of what has come to fruition from her vision.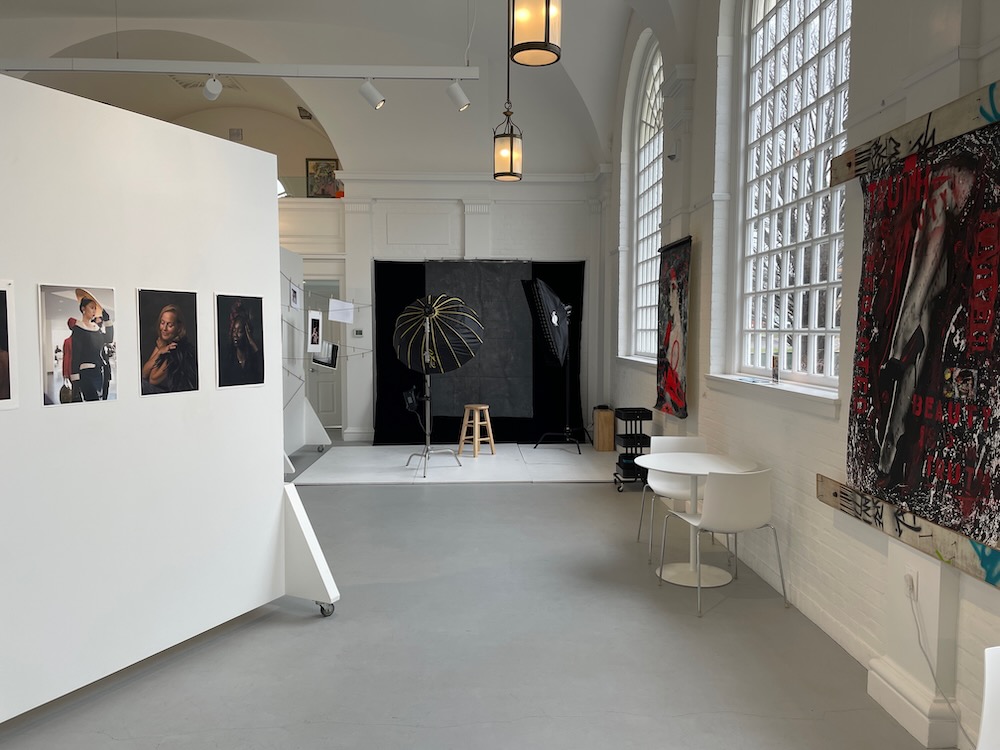 I found myself reading a lot about Korry. She headed a civil rights panel that helped spur the abolition of solitary confinement for juvenile inmates in New York City and has been a strong opponent of stop-and-frisk; showing how it had been used disproportionately against Blacks and Hispanics. So in addition to being a top mergers and acquisitions lawyer at a top New York law firm, she gave nearly a decade of public service as head of the New York State Advisory Committee to the United States Commission on Civil Rights.
I know I'm supposed to be talking about art here, but get this: there was a boy named Kalief Browder, a Bronx youth who was arrested when he was 16 for stealing a backpack, placed in solitary confinement on Rikers Island for two years while awaiting trial, and released in 2013 after the charges were dropped. Publicity about the Browder became a catalyst behind the city's decision in 2014 to ban solitary confinement for 16- and 17-year-olds, and later for detainees under 22. (Months later, Mr. Browder committed suicide at his Bronx home.)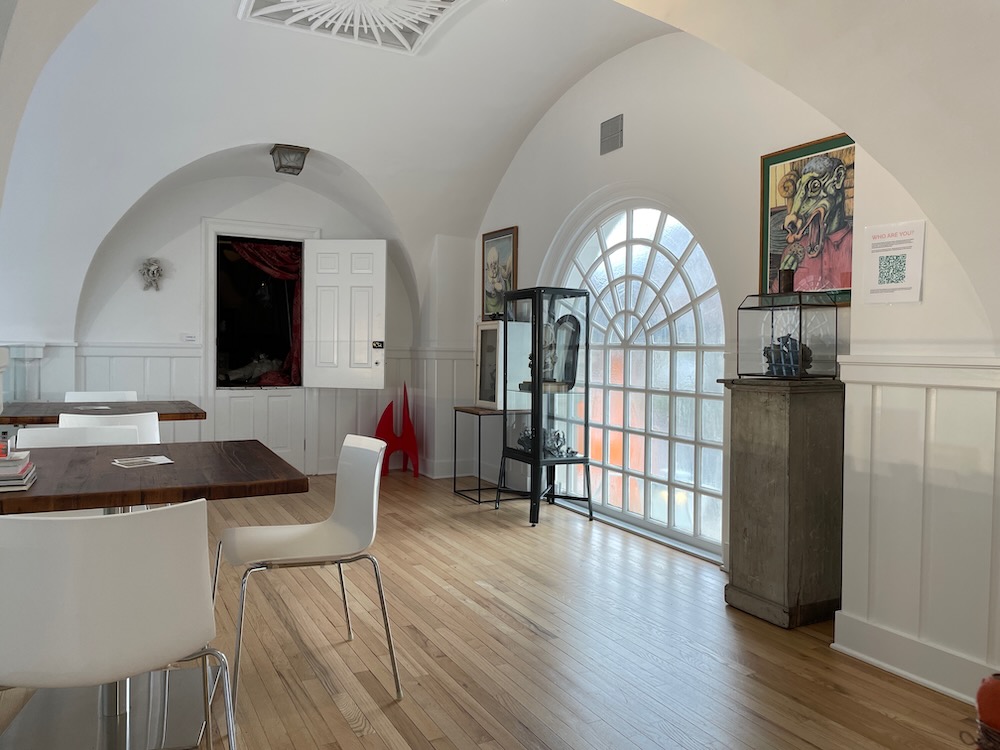 And Korry lived in Westport with her lawyer husband – a galaxy away from Rikers Island. The above paragraph has gotten me all fired up, as much as I try to remain apolitical here on CTMQ. What a nightmare… and thank goodness we have people in this world like Alexandra Davern Korry to help right some wrongs anyway. She was taken from us too early by ovarian cancer, darnit. She never got to see the ADK House completed, but her legacy lives on.
And it's a beautiful space. Bright, open, vibrant.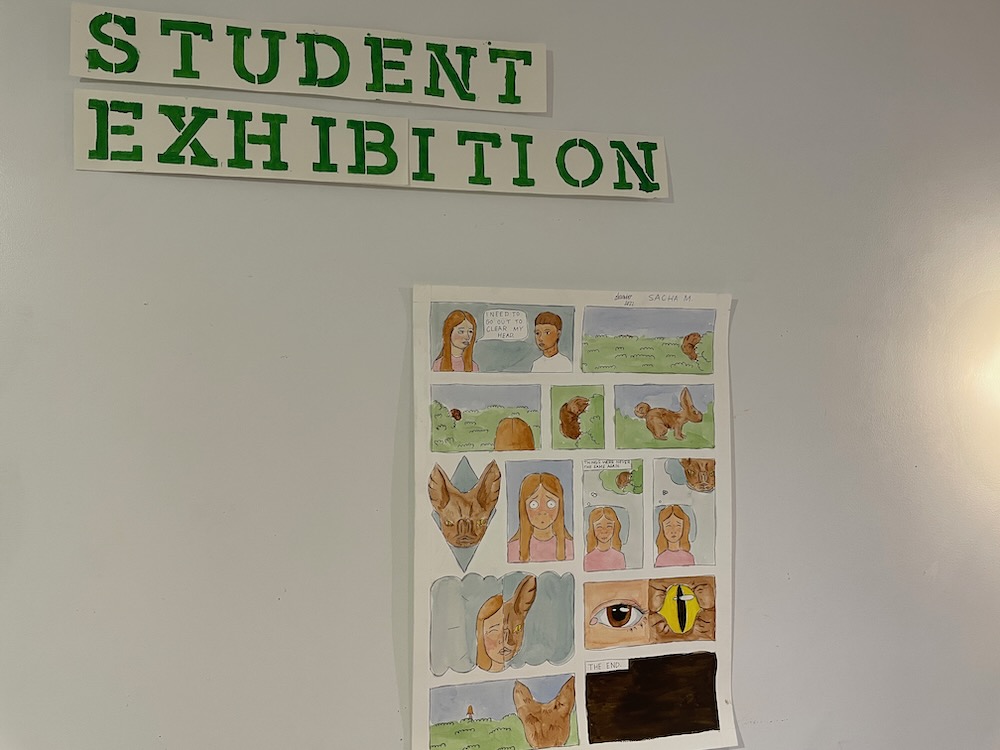 The gallery hosts 6 major exhibitions during the year. And check this out… after each exhibition's run, select pieces are moved to The M&T Bank Magnificent Room at The Sono Collection up the street. (The Sono Collection is a mall, so who knows how long this partnership will last.) That's cool, each artists kind of gets two exhibits. In addition to the major exhibits, there's a whole underground gallery that was showing a lot of student work – I suspect this is always the case, as there are always art classes here and the classrooms are down below as well.
These are the free art classes that The Norwalk Art Space offers in partnership with the area's urban high schools. Just an absolutely fantastic idea and outlet for the city's creative kids. The Artist-in-Residence must agree to teach the art classes for free in exchange for the studio space, materials, and time. Cool idea, and I hope it lasts.
In fact, my absolute favorite thing I saw here all day was these kids hustling out here with their art. Their pieces were hung and prices were attached; some in the multiple hundreds of dollars. Even things like this: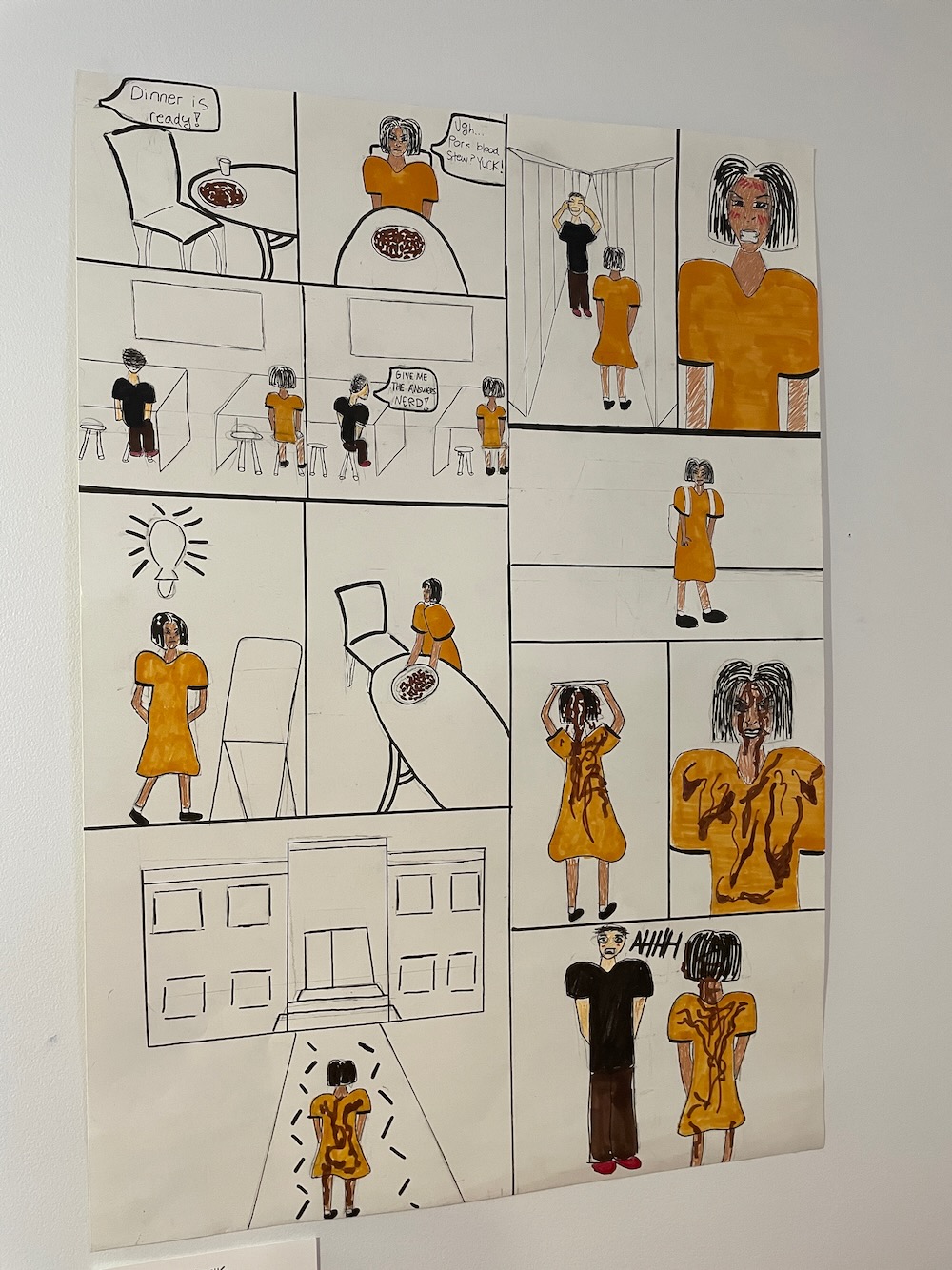 Hey man, go for it it kid. Why not?
There was some real talent on display down here. This is interesting… I see that this piece below made the cut and was moved to the Sono Collection gallery. It is by one of the Artists-in-Residence, Tiara Trent. The price attached to this was $450 when I visited, but now it's $1,000 at the downtown showroom. I like how that works… and again, good for her.
The main exhibit in the sunny gallery was "Layers Revealed," featuring works by Korry Fellow Jerri Graham and invited artists Melissa Newman and Tim Holmstrom. Way back in the day, when I used to write up visits to similar art exhibits, I used to enjoy sharing the artists' statements – at least the ones I found to be overwrought and pretentious and incoherent.
Then I realized that oftentimes it was me that just didn't get it.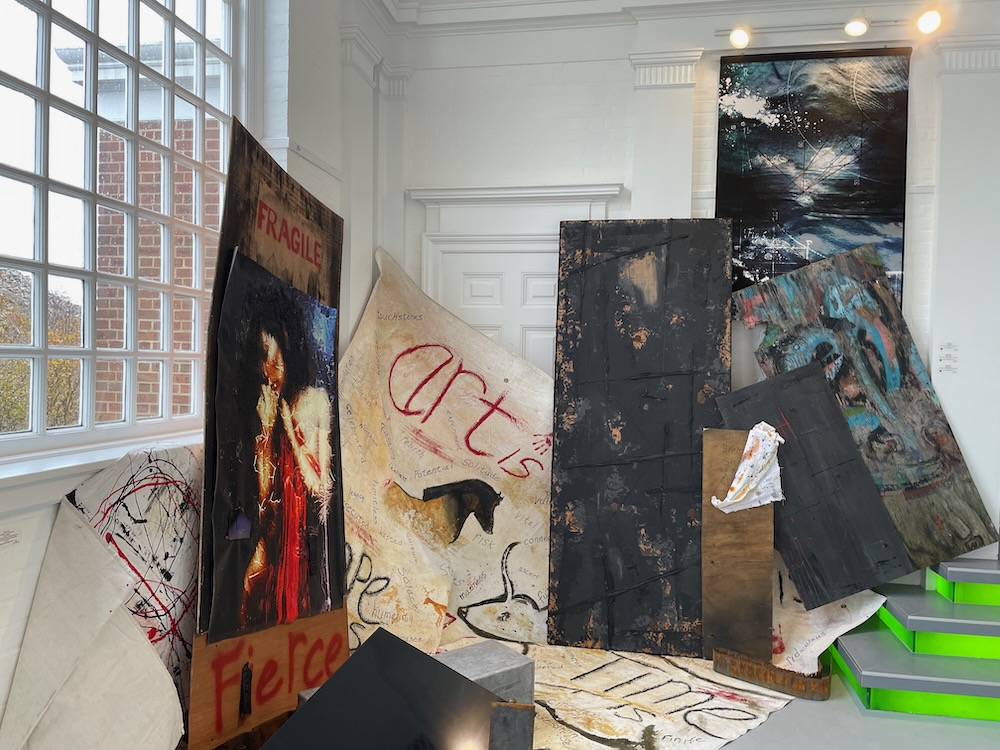 Would you like to test yourself? Go ahead… though this ones is pretty sensible:
"Slowly, the layers of our lives are revealed and once they are, we fully come through," writes Photographer and Korry Fellow Jerri Graham. In the new exhibition "Layers Revealed" at The Norwalk Art Space, Graham invites artists Tim Holmstrom and Melissa Newman to explore the many cycles and layers of humanity, nature, beauty, creation, and decay. "Each frame of the camera" Graham states "is a fraction of a second of a life that will be lived for a time unknown. Within these fractionated layers, we find our lives and ourselves." Melissa Newman works in several mediums including clay. "I see artists as "little gods," who translate the world around them, creating their own worlds in response" Newman writes. Her sculpture, reflecting an immersion in nature, music making, writing and traveling, provokes multiple layers of interpretation and tension. Tim Holmstrom's work "excavates cultural and personal themes, stories, myths or delusions we often recycle and return to …out of habit, comfort, and nostalgia. The repetitions and patterns of decay, rebirth, and the entropy and chaos found in Nature – found in our own nature as humans and artists. Accepting and embracing the beauty, darkness, twists, folds, scars, and revelations borne of that process. It attempts to illustrate that most of all we all labor under a collective delusion that we are evolving, escaping or progressing."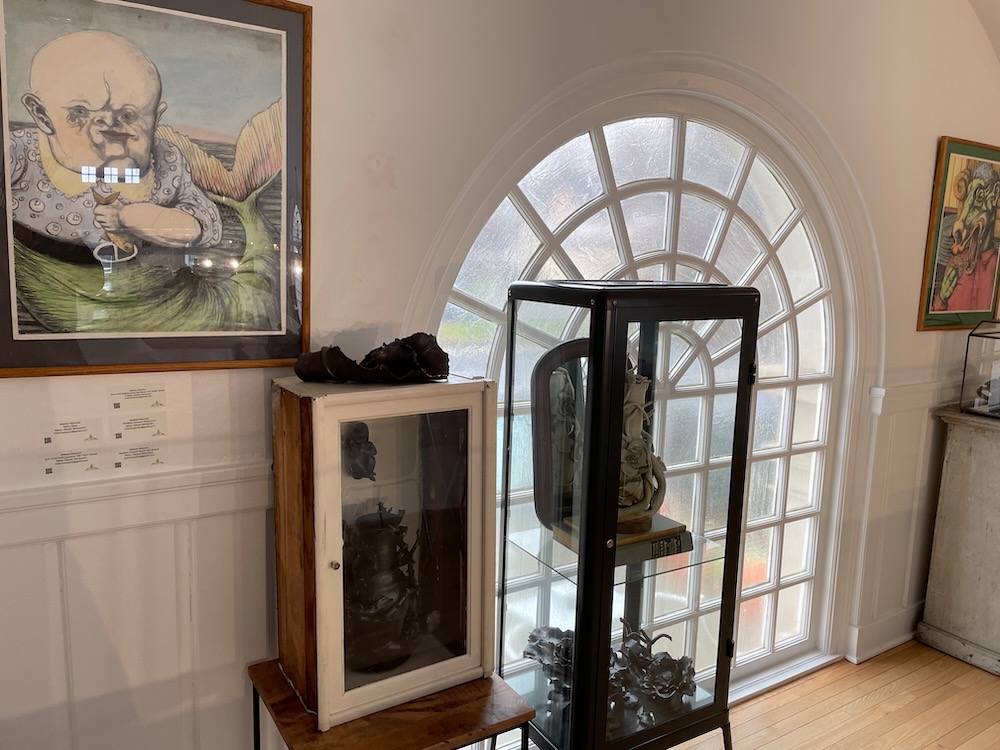 Theres's a secret little hideaway table upstairs that overlooks the whole place. That's where I'd sit if I were to hang out here. For hours. And hidden away up there is a creepy-cool little exhibit called The Cabinet of Curiosities.
It's here, in that darkened space behind that opened door: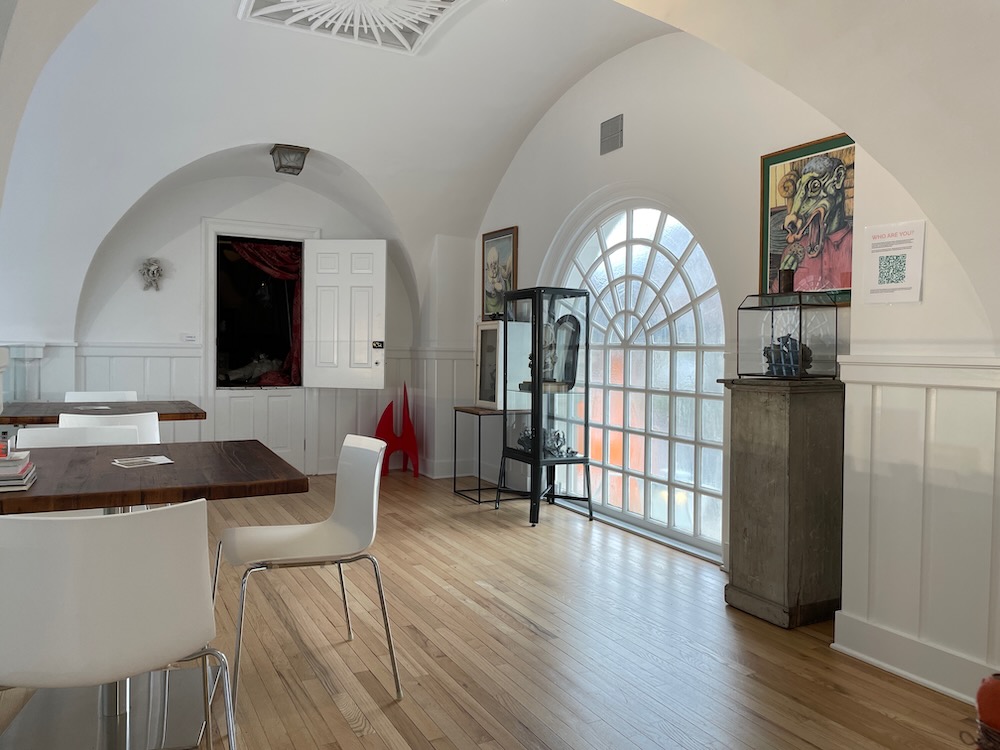 And it was really, really cool. So cool, and I was apparently so excited, that my picture of it turned out to be a black and brown blur. So you'll just have to use your imagination… think about the repetitions and patterns of decay, rebirth, and the entropy and chaos found in Nature – found in our own nature as humans and artists. Accepting and embracing the beauty, darkness, twists, folds, scars, and revelations borne of that process.
I hope that helps.
I left The Norwalk Art Space with a smile on my face. If I lived in town or – GASP! – in one of the protected neighboring enclaves, I'd pop into this place for the events and openings and shows and things. I fully support their mission and simply like the space itself.
Outside, I moseyed through the sculpture garden; a nice, vibrant collection of pieces from a variety of artists. I'm not sure if these installations are permanent or not, but if not, I'm sure they'll be replaced by similar pieces.
The ADK House/Norwalk Art Space is worth it. Whatever public funds help with it are worth it. Keep it up Norwalk.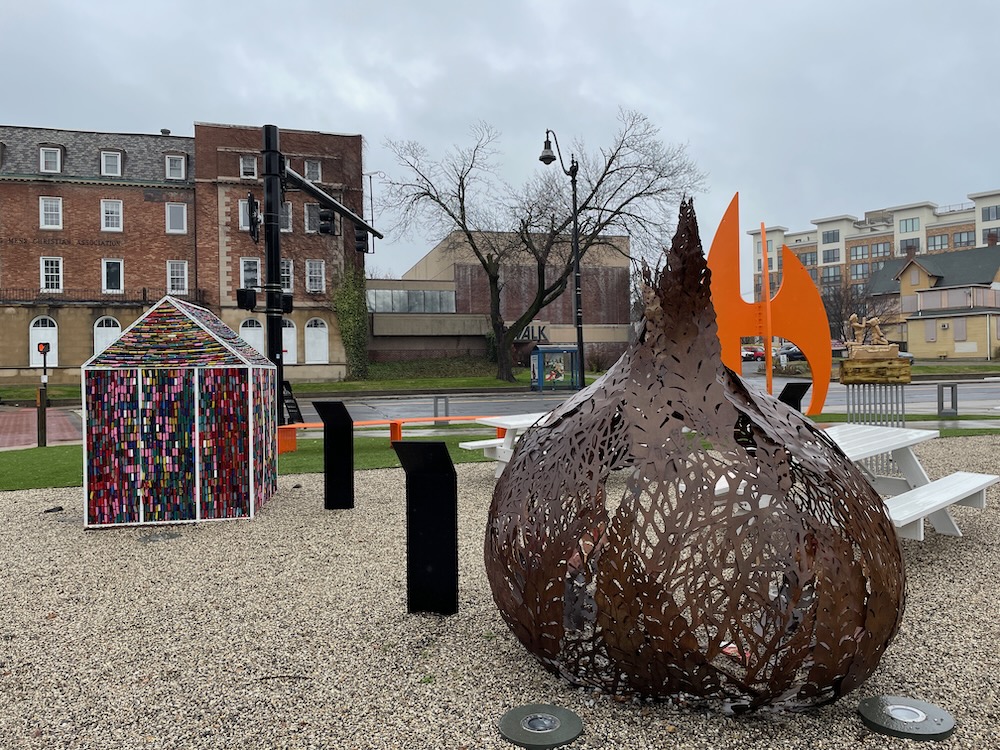 The Norwalk Art Space
CTMQ's Museum Visits