norWalk, norHit, norRun…
Norwalk (Google Maps Location)
June 13, 2009
[2016 Update: This museum closed sometime in late 2011 but has been revived. It is now the Norwalk Historical Society Museum and is located at the Lockwood House. Some of the stuff from the museum has wound up at the Norwalk Library's History Room.]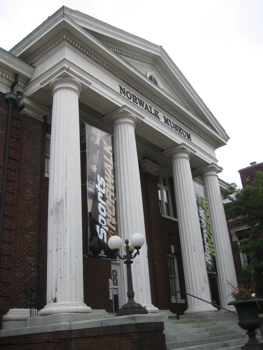 I feel kind of badly for the Norwalk Museum. You see, it was our last stop on a day-long CTMQ journey through Fairfield and Norwalk. We visited a ton of museums in addition to a couple "best of" eateries and other curiosities. We were tired and Rob and Yvonne were probably just wanting to get on the train back to Brooklyn until we do this again next year. As a result, we sort of rushed through the handsome old building right on Main Street in the heart of bustling SoNo.
I'm sure you all can forgive me; especially in light of the fact that the museum maintains a fairly robust website and it will more than make up for my shortcomings. (Which is really nice considering I'm writing this 50 weeks after my visit!)
As I've mentioned on other Norwalk museum reports, one could easily spend a day in SoNo visiting a good mix of museums and eating great food. There are six museums within a mile here – ranging from a very nice aquarium (CTMQ Visit here) to a children's museum to an art gallery (CTMQ Visit here) to a train history museum (CTMQ Visit here)… SoNo has it all.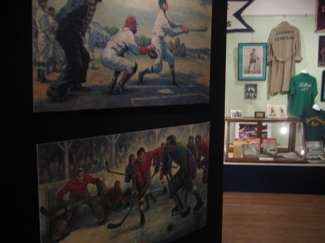 The building itself is somewhat daunting from the outside. A high staircase leads to the oversized doors. The Norwalk Museum is currently housed in the former South Norwalk City Hall, a large brick 2 ½ story building built in 1912 in the heart of the South Norwalk commercial district. It is constructed in the Colonial Revival style. The building was built by the City of South Norwalk for their City Hall…
The building was designed by the New York partnership of architects Joel D. Barber (1876-1952) and Frank Bissell (1881-1957), who were also commissioned to design South Norwalk's Central Fire Station. These buildings were constructed simultaneously. Barber worked for Raymond Hood's office in New York City in the late 1920s and 1930s. He worked on several major projects, including Rockefeller Center, the McGraw Hill and Daily News buildings. Frank Bissell moved to Norwalk in 1913. Though he maintained his New York office, his later work seems to have been in Norwalk where he designed an addition to the Public Library, two elementary schools and the Washington Village housing project.
The museum only occupies the ground floor of the building and has what I believe to be two permanent exhibits and then another rotating exhibit space and a small art gallery area.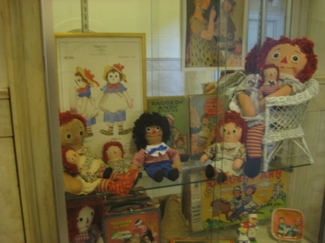 The Museum owes its start to the generous donation by Manice deForest Lockwood of the family collection of Norwalk Americana including furniture, fine china, and other family effects that were part of the rich history of one of the founding families of Norwalk. Meetings with Ralph Bloom and John Cuneo (members of the Mayor's Historic Sites Committee) in the late 1960's led Mr. Lockwood to sponsor a museum for his native community. Mr. Bloom was designated the curator for the proposed museum and worked with Mr. Lockwood from 1968 to 1972 as a volunteer coordinator, inventorying the collections in Mr. Lockwood's New York City home and his country estate in Norfolk, CT.
The Lockwood House Museum opened on November 10, 1973 at 141 East Avenue after years of planning. The building and the collections were gifts of Mr. Lockwood and his cousin, Julia B. Lockwood of Pasadena, CA. The City of Norwalk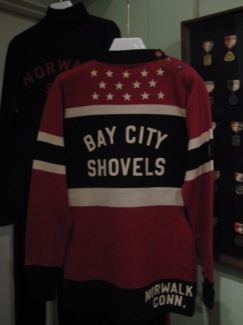 provided the site: one acre of lawns and gardens with parking shared by the adjacent Health Department. The building was designed by well-known Norwalk architect, Margaret Hoyt Smith.
The Norwalk Museum operated at the East Avenue site and continued to grow its collection for the next 24 years, until the plan for converting the adjoining former Norwalk High School into Norwalk's new city hall. When the new City Hall opened in 1988 at 125 East Avenue, the Museum lost its front lawn to the new parking lot. Attendance declined and membership dwindled.
In February, 1994, a public hearing was held regarding the disposition of the former City Hall building in South Norwalk which was owned by the City and standing vacant. Mr. Bloom proposed using the building (now derelict and unused) as a new home for the Norwalk Museum. Only one block from the new Maritime Aquarium and in the heart of historic South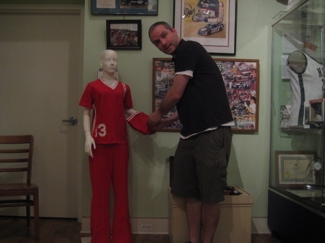 Norwalk, the location showed great potential for public access to the collections.
In the fall of 1995, the Lockwood Collection was moved into the newly renovated building at 41 North Main Street. Massive renovation and a major fund-raising effort by the Friends of the Museum paid for the renovation and the installation of the Collection in its new larger and more accessible home.
The first exhibit we enjoyed was all about Norwalk Sports. (This isn't a permanent exhibit.) Town history museums do this in an effort to attract a newer and younger audience. I know for a fact that the Stamford Museum, one town south of Norwalk, will be doing this in late 2010. Now, I enjoy sports a great deal, but these hyper-local sports exhibits don't really do it for me. Local history is universal in a way… Local sports history just doesn't translate as widely to my mind. But at least it is a change of pace from the usual.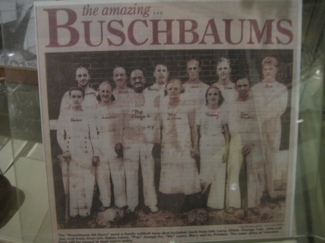 The Exhibit covers the diverse sport activities in Norwalk and the achievements of many, including the greats such as: the 1952 World Little League Champions; Olympic Medalists Marie Corridon and Dan Walsh; the Home Oiler's Hockey team – the only semi-pro team to play in Norwalk; Mary, Greg and Gerald Roman; Biddy Basketball; Robert (Rivets) Miller, Detroit Lions; Kevin Murray and Mike Abate, NCTC Team to win the National Baseball Championship; Jerry Courville Sr. and Jr., Golf Champions; Laurel Athletic Club and Spring Hill Tigers, two of a number of athletic clubs and organizations that have competed, supported and taught athletes of all ages the games and rules of good sportsmanship.
Mo Vaughn and Kevin Morton, Boston Red Sox; Arthur (Ole) Olsen, Detroit Tigers; Norwalk High School greats like Al Palumbo, Sr., Calvin Murphy of the NBA, the Cavanaugh Brothers and Ramos Bassone; Brien McMahon High School legends Mike Santa Luca and Mike Banks; Todd Philcox of the Bengals and Browns; Boxers Tiger Ted Lowry, Travis and Tarvis Simms, and Barbara Dash; Auto Racers Jimmy Smith, "Rit" Patchen, Don and Randy La Joie; the NAA Ladies Aux Girls Softball teams; NFD and the NPD teams; the Buschbaum Family, a one family baseball team; Julia Belden Lockwood, golf; the YMCA; PAL; Paul Gerken and Art Goldblatt, Tennis Champions; and Grass Roots a tennis organization for kids, and many, many more individuals, organizations and teams.
Stop by for the fun of re-living the fire and ice, the spunk and extraordinary ability of Norwalk's only semi-pro team, the Home Oilers Hockey Team.
Now do you see what I mean? Chances are you've only heard of Mo Vaughn and Calvin Murphy (both immortalized at the Fairfield County Sports Hall of Fame, by the way – CTMQ Visit Here).
I found two exhibits particularly interesting – the Home Oilers Hockey Team (because I love hockey) and the Buschbaums. Here's a story on the semi-pro hockey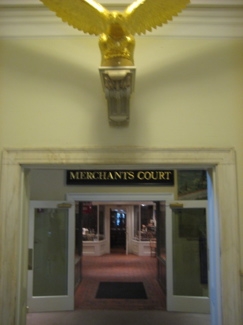 team. I've linked the "print story" URL because otherwise you have to subscribe. I'm tricky like that.
I've done it again here, on the Buschbaum story. I'm not sure how long these links will be viable, but this George Albano guy is a pretty good writer about local sports in Norwalk that you've never heard of. He also happened to help curate the sports exhibit at the museum.
Albano also wrote the introductory piece to the exhibit subtitled, "Norwalk truly is "Sportstown, USA." Hm. If no other city has claimed that before, I guess it's okay.
Moving on, the two permanent exhibits are fairly similar. The Dunne's Hardware Store exhibit consists of the interior of the hardware store, the store was operated by the Dunne family in Norwalk's Liberty Square from 1912 until it closed in 2003. Fixtures and roll top desk from the Dunne Hardware Store of East Norwalk, cash registers, scales, the Norwalk Tire Company model A tires and company signs, display cases, farming tools, the Robert I. Searles collection and wooden storage walls recreate the feel of a 19th century hardware store.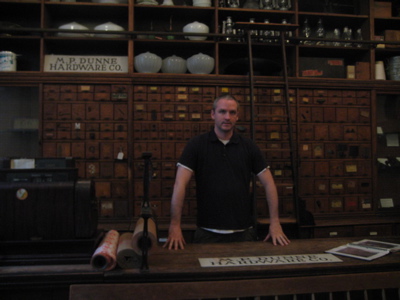 So yeah, it's an old hardware store interior with all the old accoutrements. I enjoyed playing Mr. Old Timey Hardware Store Man though.
There's also the… Store front window exhibits that feature Norwalk made furniture, locks, a collection of hats manufactured in the Norwalk hat factories along with the hat boxes and forms used by the hat factories and manufactured here as well, an extensive collection of 19th century Norwalk pottery both redware and stoneware with examples by Smith & Day, A.E. Smith, and The Norwalk Pottery artisans. Windows in the Merchants' Court also give a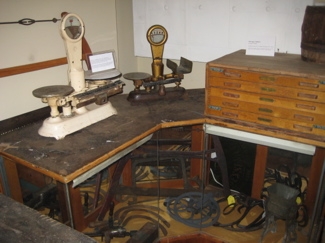 glimpse of the Museum's china trade exotica, Norwalk's hating (sic) industry hats for sale, middle class mid-nineteenth-century Norwalk made furniture, glass, a tower optical viewer made in East Norwalk, signs, lighting and cooling devises of the 19th and 20th centuries, silver and clock collections. The majority of the Norwalk Museum's collections have been donated by Norwalk citizens and interested parties.
I think I cleaned up all the sics in my cut-and-pastes, but I had to keep that "hating" one in there. Cause that's awesome… "Norwalk's hating industry." What would that be? I'm sure the non-hoity toity Norwalkians hate on the yuppies and bourgeois jerks that drive in to town in their corny BMW's to eat their $50 steaks, so maybe that would be it.
In retrospect, the store front exhibit and the hardware store exhibit are pretty cool when taken together. They display a level of verisimilitude that is often not found at these town museums; Norwalk has the size and the resources, so why not?
There is a display dedicated to a store called Sarner's, and I could tell you more about it, but it's not all that interesting. Besides, Sarner's started in Stamford, not Norwalk.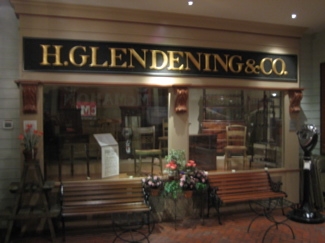 I learned all about John J. Cavanagh and his hat company, the Hat Corporation of America. What John lacked in marketing (the Hat Corporation of America?!), he made up for in quality and skill. His company manufactured millions of hats a year and was recognized as one of the largest hat makers in the nation. The hat display at the museum changes seasonally, which is one of those minor things that I enjoy.
I learned that a guy named Richard Prentice Ettinger (here he is at age 12 at page bottom), who was a resident of Norwalk for over 30 years, was the founder of the Prentice Hall Publishing Company. At the time of his death, Prentice Hall was the largest textbook publisher in the world. (Today, Scholastic has offices in Norwalk; not sure if it's related.)
One last industry is honored here, sort of off in a corner all its own: Oystering. Oysters require a mix of fresh and tidal salt water to proliferate and the mouth of the Norwalk River is ideal. The fishery got going way back in the mid 1800's and peaked around 1918. Then the whole thing crashed due to overharvesting and major pollution.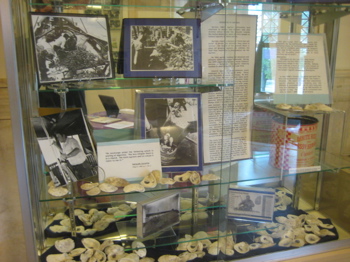 It's been 90 years and the industry has yet to bounce back. It still exists to a small degree, but you'll learn more about oystering in museums like this one and the Mystic Seaport than out in the water these days.
Alright Norwalk, I liked your museum. I would mention that I found it odd that there is nothing here about the formation of the town and all that colonial jazz, but Norwalk is fortunate to have (I think) a separate museum for all that over at Mill Hill Park. I guess I'll find out someday when I get over there.
…………………………………………………….