A Nice Quickie
Speedy Donuts, Norwalk
I have way too many pictures for what should be a quickie little page about a very specific item at Speedy Donuts in Norwalk. I like a quickie every so often, you like a quickie every so often… so let's get going.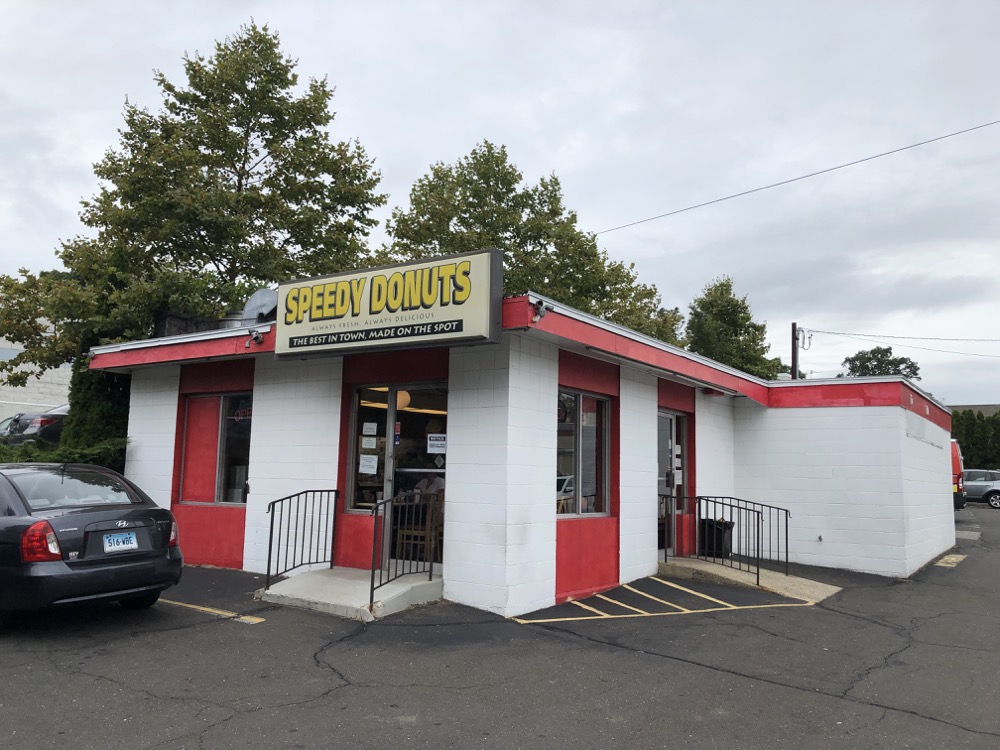 The reason I have too many pictures is because when I originally visited Speedy in January 2020, I bought myself a plain cruller, not the glazed cruller specifically called out on the Roadfood list. Sigh.
But at least it gave me a preview – and gave Calvin more donuts. The boy loves his donuts. Loved them in January 2020 and loved them again in August 2021. And what better place to get them than at Speedy, which says they've been making them "handmade fresh since 1969."
Something else "since 1969" is the building. Also probably the old school counter and stools and booths. And kitchen. And menu. Yes, Speedy is a throwback; short order cooks slinging eggs and hash, soups and sandwiches. It has regulars for sure. When out-of-towners like me come in, they instantly know I'm not going to have a meal, but rather just a quickie in and out donut order.
Surely they know. Let's see what Roadfood has to say.
Crullers are Speedy Donut's best dish. They may be the best crullers anywhere. Luxuriously eggy, yellow enough to almost be a trompe l'oeil for a timbale of scrambled eggs, moist within and croissant-crisp at their swirled edges, they are at once rich and featherweight, tremendously satisfying and yet easy to eat by twos and fours and sixes. Glazed ones add sugary sparkle without overwhelming the donut itself. Chocolate or vanilla frosted crullers are wonderful, and what's interesting about these is that the donut surface where there is no frosting is pure, unglazed pastry — hardly sweet at all, a sunny taste of heaven.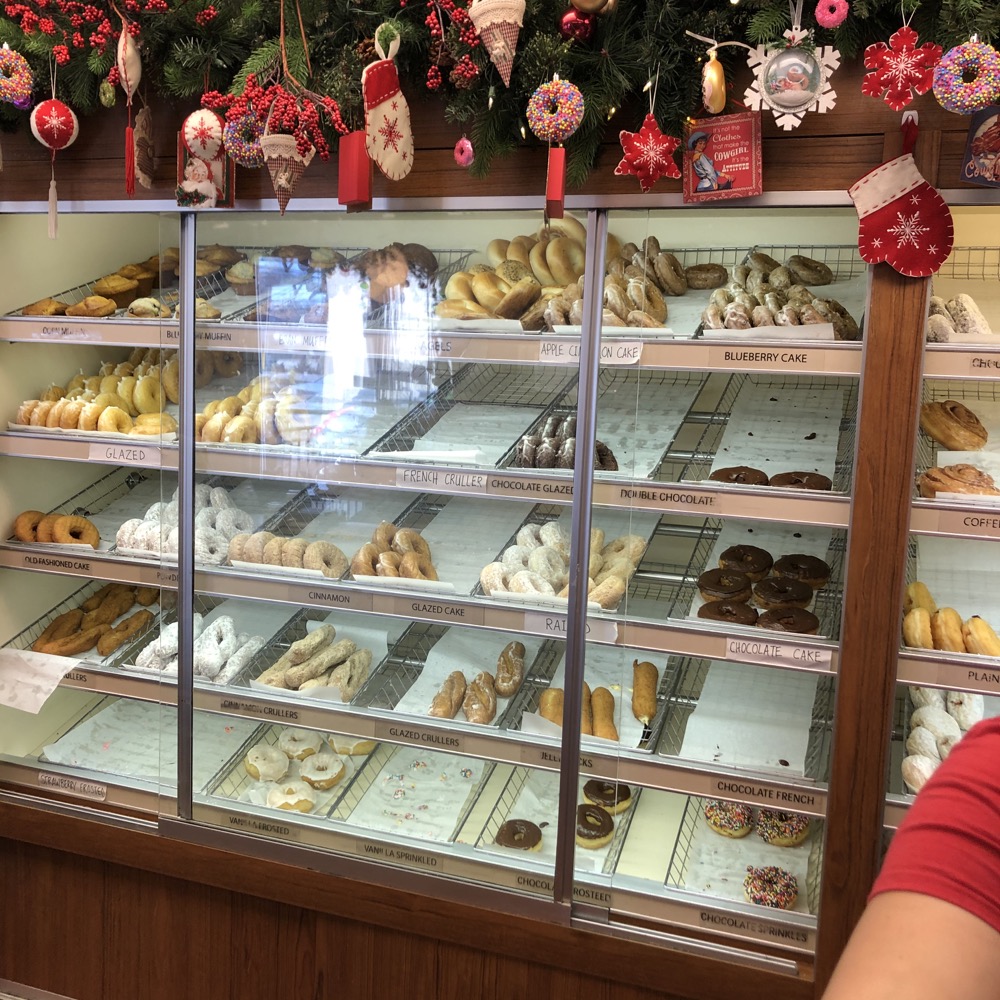 Hold on. Author Michael Stern got a little nuts here. "The best anywhere?… a trompe l'oeil for a timbale?" This is a simple cruller we're talking about here. (The "cruller" name is from the twisting of the dough, as I understand it; not any inherently difference from donuts. As for crueller vs. cruller and donut vs. doughnut, I don't care.)
All kinds of other donuts are arrayed on the shelf in this very humble Route One diner, and the ones I have tried are very good, if not divine like the crullers. Plain cake is dense and creamy, ideal for dunking. Twists are especially substantial, in that way the opposite of the ethereal crullers. Fritters here also are hefty boys, known curiously not as fritters but as spiders. The apple-filled glazed spider is breakfast unto itself.
In fact, some people do like Speedy Donut for a full, hot breakfast: bacon and eggs, breakfast sandwiches, corned beef hash, etc. Even lunch is served (burgers, hot dishes). But I cannot imagine coming to this place for anything but donuts, crullers in particular.
My initially incorrect plain cruller was pretty good, if a bit boring. It had no flaws at least, and I guess "old fashioned" or plain donuts and crullers are like pilsners for brewers and vanilla for ice cream makers; the purest form of their art. The item that they need to nail perfectly because there are no flavors to hide any flaws. Just go with me here.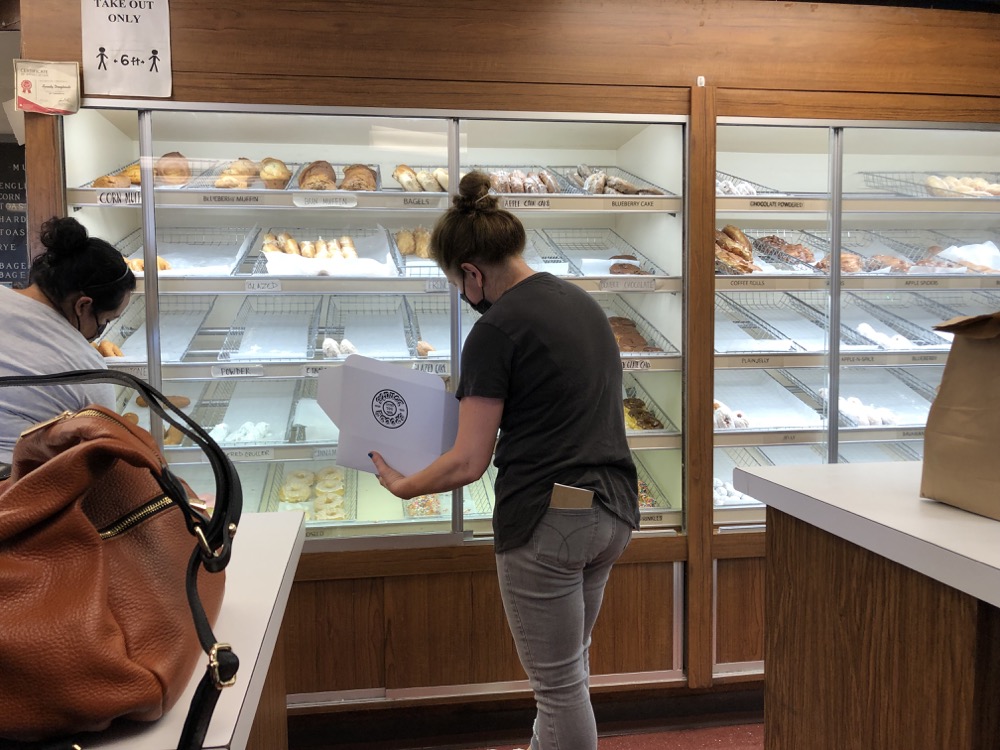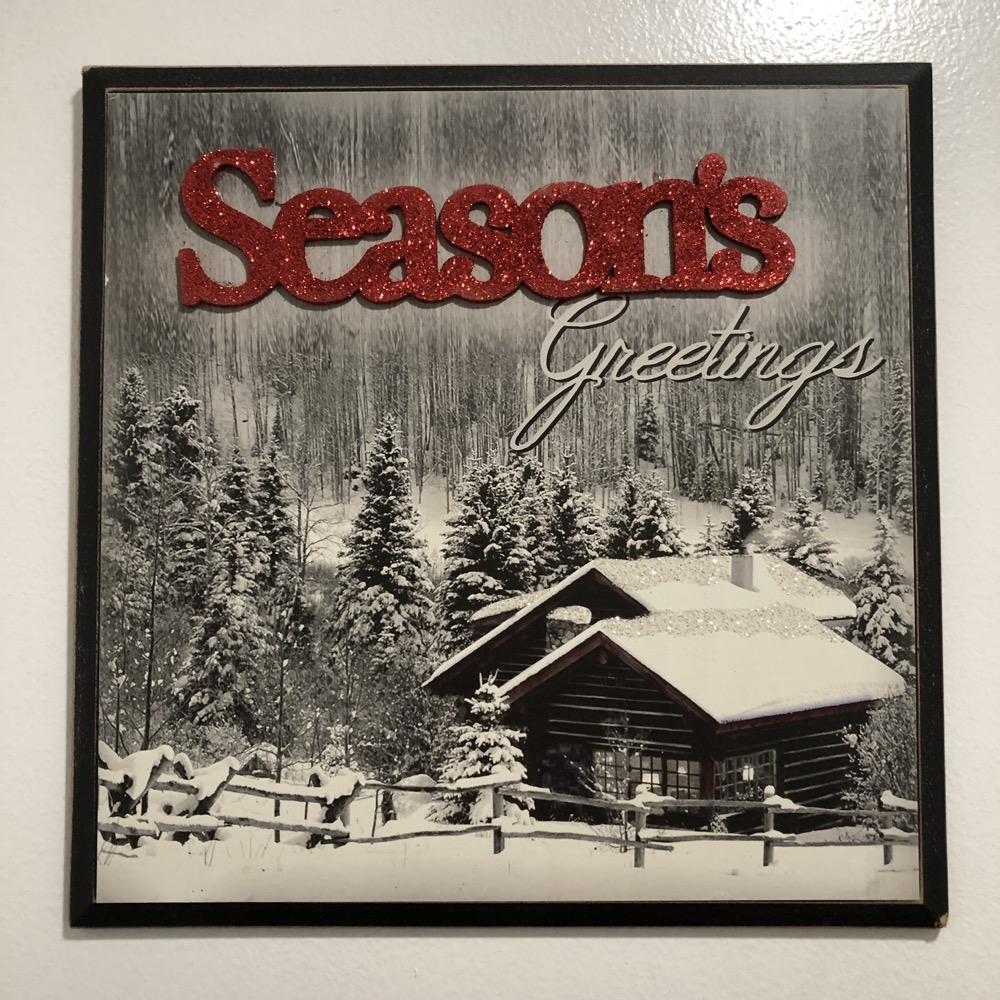 When we returned a year and a half later, I was sure to get the glazed cruller. It was August, sure, but Speedy apparently celebrates Christmas all year long, as decorations hung and Christmas signs decorated the bathroom. And that worked for us, as opening a box of Speedy's donuts is a bit like Christmas, right?
The prices here are modest and the service is efficient. There seems to always be patrons.
Calvin and I were on our way to the City, so we had to get going. As a result, my cruller glamour shot is not very glamorous. I asked Calvin to take a picture of me as he made fun of my "boring wiener donut." Okay then.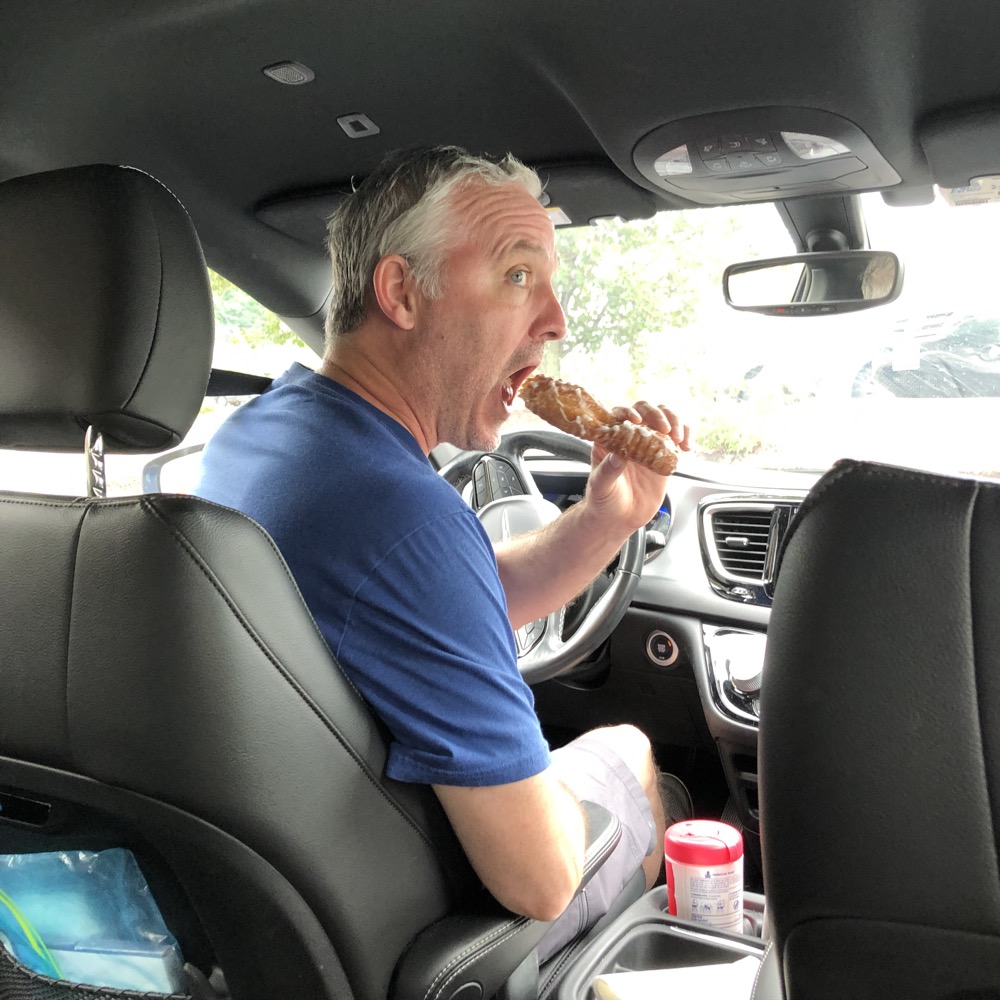 It's not boring at all; rather, it is perfect in its simplistic way. I don't get all the "egginess" that Stern seems so enamored with, but I guess crullers are eggier than regular ol' donuts. The amount of glazing is perfect and does make them better than the plain ones. It is somehow light and dense at the same time. The Speedy cruller is magical in its way.
I forget what Calvin ordered because he ate them too fast for me notice. He's got his version of a quickie, Speedy has theirs, and I have my own. And it works for all of us.