Everything Fairfield
I've been exploring and writing about Connecticut since 2006. After a decade, I began compiling CTMQ guides for each town in the state. I plan on "completing" Fairfield CTMQ-style… as well as the other 168 towns, cities, and boroughs in Connecticut. That is the ultimate goal of CTMQ.
If I've missed anything in town or if anything has closed or changed, please let me know.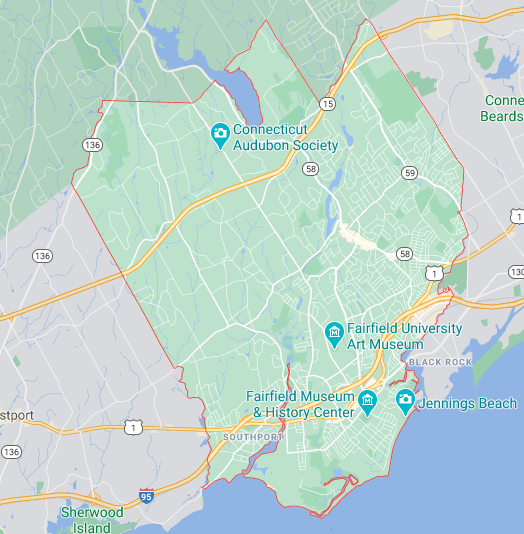 Museums
Art & Design Gallery at SHU
Art/Place Gallery
Bellarmine Museum of Art
Burr Mansion
CT Audubon Center at Fairfield
CT Audubon Society Birdcraft Museum
Fairfield Academy & Barn
Fairfield Museum & History Center
Kershner Gallery in the Fairfield Public Library
Ogden House and Gardens
Sun Tavern
Thomas J. Walsh Art Gallery
Hikes
Explore Connecticut's Fairfield Outdoor Guide
Aspetuck Land Trust – Intro
Acorn Lane Upland Preserve
Ernest Hillman Preserve
Great Salt Marsh Island
Harwood Preserve
Kirik Upland Preserve
Putnam & Rudkin Preserve
Audubon Trails – Intro
Banks South Farm
Birdcraft Sanctuary
Elsa Feiler Denburg Woodland Conservation Area
John W. Field and John Mahoney Sanctuary
Roy and Margot Larsen Wildlife Sanctuary
Fairfield's Town Trails – Intro
Brett Woods Conservation Area
Flower House Drive and Duck Farm
Grace Richardson Conservation Area
Hoyden's Hill
Lake Mohegan
Mill Hollow Park
Mountain Laurel
Southport Park
Penfield Mills
Perry's Mill Ponds
Pine Creek
Perry's Mill Ponds
Riverfield
Samp Mortar Rock
Springer Glen
Food & Drink
CT World Food Tour, England: Gruel Brittania
CT World Food Tour, SE Asian Hawker: Mama Chow
Roadfood List: Five-O Chili Hot dog
Roadfood List: Rawley's Hot Dogs
Roadfood List: Super Duper Weenie (Hot Dog)
Roadfood List: Super Duper Weenie (French Fries)
CT Chocolate Trail: BE Chocolat
CT Chocolate Trail: Isabelle et Vincent
Homemade Ice Cream: Sunny Daes
Looking for your favorite restaurant? Here is an explanation as to why it's not here.
Everything Else
National Historic Landmark: Birdcraft Museum & Sanctuary
National Historic Landmark: Jonathan Sturges House
US First: Birdcraft Sanctuary
CT Art Trail: Fairfield University Art Museum
CT Women's Heritage Trail: Birdcraft Museum and Sanctuary
The Cascades at Lake Mohegan
The Powder House
Penfield Reef light
CT Cool Library Trail: Pequot Library
Bronson Windmill
Home Lot of Roger Ludlow
Pequot Swamp Battle Monuments
The Sea Lodge
Housatonic Model Railway Club Layout
Frisbie Pie Company
Patrick Baker and Sons (Closed)
College Football Tour: Sacred Heart Pioneers
Fairfield Wrap-Up
Completion Celebration TBD