Oui, Oui, Oui All the Way Home
Isabelle et Vincent, Fairfield
April 2020
I have been known to bore people with the following story about our trip to France in 2004: A cheap baguette from a random little shop in a tiny town in the middle of nowhere in France is better than a baguette from any American high-end bakery. There's a reason French people are cool with eating bread and cheese for lunch.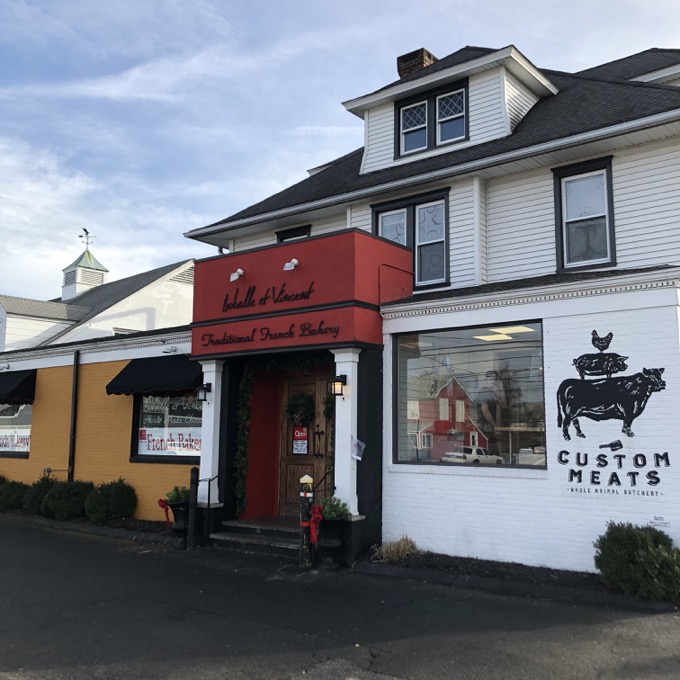 It's because their bread and cheese is really, really good.
There are "French bakeries" around Connecticut here and there. We had one in West Hartford that lasted several years – and the owner/baker was definitely French! But her macarons were so absurdly expensive that I wrote the place off. This paragraph is adding nothing to this page, sorry. It's just that $3.75 per macaron was just the most ridiculous thing I've ever seen and I wanted to put it in print somewhere.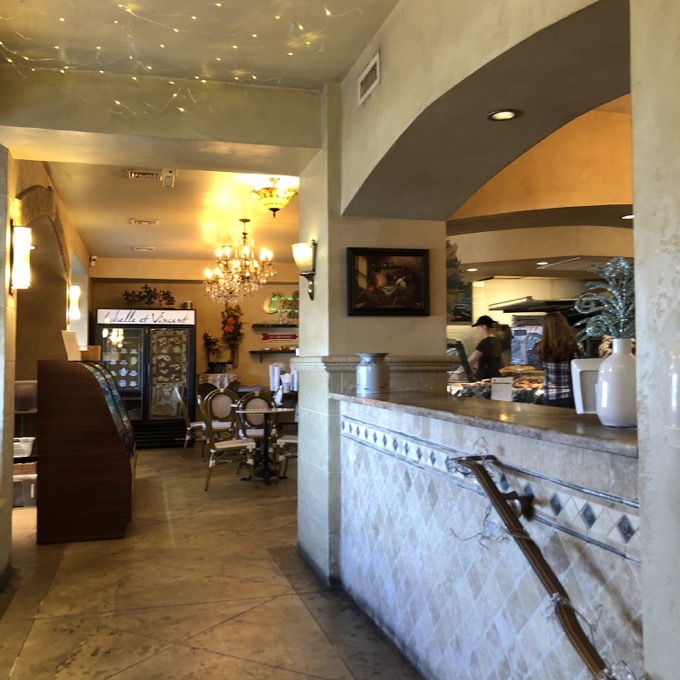 A knock on Fairfield's Isabelle et Vincent is that it is also way too expensive. Yes, it's in Fairfield but it's on a commercial strip next to I-95, so you're not paying for Gold Coast ambiance here.
You're paying for a French couple's boulangerie! And their boutique de chocolat! And their patisserie!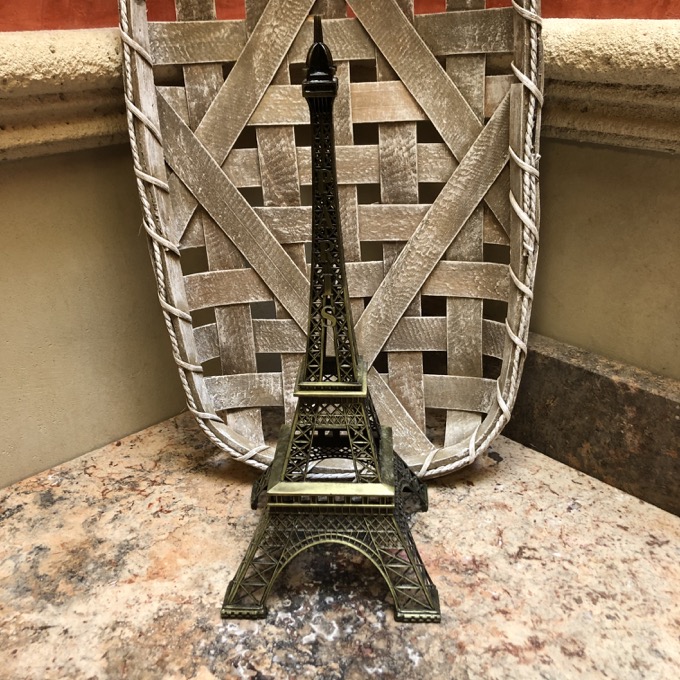 Frankly, I can't really speak about the pricing here. I was on a singular mission: To patronize another stop along the Connecticut Chocolate Trail. And as a result, I bought nothing but chocolate.
Which, now that I'm writing about Isabelle et Vincent, was really, really dumb of me. Fresh bread is literally my favorite food. I love croissants, chocolatines, Pain au chocolat… you know, the stuff this place seems to specialize in. Sigh.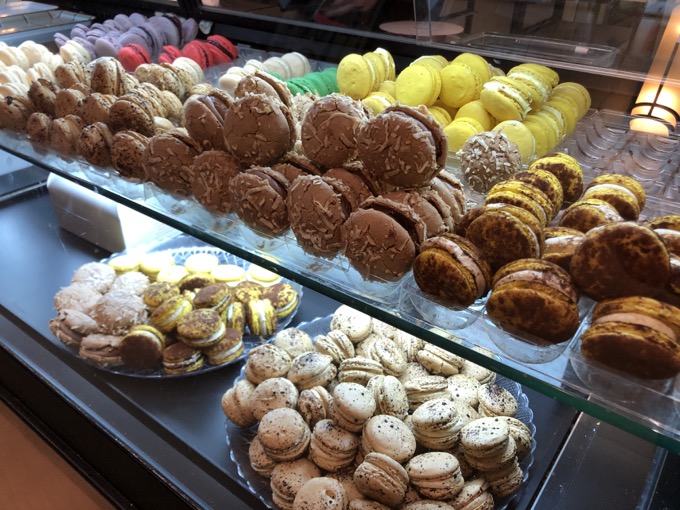 Isabelle and Vincent Koenig moved to Connecticut several years ago from Strasbourg, France. Strasbourg is on the German border and is impossibly beautiful. It's also near Switzerland and Belgium. In other words, you know the chocolate in Strasbourg is some of the best in the world.
The couple wound up in an oddly-placed bakery and chocolate shop in Fairfield mostly by happenstance. The space was available and they've made it work. It's not small either; as I believe everything they sell is made on-premises. There are little nooks at which to nibble and drink coffee. There are large windows through which to watch baking and chocolate making.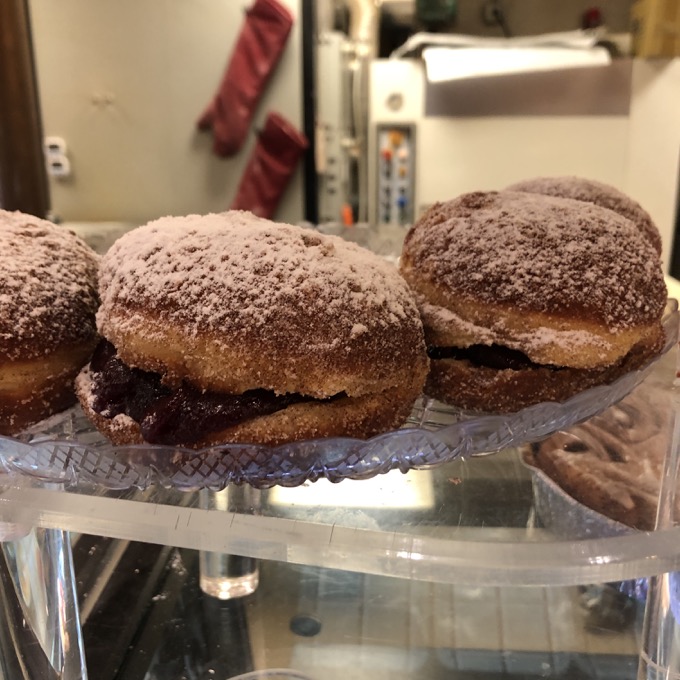 And the display cases seem to go on forever. (Again, I've no idea how I didn't end up buying a hundred dollars worth of stuff here.)
I don't really know why the family left France for Connecticut, but they did. Vincent is something like a seventh-generation baker who left a family bakery in Strasbourg. Seems crazy to me, but they seem happy.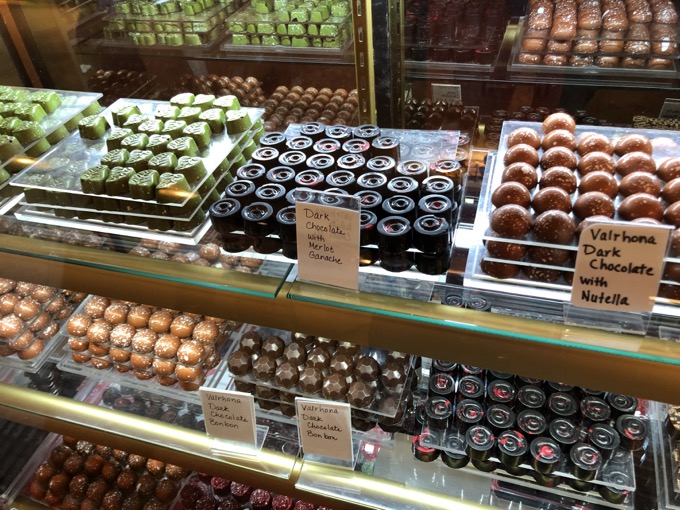 The idea here is that you are being transported to France once inside the store. Little Eiffel Towers, accordion music, Napoleons, palmiers, and Paris-Brest surround you. If you're lucky, a French baker will say "bonjour." It's all quite lovely.
(Judging by the appearance of the staff, you're probably more likely to get a ¡Hola!)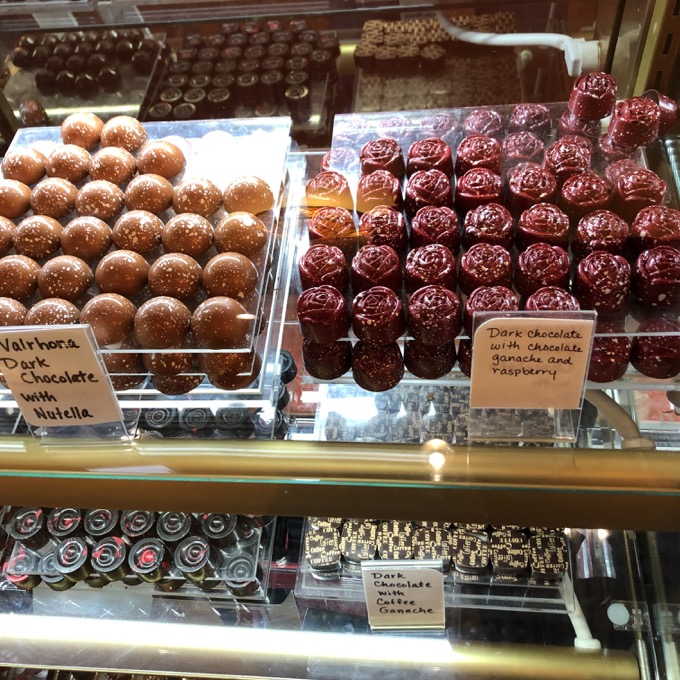 In fact, the Koenigs (somewhat ludicrously) claim that they've never been inside an American bakery. They fear "American influence." Okay. According to an article I read on the wall, Vincent states that he'll never make a cheesecake. I can stand behind that stance.
But boy do they make chocolates. I wandered the place a couple times before settling on my little 6-piece sampler. They use Valrhona Chocolate here. Valrhona has been producing some of the world's finest chocolate in France since 1922. What this means is that if you're not a fan of dark chocolate, you won't be a super fan of Isabelle et Vincent's lineup.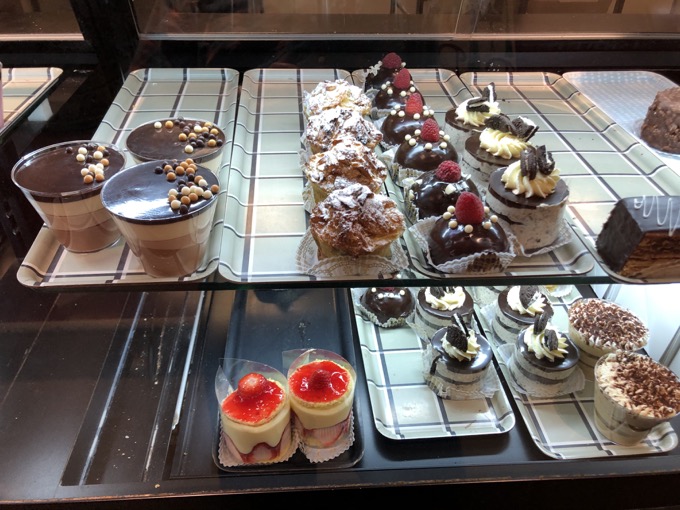 I happen to love it. My wife is more of a milk chocolate girl. That works for me.
I selected six pieces: Dark chocolate with chocolate ganache and raspberry, Dark chocolate with Nutella, Dark chocolate with coffee ganache, dark chocolate and mint, dark chocolate with merlot ganache, and a dark chocolate bonbon.
That last one was for my son Calvin who was out in the car. He's a purist. I thought about buying this for my wife, but again, dark chocolate just isn't her favorite: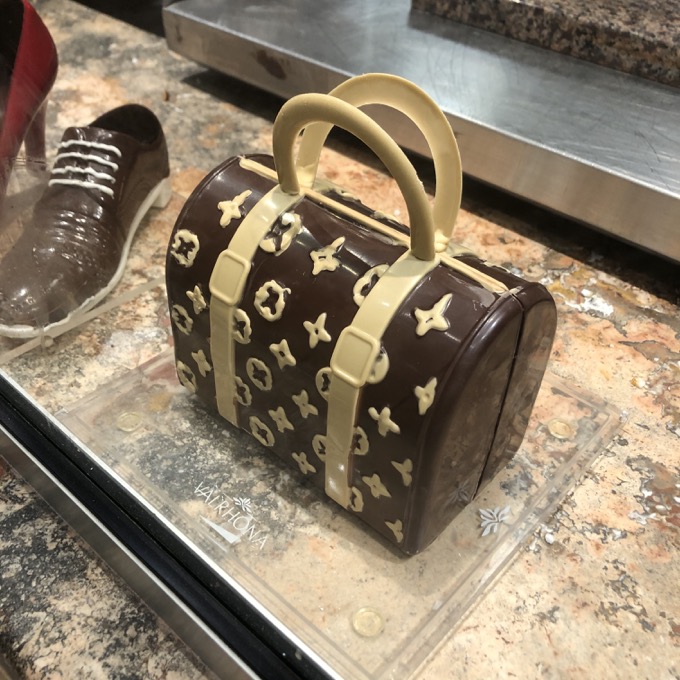 That's right. A chocolate Louis Vuitton bag. (I have no idea the price, but I'm sure it was equivalent to a knock-off LV bag.) They also make little chocolate high heeled shoes here. Which, let's be honest, would be a weird thing to eat.
As I was looking at the designer designer pieces, a French guy in a proper toque proudly said, "you like zee Louis Vuitton?" and his accent was almost charming enough to make me buy it.
Calvin gobbled up his bonbon reporting, "It's good." Philistine.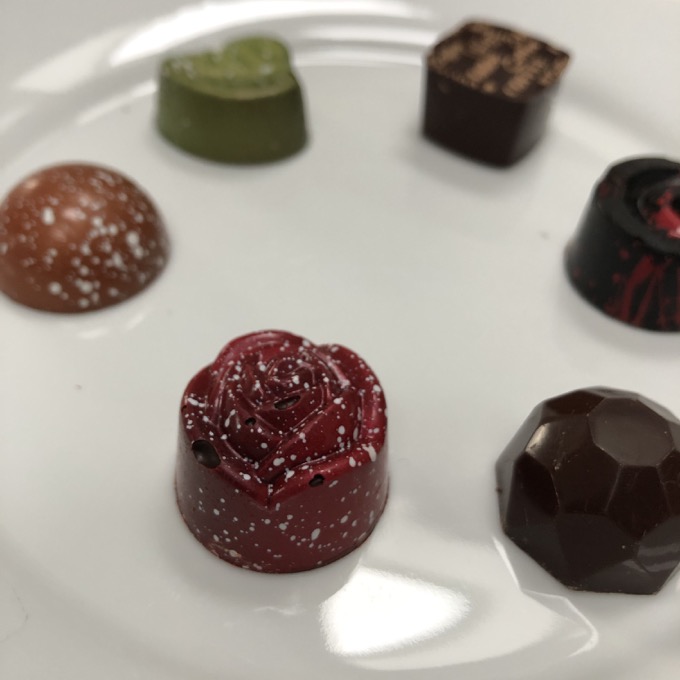 Since this is the rare place that I would actually be eating most of the chocolates, I took my time to try to appreciate Valrhona quality. I love that these things aren't overly sweet. It's the bitterness that I love when it comes to dark chocolate and Isabelle et Vincent nails it. (Or Valhrona, whichever.)
When I think about all the places along the Connecticut Chocolate Trail over the decade of traveling it, this place does stand out. I love patisseries and boulangeries. I also read they make homemade ice cream here on occasion, so if that's true, that requires another visit for my made up homemade ice cream trail!
(But truth be told, I'll be revisiting for the breads and desserts regardless.)
C'est magnifique!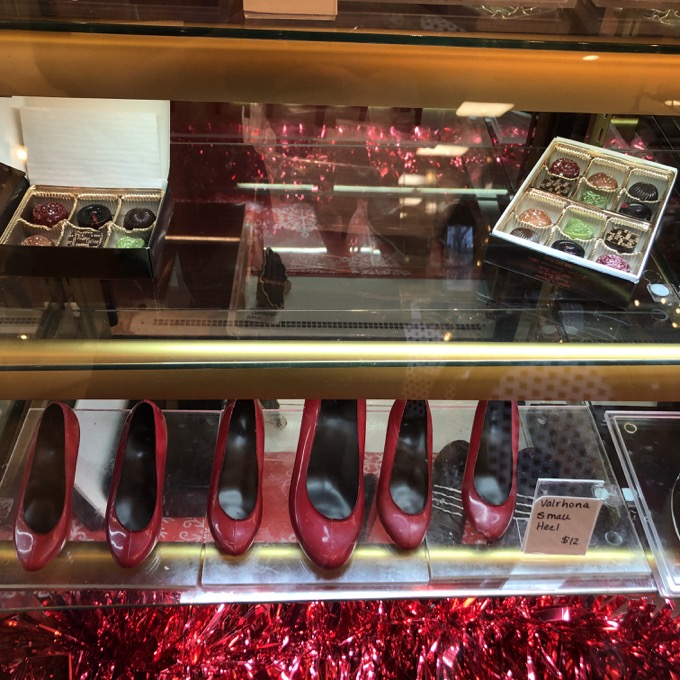 Isabelle et Vincent
CTMQ's Connecticut Chocolate Trail