BEautiful and BEwildering
BE Chocolat, Fairfield
December 2022
As you'd expect chic-chic Connecticut has its fair share of chic-chic chocolatiers. Places where you can go to buy your sweetheart a Valentines Day gift box with a fifty dollar bill and come up short. (We've also got a bunch of more affordable, yet still quite good, chocolate makers as well.)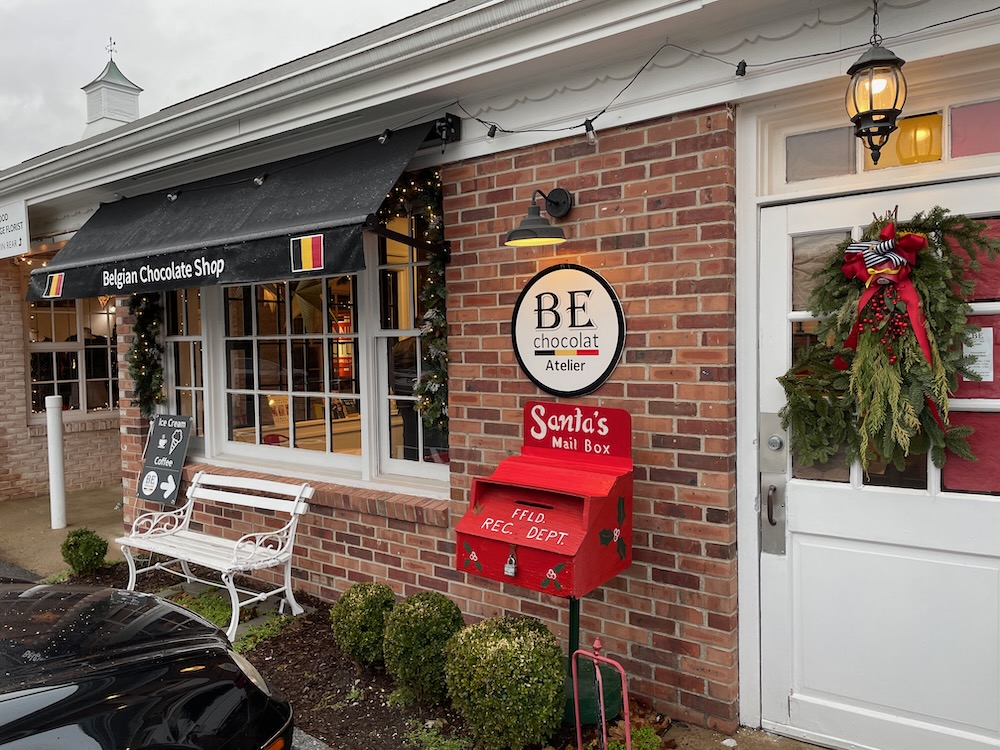 And as you'd expect, Fairfield County is home to several of the higher-end joints. Yet, it must be said, the area is also home to a bunch of these places that didn't cut it and have closed over the time I've been writing this website. High-end chocolate making is a tough business to be sure. But it seems like BE Chocolat, in a weirdly suburban little shopping area in Fairfield, might be in it for the long haul.
Not only because the product is fantastic, but because they've built their business up before opening up an actual store in January 2021 and because the owner guy seems to be one of those guys that will just will it to work, no matter what.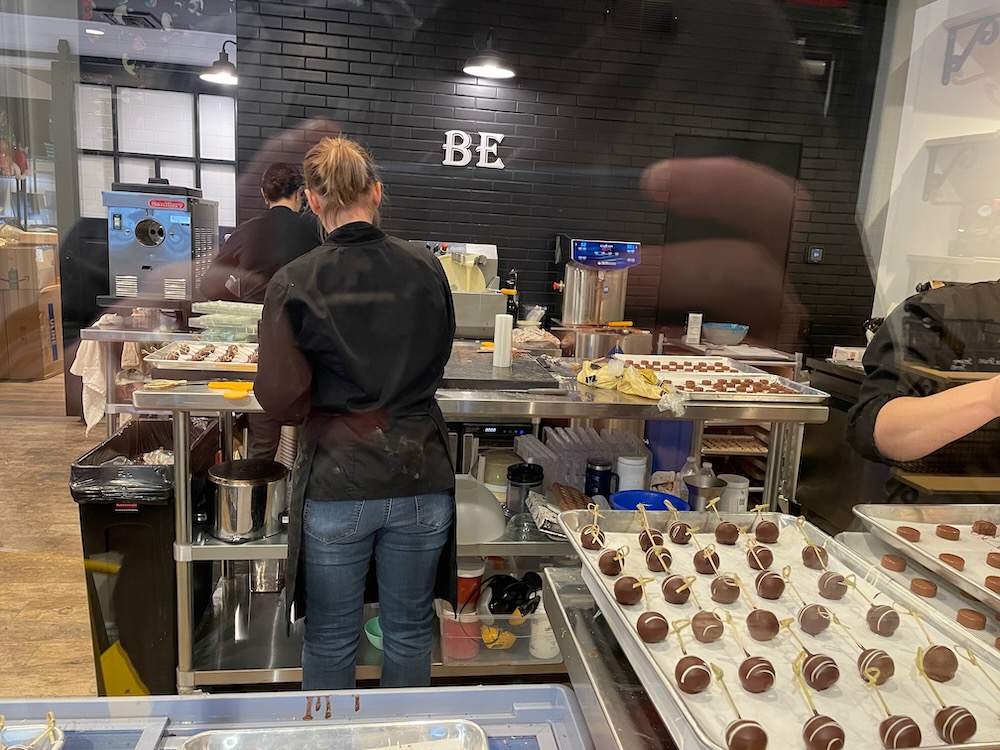 Meet Benoit Racquet. The BE in BE Chocolat is from BEnoit who is BElgian. He is a "Master Chocolatier" who graduated from Ceria Culinary Institute in Brussels. He was Chocolate corner Chef at the Belgian Pavilion in Shanghai World Expo, whatever that means. He's provided chocolate for the Belgian embassies in New York and Los Angeles, Tiffany's stores in Westport and Greenwich (which I assume are more special than other Tiffany's stores), as well as high-end restaurants and hotels and corporate events for hedge funds and the like. Benoit knows chocolate – really, really good chocolate. Fancy, special chocolate.
BE Chocolat only uses Sustainable Callebaut Finest Belgian Chocolate. This doesn't mean anything to me either, but I've had expensive Belgian chocolate in Belgium, and this is that. All the chocolates sold at BE Chocolat are made at BE Chocolat and bonus! You get to see the crew scurrying around making the treats. And it's a pretty unique little place.
I arrived a couple weeks or so before Christmas on a Friday afternoon. There were only a few people ahead of me in line, but the store's stock in the waiting area was wiped out. The line here moves slowly. Extremely slowly.
At least it did while I was waiting. Fancy coffee orders take 10 minutes. Made-to-order Belgian waffles seemed to take 20. The oddest part of this was that there seemed to be at least a dozen people working. The chocolate shop was a hive of activity! Where did all these people come from?
And they all spoke French! (My guess is that a crew of Fairfield high school French students have some work-study program here or something, as there were at least five or six teenage girls and the female half of the ownership team – Sylvie Fortin – appeared to be slowing down her French when telling them to do some task. If true, and remember, I had a good 20+ minutes in line studying this whole scene and can understand most spoken French, that's really cool.)
At least it smelled really good while I waited.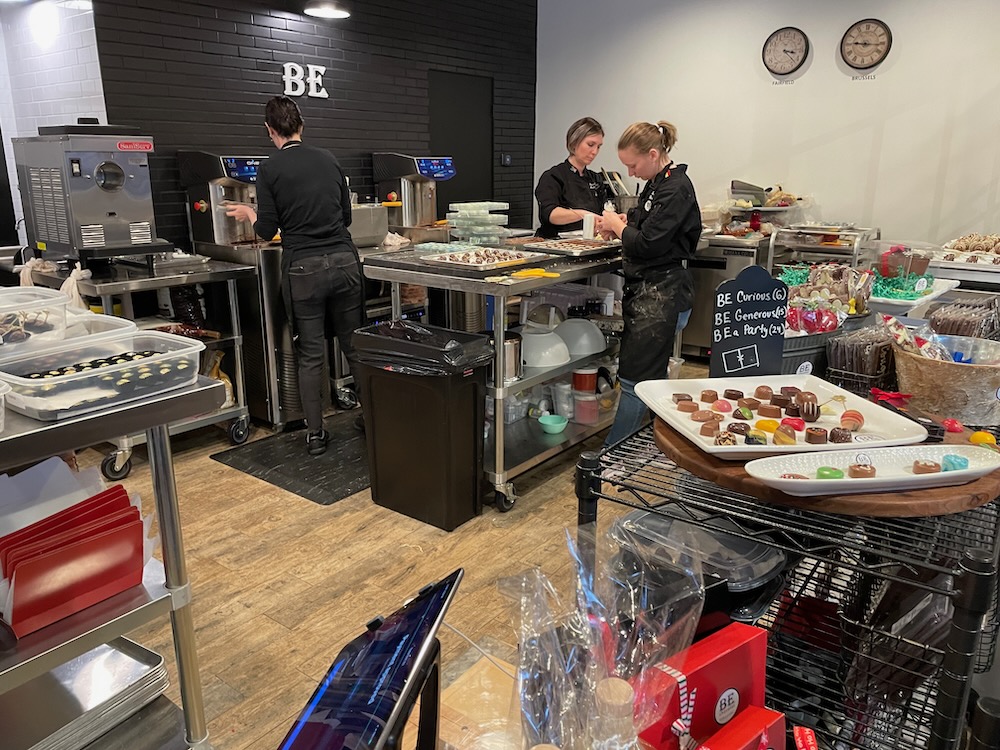 I mentioned that Benoit and his wife Sylvie had been in the Fairfield area chocolate business for a while – since 2014, in fact – before opening up their shop. They'd been making their treats and selling them at events, shows, via mail-order and so forth. They built up a fanbase, a plan, and knew what people wanted to see on the menu.
Over those years, the nascent business got to know other local purveyors and have incorporated several of them into their chocolates. Aspetuck Brew Lab, Fifth State Distillery, Bigelow Tea, and Shearwater Coffee to name a few.
As I made my way to the ordering area, I had come to fully appreciate the set-up here. It's a purpose-built atelier ("workshop") which allows BE to host classes and large tastings and such. The whole store was designed by an architect. I think I've established that this place is no joke.
And maybe the ordering system is also purpose built. Maybe the fact that it's an impossible mess is part of the experience. We customers get to know Sylvie and the others. We succumb to their French accents. We become drunk from the cocoa swirling the air…
I went all-in with the BE a Party sampler. 24 of the shops handmade delicate creations. The only issue was that I had no list to choose from. Not even any visual cues. All the chocolates were on the tables in containers well behind the counters. (This may have been due to the holiday rush, to be fair.)
No worries. "Just pick 24, I don't care," I said, trying to speed things along. "Just please no walnuts or hazelnuts." A reasonable request I assume they get often.
My plan didn't work so well. The woman packing my box was more indecisive than anyone. She thought long and hard about her choices… choices for my wife that she does not know. Choices for me, who clearly had run out of Christmas spirit at this point and really just wanted to get going. It was extraordinary! She took 10 more minutes to choose chocolates.
Then the bow had to be tied. My word. I felt guilty for holding up the line – which was now out the door – further. But I tried not to! I really did!
Twenty-four chocolates ran me $54. Two years earlier, per a picture on CT Bites, that same box was $45.

Okay, phew. I did get a coffee from Sylvie while waiting for my box and I'm happy to tell you that the coffee here is really, really good coffee.
As I said, the chocolates were a gift for my wife. The box did come with an explanatory guide to each chocolate they make. The variety and detail here is rather incredible. I'll let Stephanie Webster from CT Bites explain a bit as I'm feeling lazy:
These confections are not something you pop in your mouth absentmindedly. These are meant to be savored, and experienced as you would a fine wine, or perfectly pulled shot of espresso. Chocolate is prepared from the fruit of the Theobroma cacao, a tropical tree whose name means "food of the gods" in Greek. As I made my way through this menu, I couldn't help thinking that the Greeks had really nailed it.

Racquet explained the importance of the interaction of the heat of your mouth as the chocolate slowly melts, and each flavor is released. For instance, his Pink Sesame is a food lover's medley that combines milk chocolate with toasted sesame oil, Tuscany balsamic gel, and finishes with the subtle saltiness of cracked pink Himalaya salt. Each chocolate in the collection yields its layered essence in a unique way. The Black Forest is Benoit's favorite, partially due to the labor intensity of this tiny one bite treat. Alsace Kirschwasser (brandy distilled from the fermented juice of the black morello cherry found in the Black Forest of Germany), and candied cherries (made by reducing Bon Maman marmalade) are combined within a dark chocolate shell and drizzled with white chocolate. This one made me stop and close my eyes to properly savor the moment.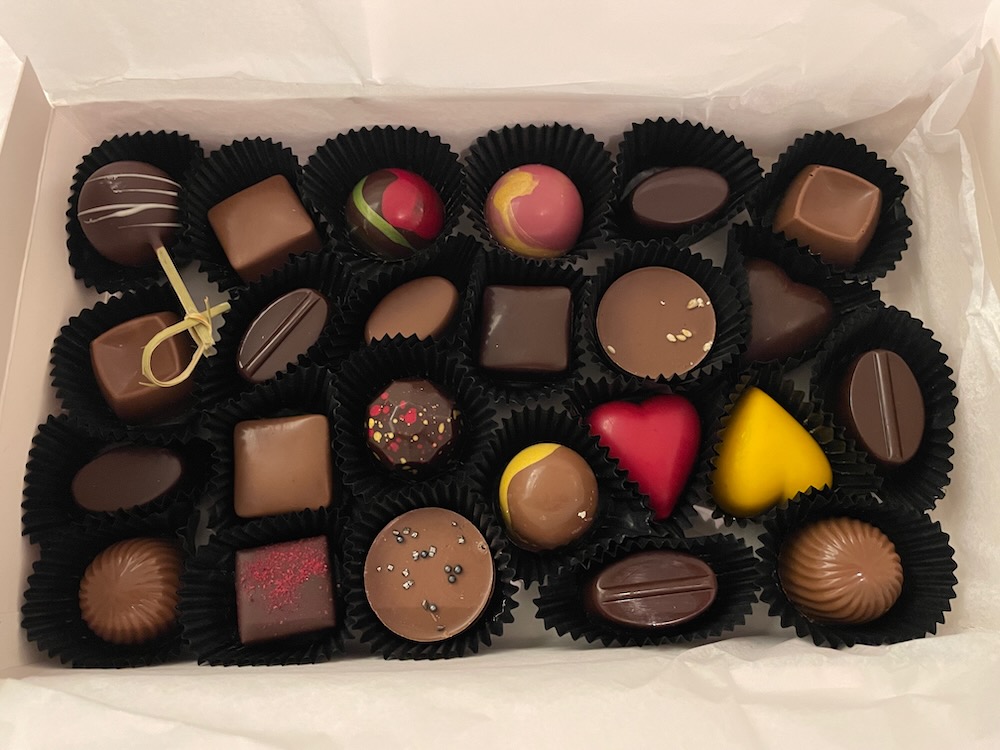 The Ruby Passion is an intense burst of passion fruit ganache housed in unsweetened Ruby chocolate, an almost tropical experience. His Salted Caramels are also outrageous, made with grass fed butter and cream, and yielding a creamy center speckled with the wonderful mouthfeel of cracked sea salt. I could go on all day, but I will share just one more before you go forth and explore for yourselves, as it would be a travesty if we didn't introduce you to BE's Praliné. His praliné is made with slow roasted almonds and hazelnuts, made in the ancestral Piedmont technique of very small batches, creating that crunchy salty sweet center that dreams are made of. Benoit's is the best praliné I've ever had. What's additionally nice about BE's chocolate is that none of the confections are cloying in any way, so you can eat quite a few.
You see? That's why I leave it to the professionals every so often.
As for Hoang, I can't pretend she was as effusive as Ms. Webster above. She did savor each properly and the box lasted a couple week, believe it or not. She's not really into any chocolate with fruits or jellies, but she certainly could appreciate the artistry and quality of BE's offerings.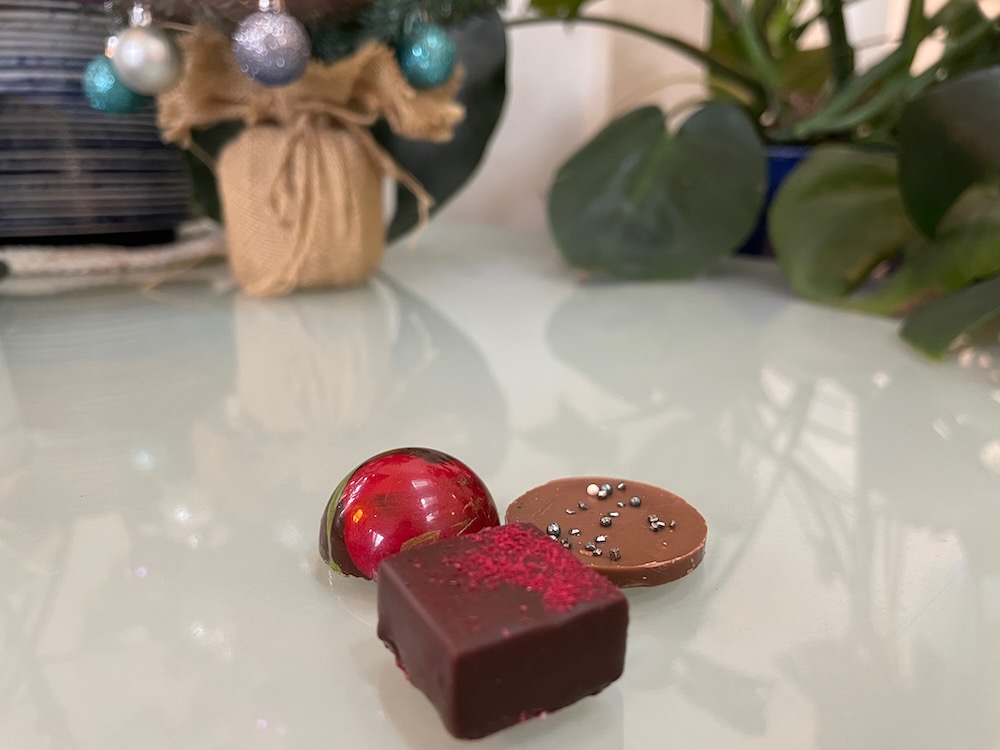 She kept saying things like, "these are too good for me," and "my palate isn't fancy enough to appreciate these things." She has a point though; BE's chocolates are expensive, high-end little creations that are really only worth it if you really know what you're tasting and are really into tasting those things. Not a knock on BE Chocolat at all, but sometimes the best things aren't always the best things for all people, y'know?
The few pieces I had were fantastic. I can say that because I have a refined palate and I appreciate the finer things in life. Also, I write this website and my wife hasn't looked at it in a decade, so I can say whatever I want about her embarrassing pedestrian taste in chocolate. Simply BEastly.
Mon Dieu! BE Chocolat chocolate is great. Take your time, choose what you want, and savor each bite. It's (more or less) worth it.

BE Chocolat
CTMQ's Connecticut Chocolate Trail