Super Stupor?
Super Duper Weenie
Fairfield
It bears repeating – and will be repeated again – I am not a meat eater. I hadn't eaten a beef/pork hot dog for about 10 years before beginning this list of Roadfood's best, um, road food around the country (though, of course, I'm sticking to Connecticut only). So I admit upfront that not only am I certainly not a food reviewer of any renown, I definitely am lost when it comes to things like dogs and burgers.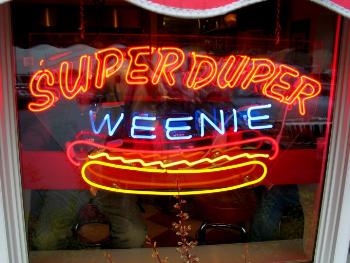 That said, I'm a little perplexed about the love Super Duper Weenie (SDW henceforth) gets across the foodie and blogger world. Sure, it's a neat story and the fact that they make all their own condiments is cool, but I just don't get it. Not that my so-so opinion will put any dent into SDW's brisk business. This place is an icon already and it's younger than me.
I visited in the middle of a day-long CTMQ trip through Fairfield and Norwalk with friends Rob and Yvonne. Rob is more of a hot dog and fries expert than I am, but Yvonne doesn't usually eat such things.
We arrived at the tiny restaurant and were able to grab the last parking spot available. There was a small line and the odd indoor picnic area was filled with happy patrons. (The crowd situation really hampered my picture taking. I felt like a complete dork taking pictures with random people at my shoulders.) I knew what my order would be: A "New Englander" hot dog and some fries – supposedly a "national best" according to Roadfood. A two-for-one eatery! (The hot dogs received an "honorable mention" in the book.)
The Roadfood Experience:
Formerly a mobile truck selling hot dogs by the side of the road, Super Duper Weenie is now a stationary restaurant with indoor seating. As you might suspect from its name, the house specialty is a hot dog. It is a firm-fleshed, locally-made weenie that is split and cooked on the grill until its outside gets a little crusty but the inside stays succulent. It is sandwiched in a lovely fresh-baked roll and adorned with utterly amazing condiments — homemade condiments, including relish made from pickles that Chef Gary Zemora has himself made from cucumbers! The sauerkraut, the hot relish, the meat chili, the onion sauce are ALL made from scratch. (Gary used to be chef at the esteemed South Norwalk Italian restaurant Pasta Nostra. When his passion for hot dogs brought him to Super Duper Weenie about eight years ago, he lost none of that restaurant's perfectionism.)"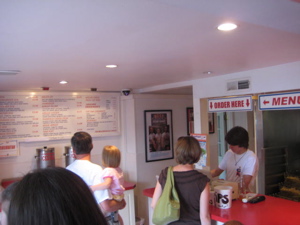 Did Michael Stern really write "firm-fleshed weenie?" Yes. Yes he did.
Anyway, Zemora, a Culinary Institute of America trained chef, really did quit his job to open up shop with the mindset of a serious gourmand.
The CTMQ Experience:
Frankly (get it?), I don't get it. I ordered "The New Englander" because that's what I was supposed to do. The problem with that is, I don't like sauerkraut. And SDW's kraut is very sauer. It has a tang that always turns me off. It also has bacon, mustard, sweet relish, and raw onion. I'm not sure I like sweet relish either.
But, the fact that Zemora makes this stuff fresh from scratch is to be applauded. There are other creative offerings on the menu as well. Half way through my dog, I removed all the condiments and found that the naked hot dog was actually bland. My bread was made soggy due to all the junk I didn't even like… which was just a bummer.
The atmosphere at SDW is fun and quaint and I know that I'm in the tiny minority that doesn't sing SDW's praises. (For more, I was also disappointed in the fries which are ranked higher by Roadfood.)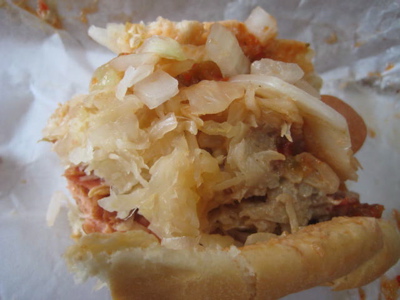 Oh, and they've been on national TV more than once. (All links have disappeared in 2020, but…) There was a Letterman segment! They were on PBS's "A Hot Dog Program"! Not to mention "Diners, Dives, and Drive-Ins" during which Guy Fieri went crazy about the place.
I'm left to wonder, what's wrong with me? What am I missing? It was a decent hot dog and I finished it, but I won't be going back any time soon. At least this was only an "Honorable Mention" in the Roadfood book. And yes, it's not fair for me to dump on a dog with sauerkraut when I don't like sauerkraut. I know that. So perhaps I will return just for a hot dog with mustard – the only proper way to have a hot dog.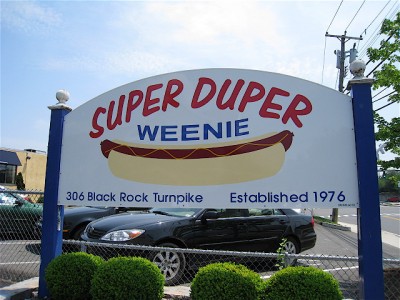 Super Duper Weenie
CTMQ's Best, Unique, & Historic Restaurants & Foods