Oh Mercy Me
Windsor (Google Maps location)
January 24, 2010
Even though I grew up in Delaware, which has a higher percentage of students attending private schools than any other state, the schools are just different up here in Connecticut. In fact, it seems that the entire private/prep school archetype is always a reference to schools in Connecticut or Massachusetts.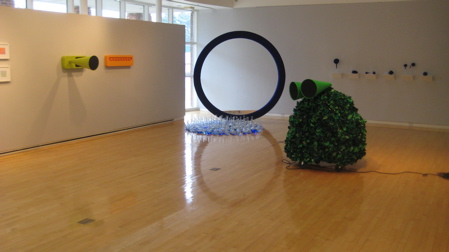 Miss Porter's, Choate, Loomis, The Gunnery, Ethel Walker, Avon Old Farms, The Kent School, Pomfret, The Rectory, Taft, Woodstock… to name a few off the top of my head. These joints all cost as much as or more than Yale, are often more beautiful, and often have a rather impressive list of alumni.
And what I'm finding is that a bunch of them have actual legitimate art galleries within them. Loomis Chaffee isn't the most beautiful campus, it's not in the most beautiful town, and get this – the tuition/board for Loomis-Chaffee is a cool $63,000 (in 2022). Wow. I don't even want to look up the other schools I listed, but they are all aligned. Holy crap, I guess Connecticut deserves a bit of its reputation.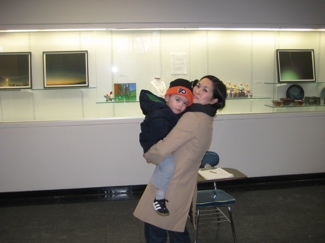 (Okay, I just poked around and looked up Choate and upon looking to see if they had an art gallery, I found this paragraph: "Choate provided me with a wonderful appreciation for the theater and my first inspiration to become an actor," says Michael Douglas '63. Douglas, and actors Glenn Close '65 and Jamie Lee Curtis '76, have highly visible alumni profiles. But a broad spectrum of Choate graduates have had an impact on the American cultural scene. Among them, film and stage actor Paul Giamatti '85, whose film "American Splendor" (2003), received the Grand Jury Prize at the Sundance International Film Festival, and Lauren Ambrose '96, starring in the HBO series "Six Feet Under."
Stuff like that cracks me up. The list of Loomis alumni isn't as impressive… Jesse Camp?! LOL.
Anyway, Loomis is in Windsor. Windsor is chockfull of history and other interesting stuff (there are plenty of Loomis and Chaffee monuments at the Windsor Cemetery which boasts the oldest legible monument in the US, among other things), but it's just not the place you'd expect to find a top notch private school. Here's the coolest thing about the Loomis campus, and it's really not all that cool: The campus lies at the confluence of the Farmington and Connecticut rivers. The campus is known informally as "The Island" because spring rains and melting snow create floodwaters that raise the level of the rivers and flood the lowlands surrounding the campus, sometimes literally cutting the school off from dry land.
I lied, here's the coolest thing about Loomis. The Loomis Homestead on campus is the oldest wooden house in Connecticut, dating to 1688. I guess all those floods have kept it too wet to burn down. Here's a picture of it: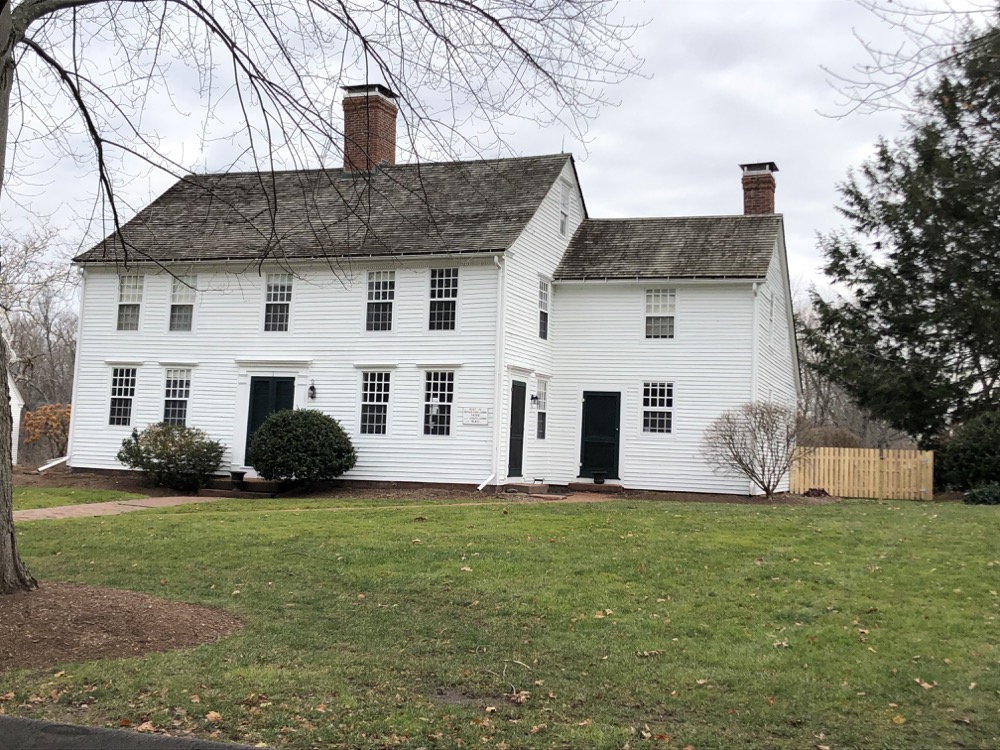 After those two things, the coolest thing at Loomis is the Mercy Gallery and the Richmond Art Center. Don't believe me? Well check this out – During its brief history, the gallery has exhibited work by a variety of artists, including: Mark Rothko, Willem deKooning and Richard Diebenkorn to name a few. I'm impressed… My high school hosted art by my brother, and while I think he's a mighty fine artist, he hasn't been shown at MoMa (yet).
Named in honor of alumnus and former trustee Eugene Mercy '55 and his wife, Sue, the Sue and Eugene Mercy, Jr. Gallery celebrates the visual arts through eight annual exhibitions, presenting a wide range of diversity in medium, artistic endeavor, cultural influence and geographic representation. Sounds good enough for me to drag Hoang and Damian along to check it all out.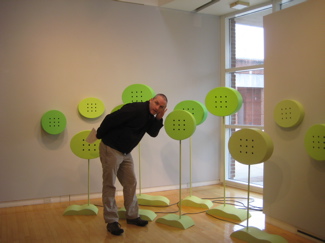 Actually, I had planned to bring Damian here because of the particular artist on display: Lynn Koble. I had read about her work somewhere and thought it was really cool – and would be fun for Damian. There were buttons to push and soundscapes! What more could he ask for?
Koble is a multimedia artist whose work incorporates sculptural form, interactivity and sound. She has exhibited her work at the Brooklyn Museum of Art, Venetia Kapernekas Gallery and Exit Art in New York, Braunstein/Quay Gallery in San Francisco, The Wolfsonian Museum and Art Miami in Miami, and the Islington Arts Factory in London. She also went to Rutgers… Just like my brother! Hey, maybe my Delaware public high school wasn't so bad (then again, it was $63,000 less than Loomis).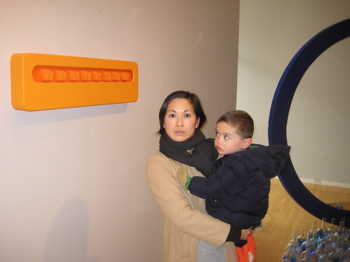 We arrived on a typically gloomy winter's day and found the campus a bit desolate. We watched an awkward student in mismatched sweatpants and jacket drag trash bags from her room across the sandy parking lot to an overflowing dumpster. The somewhat sad scene just didn't comport with what Hoang and I expected to see while on campus. (Over at Avon Old Farms, all the boys always seem to be in jacket and ties – as long as they're not playing lacrosse or polo or whatever fancy things it is they do.)
We entered the Richmond Art Center and found the Mercy Gallery immediately to the left. Props to Loomis for good signage out along the campus roads. Unfortunately, this is often a rarity with these things.
Once inside, Koble's work was bright and beautiful and very inviting – especially on such a dreary day. The white gallery space really made her work "pop" as they say.
It took Damian a little while to warm up to the place (he had fallen asleep in the car) but the bright colors and sounds snapped him out of his daze.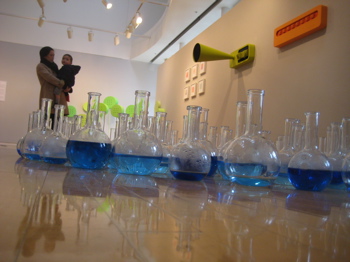 Koble's work is fun and funky. Note, you're reading about a 2010 temporary art installation, but that's what I experienced. One of Koble's most ambitious works, Capacity, is pretty much the last thing you want a Damian to check out. As you can see above, it consists of a bunch of liquid-filled Florence boiling flasks and a giant blue circle to knock over and break. I can't pretend to understand it, but it looked pretty cool – and that's good enough for me. We kept Damian away.
The companion piece to Capacity was staged on a shelf behind it and is called, Bellows and Manifolds. Using the same blue (this time in fabric) and other glass lab equipment, Koble has put forth a damning critique of man's inhumanity towards his fellow man.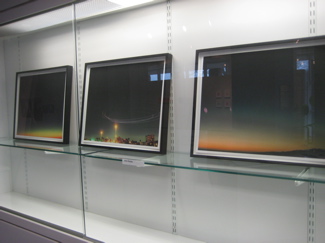 What? You don't buy that? You just don't get it, man. Turning around, we were confronted by Pundit, a giant green blob of felt leaves with cheerleader megaphones attached. As we were visiting while the final touches of the exhibit were being installed, it wasn't ready yet. That stinks… Because Pundit is a movable sculpture with sound whose voice is a looped segment of Beethoven's "Pastorale". Oh well. As a result, none of us got the full effect from the piece. If we had, I'm sure we'd have felt the same way as this reviewer did….
An excerpt from the review:
Bilateral green cone speakers further develop Pundit's complex, anthropomorphic, technological, artificially "natural" body of female forms and male composed "voice". This simulated voice buried within the faceless Pundit projects Beethoven's Pastorale, which, like the felt leaves, is expressive of the better aspects of human creative abilities to simulate nature. Koble, by way of Pundit, teases us into the here and now through looped sound and forms that tickle our senses of seeing, touch, hearing, and kinesthesia.
Oh my. I guess I now know why I'm not an art critic.
In this interactive sound installation, passing people trigger endangered bird sounds to play from each unit, creating a rising chorus of layered sounds. Called Chorus, this was cool. Damian was a little too short to trigger the birdcalls himself, but really enjoyed being carried near them and hearing the birdies. Plus again, the piece – like all Koble's pieces – was visually pleasing.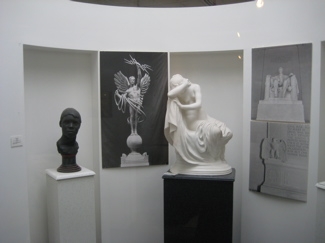 The last piece I'll describe in detail is Profile. This interactive sound sculpture presents a technology-based profile of a person. A keypress triggers the playing of a soundbyte of personal data — like the information stored in databases. Each entry begins with, "SUBJECT IS…", to further emphasize the dehumanization. It was difficult to feel dehumanized while in close proximity to the two humans I'm closest to in my life. But at least I understand the intent here. Poking around her website, some of Koble's more fun and interactive pieces didn't make the trip up to the Mercy Gallery. There were several of her paintings on display as well though, all of which I really dug.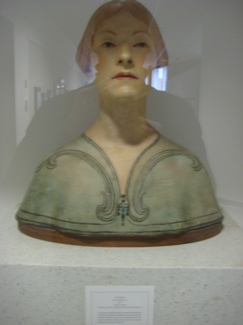 As I mentioned the gallery is just part of the Richmond Art Center, which contains other exhibits, both permanent and temporary. The current exhibit was that of Loomis faculty and maybe a few students. There was nothing extraordinary, but also nothing terrible either.
There were all sorts of media used from beadwork jewelry to impressionist watercolors. Hoang was impressed with some necklaces and noted that they were very cheap too. But we weren't buying today and moved on.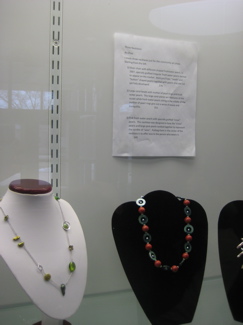 Some of the school's permanent works were pretty cool; some old Chinese mural work as well as a bust called Aenigma, which is of Kate Parsenow from 1907. I think it was done by a student who found Parsenow a very beautiful subject.
We spent a good 15 minutes browsing the Richmond Art Center's hallway galleries before heading out to the car and on to the next destination – The Windsor Art Center just a mile or two away!
Now I know why Damian eats two yogurts a day… Because he's so cultured.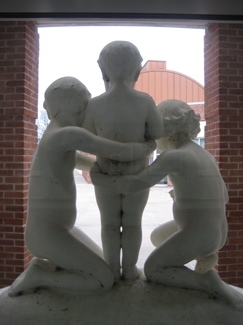 Mercy Gallery
CTMQ's Museum Visits