Contemporaneous Contemporaneousness
Ridgefield (Google Maps location)
November 9, 2012
The Aldrich is a Connecticut Art Trail site
You may find it difficult to believe, but the Aldrich is probably in my top 15 or 20 favorite museums in Connecticut. For one, I'm an unabashed fan of contemporary art (usually), but my fandom goes beyond what the museum is today than for what it has always been: a groundbreaking institution.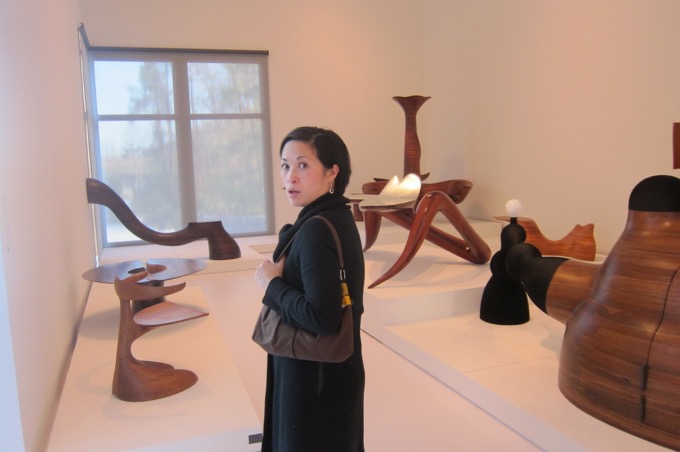 Crazy as it sounds, the Aldrich is widely accepted as the very first museum dedicated entirely to contemporary art in the entire country. Okay… one of the first anyway. And is still the only one in Connecticut… probably.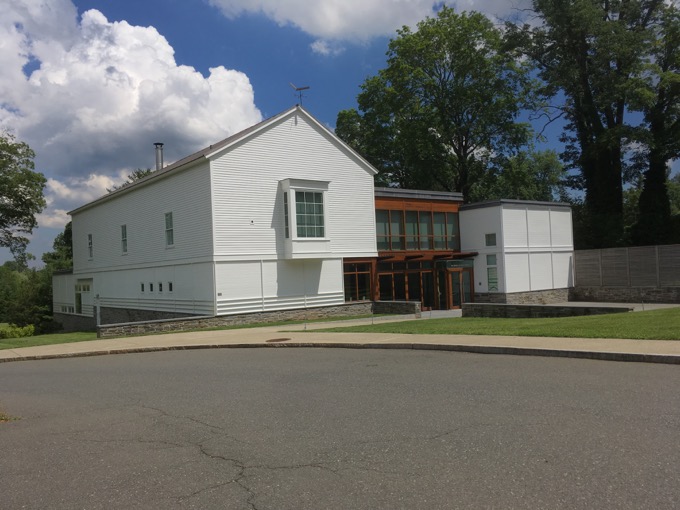 And the story of how it became so is rather interesting. First, if you're actually reading this page you probably know that "modern" in art is different from "contemporary." Modern was a movement many decades ago, so we have to use contemporary for art that is, well, contemporary with our lives.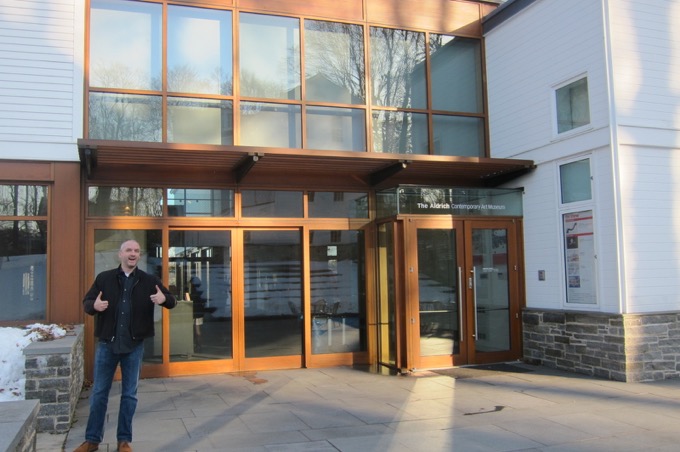 Hoang and I visited in 2012 and were deeply impressed with the space itself. Airy, bright, and sleek, yet warm and even showing some of its rustic bones, the Aldrich is just a cool place to visit. Even if this type of art isn't really your thing, the Aldrich is a great place to try to diminish your biases.
It's downright beautiful.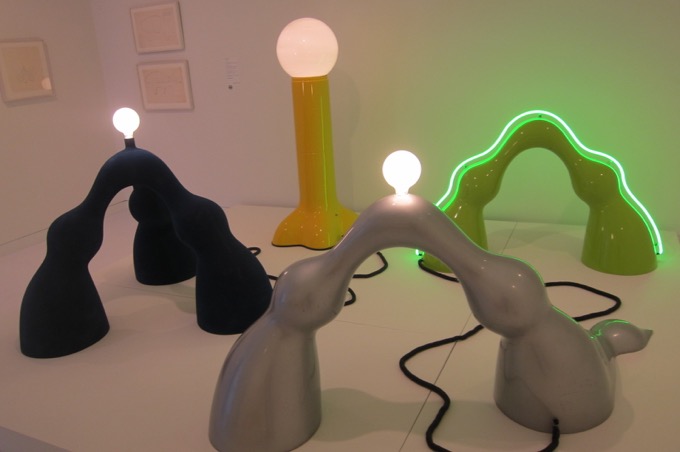 Here's the thing: The Aldrich today is a "non-collecting contemporary art museum." They literally have no permanent collection. They merely cycle through new and emerging artists. And when you're the Aldrich, the its history and stature, that works out well – and there really aren't too many museums like it in the country.
It wasn't always this way. It was founded by Larry Aldrich in 1964. Aldrich spent his career in fashion, but was a huge collector and champion of contemporary art. He began collecting the works of masters in the 1940's, but moved past them to the contemporary artists in his native New York City. He said he found it more stimulating to spend a maximum of $1,000 per piece on works by artists who were not yet well known.
Aldrich helped fund MoMa's (and the Whitney's) contemporary art collection. Think about that. The man had a few bucks. He used some of them to to have a home in Ridgefield. He used some more to purchase the historic Main Street building and property that bears his name today. To help to pay for this, he sold his entire collection of works by Picasso, Miro, Chagall, Paul Klee, and others – raising over a million bucks. Aldrich brought some of his friend like Joseph Hirshhorn and Philip Johnson on board. Good friends to have.
Aldrich's idea – which remains central to the museum today – was that "the Museum should make contemporary art accessible to a variety of audiences, and help visitors to understand and appreciate the art of their time." Cool. The museum today devotes a lot of effort and energy on children's programs.
Which is really cool. Art is art. Kids absolutely should experience modern and contemporary art as much as any other period. Especially since that's where you'll find the kinetic pieces and even interactive pieces that kids most enjoy.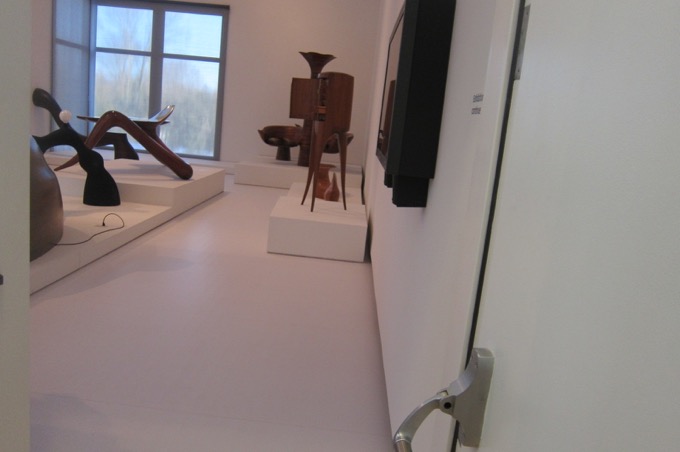 Over the decades, Aldrich (and the Aldrich) sold off the entire permanent collection to help fund various expansion type initiatives. Paintings by Manet, Monet, Gauguin and others. In the 1980's, it was decided to sell it all. And so they did.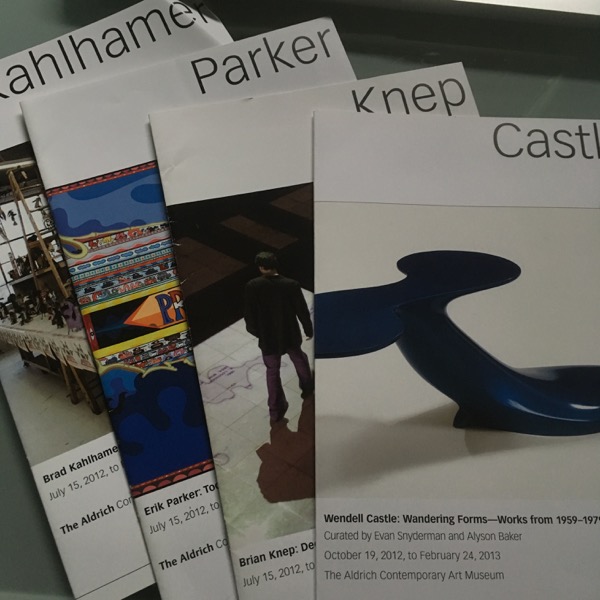 Aldrich lived to be 95 years old, and left a legacy. The Aldrich Museum has shown Cy Twombly, Jasper Johns, Frank Stella… and countless others at the beginning of their art careers. Aldrich was accused of setting up the museum as a tax dodge in the early days, but I think he proved to the world that he was in the museum "business" for all the right reasons.
And we thank him for it.
The first piece Hoang and I were confronted with was this:
Yes. It's a giant fake crack in the wall. Tell me your children wouldn't love this! Okay, yeah, you could argue that this is nonsense, but Northridge is a successful and respected artist and there's this:
It is difficult to immediately discern in Matthew Northridge's sculptural installation what might be accidental, what is site-specific, and where the artist has intervened in his subtle process of creating meaning. The title is critical to this installation. Rio Grande literally gives shape to the line Northridge routed into The Aldrich's sheetrock wall.
There were over a dozen artists on display during our visit, but those with the largest installations, I think, were Brad Kahlhammer, Brian Knep, and Wendell Castle.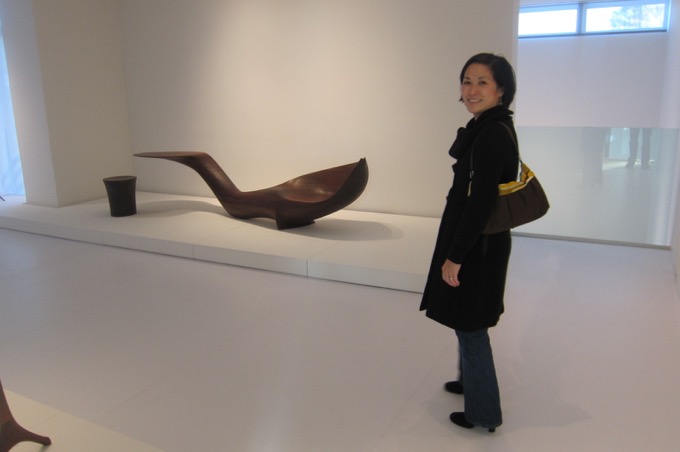 All those funky furniture pieces are Castle's "Wandering Forms" exhibit. As you can see, his stuff was probably my favorite. Or at least the most photogenic. Or maybe we got reprimanded for taking pictures and couldn't capture the whole place? I don't remember.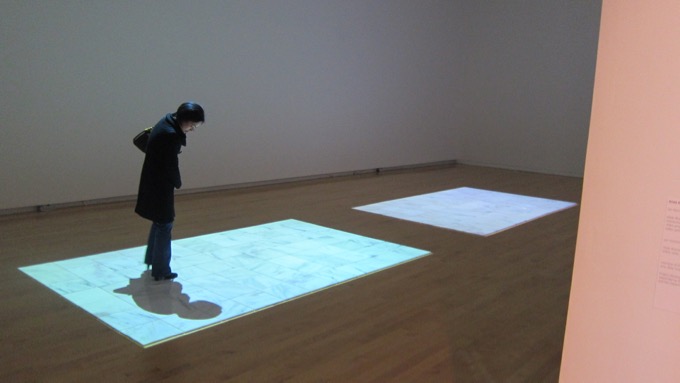 We also very much enjoyed the interactive video installations of Brian Knep. The projected maps "reacted" to our shadows and created a constantly changing installation. "Deep Wounds" projected the names of Harvard graduates who died fighting for the Confederacy in the Civil War. The crazy part about this is that Harvard felt that using the real names would be too "controversial" when Knep first presented the idea.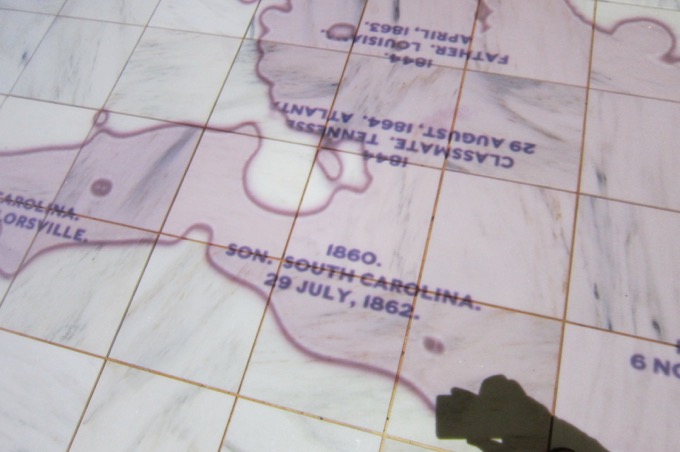 The Civil war was over 150 years ago. Geeze.
Your visit to the Aldrich will obviously be completely different than our visit. But I highly recommend you go. It's a very unique art museum and I don't care how much you say you don't like any contemporary art; you should still go.
And be proven wrong.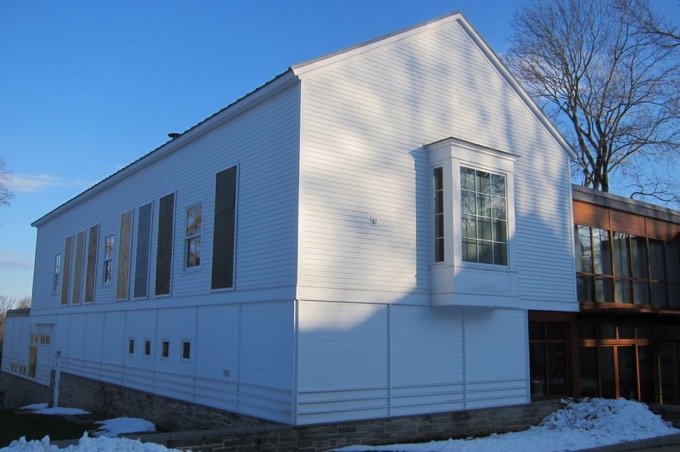 The Aldrich Contemporary Art Museum
Transcribed Smithsonian interview with Larry Aldrich from 1972.