DEHN-DEH-DEHHHHHNNNN!
Manchester (Google Maps location)
December 10, 2016
MCC's Dehn Gallery closed in 2019. The space was converted to Work_Space, a co-working and meeting space which also contains three tiny art galleries if you care to check that out. I don't.
Upon reflection, I should have saved the Dehn Gallery on Manchester's suddenly modestly Main Street until last. Then, my "Dehn-Deh-Dehhhhhnn!" title would make just a little bit more sense.
Alas, here we are… solidly in the middle of my multi-decade quest to visit every museum. AND solidly in the middle of my second decade plan to "complete" my first set of towns. So exciting!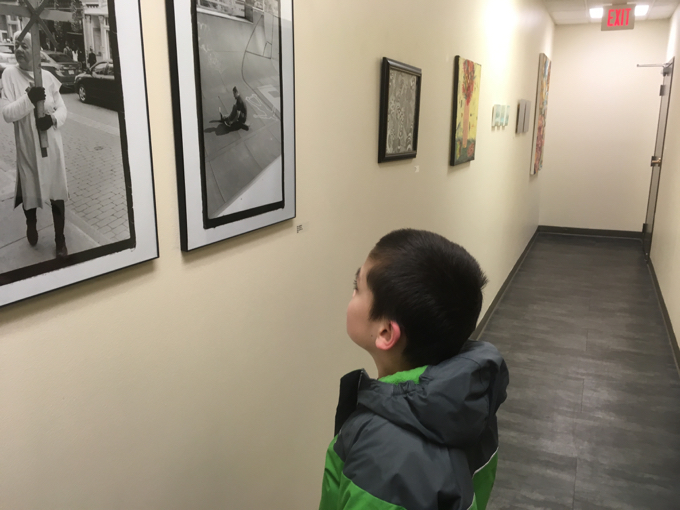 I visited the gallery with my two sons. We were at the end of a fairly long day out and about in Vernon and Manchester, so by this point they were pretty much spent. I allowed them to just play their little Leap Pads and iPads and take a breather.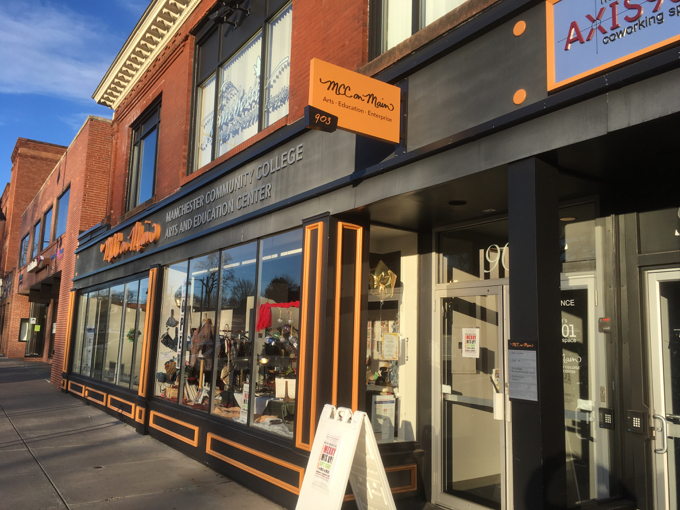 But a funny thing happened: Calvin became interested in the exhibit and began asking me all sorts of questions about what makes art and how the artists put their pieces together.
And that's pretty cool.
The exhibit during our visit was "Redux: Everything Old Is New Again" and was a juried exhibition featuring artwork that had been created from recycled materials and/or artwork that explores the theme of recycling.
And so, Calvin thought it was fun to find items in the works that he recognized.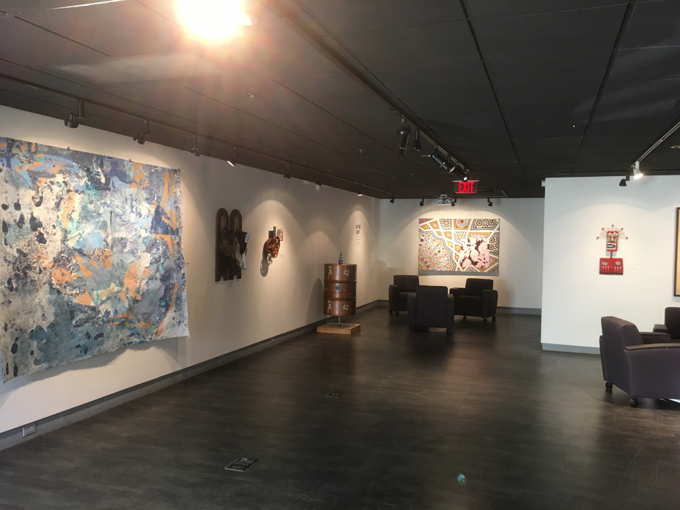 Here's some information on this gallery, which is actually a fairly large space when you account for the hallway galleries. The hallway galleries are called "In the Loop" which is rather clever… as they form a loop. You see. "In the Loop." Anyway, works by Manchester Community College students hung there.
One of the main attractions of MCC on Main is the art gallery named in memory of Adolf and Virginia Dehn by the Adolf and Virginia Dehn Foundation. The Dehn Foundation was established by Virginia Dehn to promote the arts and is now administered by Virginia's niece and nephews – Derick Lowe, Ginny Lowe Connors and Andrew Lowe. Their father, Frederick W. Lowe, Jr., served as Manchester Community College's first president, when the college was founded nearly fifty years ago.
Yes, this is sort of an extension of MCC which is a couple miles away. (We visited the art gallery there many years ago.)
Virginia Engleman grew up in Hamden, Connecticut, and studied art in Missouri and New York City, where she met renowned lithographer and watercolorist Adolf Dehn. As husband and wife, the two artists worked side by side for many years, part of a group of artists who influenced the history of 20th century American art.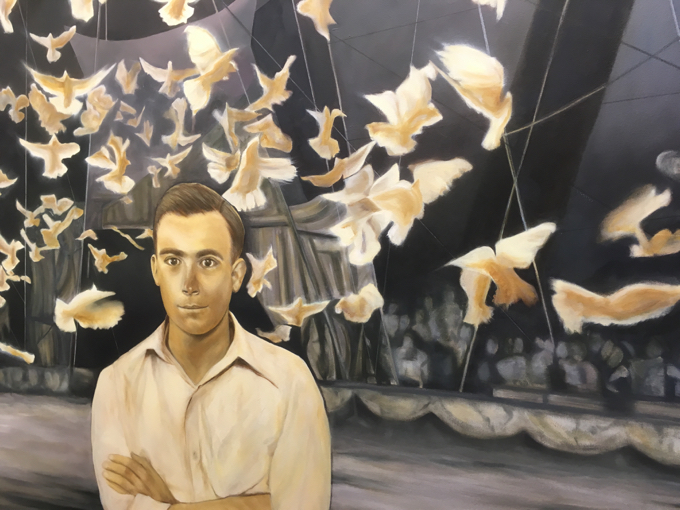 We arrived and were greeted by a woman who seemed a bit curious as to why some guy brought his two little sons to an art gallery. Eh, one of the show's jurors was Kristina Newman-Scott, Director of Culture for the State of Connecticut – and we are pretty good friends with her. (No, I didn't actually say that.)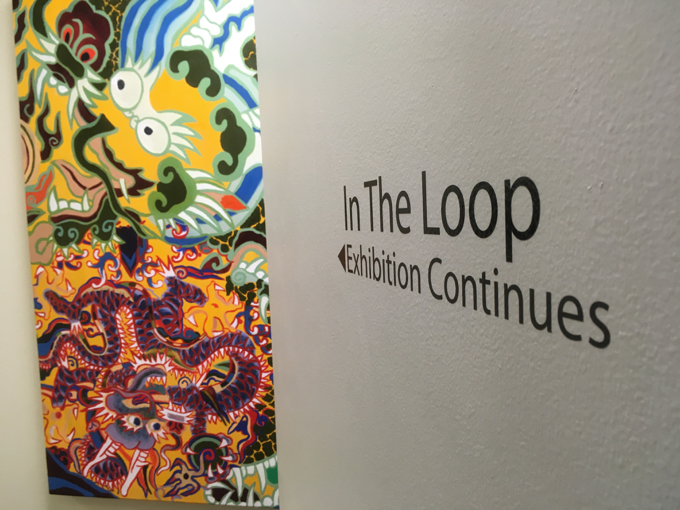 Fortunately, the space has some comfy chairs and the boys kept their hands to themselves while I poked around. (They always do.)
I enjoyed the show. Some of the works were quite clever, and a few were simply beautiful. Some were purposefully not.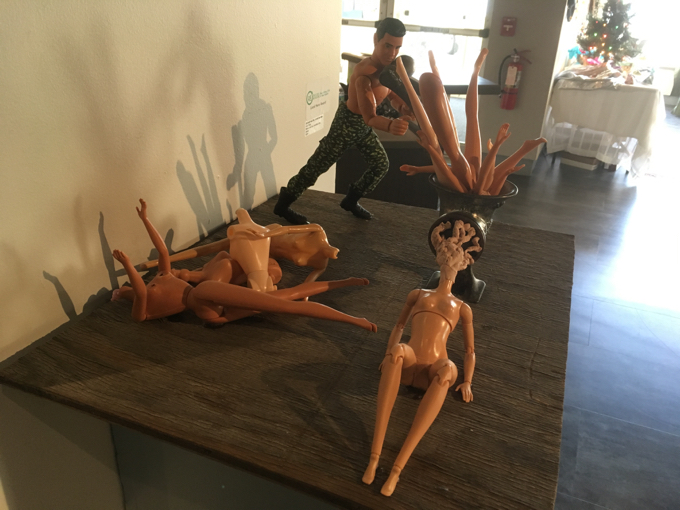 I didn't catch the name of the work or artist on this one, but that's a woman going through the meat grinder. Not exactly ground-breaking metaphor, but the use of toy dolls did make it more compelling than usual.
Let's play a game… you can even play with your children. Name the objects you see:
See? Easy. Here's another:
(Ms. Scheiderman has a cool little website, by the way.)
Another:
One more:
Okay, maybe having the kids play wasn't the best idea. Sorry about that. (In my world, my five-year-old DID ask me what this was, as he saw it being a sea creature. So yeah, we went with that.)
The "winner" of the exhibit was very deserving, as the level of detail is incredible:
Wait. TWO people did this together? Is that cheating?
No, I don't really think it's cheating. In fact, isn't it harder to create art with a partner? I'd think so.
Some of the paintings In the Loop were fantastic as well. I particularly liked this series:
The Dehn Gallery has several shows/year and no permanent collection. It rides the line on CTMQ inclusion (but obviously made the cut). It is well-lit and nicely thought-out. It is comfortable and accessible and usually features local artists. And of course it's free -though there is a little area that sells stuff, if you're in the market.
All of these things make it a pretty cool place to check out when you're in "downtown" Manchester.