A Show of Hans… Who Likes Quilts?
Manchester (Google Maps location)
November 20, 2010
To answer my title, I do not like quilts or quilting. And judging by this picture, neither does Damian. Just not our thing. Oh sure, I like how they keep me warm and there's the whole old school quilting of historical significance thing. And the Amish… They make good quilts. But, as with many things throughout my CTMQ experience, I'm willing to learn.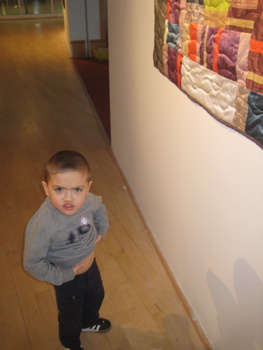 Why go to a small community college art gallery that has 3 or 4 exhibits per year when they happen to be showing an exhibition I may not like? Blame EdHill. Yes, my old friend was up from DC for a quick 2 day visit right before Thanksgiving. I got the call wondering if there was any CTMQ'ing to do that Saturday afternoon and we only had a couple hours.
Oh, and I'd have my son Damian with me. Hm.
I love a challenge. First stop, Glastonbury and the national champion downy serviceberry tree in America (since dethroned). We could have simply called it a day after that. After all, you know, we could have used the time to reflect upon the tree. But we forged on, northward up the back roads to Manchester and its WAY-bigger-than-you'd-think community college campus.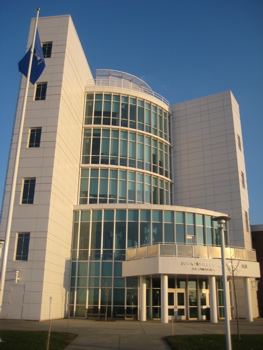 On the way we passed the Walter Bunce House. I snapped a picture of it a couple years ago, and magically remembered that it is part of the Connecticut Freedom Trail. See – I'd been here before. I even remembered driving into MCC that day with Damian in the backseat and going over the school's massive speedbumps and Damian asking for "More! More!"
He got plenty during this visit, because finding the art gallery once on campus was not easy. The picture on this page of the main entrance should make it easier for those of you hot on going here after reading this. It was somewhat eerie during our mid-Saturday visit; there was no one on campus at all. We found a security guard who couldn't have been happier to point us to the gallery.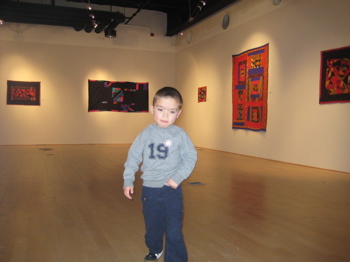 We entered the modernesque building and easily found the art space. This bright and airy building seems to be very new and is a cool focal point for students to snack and meet up. There was a young woman "working" at the gallery at the entrance who paid us absolutely no attention at all. Really? It's 3:30 on the Saturday before Thanksgiving at this tiny out of the way gallery on a community college campus and you can't even say hello to us? What, because you get so many visitors here? And cripes, we had Damian with us and he was being cute and at the very least, you could have thought EdHill and I were a fun-loving couple with an adopted cute half-Asian kid and you'd think that THAT would spark SOME interest.
Nope. Her text-buddy must be incredibly interesting.
The gallery itself is but one mid-size room. Not the smallest I've seen, but certainly below the median. As promised, the exhibit was a bunch of quilts up on the wall. I don't want you to think I don't think quilts take talent – they most certainly do. But to me… they're just quilts.
I asked Damian to pick out his favorite and he chose this one below.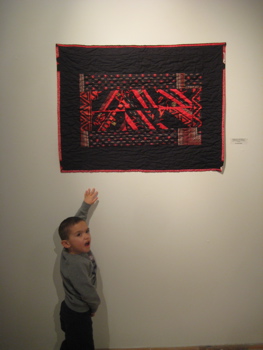 It's called "Coming out of a Dark Space" and is made of recycled scarves from the artist's late mother. There is at least one other fairly large piece made from the same medium. I think it's safe to say her mother had a lot of scarves. Oh my, I haven't even mentioned the artist yet!
That would be one Ed Johnetta Miller and yes, she's a she. A very prolific and very well-respected she at that. From her website:
A fiber artist, quilter, teacher, curator and lecturer, she is acknowledged to be one of the most creative and colorful improvisational quiltmakers in the U.S. Widely exhibited in the U.S. and internationally, her quilts can be found in many important museums, corporate and private collections including, The National Gallery of the Smithsonian Institution in Washington, D.C.; Nelson Mandela's National Museum in Cape town, South Africa; Wadsworth Atheneum Museum of Art in Hartford, Conn.; and the Rocky Mountain Quilt Museum in Golden, Co.
Miller lives in Hartford but is known all around the quilting world. She's been featured on HGTV and the New York Times described her improvisational quilting as some of the best in the country. And did you catch that part about how she has a piece in the Smithsonian's permanent collection?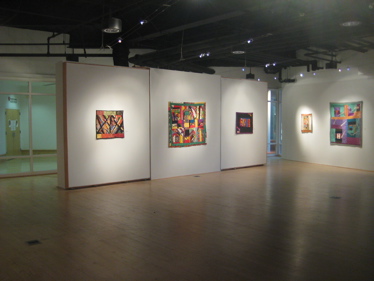 She has important friends too; from an interview in Hartford Magazine:
Special students, like Phylicia Rashad, the actress, and her daughter Phyleia, came here and I did individual classes with them. She wore my clothing on The Cosby Show. I don't do wearables anymore. I am now established as a quilt artist, and that's what I want to do.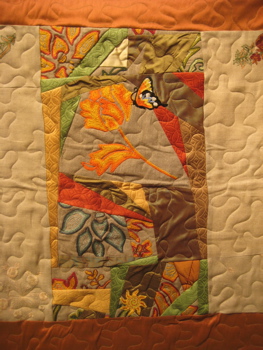 I'd like to highlight a couple more bits from that article… I think I like this woman.
Does your work have an ethnic excitement?
Yes. I believe in putting as many different ethnic groups in my work as possible. If you go in the main lobby at Saint Francis Hospital, you will see this huge quilt that I did. One of the things that I was asked to do is to find all the different ethnicities in Hartford. Everybody. I found fabrics that represent all people. I find fabrics from all over the world, so my quilts are unique. I feel as though my quilts are truly cross-cultural and really speak to everyone.
How much are they?
Anywhere from about $3,500 up to $15,000. Corporations [ask me to make] big-ticket items. I probably sell about five to six a year. Also, I do smaller original works. If somebody wants an Ed Johnetta, they will be able to afford it – from my little note cards that are $10 apiece, to 8-1/2 x 11" pieces that are $125.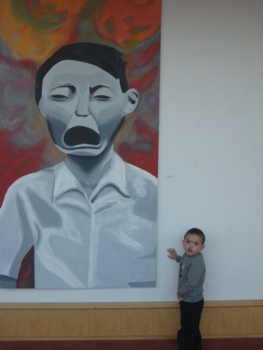 Alas, we can only look at quilts so long. Fortunately, the Hans Weiss Newspace Gallery space seems to ooze out into the hallways of the building. I'm assuming the works out there are permanent. For one, a couple of the pieces are huge and I can't imagine moving them too often and also, most of them are really, really cool and why would they want to hide them? (A commenter below explains how wrong I am.)
Unfortunately, information on these pieces was scant. Besides, I was more interested in getting pictures of Damian doing something funny with the pieces. Like how I really, really tried to get him to approximate this guy's face to the above.
I thought about how I'd pose the child in Godzilla's death ray, but then realized that EdHill, being infamous for his love of toys and all things silly, would be a better subject. Plus, it gave him a chance to get the kinks out of those CTMQ thumbs.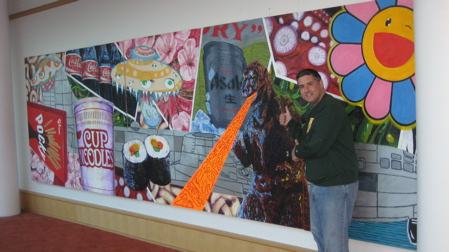 We checked out a few more pieces, like the random gold painted bike and hit the road with the hope of getting over to yet another small gallery in town.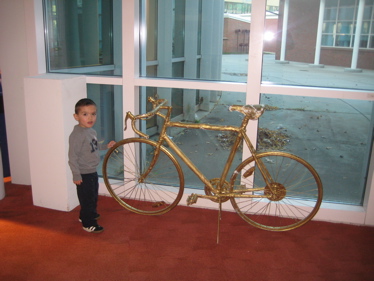 Hans Weiss Newspace Gallery
CTMQ's Museum Visits