Barn To Do This
Harwinton (Google Maps location)
June 9, 2018
This is it, my friends! My final stop in Harwinton for CTMQ! I realize that doesn't make much sense to you reading this now, whenever now is, but just roll with it. Indulge me.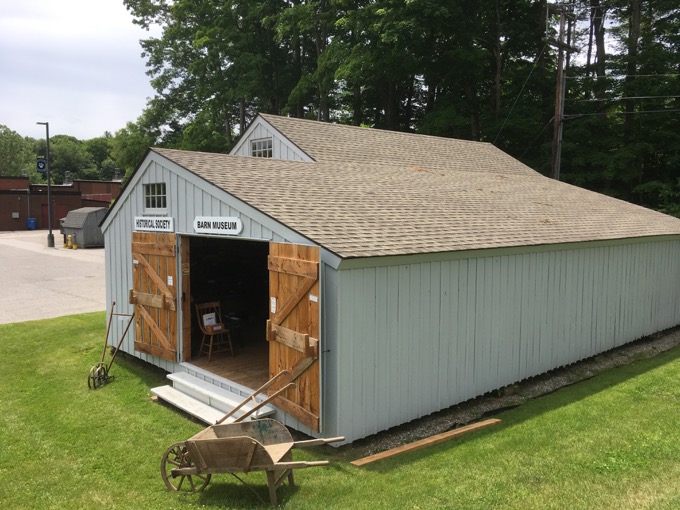 And what better way to put a period on the end of my Harwinton sentence than at the town historical society's Barn Museum? No fancy nomenclature here; it's just "Barn Museum." And I think that's a rather perfect example of what Harwinton is: Agrarian, stoic, small-town minded, simple, hard-working, quiet.
None of which are "bad" things at all. One can drive from this Barn Museum to Litchfield's tony "downtown" in ten minutes. So it's not like Harwintonians don't have easy access to some fancy schmancy dining and shopping options.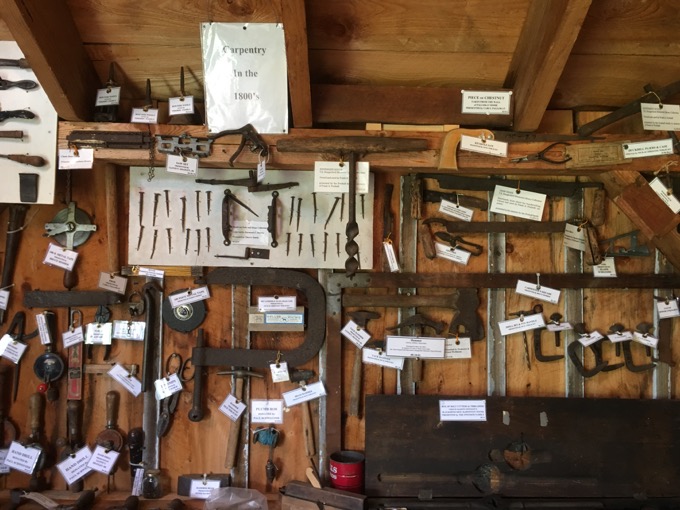 But it is, decidedly, a rural town that retains its rural character. So of course they have a Barn Museum. And to their credit, it is a very clean, meticulously labeled and organized Barn Museum. This ain't your typical musty old barn.
In fact, it's a musty new barn… as far as barns go.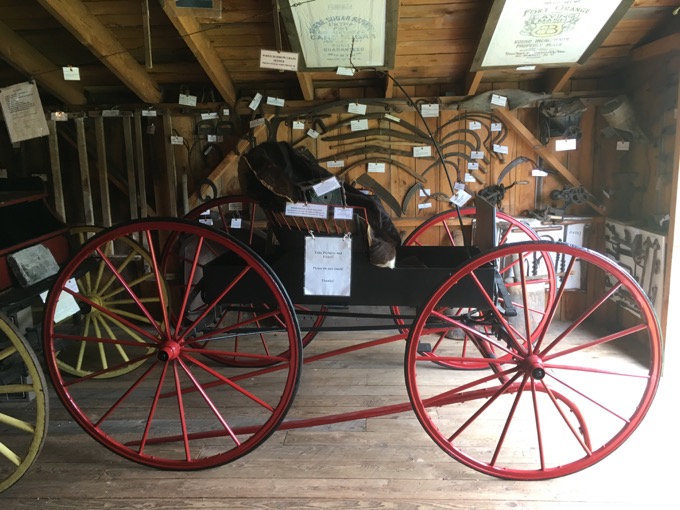 The Barn Museum was built in 1977 directly in back of the 1840 Schoolhouse. It has received rave reviews for its large collection of farm implements, carpentry tools and household items used in the nineteenth century.
This barn is five years younger than me! And it has received rave reviews! I'm jealous of this barn.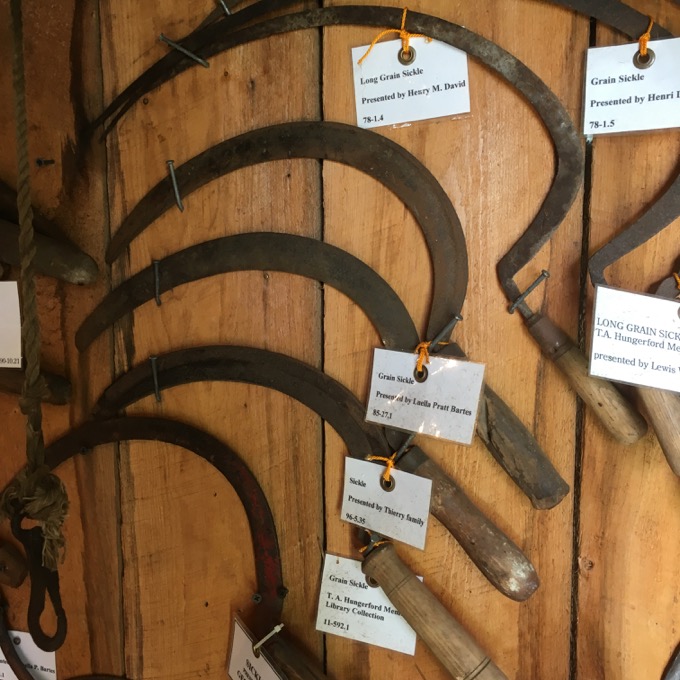 I visited during the Connecticut Open House Day – one of the very few days it is open to the public. The one room schoolhouse is perched right next to the barn, making for a nice double-whammy museum experience. (Both sit in front of the town's elementary school right on route 4.)
I entered and immediately noticed that the docents and other visitor were what Barn Museum docents and visitors always are: Old, white men with gnarly hands. Old white men love old farm implements. They love to sort of quietly one-up each other when it comes to their experience with old farm implements and especially small engine repair.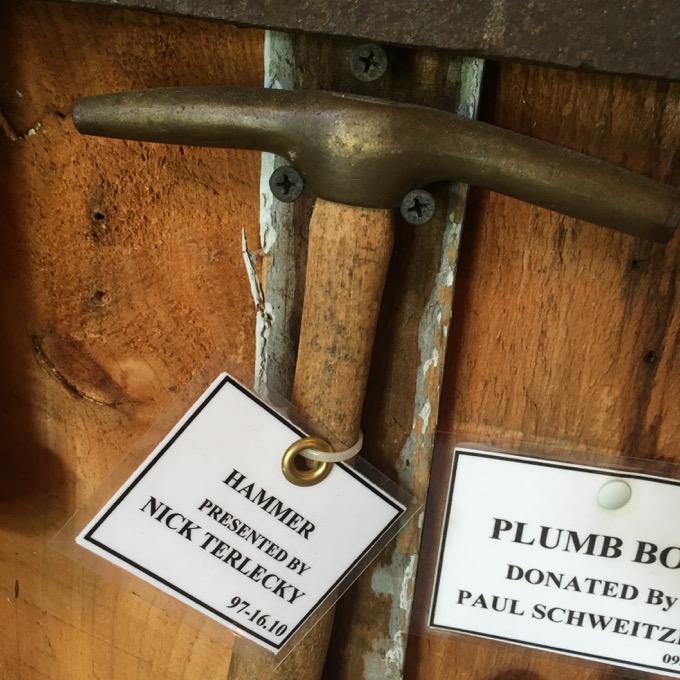 This is not a world I'm very familiar with – despite being the grandson of an old white man with gnarly hands who a) farmed, and b) knew everything about small engine repair. I'm sure I'm disappointing him, even now, 20 years after his death.
But hey, I'm the only guy in Connecticut visiting every barn and farm implement museum and writing about them, right? Right. Granddad will be fine.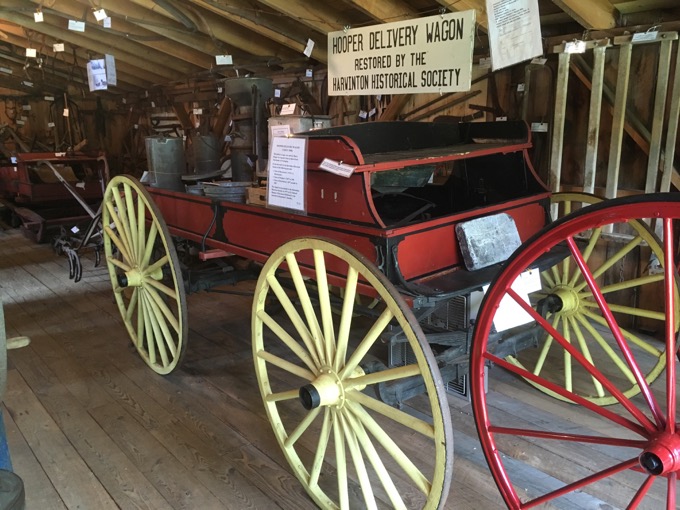 I'd guess the highlight of Harwinton's collection are the buggies. There are two, and they are both is exceedingly good condition. This one just above with the white wheels is the Hooper Delivery Wagon. I, in my ignorance and smooth hands, thought a "Hooper Delivery Wagon" was a thing.
It turns out that some Harwintonian named Henry Hooper used this wagon to transport vegetables from his farm to sell in Torrington. That's it. Of course, it's cool his son restored the wagon and that it is in good enough condition today to be used in local parades and such.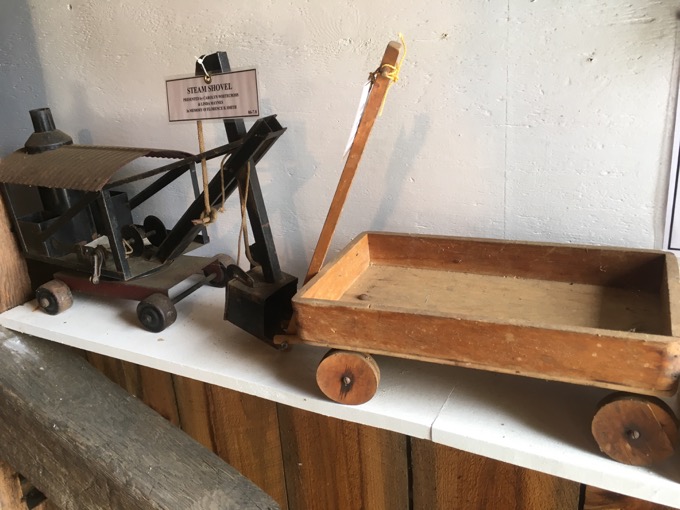 As I've mentioned – and as you've seen in the pictures – every single item here is labeled. Not just what it is, but who donated it. I always take delight in seeing the fruits of other obsessives' labors. So thank you, Harwinton Historical Society Label Person! I appreciate you!
But let's take a moment to look at this one: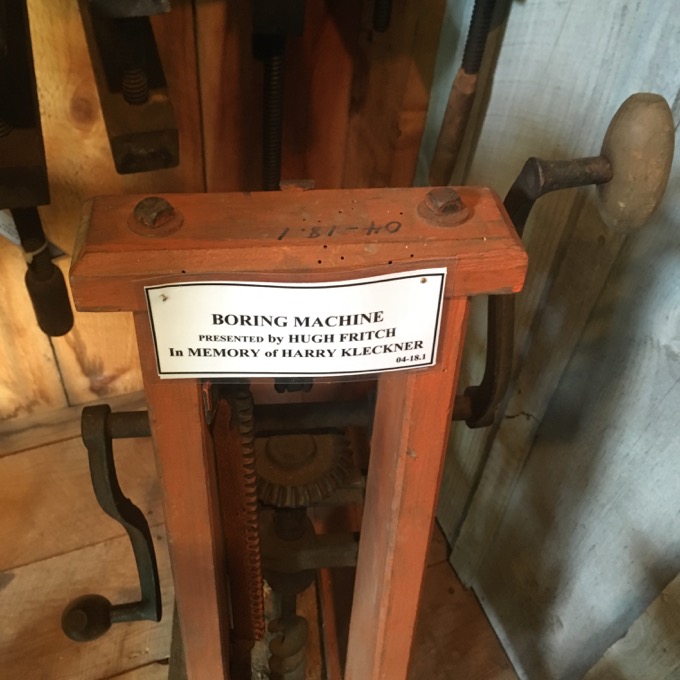 I know I've used the "boring machine" joke on CTMQ before. (Heck, The very first museum I visited was written up under the title, "Not Just Boring Machines") but what's up with Mr. Fritch donating a boring machine in memory of Mr. Kleckner? Is that an inside Fritch-Kleckner joke? If so, awesome.
If not, well… I guess Mr. Kleckner really enjoyed boring things.
This place is so thorough with the signage, that when they have to present something without a known donor, they explain it very clearly: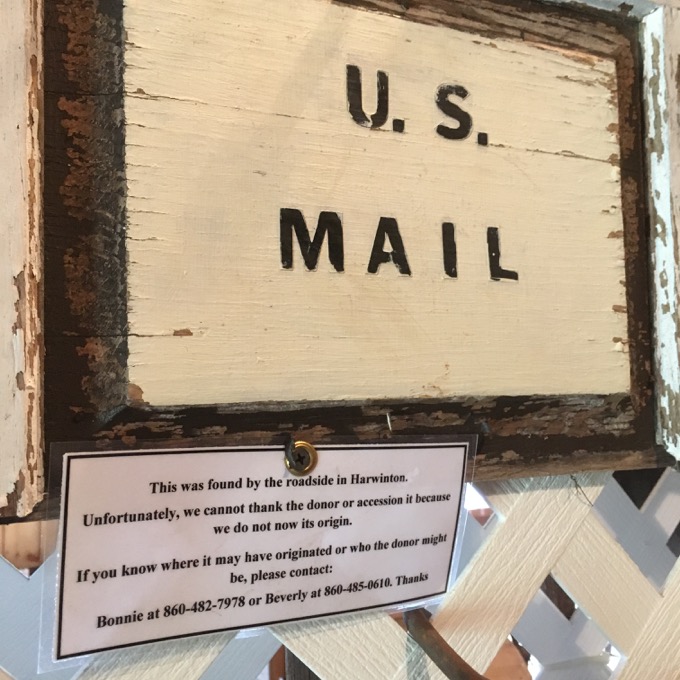 It's an old painted wooden sign found by "a roadside in Harwinton." And it found a home in the museum! I love this museum! And please, don't prank call Bonnie or Beverly. Or you'll be banned from this website.
The museum does separate their tools and things into proper sections. There is a sort of "toy section" and "household items" and "kitchen implements" and other little mini-sub categories. Again, I was impressed with the organization here above all else.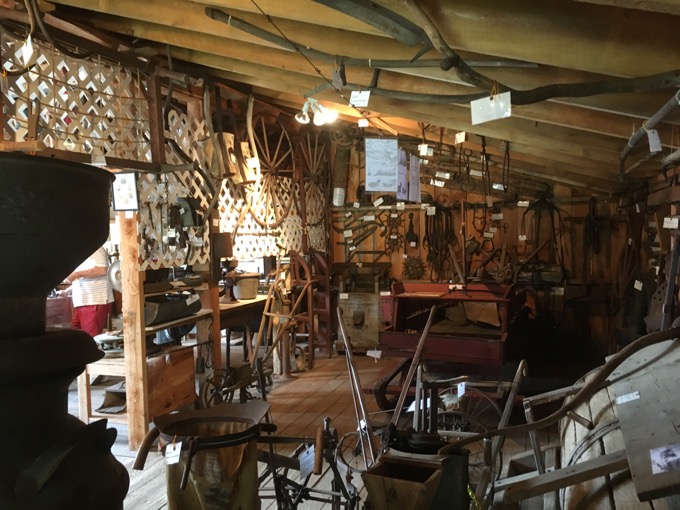 I didn't really see anything I haven't seen in other barn/farm/industrial museums, but that doesn't mean I didn't enjoy myself. The men that were there allowed me to roam about freely, only asking me if I'd like assistance once or twice. This means a lot to me – really.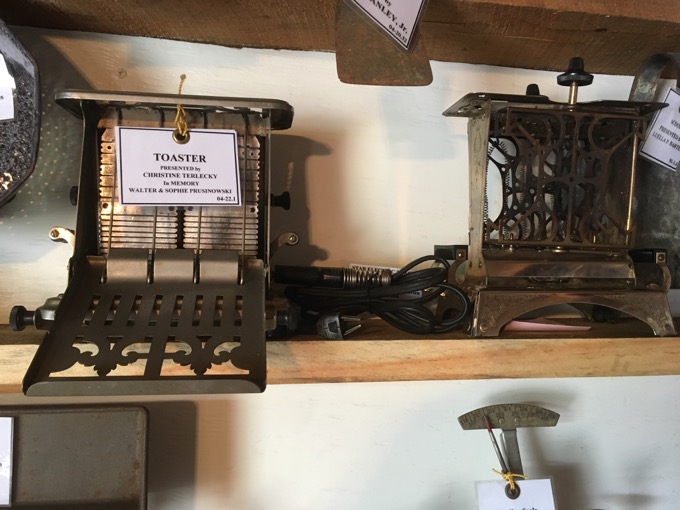 They never asked me why I was there or why I was taking so many pictures. Truly, The Greatest Generation.
As I took one last look at the old toaster collection, I almost asked the gentlemen about their old magneto. Just to make conversation. Magnetos are rad, and while I know what they are and (generally) how they work, I wanted to get my friends excited.
But I never said a word. In fact, lamely, I slunk out of there and hopped into my car without ever saying goodbye.
Which is really weird, since this was my very last stop in Harwinton. There should have been some fanfare. A 21-antique-gun salute or something.
Oh well, it's Harwinton: stoic, simple, hard-working, quiet.
Respect.