deKoven House
Middletown Heritage Trail Site 4
27 Washington Street
Further reading: I went inside the house and treated it as a museum here.
It's a bit of a shame that Route 9 separates Middletown from the Connecticut River. I imagine the walk along it was somewhat pretty back in the day; but then again, it was probably polluted and filled with dirty ships. So how about WAY back in the day when the Wangunk Indians ran the show here.
The deKoven House is now home to the Rockfall Foundation which supports environmental education, conservation projects and planning initiatives in Middlesex County. So that's cool… But historically, it has quite a past as it relates to Middletown's maritime fortunes. The following is excerpted from the Rockfall Foundation's website:
The deKoven House, a stately Georgian brick mansion overlooking the Connecticut River, was built between 1791 and 1797 by Captain Benjamin Williams, famous as a trader to the West Indies. During a visit to Middletown he met and married Martha Cornell. Since Middletown was the chief port for West Indian shipping, the Captain decided to settle here. He purchased five acres of land, bounded at that time by Main Street, Washington Street, and the Connecticut River, for "thirty pounds of lawful money" from John and Rebecca Cotton, whose ancestor William Cornwell acquired the land in 1650 as one of Middletown's original settlers.

On Captain Williams' death in 1812, the property passed to his four children who, six years later, sold it for $3,600 to Henry L. deKoven who was active in the China trade. In 1900, the deKoven House was passed to Clarence Seymour Wadsworth (1872 – 1941) by his mother, Cornelia deKoven Wadsworth through her sister Margaret deKoven Casey.

The Clarence S. Wadsworth family occupied the house for a number of years along with their various residences in New York City, Maine and Florida, but after their mansion at "Long Hill" in Middletown was completed in 1917, deKoven House became Colonel Wadsworth's business office. He bequeathed it to the Rockfall Corporation in 1941. Gifts from the Colonel's widow Katherine Fearing Hubbard Wadsworth, in cooperation with the Rockfall Corporation, made possible restoration of the house and grounds and establishment of the deKoven House as a Community Center in 1942.

The Memorial Rooms, maintained in tribute to Colonel Clarence S. Wadsworth , hold some of the original deKoven family furnishings. Through the years, two additions have been made to the original house. In 1882 a two-story brick ell was added and in 1957, a large Meeting Room was built …
It continues on through a litany of updates.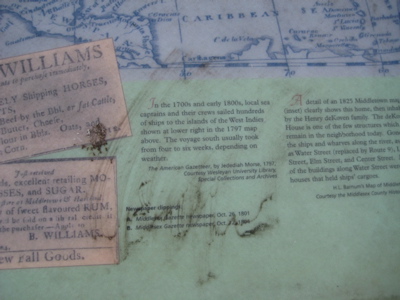 The Heritage Trail sign here tells tales of being a sailor in the 18th and 19th centuries. Many men were lost on the high seas and apparently Middletown was a bit of a widows' colony. There was a cool historic map of the shipping route from 1797, but as per usual, my picture above just isn't that great.

Next Site: 5. Riverside Cemetery
Middletown Heritage Trail Intro