Dela-Where?
Ebright Azimuth, 447.5 Feet
July 2002, June 2009, June 2017
2017 Update: I've visited the mighty Delaware highpoint 3 times now: In 2002 with Hoang, in 2009 with Hoang and Damian, and in 2017 with Calvin. It is that important. I will try to weave the three separate visits together, using mostly the very old 2002 visit template.
The highpoint "park" has really grown up in 15 years. No clue what that cross is there for, but I'm guessing someone was in a fatal accident near here.

2002
I distinctly remember sitting in the theater watching Mike Myers and Dana Carvey experiment with their new green screen given to them by the network bigwigs in "Wayne's World." After pretending to be in several exotic locales with their stoner-lite humor, a background showing Delaware popped up to their mutual consternation. "Or… imagine being magically whisked away to… Delaware. Hi, I'm in Delaware," said Wayne with a look of quizzical disgust on his face. Immediately the entire theater leapt to their feet and erupted in wild applause and cheers. I'm guessing this didn't happen in every theater; it happened that night because… "Hi – I was actually in Delaware."
That's right, I spent most of my first 18 years keeping it real in the First State. I actually defend the merits of Delaware to anyone who goofs on it. The welcome signs on I-95 used to say "Home of tax-free shopping" which is always a good thing. One thing Delaware never did offer me growing up was hiking.
Bear in mind that the only other state I lived in prior to college was Florida- it's a wonder I ever began hiking; or perhaps that is precisely why I did start highpointing – that is, living in the two states with the two lowest highpoints caused me to have this urge to highpoint… hmmm.
At one time the duPont family pretty much owned New Castle County where I grew up outside of Wilmington, a lot of which is still preserved as state parks or are still family properties upon which their mammoth "chateaus" stand. Some are still inhabited by the inbred offspring of the family. The rest of the surrounding north Wilmington suburbs are rife with duPont facilities, suburban sprawl, box retailers, and pavement. It was here, officially in my parents' kitchen, in Foulk Woods (a particularly leafy, nice, subdivision north of Wilmington, near the Pennsylvania border) Hoang and I began our ascent of Ebright Azimuth.
I made the decision to try to "hike" each summit where it makes sense. And sometimes when it doesn't… like in Delaware. I realize that for most people, there is no other way to reach Ebright Azimuth other than by driving, but I was going to hike it, darnit, no matter how stupid it was.
It was a humid and cloudy day as we set out of the front door of my parent's house. We could have simply walked out to the street, but I wanted some real bushwhacking so it was through the backyard and into the "forest" for us. Of course the "forest" portion lasted all of 80 seconds as we popped out the other side in someone's backyard; the danger of this trek had us on high alert – you never know what octogenarian lunatic is going to take offense with you for traipsing through his overly manicured lawn and chase you down with a rake. We were lucky and made it out to the next road over; headed north towards Grubb Road.
While making our way through the maze of suburbia, armed with a map supplied by my mother, we never broke a sweat. However, after walking further north along the length of Brandywood Road, we were confronted with the scariest, most dangerous obstacle we've faced so far in our highpointing exploits: Naamans Road, a 4 lane heavily traveled highway.
Fortunately, we had practiced our running by following the example of the street sign below, made it across safely, and entered another subdivision called Dartmouth Woods. After taking a left turn at Sturbridge Rd, we could see the rise ahead of us. There was an honest to goodness hill! (Let it be said that a few miles just west of here, in the Brandywine River Valley, there are plenty of hills. Some are actually quite steep and pretty long – I spent years cycling those roads and while they aren't the Alps, they can be pretty tough).
There were many neighbors out and about, surely wondering what we were doing with a camera walking up their road, but we had a mission and nothing could stop us: not the barking terrier, not the speed bumps in the road, not the misting drizzle, not the enticing garage sale we passed…
A left turn at the top of the hill onto Ramblewood Drive and thirty feet later there we were; The summit of Ebright Azimuth! With a view of the famous (in highpointing circles, anyway) trailer park across Ebright Road where some people claim the true Delaware highpoint lies; we gave each other a congratulatory kiss and snapped the required summit shot. That's right, the sign is not at the actual highpoint, which is, depending on your resource, about a foot higher in elevation.
There is no point trying to traipse around private property to find something so inconsequential. Besides, my brother-in-law grew up about a quarter mile from where we were and told us, "We used to brawl with the trailer kids all the time" and I wanted no part of that. The highpointer club recognizes the sign as "official," so we were quite satisfied with our feat.
Years later, the club made the sign and an unearthed benchmark the officially official highpoint. So we revisited in 2009 with Damian (below).
After taking one last gander at the view, we began the descent back through Americana, Delaware style. (For the record, the azimuth is about fifty feet from the Pennsylvania border, perhaps the closest to another state other than CT and NV, but I'm purely guessing).
On the way back to my parent's house, we encountered a curious species, indigenous to the suburbs of the Good Ol' US of A. This beast is often seen in the front yards of Caucasian owned houses and is often in the company of gnomes, pink flamingoes, reflective globes, and pineapple "Welcome" signs. It often hides amongst rock gardens and weeds. It is best approached with a wary eye because the owners are often quite protective of it. I was determined to tame this wild animal, danger aside. Hoang and I utilized the predacious cat technique of walking past our prey to discuss attack choices, then circled back and prepared to pounce. From behind an overgrown boxwood bush, I could see this wasn't going to be easy – there were neighbors watering lawns and cars passing every so often. Despite the "at-home" look of the owner's house, we agreed that this rare sight had to be documented: I was going to ride the mini lawn burro! With a determination few possess, I approached the animal quietly and quickly, mounted it, and showed it who was boss. Mission accomplished:
After the excitement of spotting such wildlife on our hike, we made our way back to the safety of my childhood home, went over to see my 22 month old niece, made an appearance at my brother in law's family barbeque, bought a bushel of blue crabs and had a feast with our good friends Tam, Kerri, and Dave. Nary a mention of our dual conquests was mentioned to anyone due to the fact that my friends and family already think I'm enough of an idiot… and I don't want Hoang to have to suffer the same indignation.

Highpoint Clarification Revisit
June 27, 2009
There were three big reasons for us to revisit the second lowliest highpoint in these United States: It would be Damian's first (excluding his in-utero visit to Florida's highpoint), There is now an official benchmark denoting the hightpoint (as well as a little park-like setting), and it's five minutes from my parent's house. (Another smaller reason was to get a picture of Hoang at the highpoint, since we didn't make it official last time.)
After a morning spent blueberry picking at my brother's house, we stopped by the Azimuth on the way back to my childhood home. I joked to Hoang on the way there that the area is "all new now" and the state has put a few bucks into traffic calming and making it official and all that good stuff. Oh – and that the woman who lives across the street has become a highpointing celebrity of sorts.
As we approached one of the most ridiculously easy highpoints in the country, we immediately noticed the traffic calming efforts. Nice work, Delaware.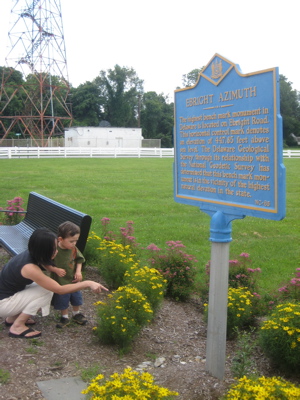 We parked in the neighborhood off of Ebright Road and began gathering Damian for his big highpointing debut. Just then, a woman approached and asked us if we were highpointers. Hoang answered, "We are!" Man, I love the fact that my wife now finds this normal back and forth conversation.
The woman turned out to be none other than Doreen Kupchick: Highpoint Ambassador Extraordinaire! We couldn't have been more lucky. Damian enjoyed petting her frisky little dog while she regaled us with the rather wacky story of the Delaware highpoint.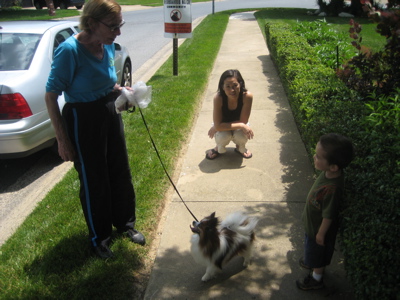 Back when we visited seven years ago, the sign was on the eastern side of Ebright Road and was "in the vicinity" of the true highpoint. In the interim, an old benchmark was unearthed across the road – exciting everyone around the globe in highpointing circles.
A new sidewalk was poured with a cut-out for the benchmark. A nice bench to relax on top of Delaware was added. A flower garden. And the sign was moved across the street as well. Wow, talk about an improvement. Damian doesn't know how good he's got it.
Afterwards, Doreen presented me her guestbook to sign (it has way more names than you'd think – from way more faraway places than you'd dare to think) and gave me some articles on Ebright Azimuth and other highpointing items. It was great to talk with Doreen for 20 minutes or so as she is incredibly nice and informative.
She is known as "The Queen of Ebright Azimuth" to many. As well she should be.
I thanked her by giving her a couple quarts of blueberries fresh from the garden. Thanks, Doreen!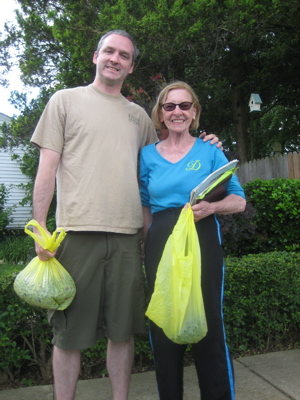 Hightpoint Difficulty Rating: 1
Hike Distance: 2.75 in 2002, none thereafter