Cercis canadensis var. texensis, Texas Redbud
Loomis-Chaffee School, Windsor
I love this page and I love you for coming here to read it. Unfortunately, Loomis-Chaffee dug up this tree and trashed it in 2018. This National Champion tree. Shame on your Loomis. Shame.
I wrote the following in 2013, before Loomis killed the tree.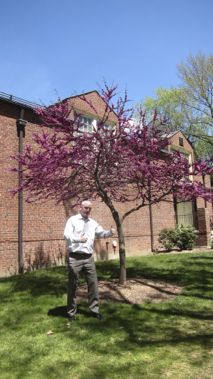 I imagine that this tree won't last as a national champion for very long. In fact, I'd guess that next year (in 2014), a much, much larger C. canadensis var. texensis will be found and take over as champion. But for now, for all of 2013, this page is accurate.
I know that sounds odd, and it's taken me a few years to wrap my head around how all this national champion tree stuff works, but now it makes perfect sense to me. We in Connecticut are very fortunate to have guys like Ed Richardson and Frank Kaputa whose tireless work to catalog our national champion, state champion and notable trees.
In 2012, they went nuts (in a good way) and really beefed up their lists. I noticed all the additions – and a few subtractions due to storm damage and other specimens in other states being found/found out about. Such is the transient life of being a national champion; be it trees or college basketball.
In this case, as Frank wrote to me, "This is a nursery tree. It is a national champ because no one else has nominated one and their natural range is limited." That. Is. Awesome. So EAT IT, other 49 states, we claim a national champion merely merely because you failed to do so. C-O-N-N-E-C-T-I-C-U-T, Connecticuuuuuuut, Connecticut Trees! (A quick Google image search yields bigger specimens.)
The campus of Loomis is quite nice and even better, only 10 minutes from my place of work. Kaputa told me it buds beautifully, hence the name, so I waited until early May, made the trek and there it was. All 12 feet of it.
Then I drove back to work. How cool is it that when I get the urge, I can drive 10 minutes west on Day Hill Road to see the (former) national champion Bear Oak or I can drive 10 minutes southeast to see the national champion Texas Redbud? And while I'm at it, I can always check out the national champion black oak too in nearby East Granby.
I am a lucky, lucky man.

CT's Notable Trees Project
CTMQ's Connecticut's National Champion Trees