My Goshen! That's Good Wine!
Sunset Meadow Vineyards, Goshen
June 15, 2008
As with many of these old winery visit pages, this one deserves an update with better pictures and more wine descriptions. I'll get to it someday. Oh, and there are now two Sunset Meadow locations, with one up in Sheffield, Massachusetts as well.
Good old Goshen, nestled between Nowhere and Nothing, is home to two vineyards and wineries. We ended up out there pretty much on a whim, but I just happened to have our CT Wine Trail Passports, so we'll keep Hoang believing that "whim" part.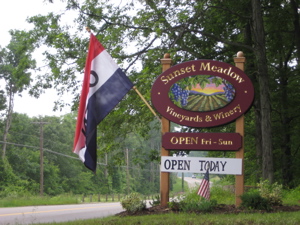 It was Father's Day anyway, and even though I'm not exactly an oenophile, this trip made me happy. I drove west on Route 4, through Torrington and on to Goshen. Past the much-better-than you'd thinkAction Wildlife Foundation and then the slightly surreal Goshen Stampede, where one lone anti-rodeo protester stood guard by the entrance.
Sunset Meadow is located on a beautiful parcel of land, high atop a hill. I noted that this wine tour stop offered winery tours, but then I looked at my young son and re-thought that idea. The usual tasting would have to suffice this time.
2012: I think we dispensed with the tours right around this time as well. Since they're all the same, what's the point after a couple, y'know?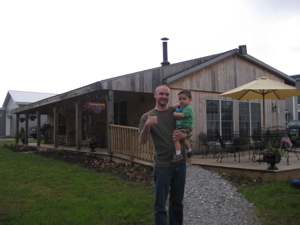 Sunset Meadow Vineyards is a family owned and operated vineyard located atop the Litchfield Hills. Our vineyards overlook the picturesque sunsets and extravagant scenery of the beautiful Western Connecticut Highlands.

At Sunset Meadow Vineyards, we pride ourselves on maintaining and operating the vineyards with tremendous precision, and always with respect for the environment and natural resources. Using sustainable farming methods our vines are hand pruned and harvested.

The Vineyards are spread over 40 acres of sloping, westerly exposed fields, creating an ideal setting for prime sun exposure and constant airflow necessary for vine health.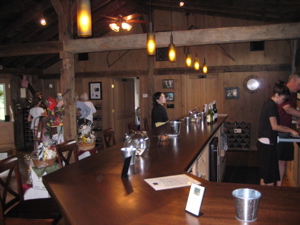 As with all these places, a very large and very nice owner's house stood sentry next to the tasting room – a very attractive tasting room, by the way, with a very large bar. Free chocolates and nuts were placed around the room for Damian to knock over. He was given some animal crackers, which was very nice.
We shared a tasting of six or seven wines, nodding our heads at appropriate times and saying things like "top note," "plum," "acidic," and "oakey." Although several of the wines were good, and our hosts were most excellent, we didn't buy a bottle. I figure, driving out this far west now costs about a bottle of local wine… so I called it even in my head.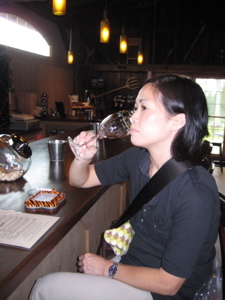 We have revisited Sunset Meadow several times since this initial visit. They now serve "wine slushies" (just what they sound like) and have created a truly fun spot. On nice weekends, dozens and dozens of people come to hang out on the grassy hill to hear musicians or just to picnic and enjoy the day.
Dogs frolic, children dance, grown-ups drink. It's definitely a fun spot to hang out. The "slushies" are a huge hit and other wineries around Connecticut serve them now as well. With around 40 wineries in the state, Sunset Meadow is one of the most… pleasant, I think, to visit. Especially with family. It's just… nice. Y'know?

Sunset Meadow Vineyards
CTMQ's Visits to Connecticut Wineries