Two Legit
Area Two Experimental Brewery
April 2019
Two Roads Brewery in Stratford, Connecticut prides itself on "taking the road not taken." They are far and away the state's largest and most successful brewery. They have far and away the widest distribution reach of any brewery in Connecticut. And apparently they had 15 million bucks lying around.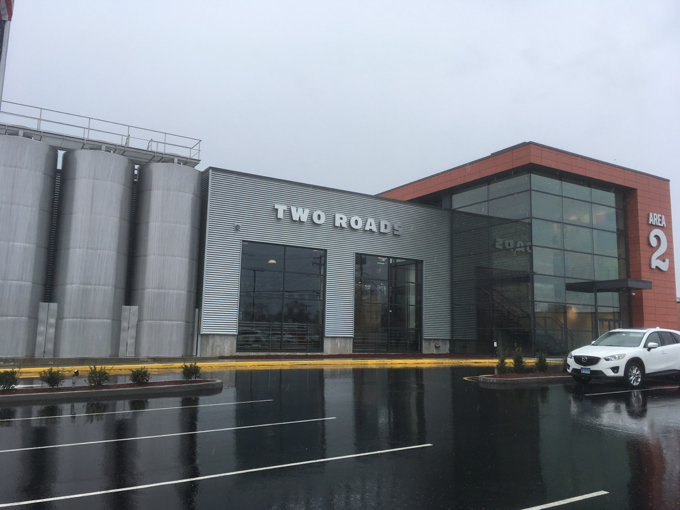 What to do, what to do… how about… open a second huge brewery next door? As crazy as that sounds, that's exactly what they did. Area Two, the cleverly named baby brother of Two Roads, opened in March 2019, but looks like its from the future. Which is weird, because much of what Area Two brews uses techniques developed centuries ago in Europe.
And I love them for that. There is a decided dearth of clean and modern aesthetics in the brewery scene, especially in Connecticut. It's almost startling to travel directly from Two Roads' cavernous former-factory brick and beam brewhouse, across the parking lot, through the hop bines, and into Area Two.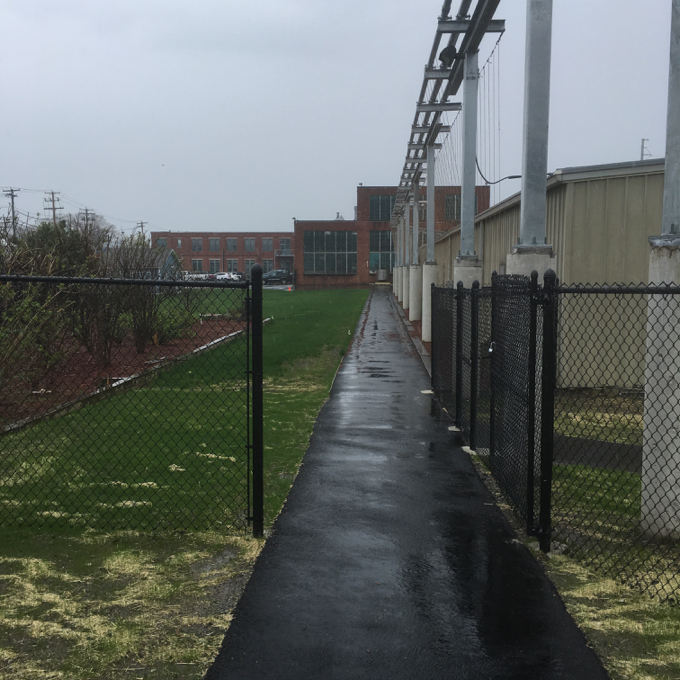 At 25,000 square feet, Area Two is also rather large. I had the important holiday of Easter Monday off, which is apparently enough of an important holiday in Denmark where my employer is headquartered to give Americans the day off too. Hey, did you know that Denmark, for all its social progressiveness, is officially a Christian country? Now you do.
After a visit to Two Roads, I excitedly made my way over to the brand new, built from the ground up, Area Two. It's… beautiful. And Two Roads knows it's beautiful, which is why visitors must walk a catwalk across the entire operation in order to get back to the taproom. Yes, they're showing off.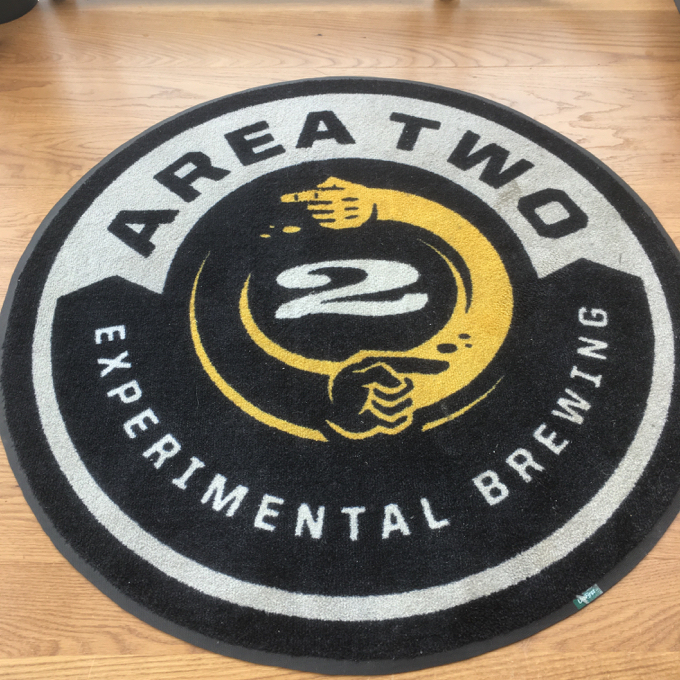 And why not? If you spent 15 million dollars on something cool, wouldn't you want people to see it all? Of course, people wouldn't enjoy it as much if you made crappy beer. Having had a slew of head brewer Phil Markowski's sours and wild ales under the Two Roads label over the last several years, I was fairly confident my Area Two drinking experience would be a good one.
According to Markowski, "Area Two will be a brewery of boundless experimentation," meaning that "we will continue to innovate, redefine and stretch the definition of beer." Included at Area Two will be barrel-aged, lambic-style sour beers, beers aged in barrels obtained from distilleries, wineries and other sources as well as beers spontaneously fermented from local, airborne yeast. Beer will also age in large wooden tanks known as "foudres" for as long as two years to deliver unique characteristics found in these highly complex beers.
In others words, Area Two is going to be pretty awesome. Look, I know the teeny tiny nearly statistically insignificant population of local craft beer fanboys are never going to admit that this place is worth their time and money. "It cost $15,000,000!" And, "Two Roads' beers are meh." And, "it's not overpriced enough for it to be good!"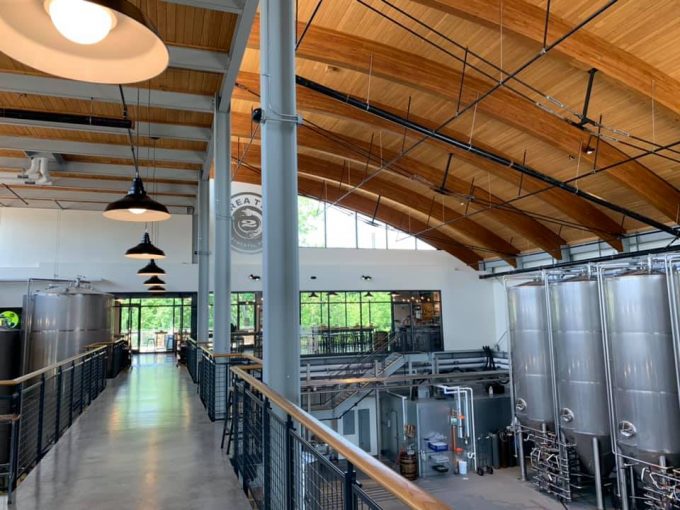 On that last one, I'm happy to tell you that Area Two's flight situation is indeed overpriced. I hope that makes a few fake cicerones happy. Joking aside, the pricing isn't that bad. Each 4 oz taster is priced separately, so instead of the usual 8 bucks for four or five samples, some are $3.50 or $4.00 each. Is the Bourbon Barrel-aged Cherry Quad worth a dollar an ounce? The Absinthe Barrel-aged Barleywine? I'm pretty sure the business minds behind the Two Roads mothership know what they're doing when it comes to this stuff though. And besides, there seem to be enough 29-year olds paying $30 for 24-ounce bottles of diabetes beer, so who can complain.
As for me, I ordered five of the 12 on tap which came to 14 bucks. Yeah, okay, that is certainly more than… almost every other brewery in the state. Bonus for me though, the Tequila Barrel-aged Lime Gose ran out during my pour, so I actually got 5.5 tasters – and then got a full pour of it later, free of charge!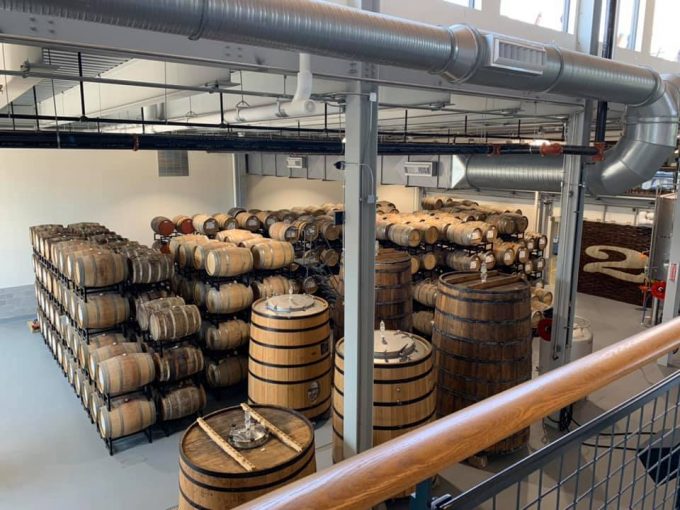 This is all the more exciting when I tell you that the Tequila Barrel-aged Lime Gose is one of the best beers I've ever had. Now, I also loved the Two-Roads/Evil Twin Geyser Gose and this was from the same family I guess you could say. I would drive all the way down to Stratford again just for this beer.
Before I continue, let's address the other "complaints" about Two Roads/Area Two: It's not extreme enough. Not wacky enough. Not sour enough. Not OEC enough. Sigh.
OEC is… OEC. When it comes to their sour program, they are basically a blendery, not a brewery. But that still shouldn't disqualify them from any discussion. I love OEC and think they've produced some of the finest beer I've ever had. I was there on opening day and have revisited many times. It's my wife's favorite Connecticut brewery that she's been to I think. But they're also straight up ridiculous. Y'all can pretend they're not, and you can look me in the eye and tell me you love all of their beers – even those that add wrinkles to your face and remove the enamel from your teeth – and that's great. I, however, don't need that in my life.
OEC is also more expensive than Area Two for what that's worth. I've had some beer there that were just… awful. Like, terrible. Like drinking vinaigrette. But that's also what happens when you dump this base beer into a barrel with that random other beer and do some ancient voodoo over it and throw it in a pit with a bunch of fruits and vegetables no one can pronounce and let it spontaneously ferment for a while, having no clue what will result.
While Area Two has a coolship program (one of the largest in the northeast!), which will also result in "mystery beers," I can assure you they will be drinkable. And delicious. I tire of the OEC mystique to be frank. They aren't infallible, they are overpriced, and they don't hesitate serving you terrible beers every now and then.
If, for some, reason, you are hellbent on overpaying for sours, you could drive up to Hermit Thrush in Brattleboro, VT. Eesh.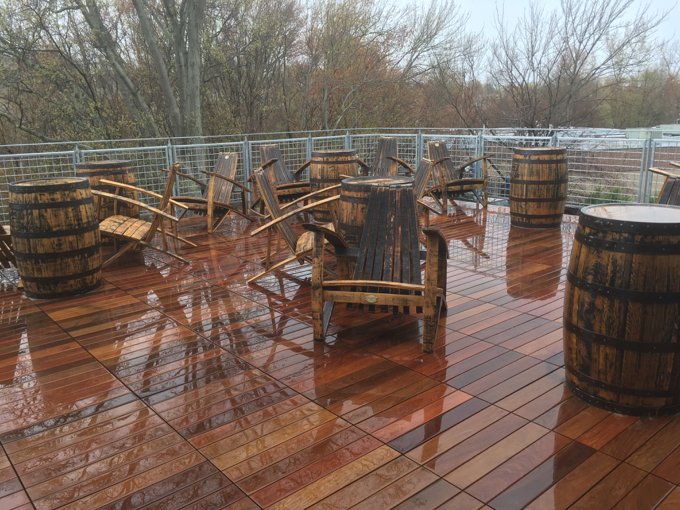 I just don't see Area Two ever doing that either. Being weird for the sake of being weird is just dumb after a while. I'll happily turn in my "cool guy" card now.
But that's the thing. Area Two isn't making sours for the cool drinkers. They making sours and lambic-style beers for literally everyone else. Many of the beers at Area Two are low alcohol – another thing that I love, especially as that is truer to European style than crazy high ABV's. They are a business, and they are good at business. But they are just as good at brewing. Keep in mind that I visited a month after they opened and that tons of what they'll offer in the future takes many months and sometimes years to develop.
Speaking of which, let's get to the dang beers already: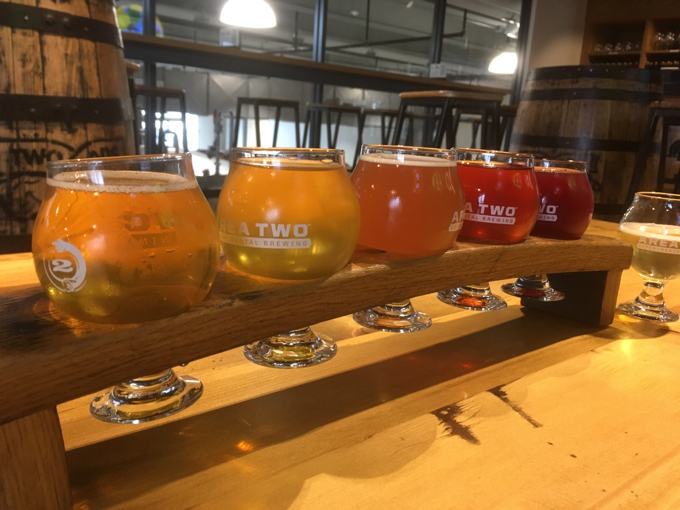 That right there on the left is the Table Terroir, a low alcohol, dry, full-flavored ale brewed with Connecticut grown malt and hops. Not exciting in any way, but very good nonetheless.
Next, the Calva. I don't like Calvados (an apple brandy from northern France) and I don't like oaky flavor. This beer has both, but… holy crap, it's fantastic. The beer was aged in a Calvados foudre for nine months which brought out the apple and oak, but the base beer shone through and I loved it.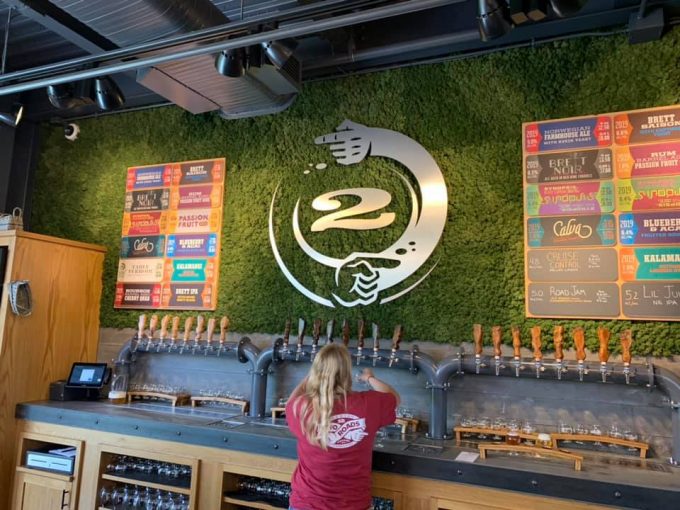 Let's see, the Prickly Pear Fruited Sour was excellent, as was the Brett Noir. The former is just what it sounds like and the latter has a bit more going on: fermented with pinot noir grapes and Brett Bruxellensis yeast, and then aged nine months in French Limousin Oak and American White Oak foudres sourced from two venerated Napa Valley vintners.
Whoa, the Brett Noir is the most OEC'y beer I had during my visit, and while it was too oaky for my tastes, it's supposed to be oaky. But it's also complex, milder than you'd think, and just a bit winey – which I liked.
I finished off with the Dark Cherry fruited sour. I'm not a purist and I love a good kettle sour. To me, that means a layered and complex ale, without a bunch of damn lactose thrown in. Please Area Two, no lactose, ever. Keep your kettle sours… sour. Tart. Acidic. I loved this beer and was sad to have finished my flight.
But then the bartender guy hooked me up with some more of that Tequila BA Gose. I rather like good tequila and (shhh) I also like a cold Corona with a lime. And as I mentioned, I love Geyser Gose. And I liked the Two Roads Persian Lime Gose. Take all of that, make it better, and you'll get this beer. Man, I loved it.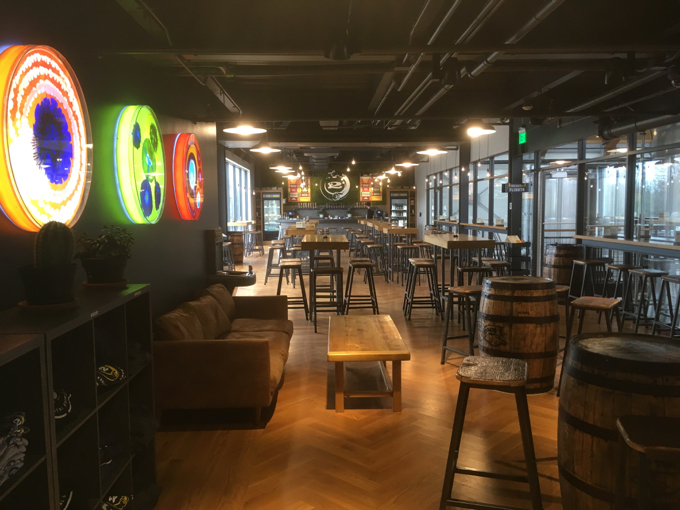 I've heard a lot of negative things about Area Two. That sometimes happens when you have money and spend it. When you appeal to and market to the mode, median, and mean craft beer drinker and not the outliers. The facility is beautiful, clean, and just darn cool. They've somehow made the most unapproachable beers fairly approachable, and that's a good thing to my mind.
Area Two doesn't make the most aggressive or wacky sours in the world, and that's fine. They also don't make this new breed of sweet sours or candy sours, and that's great. Will they make a beer on the level of OEC's Gosatequin? Probably not. Could they? I don't know. But I also know they won't make beers that take the chrome off a bumper either.
I fully endorse Area Two. Bring it on, fanboys, bring it on.

Area Two Experimental Brewery
CTMQ's Breweries & Brewpubs