Ashford Complete!
Midway Pizza and Restaurant
Here is the CTMQ Guide to Ashford with my list and stories about everything I've done there!
After a decade of writing CTMQ, I decided to try to "complete" towns. In that decade of traveling and writing, I had already done a lot of stuff in many of our towns already. However, I have been continually surprised by how much more there often is to do. This page includes my "town completion celebration meal" and recap of my Ashford experiences.
Let's get to it.

Ashford, Windham County
Population: 4,317 as of the 2010 census. (138th in Connecticut)
Founded: 1714 (48th)
Size: 38.79 sq mi (36th)
Ashford was my: 2nd town completed
First CTMQ Visit: The Concrete Factory, November 2011 (Closed)

The Celebration Meal
In the case of Ashford, celebrating this monumental achievement at Midway Pizza and Restaurant was a no-brainer. Midway deserves its own page, as you'll read, but it isn't getting one. I'm sure this will happen in other towns as well.
Midway is named Midway because it is the midway point between Hartford and Providence along route 44. (Since I'm me, I just checked. It is 10 miles closer to Hartford than it is to Providence, but whatever. It was named in 1937 when I-84 didn't exist.)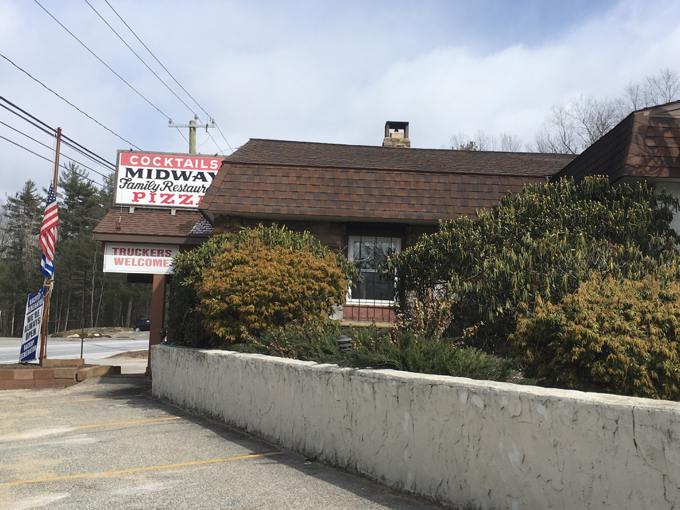 Midway has changed ownership hands only a few times over its long existence, most recently in 1987 when brothers Peter and George Lytras bought the joint. Fortuitously for the brothers, Paul Newman happened to open the awesome Hole in the Wall Gang Camp down the road in 1988. There is pretty much literally nowhere else to eat for miles around, so Newman became a Midway regular.
For real. I'm not kidding. And if you go there, you are reminded of this everywhere you look. Midway is like a Paul Newman museum.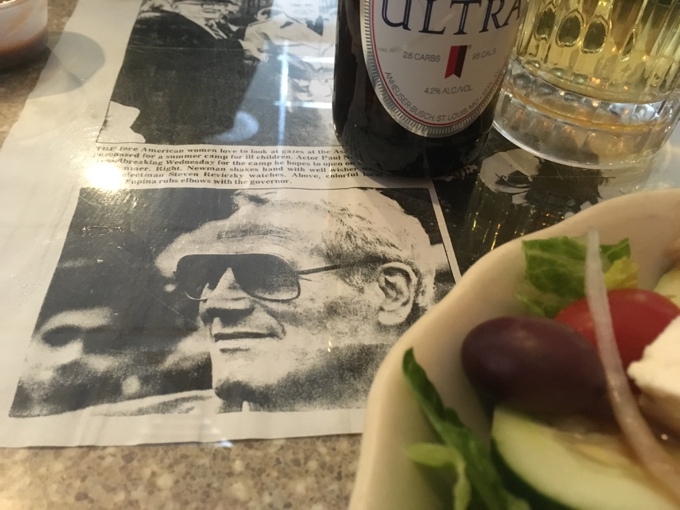 Oh, but that's not all! The website touts all sorts of Hollywood visitors – all thanks to Newman's camp.

That's Paul with Joanne Woodward, Bruce Willis, and Danny Glover with the Midway boys.
Surprised yet? Other visitors have included Ronald Reagan, Carol King, Joan Rivers… This is truly a unique restaurant in Ashford – yes, Ashford – Connecticut.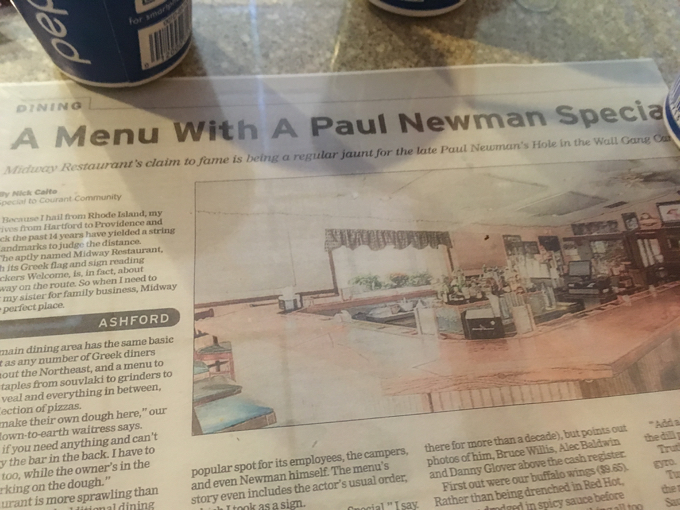 If you read that, and you better believe I did when I first became aware of this place and it's weird and lucky-as-hell place in Connecticut culinary history, you know I had to eat here.
When I first decided to have "completion celebration meals," I intended them all to be delicious. I quickly became disabused of that notion, however. I hate to say it, but Midway isn't very delicious.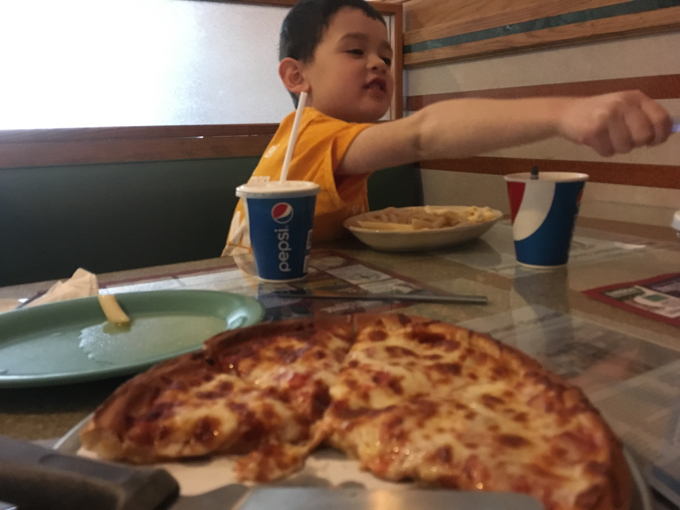 Paul Newman was a very, very kind and generous man. After all, this is the guy who co-owned The Dressing Room restaurant in Westport. The Dressing Room (now closed) was pretty much the polar opposite of Midway.
Newman supposedly ate the same meal every time he popped in to Midway: a Greek salad, the Midway Special pizza, and a cold Michelob Ultra. So, yeah, I had the same. If the most handsome man who ever walked the earth ate this, then darnit, I could eat it too.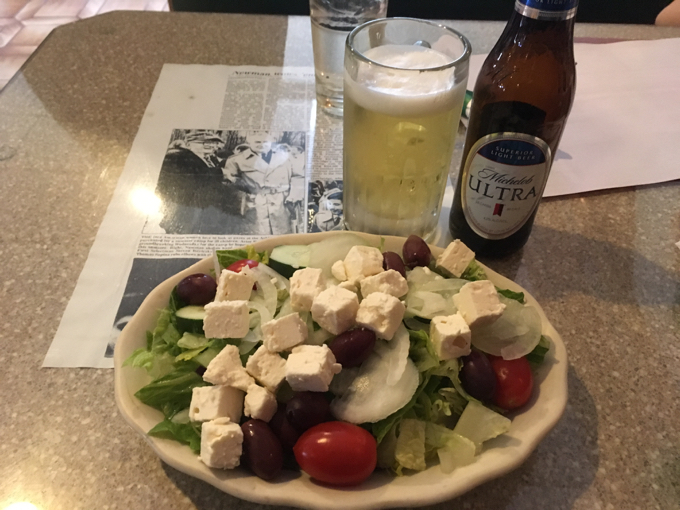 Don't.
The Greek salad was… not good. Granted, the boys and I visited on March 4th, the coldest day in the dead of winter – so I couldn't expect the veggies to be fresh and flavorful. But perhaps the massive blocks of feta could have been a bit more digestible.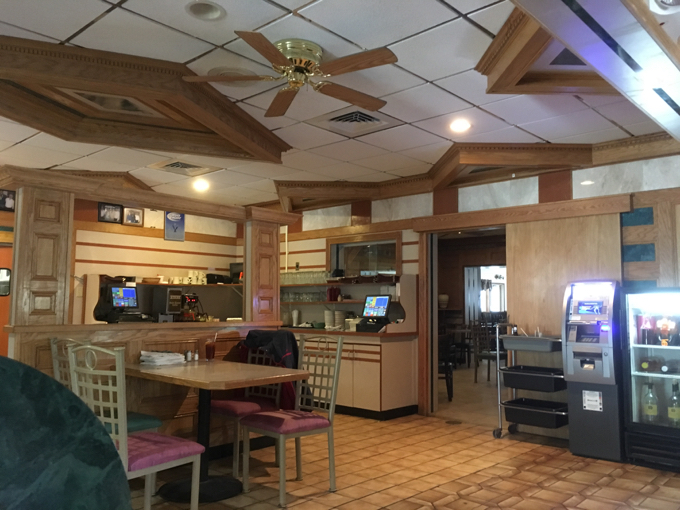 As for the pizza, my sons loved it. So there's that.
And y'know, if the most handsome man ever drank Michelob Ultras then… I'll settle for not being so handsome.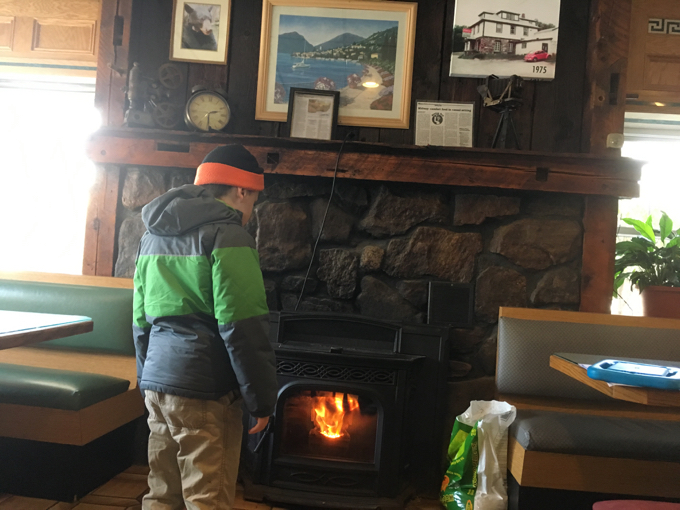 Midway is an odd little joint; but it was welcoming and the fireplace was much appreciated. (This area could use some improvement, in my humble opinion.) My sons very much enjoyed their lunch and the server was kind and attentive. I'm sure… I hope… other selections here taste better. And I wish I didn't go all-in on Paul Newman, because now I feel terrible writing this page.
So let's get back to my monumental achievement! Completing Ashford!
Midway Restaurant & Pizza
CTMQ's Unique & Historic Restaurants & Food

Ashford Wrap-up
I don't imagine Ashford is a town that gets more than a passing thought from anyone other than Ashfordians. I also imagine Ashfordians kind of like it that way. People don't live in Ashford to be "cool" or "near stuff." People live there to be away from stuff.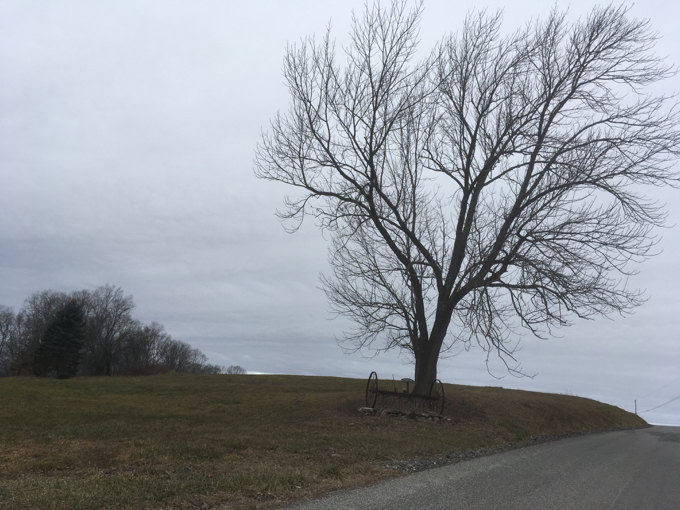 And that's not an insult. Heck, I live in a "cool" town that is near a lot of stuff and yet I find myself getting away from it every single weekend.
There is a rugged beauty to much of the town; from the single-track rolling dirt roads through farms and woods to the remoteness of the Yale Myers Forest in the northern reaches of the town.

Thought exercise: If I had to send someone to Ashford for a daytrip, I would tell them to go to Lance Arnold's art gallery (on a dirt road) and walk his fairy trail with him. Take a picnic lunch and hike down to the dam remains at Tinkerville Brook Preserve. Head over to Westford Hill Distillers (on a dirt road) for a tour and a tasting. Park on (the dirt) Eastford Road and hike in to see Ladies Room Rock because, after all, there's a rock called Ladies Room Rock. Have a Michelob Ultra at Midway Pizza and Restaurant and toast Paul Newman.
Surprise(s): The sheer number and miles of dirt roads
Favorite fact: Ashford's Snow Hill is the highest point in Windham County
Disappointment: The Ashford Historical Society's lack of response to my questions about their two possible future museums. Also, see: Greek salad, above.
Ashford: Done!
Previous completed town: Manchester!
Next completed town: Vernon!