Wait – Does Norwich Celebrate This?
Arnold Place, Norwich
November 1, 2008
After a visit to the Heritage Trail Vineyards, I told Hoang we were off to see Benedict Arnold's birthplace. She was demonstrably surprised by this, as she had no idea he was born in Connecticut. To be fair, neither did I until recently.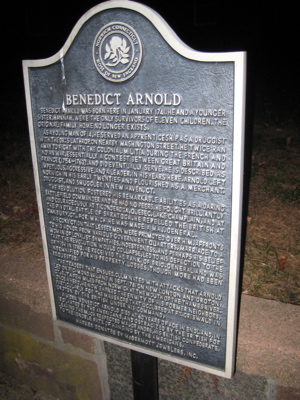 I guess the reason is that this is not a guy to be celebrated? Maybe? The funny thing is, we've passed right by it several times in the past – it's right along Route 2 on the slower-but-more-direct route to Foxwoods Casino. Just past Backus Hospital going east.
I feel badly for the poor people who live in the modest ranch house at the site now. Not only is their home associated with the most infamous traitor to the US in history, but the town (or state) has erected a handsome sign in their front yard for goofballs like us to stop and check out. And we're not alone; in fact, there are YouTube videos of the sign. Enjoy.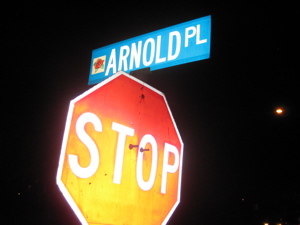 It was dark at our arrival (as you can see), but we were able to soak it all in just as well. Arnold was born here in January 1741 and only one of his 10 siblings who survived childhood. He became a successful business-child at 14 as a druggist and merchant. He joined the Army and performed admirably at many early Revolution battles, namely Saratoga whereupon he was awarded a Major Generalship.
But as the war raged on, other lesser men passed him by in the ranks and he married a Loyalist. Mad, he defected and joined the British to lead attacks on revolutionaries in Richmond and then right down the road in New London and Groton. He led the British during the massacre at Fort Griswold in Groton and earned the enmity of his neighbors here.
He died in England in 1801, hated by Americans and Brits alike – for this punk abandoned his redcoat buddy Major Andre and left him to be hanged by the Americans. There is, of course, a lot more to Arnold's story… but you didn't come to this page for that.

CTMQ's Religion, Remembrances, & Outdoor Art