Speed Reading
Connecticut Created Cars
By Paul Pellerin
I read this book in about 20 minutes while standing at Bloomfield's Prosser Library one random weeknight after work. I had been looking for something else, saw this, pulled it out of its slot and said to myself, "Hm, I can 'read' this book in 20 minutes and write a few paragraphs about it and pad my Connecticut book reviews with it."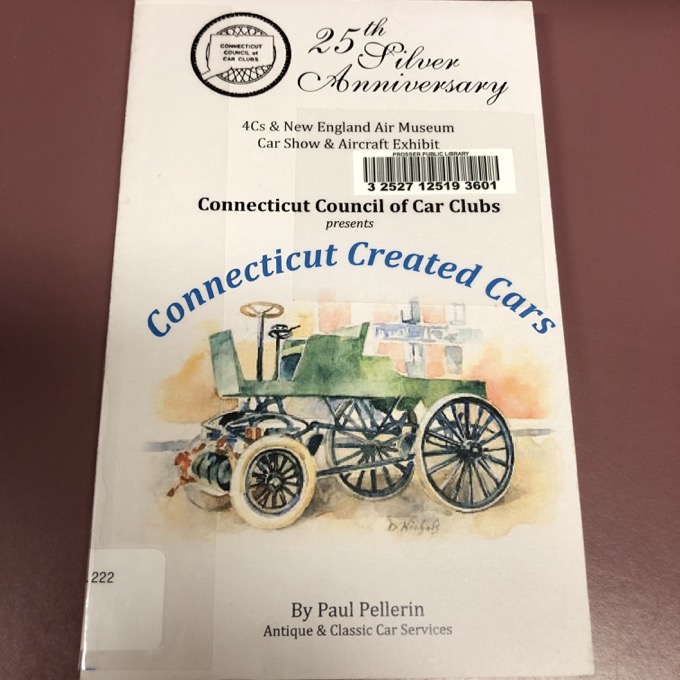 And here we are.
The problem is that now I actually have to write those few paragraphs. In reality, the history of cars in Connecticut is rather impressive. Connecticut was one of the very first manufacturing and invention centers and many things, including automobiles. And I'm sure there's a different book out there that gets into that, because this ain't it. This is more of a skimming book with hand drawn (and signed!) pictures of the automobiles that were produced in Connecticut way back in the day.
The book was prepared by the Connecticut Council of Car Clubs (4C) and contains several pages explaining the 4C and inviting us all to their car shows. We even get the history of the 4C. Apparently in the early 1970's some guy in Redding bought a Model A Ford Victoria in boxes as a restoration project. Redding taxed his "restored car" $500 which was ridiculous, but allowable under the tax law at the time.
Car clubs rallied behind his complaint and then someone formed the 4C to unify the car clubs and their car show schedules and I guess the law was changed to not tax ancient cars in boxes the same as my minivan. That's right, we have a Chrysler Pacifica and it rules.
Anyway, the book lists a slew of things the 4C has done since its formation with regards to antique car legislation. No emissions inspections! No seatbelts! No taxes above $500! Those sorts of things. Oh snap, the book shouts out the New England Automobile Museum which has been on my "Potential future museums" list since I began this website in 2006. Hopefully… someday…
The only real writing in this book is as follows, exactly as it appears in the book.
Most "car people" have heard of the Pope Hartford, Columbia and the Locomobile. There were nearly 200 automobiles built in Connecticut. At the turn of the century, Connecticut was considered the automobile capital of the world, building more than half of all the motorized vehicles manufactured in the United States.

I grew up on Park Street in the Frog Hollow section of Hartford. I spent most of my childhood playing at Pope Park. In 1961, playing for Aetna Little League team, we won the Pope Park Little League championship. At that time, I never knew, it was named after Colonel Albert Augustus Pope, owner of Pope Manufacturing. I worked for Aetna Insurance which had buildings on Capitol Avenue. The building was the site of the Pope factory. The Pope employees row housing is across from the building and still stands. I was not aware of all the automobile history that existed. Most people are amazed when told how many Connecticut automobiles were built.

Connecticut has made a major contribution to automobile history.
And there you go. What follows is about fifty pages of old cars with facts like what company made it, where it was made, its horsepower and top speed and other specifications.
And that was that. I'll get back to you when that New England Automobile Museum is up and running someday. Someday.

CTMQ's List and Reviews of Connecticut Books
The Connecticut Council of Car Clubs (4C)