Bozrah: Complete!
Bozrah Pizza Restaurant
Here's the list of everything I've done in Bozrah!
I'm very excited to write this page. This is the 11th of what may ultimately be 169 town completion celebration pages! Yes, of course I am fully aware of how absurd that is. Send your condolences to my wife and children, care of the comments below.
For those of you who are new here… In late 2016, after a decade of writing CTMQ, I decided to try to "complete" towns. In that decade of traveling and writing, I had already done a lot of stuff in most of our towns already. However, I have been continually surprised by how much more there often is to do. This page you're reading includes my "town completion celebration meal." These will sometimes be at the best restaurant in town. Or the most historic. Or the most iconic. Or the most unique. Or the only one. Or at a gas station. Every town is different!
Let's get to it.

Bozrah, New London County
Population: 2,627 as of the 2010 census. (152nd in Connecticut)
Founded: 1786 (86th)
Size: 19.97 sq mi (120th)
Here's the Wikipedia page and the town page
Bozrah was my: 11th town completed
First CTMQ Visit: Fitch Claremont Vineyard B&B, June 2011

The Celebration Meal
I celebrate Bozrah in my own way, every day. But "completing" the town deserved it's own special meal out; absorbing all that Bozrah has to offer.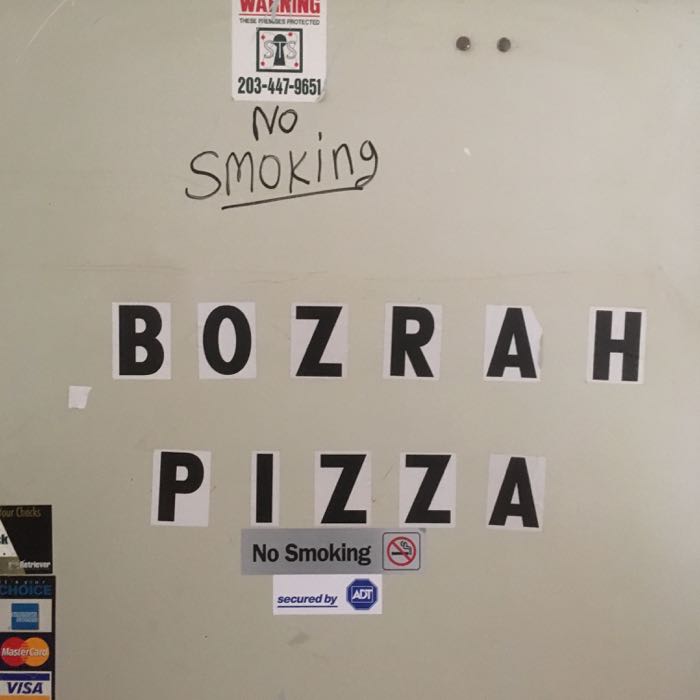 And so, on a gray and dreary day with my sons, we celebrated our completion of Bozrah in a little Bozrahian stripmall, in a pizza restaurant that shares an entry vestibule with a plumbing supply shop. Bozrah rules. I told Calvin recently that he, too, has officially "completed" Bozrah. (Damian missed out on one trip… sorry buddy.) He had no clue what I was talking about, but it afforded me the opportunity to explain a bit about what it is I do and why I take all the pictures I take of him and why I have that colored map hanging in my office and why I spend too much time being an absentee father in that very same office while writing about some little museum somewhere and… he was actually pretty excited about the whole thing.
As he should be. Except for that last bit. Which isn't really true. Mostly.
Bozrah Pizza Restaurant is (I'm assuming) a family-owned, mostly-locals-only type joint. One of the employees (owner?) had her son there watching cartoons and playing on an iPad or something. She invited Calvin to go hang out with him, which Calvin promptly did as we waited for our pizza. Like my experience at the Bozrah B&B seven years prior, this is just how it goes in Bozrah. Family. Friendship. A slower-pace of life. Bozrah is a place for reflection.
Like, how I am still reflecting on a particular pizza offering on the menu here: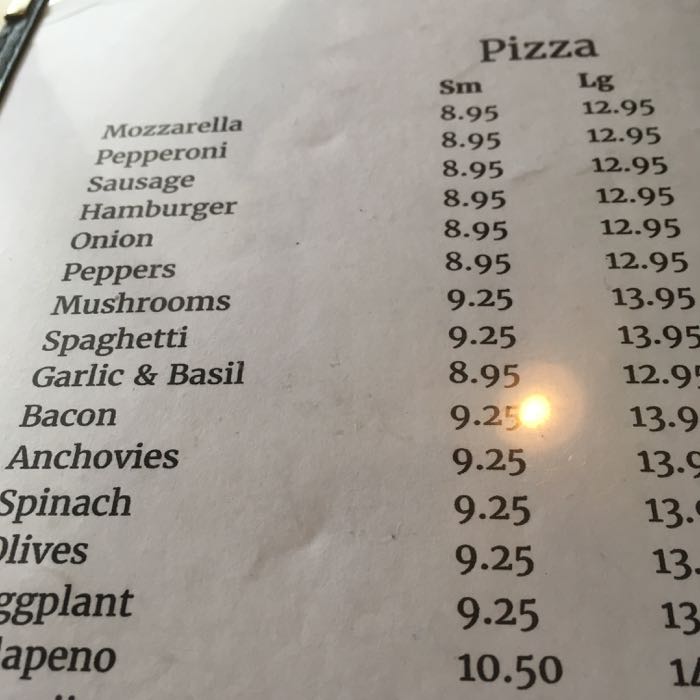 Call me sheltered, but I have never heard of spaghetti on pizza before. Is this a thing? Is it a good thing? Or is it just a mistake on the menu? I didn't ask and it has been haunting me ever since I saw it here.
Our pizza was served and as you can see, this is not the New Haven style thin crust pie. Nor is it the doughy Greek style either. It's somewhere in between, glopped with sauce and mozzarella cheese.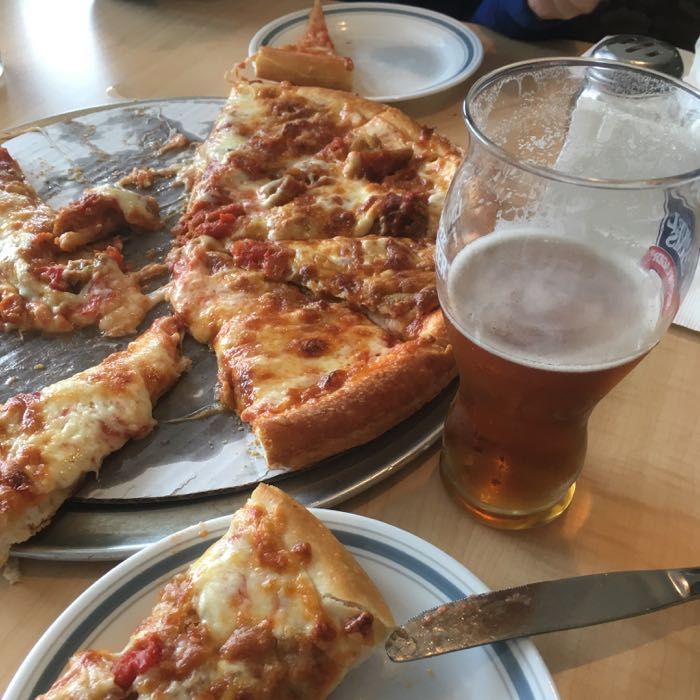 The boys loved it. Moreover, I ordered two milks for the boys and didn't expect two pint glasses. And not just two pint glasses, but rather two pint glasses of whole, fatty milk. This was a revelation to Calvin who couldn't get enough of it. (Sorry kid, we're a skim milk family at home.)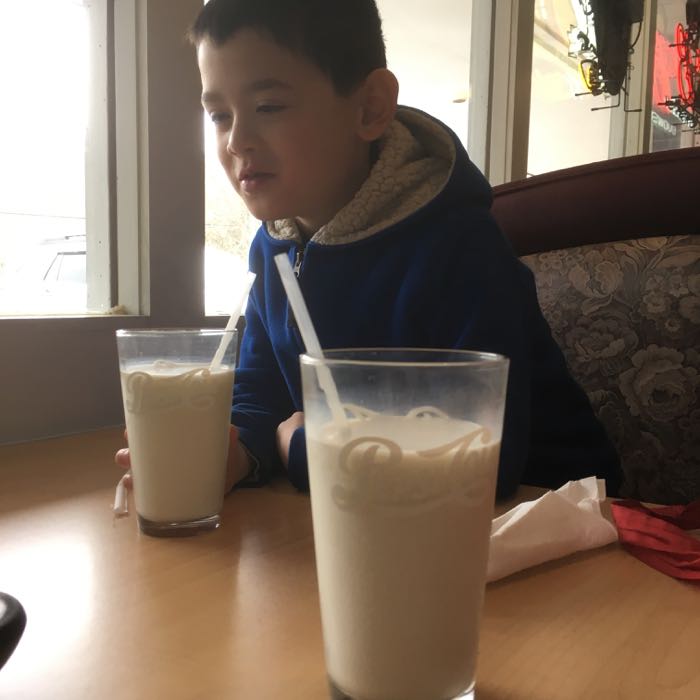 I'm not sure how many little pizza restaurants around the world serve whole milk to little kids in pint glasses, but shout out to Bozrah Pizza Restaurant for doing so! (As has become tradition, I celebrated another town's completion with an adult beverage. In this case, I believe it was a Yuengling lager.
Cheers to Bozrah!

Bozrah Wrap-Up
I don't have much more to say that I didn't already say in my love letter to the town. Yes, that's right, I love Bozrah. There aren't too many towns I could feasibly "finish" in two hours. Yes, that's right, I could have done all of Bozrah in that time without any difficulty. And that's surely one reason to love the town!
Yes, that's right, I'm being serious.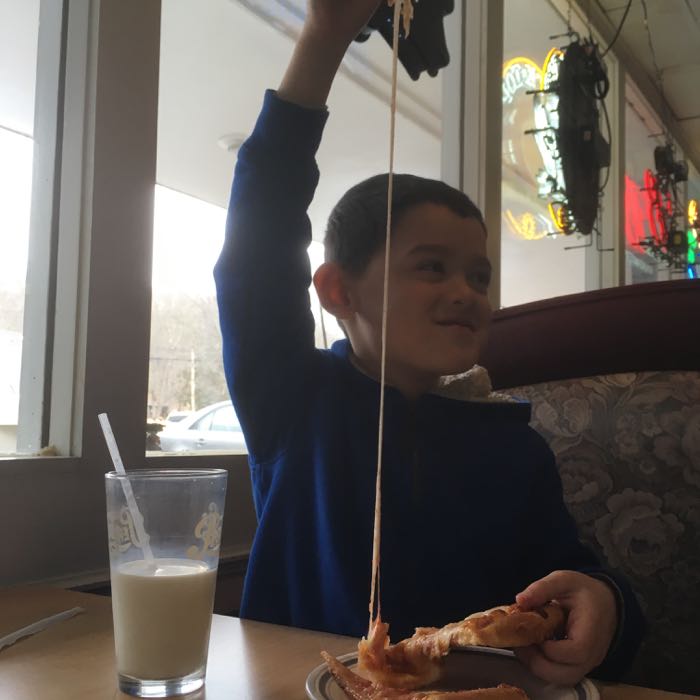 Alas, it took my seven years from my first visit until my last. Back in 2011 when I learned that this little rural town in eastern Connecticut had nothing I was interested in, I searched a few levels deeper to find the Fitch Claremont Bed & Breakfast. My hook was that the owners made their own wine and I could somehow, in some way, therefore have a Bozrah entry on CTMQ. So we went under the guise of touring the B&B for a future stay. (Do people even do that?) With Hoang feeding Calvin in the car, I was shown around by the proprietors. They are lovely and put up with my very weird line of questioning once we got to the wine portion of their spiel.
I learned that they grow grapes here for other local wineries. In fact, I learned a ton about how our local wineries really operate. And I left with a couple bottles of homebrewed beer. I tell this story to sort of explain Bozrah. A one-blinking yellow traffic light town with no museums and very few stores. And only two restaurants. One of which is of course Bozrah Pizza Restaurant. (The other is Main's Country Store and Grill).
Hey, you know what's a cool thing in Bozrah I haven't mentioned? Drive Bishop Road from Bozrah Road to South Road. There's a weird church down there, but my point is that Bishop Road (in this direction) is a very non-Bozrah road: S-turns through a side cut on Bear Hill. It's a fun drive.
Bozrah!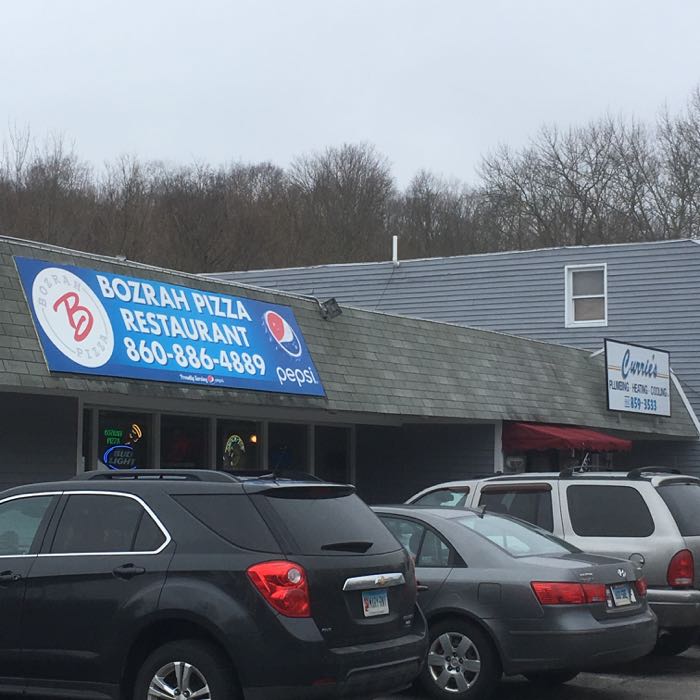 Thought exercise: If I had to send someone to Bozrah for a day… I would send them to the Little Free Library and hope they find a good book there. Cross the street, grab a cup of tea at Six Paca Farm and sit on the couch there and read until lunch. Then buy a pie there and eat that for lunch with another cup of tea while continuing to read the book. By mid-afternoon, it'll be time to stretch the legs so cross the road again and walk up to the viewpoint in Maples Farm Park and then return back down to the book. Finish the book, put it back in the Little Free Library, and go home.
Surprise: There are no surprises in Bozrah. C'mon, now.
Favorite fact: Of course it has to be the fact that of Connecticut's 169 towns, Bozrah has the least amount of CTMQ-worthy entities.
Disappointment: I'm just bummed for the town that they have to share the little Hopemead State Park with Montville.
Bozrah: Done
Previous completed town: Plainville
Next completed town: Burlington