Plainville: Complete!
J. Timothy's Taverne
Here is the CTMQ Guide to Plainville with my list and stories about everything I've done there!
After a decade of writing CTMQ, I decided to try to "complete" towns. In that decade of traveling and writing, I had already done a lot of stuff in many of our towns already. However, I have been continually surprised by how much more there often is to do. This page includes my "town completion celebration meal" and recap of my Windsor Locks experiences.
Let's get to it.

Plainville, Hartford County
Population: 17,716 as of the 2010 census. (67th in Connecticut)
Founded: 1869 (164th)
Size: 9.76 sq mi (165th)
Here's the Wikipedia page and the town page
Plainville was my: 10th town completed
First CTMQ Visit: Metacomet Trail section, October 2007

The Celebration Meal
Duh.
This here is what I call a no-brainer. In fact, it could be easily argued that if I were to ever "complete" Connecticut, that celebration meal could also be held at J. Timothy's Taverne in Plainville. I don't think anyone would question that decision.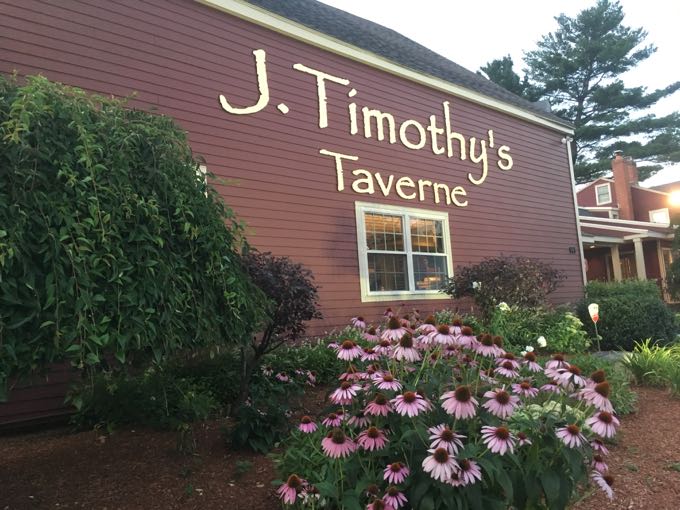 Such is the well-deserved legendary status of the restaurant. So yes, of course I celebrated Plainville at J. Timothy's. In fact, I celebrated several times over the first half of 2018 knowing I was close to finishing up everything in town. And now that I think of it, I'll continue to "celebrate Plainville" for years to come. I rather love the place.
And so do many, many others. Perhaps the most amazing thing that can be said about the venerable restaurant is that it is slammed 5 or 6 nights a week. And it's a huge place. Massive. Most have no appreciation of just how many it seats because of the way the colonial building is parceled out; with many hidden nooks and crannies that aren't really nooks nor crannies, but large dining rooms.
The building has 6 public dining areas including a pub/bar and the pub loft (upstairs) and can seat about 480 people. There are 4 private rooms – one has a private bar – for special events, with seating ranging from 12-90 guests. The building has 6 fireplaces that provide a warm glow during fall and winter (5 of them original to the building, all gas operated now).
Of course, the parking lot offers a rather clear hint as to how popular J. Tim's is. Finding a spot near the entrance always feels like winning the lottery for me. But wait… how old is this building? The building was erected in 1789, the same year George Washington was inaugurated as president.
Holy cow. More about the physical building here.
It's impossible for me to distill the 225-year+ history of the building on this page. So feel free to go read some of it yourselves. I like how they've put a bit about the history… and then a separate one about the "recent history." Go read. It makes sense.
As for us, we're focusing on super-recent history. Like how J Tim's has one of Connecticut's most consistently great tap lists. J. Tim's was on the "local" and "craft" beer tips years before most other bars (let alone restaurants) and developed deep and lasting relationships with the best breweries around. It's rather amazing that "the best beer bars" can never really keep up with J. Timothy's. Which is a restaurant. Not first and foremost a beer bar.
So if you're into good beer, J. Tim's has dedicated lines to top breweries like Counterweight, Lasting Brass, Fox Farm, Beer'd, and more. Just an incredibly impressive operation. And I've not touched on the world-class wings yet! J. Tim's has been featured on several television shows over the years, mostly for their so-called "dirt wings." Sauced, fried, then sauced and fried again, these large, meaty wings are one of the most beloved foods in New England.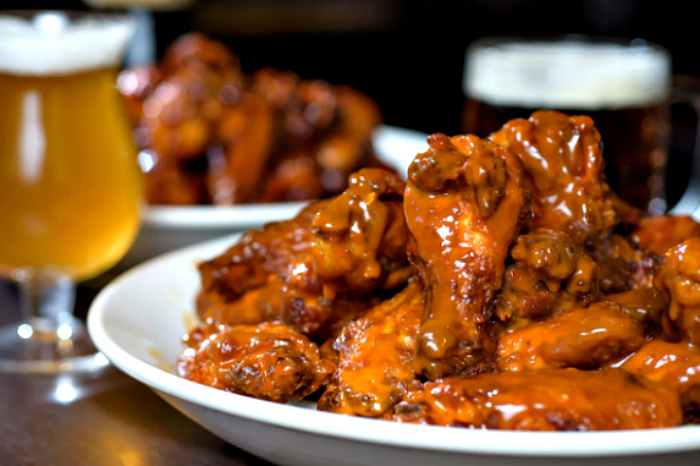 The sheer volume of wings they sell is staggering.
Since Super Bowl Sunday has become a national holiday of sorts, J Tim's begins taking orders for buckets of wings several weeks in advance. They've had to bring in freezer trucks to provide storage space for the wings that must be cooked for the day. TONS and TONS of them. 300 tons per year.
I read the numbers the restaurant posted on facebook or something once, only to see them challenged by a bunch of super smart guys. Too bad they were all wrong. J Tim's has no need to exaggerate, let alone lie. They also have no need to advertise, and I've come to love their whole approach to the various "best of" lists they constantly win and various advertising avenues. That is, they tend to ignore it all.
They are on the cusp of "too busy" every Friday and Saturday night as it is – and this trend has been consistent for years.. So why would they need to spend money with local publications to draw customers/attention? (Actually, the only place I've ever seen them advertise is on A Dime Back, which is awesome.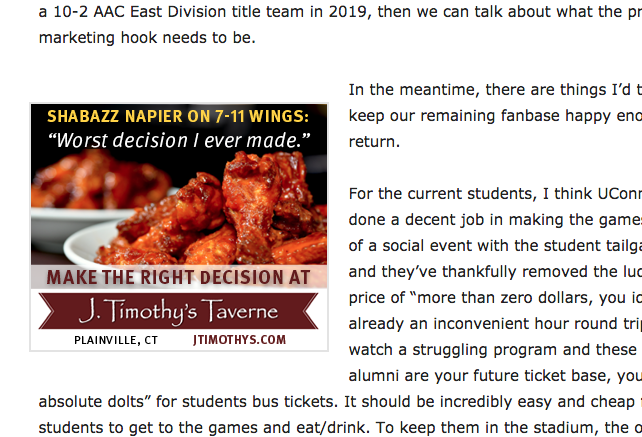 The pictures on this page are from three different visits in 2018: Once with my friend Chris who joined me to "celebrate" my completion of Plainfield. Once to celebrate my son Calvin's birthday with my parents as well as several in-laws. And once at a Counterweight Brewing beer dinner.
But there's another picture from that night – with Sean and Matt from Counterweight, who both effused about J. Tim's during the evening. I'm not sure there's another other restaurant or event that could or would get both of these brewing superstars (in a relative sense) in one place for a night. (I don't have that picture, so here's a picture with me in it from that same night.)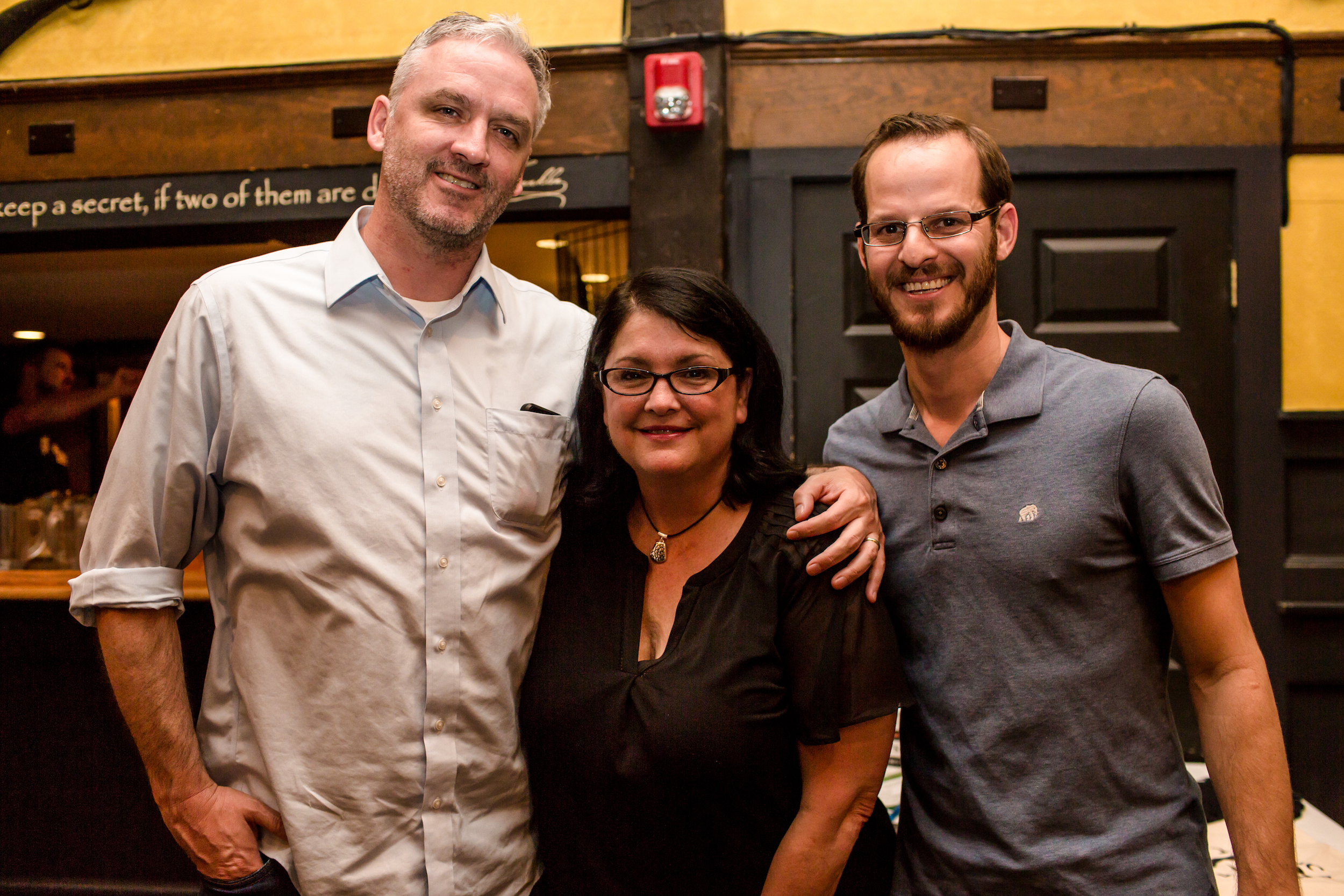 Oh, and who happened to be randomly hanging out with a friend there that night? Fox Farm's brewer Steve Andrews. Arguably the best two breweries in Connecticut… just enjoying a night at J. Timothy's.
But you know what's funny? Beyond the beer and beyond the wings, there is an excellent menu that I think surprises many people. I've never had anything to complain about there, and I've had a lot of different food.
From theme dinners to small private parties, to meeting up with friends in the bar… the service is always flawless and amazingly attentive for such a big and busy restaurant. J. Timothys – absolutely the most suitable "celebration" spot so far in my journey.

Plainville Wrap-Up
Plainville is called Plainville not because it's so "plain," but because it is located on a plain. And yet… you may have trouble convincing Plainvillians that this is the case. And while I can't pretend that it is Connecticut's finest town, it certainly has one of it's most enduring and fun and noted restaurants (see above) as well as a trailhead that takes hikers across one of the most interesting sections of trail in the state.
Plainville is small. At under 10 square miles, it is the fifth smallest town in the state. So we can't front on it too much for not being chockfull of "stuff" to do. Yet it does pack a decent little punch and is home to the awful I-84 dogleg that weary travelers surely want to avoid. And in doing so, they can check out most of what the town has to offer in just a few hours.
And that's not a bad thing.

Thought exercise: If I had to send someone to Plainville for a day… I'd start them on route 6 in Farmington to send them across Rattlesnake Mountain into Plainville. There, they'd pass Pinnacle Rock and the Nike Missile site, home to Pygmy Village. Now firmly in Plainville, through the prickly pear patch and down to route 372 along which they can easily walk to J. Timothy's for a well-deserved lunch, followed by some beers at Relic Brewing downtown.
From there, call an Uber to drive you around the Historic Plainville Campgrounds on your way back to route 6 and your car. Seriously, that would be a darn cool day.
Surprise: The existence of the Plainville Campgrounds
Favorite fact: That there is a native cactus population there. Except… not really.
Disappointment: Pygmy Village's comments section.
Plainville: Done!
Previous completed town: Granby!
Next completed town: Bozrah!