Bridge Over Troubled Listing
Cedar Bridge House, Glastonbury
Oh snap, this is another page about something that I have not actually visited myself. I think that makes maybe three out of thousands on this site. (Warning: there will be more, mostly about private homes that I can only admire/gawk at from my keyboard.) As I write this in January 2021, the Cedar Bridge House can actually be toured as it is currently for sale for $530,000.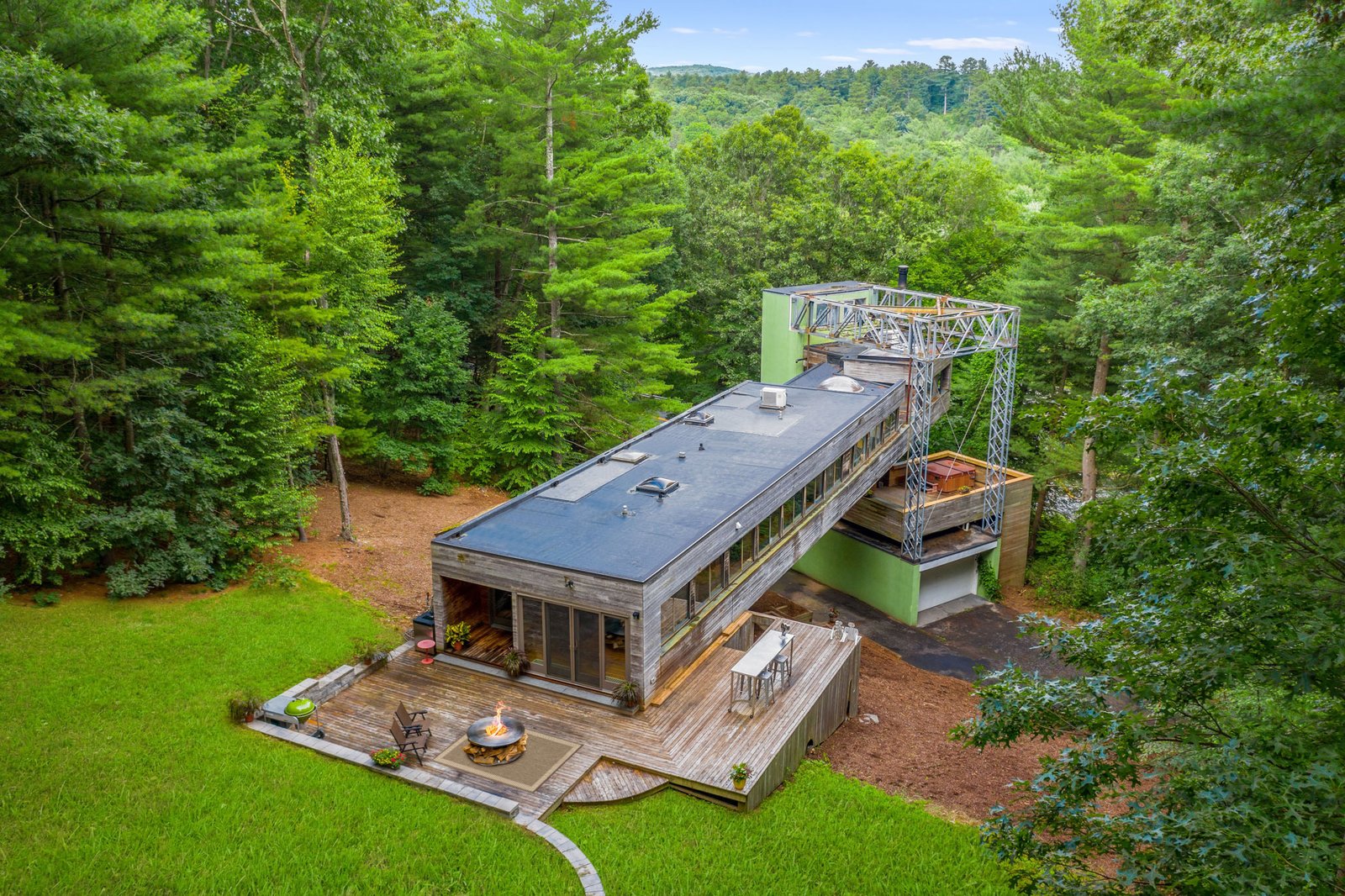 In fact it's been for sale since the summer of 2020. It's not even crazy expensive either – other 2,100 square foot homes in Glastonbury are around $180,000 less than this one. But this was built in 1983! Located on Manchester Road, it has easy access to the highway! It's been featured in many publications including Dwell Magazine!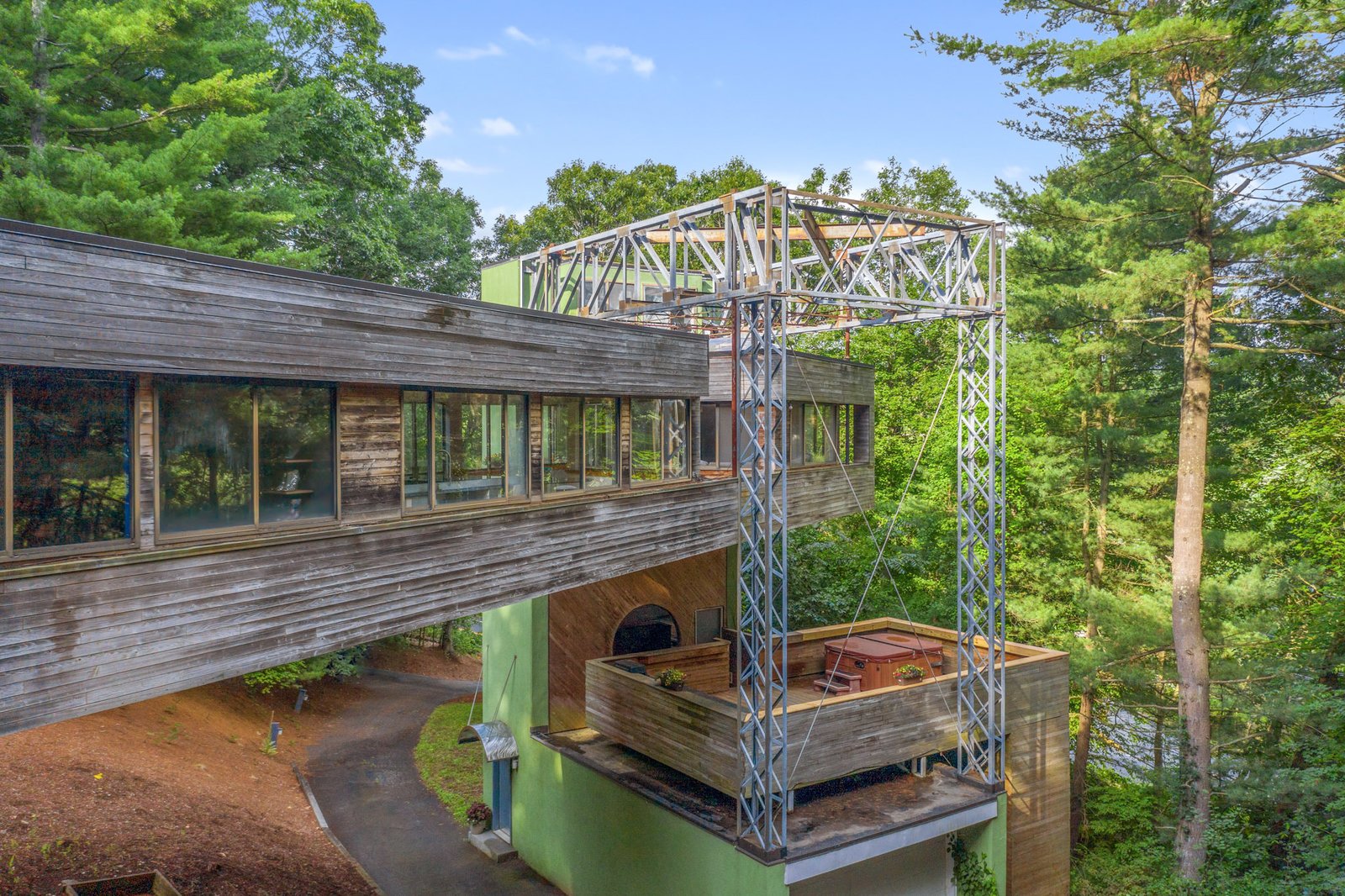 I have slowly driven past the driveway and even in winter it's hard to get any appreciation for the property. I have clearly lifted all of the photos on this page, which appear on dozens of websites without accreditation. As the house is for sale and the photos are being used to help sell the house, it seems to be a free-for-all, but they are by Noah Butler of Alpha Photography, which bills itself as the "#1 CT Luxury Real Estate, Drone, and Headshot Photographer." Sure, let's give them that title. The pictures here are great. It appears that Mr. Butler is the only employee, so shout out to him.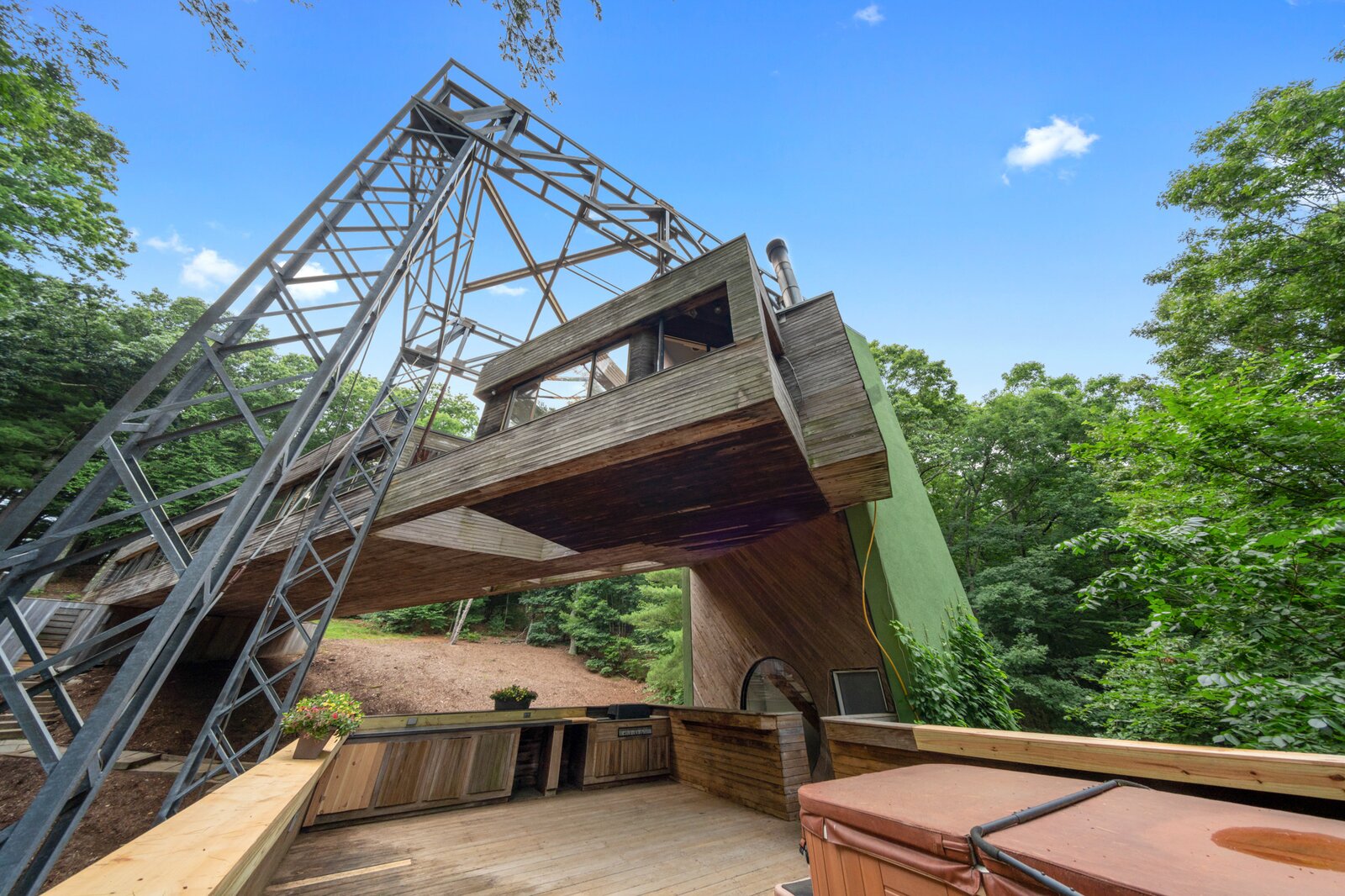 Of course this house isn't for everyone. Or, really, all that many anyones. It was built by Wilfred Armster who made a decent career out of designing homes and buildings that would disrupt the immediate landscape as little as possible. There are a few other Armster "Bridge Houses" in the country. I've found one locally in Farmington and another in Michigan.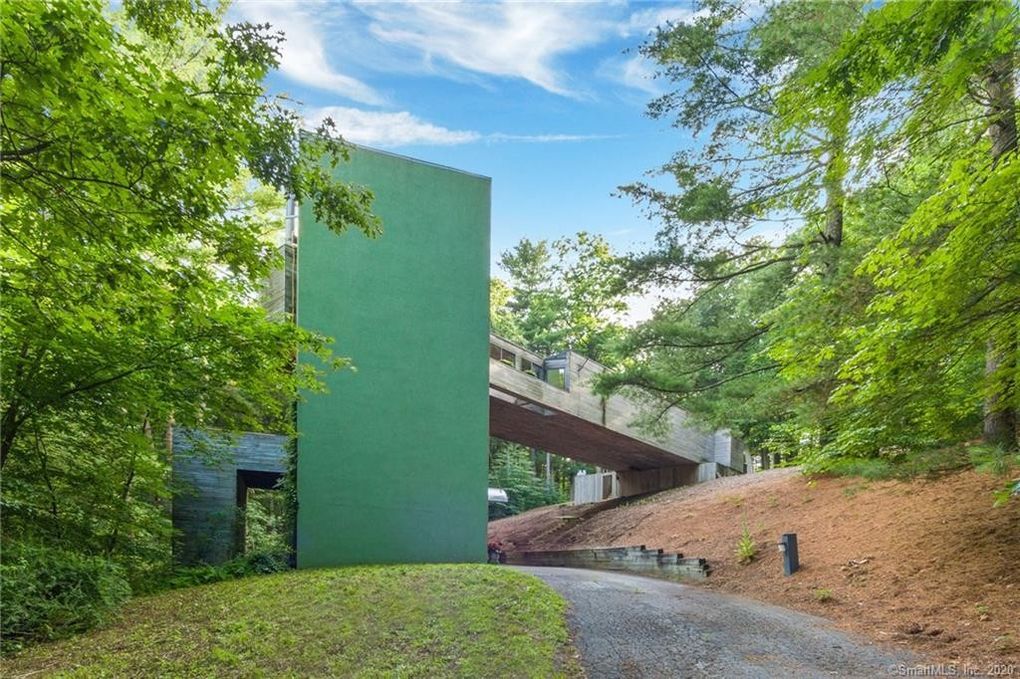 But the Cedar Bridge House in Glastonbury is the one in which Armster lived. I would guess that at least some of you know the name Wilfred Armster and are wracking your brain trying to remember why. I'll help you out… Armster is responsible for the wonderfully weird and incongruous Spaceship condos in Guilford. If you know what I'm referencing, you know.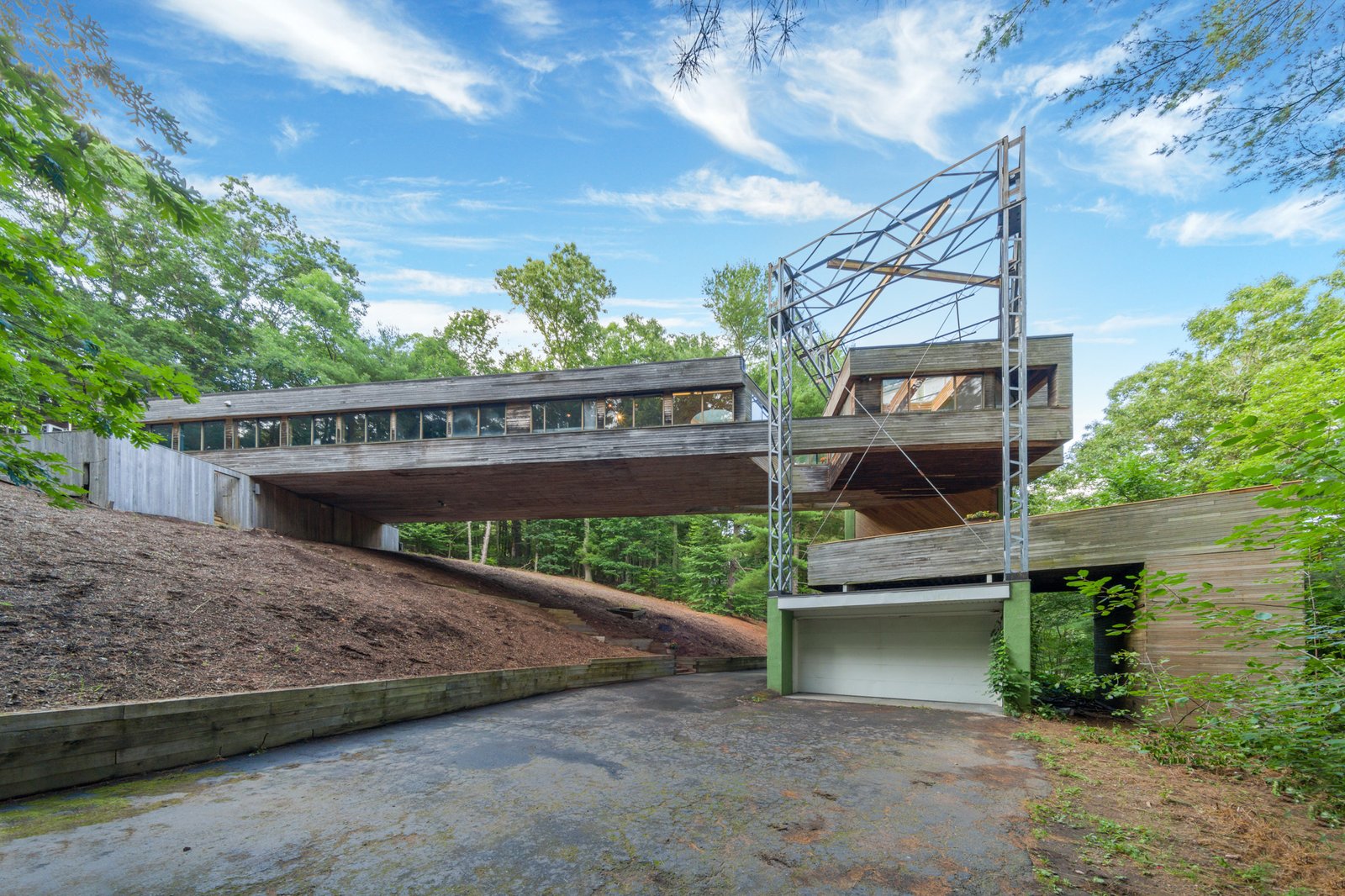 Armster has won awards for some of his work, often built on steep slopes and almost always elevated in some way. He doesn't like to dig and he doesn't like to chop down trees. Some of his homes have trees growing up through spaces in them. And while I love the idea of all of this, The Cedar Bridge House is a bit much. It's just… clunky.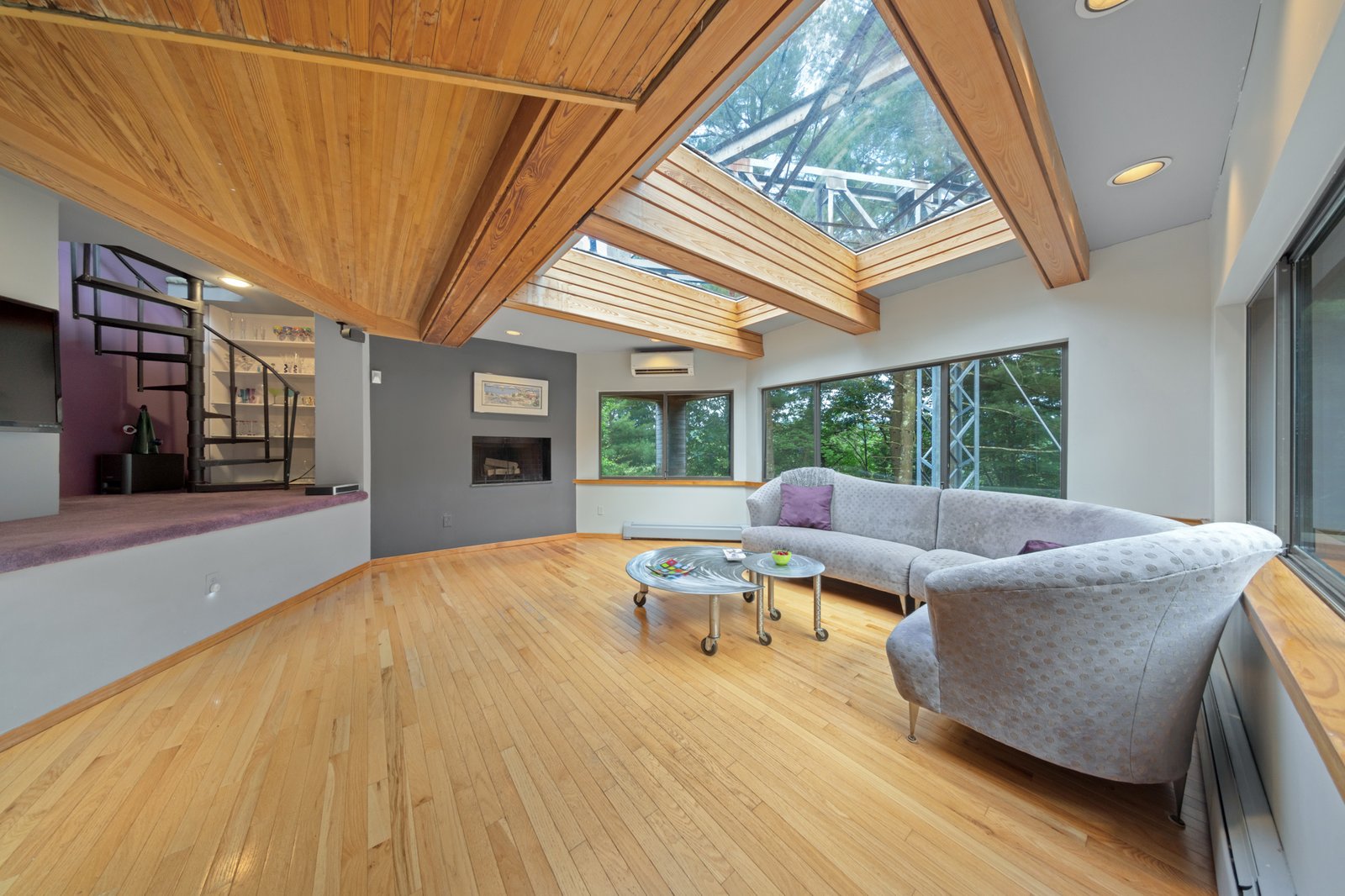 The listing agent says, "It feels expansive. When you enter the property and you open that first door and you see the skylights and all the natural light and the privacy and the beauty of the trees, it feels like you're living in an adult, modern treehouse." I can dig that.
If you're into name dropping high end appliance names, the kitchen features Poggenpohl aluminum cabinets, a Wolf cooktop, Sub-Zero refrigerator, and a Gaggenau oven. I see some of you drooling, don't lie.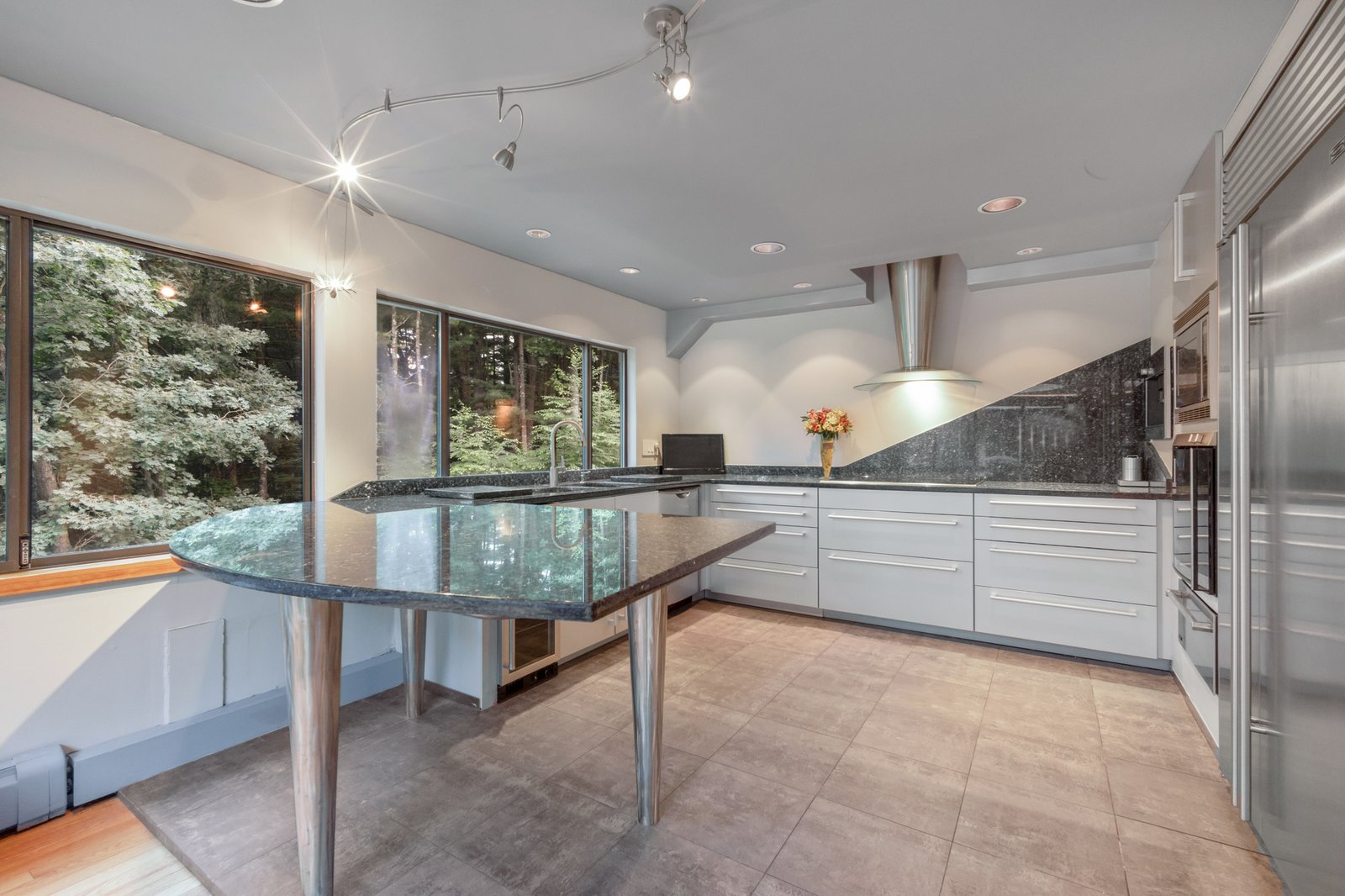 Since the outdoors is clearly the feature here, I must note that the decking here is massive. 1,800 square feet of deck space! I like a nice deck, but holy cow the upkeep on that would be a bit ridiculous.
Now, you're probably asking why I'm writing about this house. I don't really know… I'm attracted to unique houses in places that they don't really make sense. Left unsaid in any of the blurbs about The Cedar Bridge House is that the property backs up to route 2. While not an interstate highway, it's still not what I'd want in my backyard, especially if I literally am living in the trees in my backyard.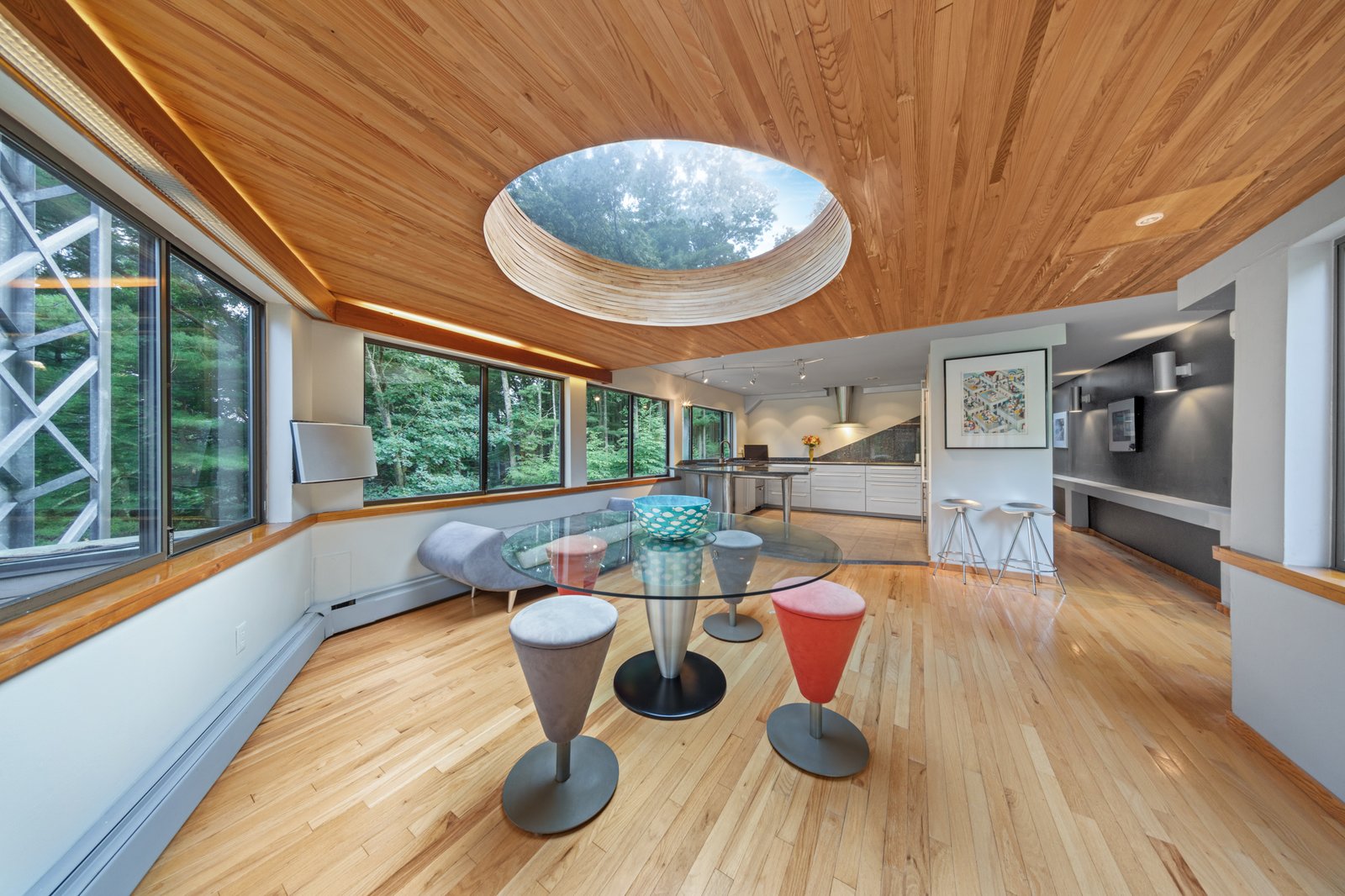 Also, there are dozens of websites dedicated to the thousands of colonial and Victorian homes in Connecticut… a state which is hugely important to the mid-century modern architectural pantheon. And while this particular house is more of a "wacky 1980's experimental" design, it's one-of-a-kind, so it lands on CTMQ.
Says the agent, "There's this massive structure that you know may or may not be an elevator. You're just not sure what it is. It's just one of those houses you always drive by and you really don't notice and then once you notice, you never can unnotice it and you're always wondering what it is." Is that a ringing endorsement? I don't think that's a ringing endorsement.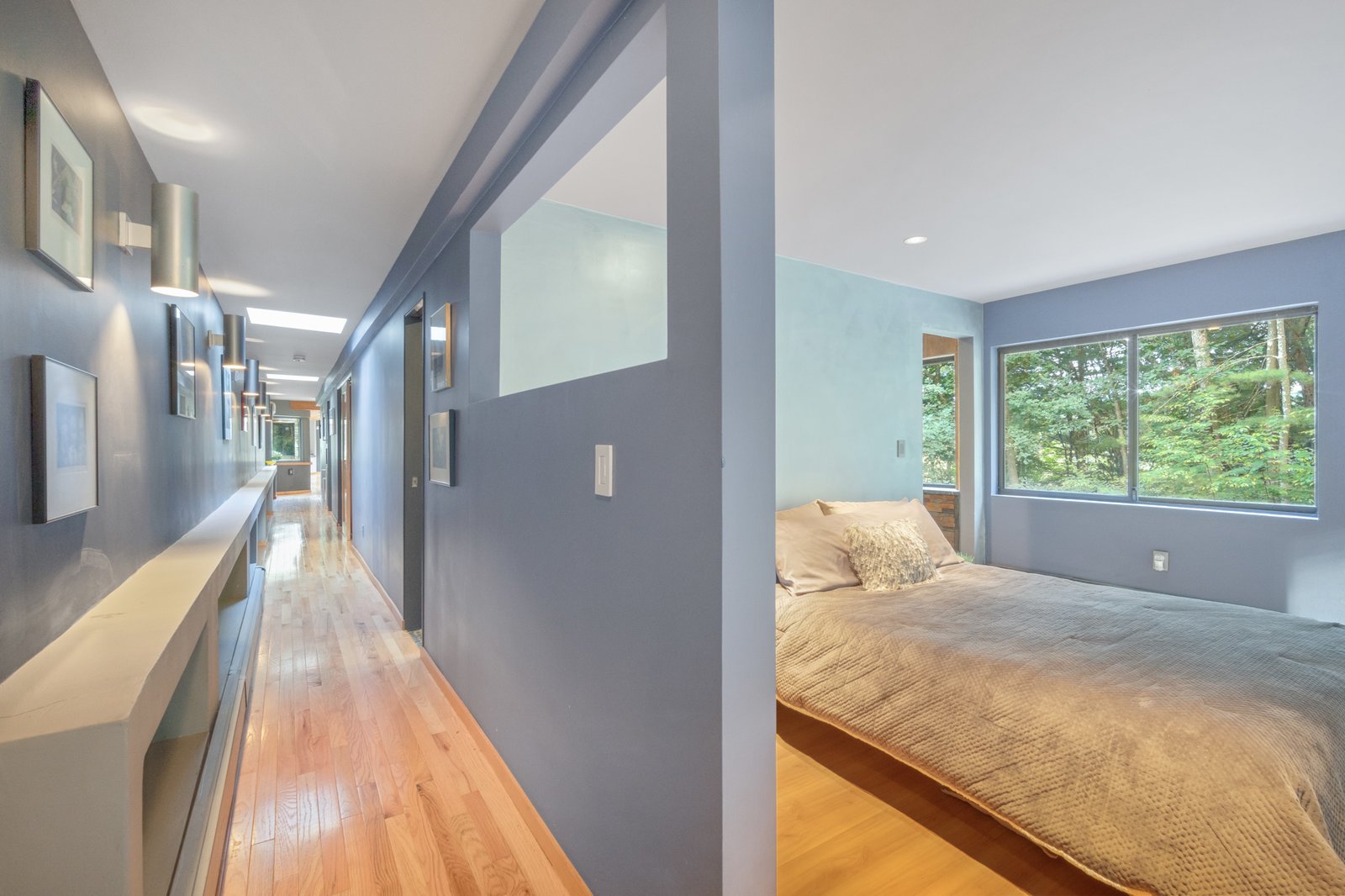 I wouldn't live here – and I say that as a person who would live in many MCM houses most of you would hate. I like the idea of the house, and I appreciate many of its elements, but I just think you're not getting enough out of it for the investment. I think it's mostly the scaffolding element that just looks… unfinished. It's still cool though, and I'd rather live here than most of the million (plus) dollar listings in the same town.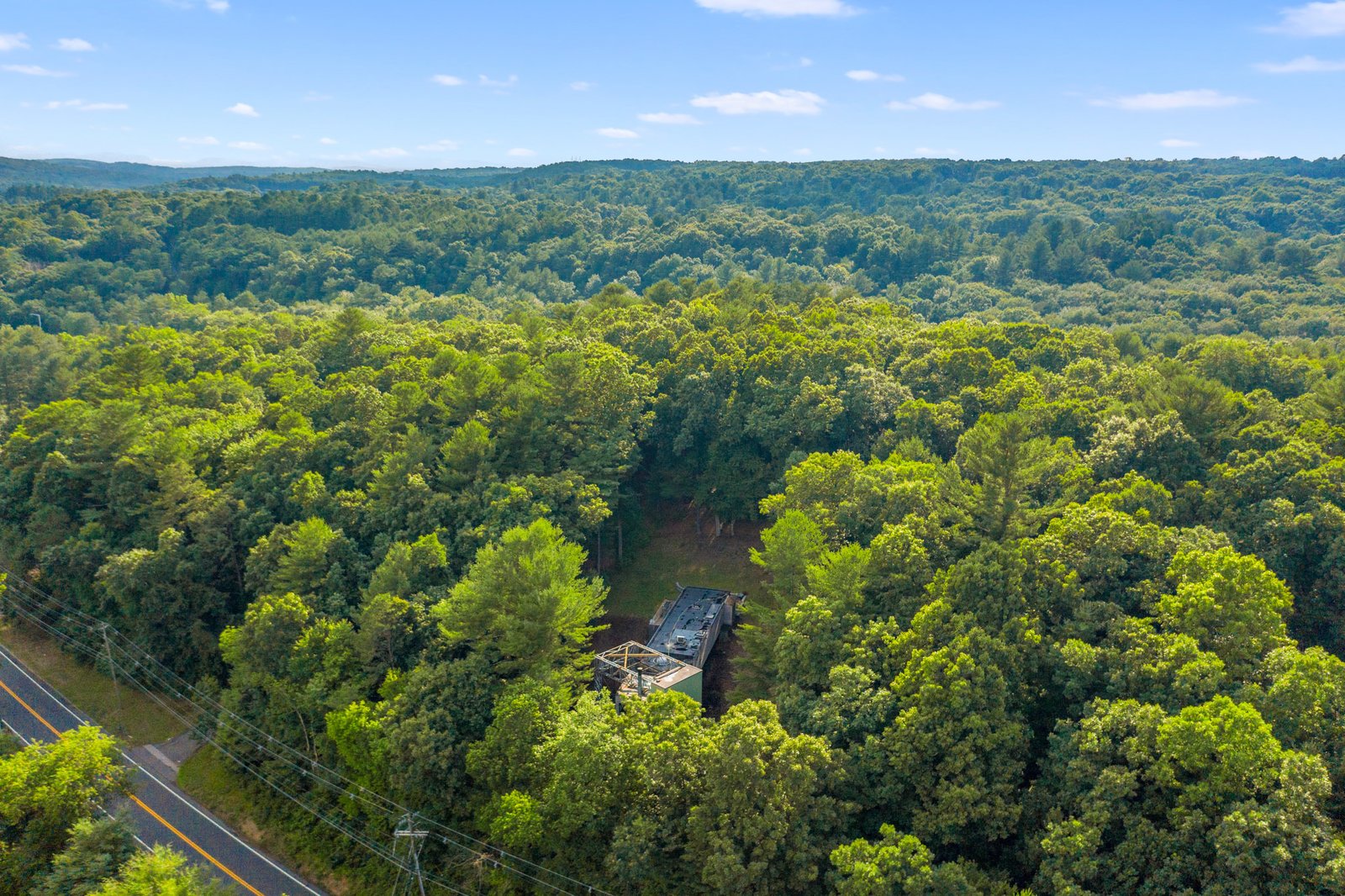 CTMQ's Houses, Ruins, Communities & Urban Legends