East Lyme is Not EaSlime
Clam Chowder at Flanders Fish Market
East Lyme
A word about my title: When I was in college, a friend dated a girl from East Lyme. Not being familiar at the time with Connecticut town identities and stereotypes, I picked up on other friends from nearby towns busting on her with the "EaSlime" moniker – which is how East Lyme sounds when said in conversation.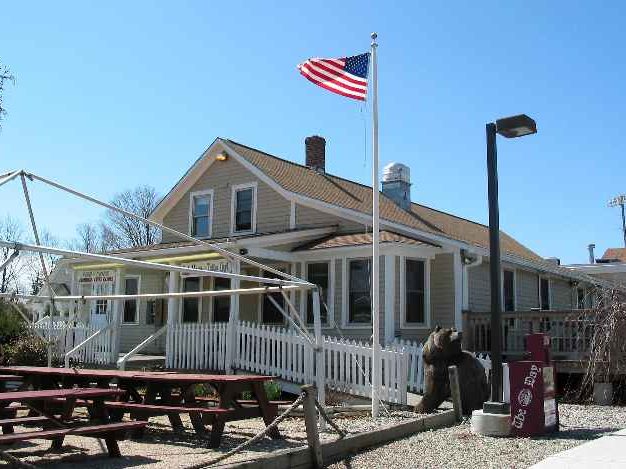 And since we're talking clams, and raw clams are indeed slimy, it made me think of that. So there you go. (In the intervening years, I've come to realize that East Lyme is a lovely town.) I'd been to Flanders Fish Market a few times over the years but had never had their clam chowder before. It was time.
The Roadfood Experience
We confess to having bitched frequently that the Connecticut shoreline doesn't feature as many good seafood meals as it should. Flanders Fish Market & Restaurant shuts us up on that account. This is a superb fish house, just what the traveler in search of local specialties would hope to find.

It's slightly inland, and it really is a fish market. When you walk in the door you are confronted by glass-fronted refrigerator cases filled with filets and whole fish and, to the left, a saltwater tank holds live lobsters. Farther back are the interior dining rooms; for good-weather dining, there are rows of picnic tables on a broad deck that circles around the restaurant and under a canopy out front.

If you choose clam chowder to start, the waitress will ask if you want clear or creamy. Creamy is classic New England style; clear is the rarer kind unique to Eastern Connecticut — steel-grey, briney broth loaded with hunks of clam and pieces of potato. If you like a super-plush soup, an alternative to chowder is lobster bisque — creamy, butter-rich, and laden with spoon-size hunks of sweet pink meat.

The menu is vast, from raw clams and oysters on the half shell and crusty fried clam fritters to whole lobsters and six kinds of shrimp (scampi, blackened, Creole, steamed, stuffed, fried). The fried seafood is masterful; we love the virtually greaseless, yet intensely luscious, fish and chips; and the whole- belly clams are major-league satisfying.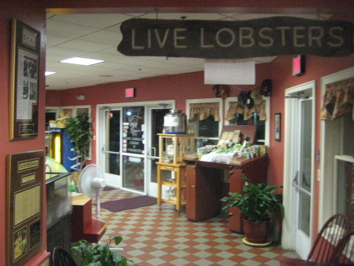 The CTMQ Experience
As Stern notes above, all the food served here is good. I watched a couple on a date near me plow through a giant bowl of mussels while I waited. (It was better viewing than the baseball game on TV.)
Not having read the Roadfood review before my visit, I foolishly ordered the creamy broth chowder. For to me, a transplanted Delawarean, "chowder" to me is always the thick creamy stuff. Oh well, I'll be sure to get the clear broth option at the other "best of" clam chowder joint.
Regardless, this stuff was excellent. I'd eat clam chowder in the sun in 100 degree heat. That's how much I love it. Flanders' chowder was certainly better than any canned stuff I've ever had, but I don't think it was the best I've ever had. It didn't have the large chunks of potato and clam that I prefer and it was a little thicker than is ideal.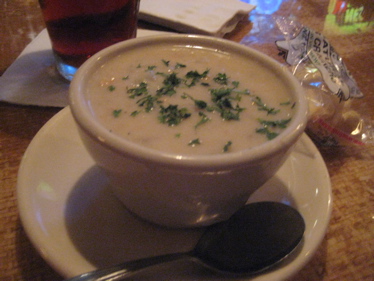 Granted, I was dining at the end of service and creamy soups tend to thicken while sitting in a giant pot all day, so I can forgive them that – especially when one realizes what would happen to a pot's worth of Campbell's clam chower sitting on a warmer all day. Gross.
The service – even at the bar – was excellent and the soup was very, very good. I will note though that the fish market portion of the business is way overpriced to my mind. I'm sure it's very good quality seafood, but I do better in Avon nearer my home and much farther away from the shoreline.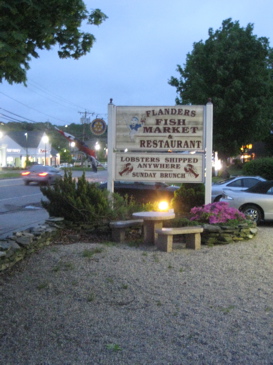 Flanders Fish Market
CTMQ Eats the Roadfood List