Everything East Lyme
I've been exploring and writing about Connecticut since 2006. After a decade, I began compiling CTMQ guides for each town in the state. I plan on "completing" East Lyme CTMQ-style… as well as the other 168 towns, cities, and boroughs in Connecticut. That is the ultimate goal of CTMQ.
If I've missed anything in town or if anything has closed or changed, please let me know.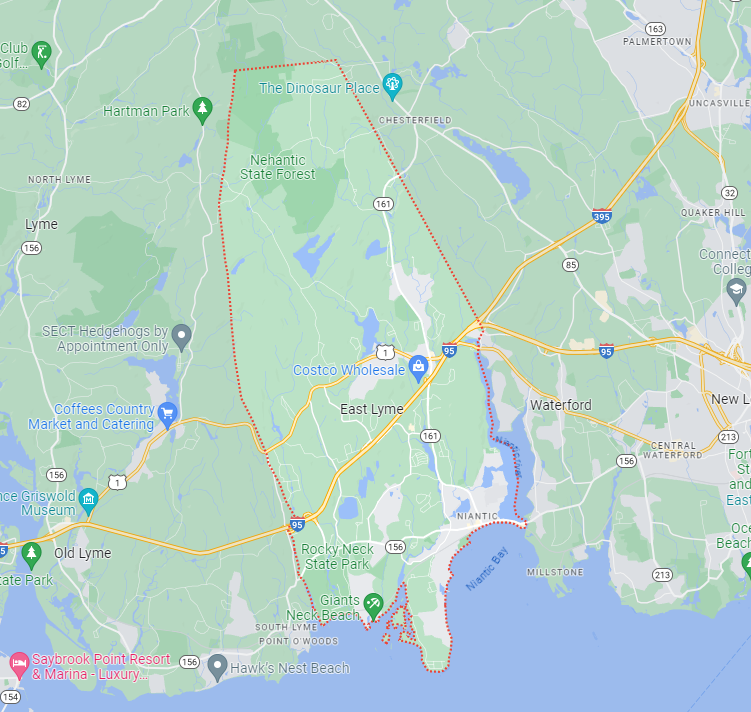 Museums
Brookside Farm Museum
Little Boston Schoolhouse
Niantic Children's Museum
Rocky Neck State Park Nature Center (Closed)
Samuel Smith Farmstead
Thomas Lee House
Hikes & Paddles
Explore Connecticut's East Lyme Outdoor Guide
Rocky Neck State Park – Intro
Nehantic State Forest – Intro
Richard H. Goodwin Trail – Intro
East Lyme Land Trust – Intro
Beaver Brook Tract
Bobrow Property
Green Valley Lakes Tracts/Spring Rock Road Tract
Laurel Hill Tract/Sleepy Hollow Road
Oswegatchie Hills Nature Preserve
Pattagansett River Watershed Preserve
Ravenswood Tract
Rosecliff Tract
Tanglewood Tract
New England Forestry Foundation – Intro
Niantic River Headwaters Community Forest
Woodsmen Land Trust – Intro
Lyme Land Conservation Trust – Intro
Lyme Corner Trails/Hartman Park
East Lyme's Town Trails – Intro
Niantic Bay Boardwalk
Yale Outdoor Education Center Trail (private)
Water Trails
Niantic River Estuary Trail
Food & Drink
Roadfood List: Clam Chowder at Flanders Fish Market
CT Ice Cream Trail: Gumdrops & Lollipops
CT Ice Cream Trail: Tommy D's Craft Creamery
CT Beer Trail: Five Churches by the Bay (Does not brew)
CT Beer Trail: Niantic Public House
CT Beer Trail: Noble Jay Brewing Company (Closed)
Looking for your favorite restaurant? Here is an explanation as to why it's not here.
Everything Else
Baker's Cave
Toad Rock & Tony's Nose
Mt. Ararat
Ellie Mitchell Pavilion
The Hole-in-the-Wall Beach Bridge
Latimer Brook Fishway
The Book Barn
Niantic Bay Shellfish Farm "Down & Dirty" Tour
J.W. Gorman's Diving Horses (Gone)
Top 10 Fake CT Town: Flanders
East Lyme Wrap-Up
Completion Celebration Meal at TBD