No-bull Jay
Noble Jay Brewing Company, East Lyme
March 2019
Noble Jay closed in late the summer of 2020.
I met Jesse Baldwin of Noble Jay Brewing in the summer of 2015. My man was hustling… We were at the first Hops for Hope Brewfest and Jesse was representing his brewery that was to open soon after that event. He wooed a lot of people that day and got more than one excited about his brewery-to-be.
A few months later, in November of 2015, Jesse and his business partner/brewer Mike Lincoln launched a Kickstarter campaign. For some weird reason, I actually backed their campaign – the only brewery I've ever backed via crowdfunding in my life. Chalk it up to Jesse's acumen, hustle, and winning smile. (I'm not even kidding. He looks 15 years younger than his age.)
Cool. I backed a brewery. I had tried one or two of their beers early on that likely came from Mike's garage. Noble Jay was going to be an all-lager brewery; sticking to the European classics and sticking a finger in the eye of the IPA crazy world of 2016-202? American brewing. "Cool," I thought, "but no way that business plan doesn't get tweaked."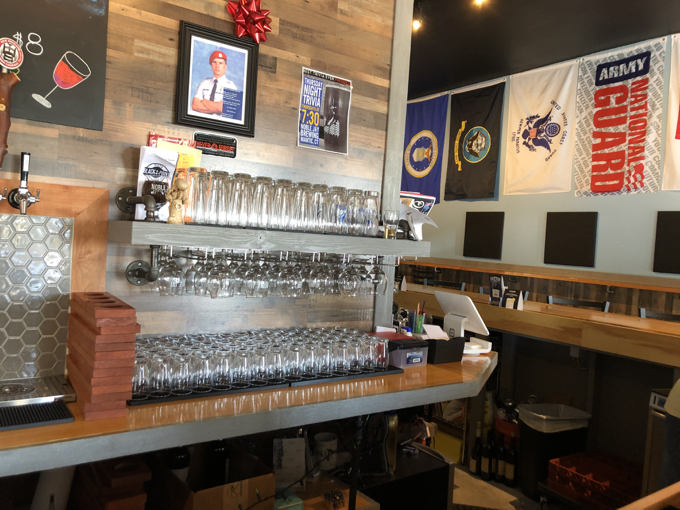 President Obama met with other world leaders in Paris to kick off talks for what would be the Paris Climate Accord.
2016 passed nothing much happened other than a thrice bankrupted and illiterate television huckster was elected president who summarily undid the Paris Accord. In Noble Jay world, I learned that Jesse is a Virginia Native and Noble Jay's Director of Marketing and Sales as well as Wearer of Many Hats. He's a proud father of three kids, ocean lover, craft beer geek and outdoor enthusiast who enjoys trail running, surfing and rock climbing. He's also a marine geologist and oceanographic surveyor and has spent many days offshore in 2015. And 2016. And 2017. (Mike does that too.)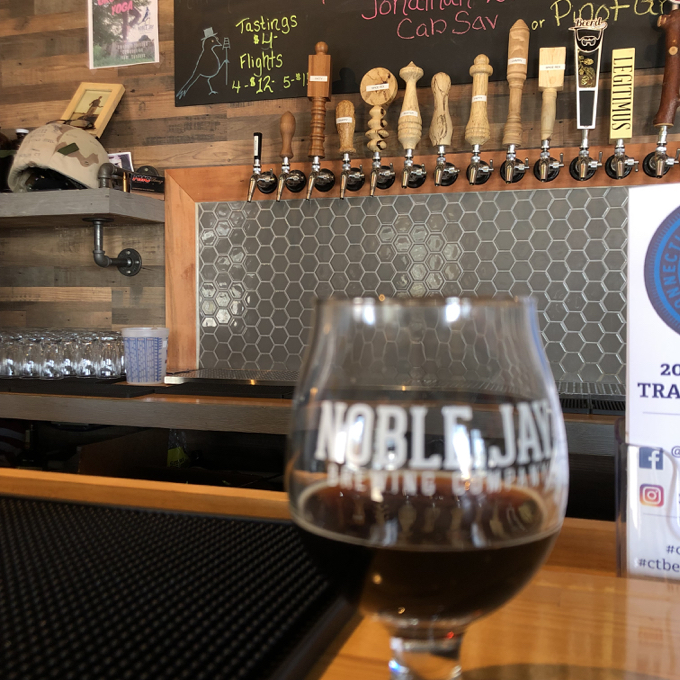 Which… cool. We had a few fun conversations about western Virginia (he is very quick to correct anyone who errantly says "West Virginia.") We have a shared affinity for the Appalachian mountains and Trail very near his childhood home. I enjoyed my conversations with Jesse and learning things like how Barbara Kingsolver owns a restaurant out there and is friends with his mom.
By the time 2018 rolled around, Noble Jay became sort of a joke. Their brewery was backed via Kickstarter, so money shouldn't have been an issue. They had years to sort out the various licenses and paperwork. They had a location in, like, 2016. Between the time they announced their official intention and mid-2018, 50 other breweries opened up in Connecticut.
Literally 50.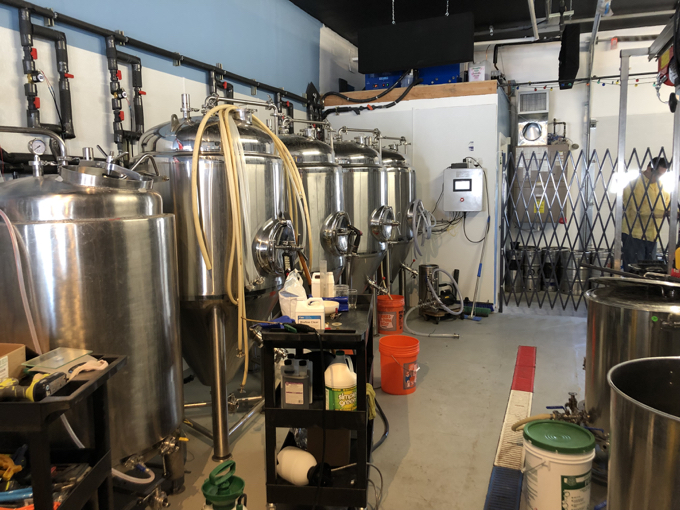 But then… it happened. In late August 2018, Noble Jay opened their doors for the first time! Wow, they did it! Congratulations Mike and Jesse, on your brewery and on your world record Kickstarter Campaign duration. Let's check this place out.
Noble Jay Brewing Company is named in honor of our Founder and Brewer's mother. Tragically Patricia Jay, known to her friends and family as "Jay", passed away from skin cancer when Mike was 15 months old. With "Patricia" having Latin roots in "Nobility" Mike decided the best way to honor his mother's memory was to name the brewery "Noble Jay" and place a discrete "PJ'79" in our logo.
Damn. That's sad. Sorry, Mike.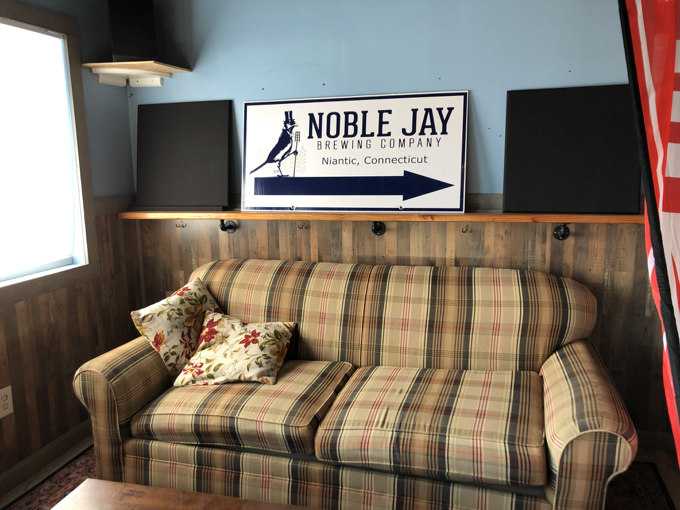 As we'd all guessed, Noble Jay had turned into a NEIPA factory in the 4 years between announcement and my visit. Because, of course they – what's that? They didn't? Holy crap, I love Noble Jay already. I was positively shocked to find the following 4 beers on tap during my visit: a scotch ale, a lager, a Baltic porter, and a rye pale ale. Wow.
Noble Jay also had a table beer from Kent Falls on tap as well as a pils from Brewery Legitimus, and a cider from New England Cider Company. Wow, wow, wow. (Okay, they had a Beer'd DIPA on tap as well, but at least it was Beer'd.)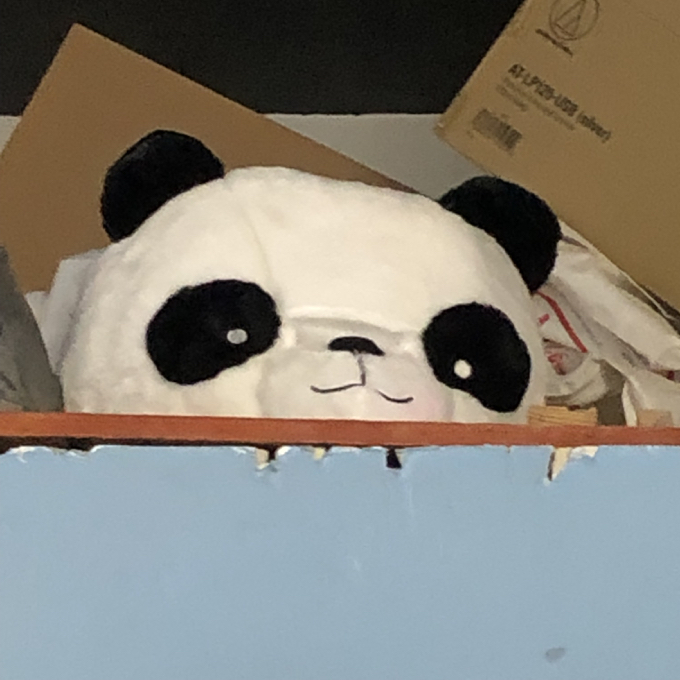 I was most interested in the Baltic porter because I rather enjoy them. It's called Fatty Boom Boom here and if you were wondering, the brewery is a fan of Die Antwoord and Fatty Boom Boom is the name of one of their songs. Wondering what brewery owning oceanographers from western Virginia have on heavy rotation? Wonder no more (Language warning):
I'll give you a moment to recover. South Africa is a weird place.
The Fatty Boom Boom was delicious. And such a welcome departure from the usual at most breweries these days. I spent some time poking around the brewery's space. Lots of military love going on here, and I forget why. The bar top itself is nice and the brewery offers a small area for comfortable seating.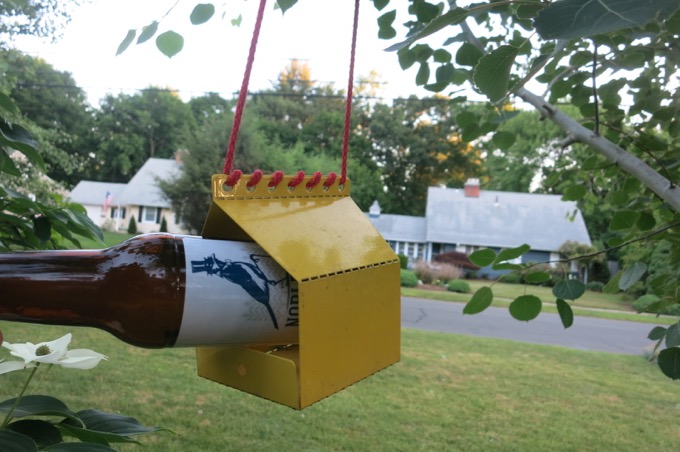 Noble Jay is pretty small, but they've made the most of the available space. Jesse made sure I tried the other three beers on tap and frankly, they were all good. I was happily surprised by the rye pale ale. Rye is simply not something I enjoy, and the beer's name (Spice-asaures Rex) really scared me. But it was pretty good!
Just then, Evan Hill from Beer'd popped in and took a seat. Huh. Fancy seeing him there. We chatted for a bit, I lamented Beer'd's head-first dive into the world of lactose sugar bomb "IPA's" and before I knew it, Max Finnance took a seat. Okay then.
Max is a legit Advanced Cicerone and is one of the few people active in the Connecticut beer scene who actually knows what he's talking about. (Note: I'm actually not.) Max works for Sixpoint and is a good dude. Evan's a good dude. Jesse's a good dude. We enjoyed our time together.
It was kind of nice that we had the brewery to ourselves on a weekend afternoon. It was also kind of terrible that we had the brewery to ourselves on a weekend afternoon. Noble Jay is located very near Rocky Neck State Park so maybe it's more of a summer brewery? I don't know… but since I only visit breweries on early weekend afternoons, I have a pretty good sense of what to expect in terms of customer numbers.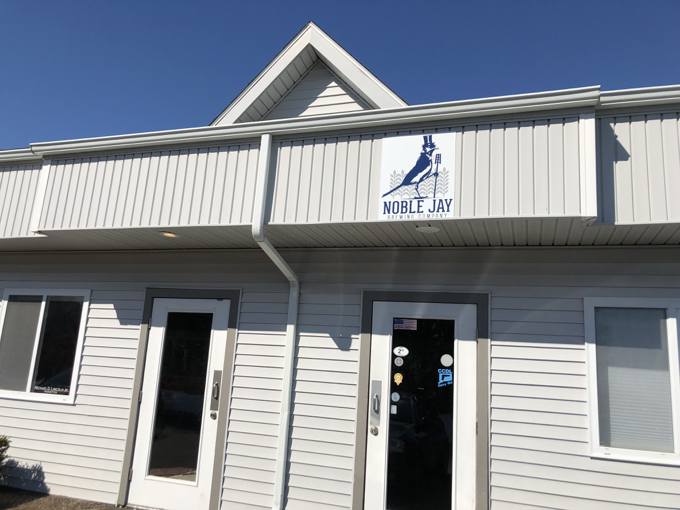 On this day anyway, Noble Jay wasn't cutting it.
I don't want to think it's because they are lager focused, because that would make me mad. The beer, although the offerings were slim, were better than beers at many other, more popular Connecticut breweries.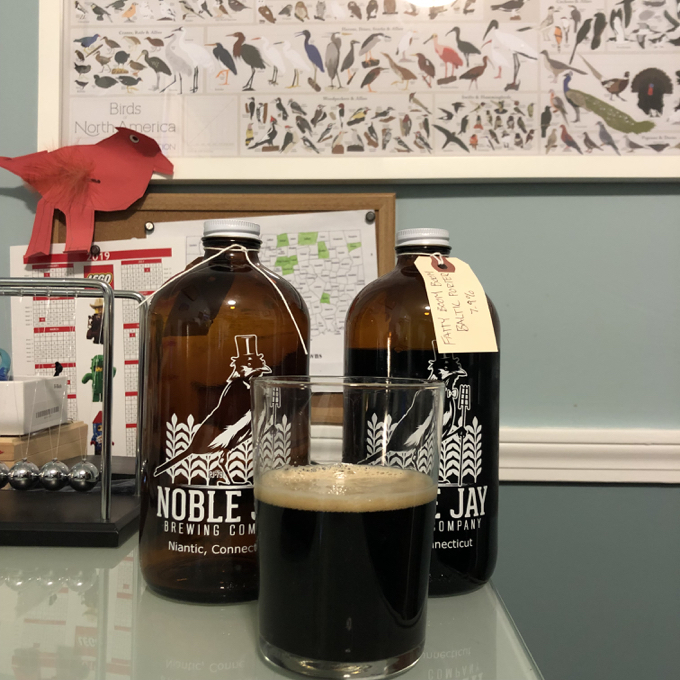 Somehow Jesse remembered back to the Obama era that I'd given money to their Kickstarter and that I apparently was owed two little growlers of beer. I denied them, but he insisted, so I carted home some more Baltic Porter and the Scotch ale.
And I enjoyed them both over the next week or so. I want Noble Jay to succeed – not only because I like Jesse as a friend, but because I want all little charitable decent breweries who stick to their old-world guns to succeed. I'm glad I supported their crowd-funding effort and hope others support their mission.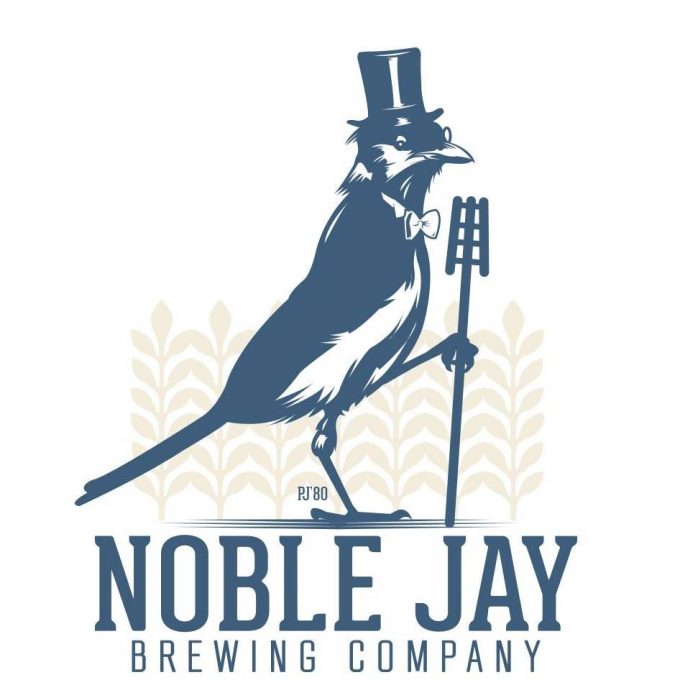 CTMQ's page on CT Breweries and Brewpubs