Arsenic and Old… This Place?
Site of old Connecticut State Prison, Wethersfield
May 27, 2007
Connecticut's famously historic prison is in the north central part of the state – Old Newgate Prison up in Granby. There is a museum there and I plan to hit it around the time when our Metacomet Trail end-to-end hike ambles nearby. In the meantime, after a day in historic Wethersfield with townie EdHill, I settled for the ghostly spot of the old state prison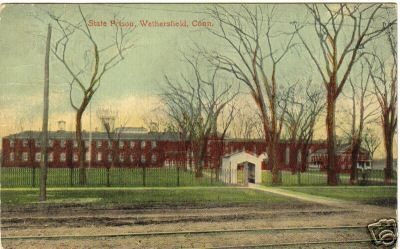 I don't know much about the prison, except that some people were executed there and the story goes (from EdHill's mom) that the town's lights dimmed when they flipped the switch to kill a prisoner. The whole building was demolished in 1963 and to this day all that remains is a large grassy field and a small marker denoting the spot.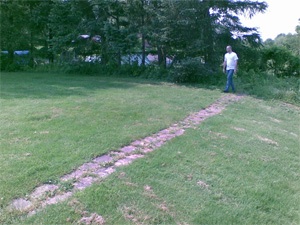 The prison opened in 1827 to replace Old Newgate Prison. Over the years, there were some "famous" prisoners, including Amy Archer-Gilligan. She was convicted of one murder, but was widely believed to have poisoned several residents of her Windsor old-age home with arsenic. Her story, reportedly, inspired Joseph Kesselring's well-known play "Arsenic and Old Lace." It also inspired me to read about about Archer-Gilligan and review it for this website.
While at the historic Cove Warehouse, we learned that after the flood of 1936, the prisoners used brute strength to move the warehouse back away from the Connecticut River. I'm sure there are hundreds of interesting stories about the prison and its former occupants. But all that stands today is a very modest in-ground marker denoting the existence of the prison cemetery.