Okay, it was Hot in 1911
The Devil's Rooming House
By M. William Phelps
This story is absolutely fascinating and the research effort put into it was certainly impressive. But I must be missing something here, because this book – by a prolific author mind you – is rather terrible. An utter slog to get through.
Which is really weird because the subject matter is incredibly weird and creepy and interesting. Yet, half of the book is about the heat wave of 1911 for some reason. I'm guessing Mr. Phelps felt that he'd set up some brilliant metaphor with his drawn out descriptions of hot weather and the true subject of the book, but he completely missed.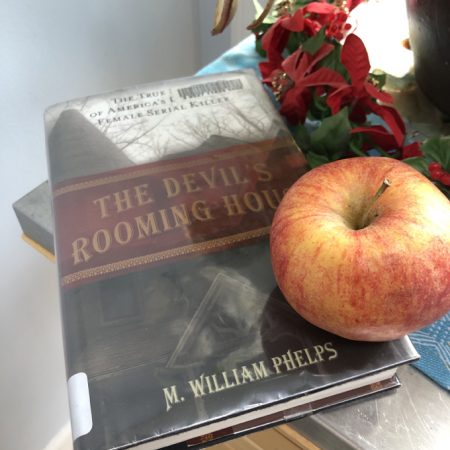 And since all allusions to heat waves disappear after the first several chapters, it's almost like the author realized it, gave up on it but forgot to edit it all out. In fact, it appeared to me that everyone forgot to edit this book. This was real life "hey, how 'bout this weather we're havin'?" useless small talk that happens when you're trying to fill time or get through a boring conversation.
The Devil's Rooming House is way too long, has way too many grammar and style errors, and the asides, tangents, and weird editorial commentary were all rather awful as well.
The book is about Amy Archer-Gilligan who ran a house for the elderly and infirm in Windsor, CT. I "visited" the house which still unassumingly stands. She was a serial killer who may have murdered nearly 100 people (though "only" around 60 were presumed and only one was fully prosecuted.)
Local merchants were able to testify that Amy had been purchasing large quantities of arsenic, supposedly to "kill rats". She lived out her years in prison after beating a death penalty rap due to insanity.
Phelps' descriptions of the investigative reporting of the day was pretty good, and how derelict the homes' doctor and relevant town officials were was also quite interesting. But these things only took up half the book.
This book is a skimmer, at best.

CTMQ's List and Reviews of Connecticut Books