Arsenic and Old Lace House
Archer-Gilligan House, Windsor
My son Calvin was with me when I drove by this large and rather bland brick house near the center of Windsor. I had the idea that I'd ask him to hop out of the car and pose in some goofy way in front of the house. You know, to add some flavor to this page.
But then I thought to myself, "eh, this is a house of murder and I probably shouldn't ask my seven-year-old to make light of what was probably the singular place of the most murders in the state, if not the region." And so, you get this rather bland picture.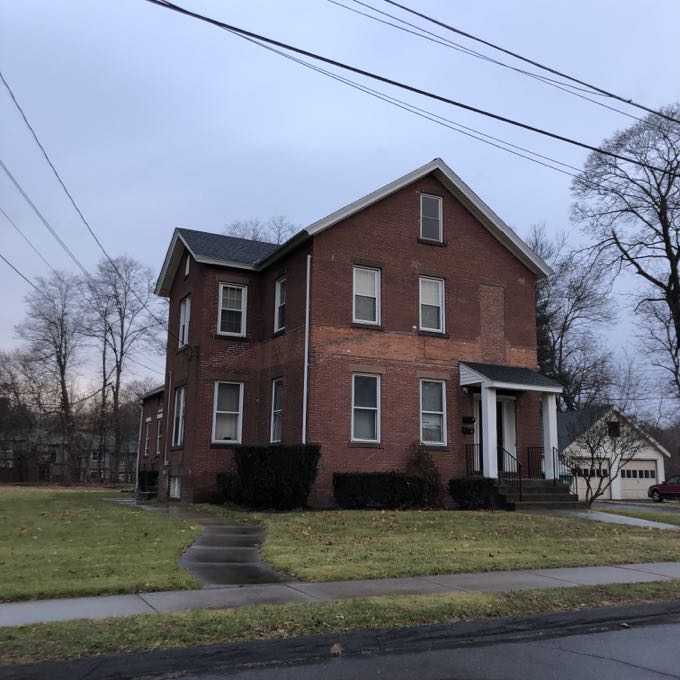 But afterwards, it occurred to me that the entertainment industry made an entertaining play based upon the murders. Then Hollywood made madcap romp about the murders. And I kicked myself for not having my seven-year-old do something goofy in front of the joint.
For those of you unaware of what I'm talking about, Arsenic and Old Lace is both a play and a movie that I'd guess almost everyone thinks is pure fiction. It's not. It's based on the very real, very demented Amy Archer-Gilligan. Or, "Sister Amy" as she liked to be called. As a woman of God, of course.
Amy Archer-Gilligan decided to care for the elderly and opened her own private nursing home here in Windsor. She did so with her husband, James Archer who died three years later, as those who were close to Amy were wont to do. Like her second husband, Michael Gilligan, who died three months after the wedding ceremony.
No matter, Amy was able to run the old folks' home on her own (thanks in part to the deceased husbands' insurance policies). And Amy ran the joint efficiently. The elderly all die, right? Amy just made sure that as many died under her roof as possible, as 60 people died in the 10 years she ran the home.
I guess 60 deaths of (what I presume were) mostly healthy old folks was the threshold to alarm the authorities. It took the pleading of a concerned citizen as well as a series of Hartford Courant articles to prod the police to investigate. The investigation took almost a year to complete.
So one of the dead husbands plus 4 others were exhumed and tested and oddly, they were loaded with arsenic and/or strychnine. Well I'll be. I don't know how long it took those very same authorities to decide that ol' Sister Amy perhaps murdered dozens and dozens of those in her care over the course of a decade, but I guess they did.
Although she was only tried (and convicted) of one murder, it has always been assumed that she killed nearly all 60 others (plus her other dead husband.) Local merchants were able to testify that Amy had been purchasing large quantities of arsenic, supposedly to "kill rats". She lived out her years in prison after beating a death penalty rap due to insanity.
And there's the house, standing alone next to a fairly beat down strip mall in Windsor, Connecticut for any and all to visit and take boring pictures of. You're welcome.

I read a book about the murders.
CTMQ's Houses, Ruins, Communities & Urban Legends