The Drumbeat of Death
Somers
RIP, 2000? (Last site update 1999)
2019 Update: No, this wasn't the 430th museum I visited. It was actually the 63rd. But I decided to roll these post-closure "visits" into my general Museum Visits list so I have one less list to worry about. I figure with the defunct visits, it doesn't really matter whether I visited in 2008 or 2019, y'know?
As CTMQ readers are acutely aware, I love museums. And I hate when they close – most often due to lack of funding, awareness, and visitations. However, this particular museum may have "had" to go by the wayside. Somehow, "Somers Mountain Museum of Natural History and Primitive Technology" doesn't really have too much name cache. It's a tough one.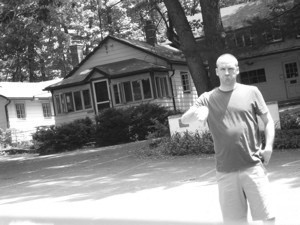 But there is a jerky part of me that really isn't too upset at the demise of this place. How can I say that while admittedly not even really knowing what this place was all about? Well, those of you who know me, know that I abhor all types of mysticism, woo-wooism, nonsense, superstition and those who promote such nonsense really bug me. And, it appears, the Somers Mountain Museum of Natural History and Primitive Technology did just that. So the fact that they are no longer in this line of work is not really a huge loss. In fact, it's a gain in my rational book.
Note: commenters below have pointed out that the original guy, Jimmy King, who created this museum was an awesome guy and that it was those who succeeded him here that ruined it. I'm sure they are correct.

To wit, back in 1999 (the last time this place offered such things), they presented a class called "Shamanic Journeying." Just what is such a thing? "Shamanic Journeying has long been known as a vehicle for performing healing work and for sojourning and counseling with power animals and spirit guides. We will guide you on a journey to meet your power animal or spirit guide and experience the healing effects of drumming."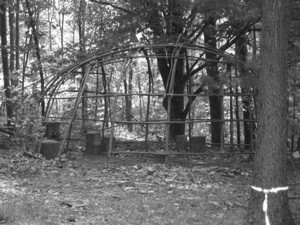 Oh really. So in three hours one could become adept a "healing" through their "power animal," "spirit guide," and some drumming? Riiiight. Oh sure, this stuff is embedded into Native American lore and history… but that hardly makes it viable. It's cute and quaint and interesting to learn about, but it's also silly and childish to pretend its effective. (My son is sick with strep as I write this, with a 103.7 degree temp. Maybe I should give him a wooden spoon and a pot?)
Anyway, back to our defunct museum. They also offered other – what were I'm sure pretty cool – classes in things like bow-making, edible plant identification, arrow making, and primitive pottery. It also appears they had some Native American displays and interpretive centers. I hope they gave their good/real stuff to other nearby Native American museums… but calls and emails to the former proprietors (made by the local Somers Historical Society a mile away) have gone unanswered.
All that remains (outside) today is the skeleton of a primitive hut of some sort and a For Sale sign.