Fly Eagle Fly!
Route 66
Hebron
Equally handsome from either direction, Eagle Rock stands sentry in Hebron, Just north of the Marlborough line. Probably the proudest of Connecticut's roadside painted rocks, and one of the few fully endorsed by the town in which it resides. Which is Hebron. Not Marlborough. By mere feet…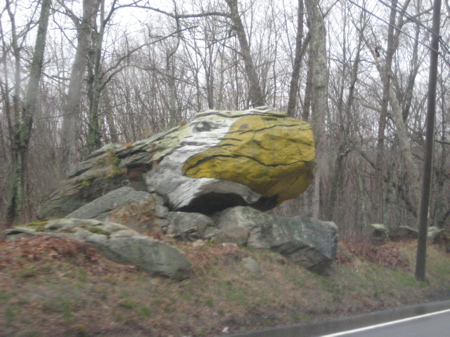 With Marlborough having so little to offer CTMQ, I was really hoping this guy was on that side of the line. Alas, it isn't.
What everyone now knows as Eagle Rock was not always avian. First painted some time in the 1960's, it has been a frog, a whale, and a shark. But it's been an eagle since 1989 and probably always will be from now on. It was painted by a RHAM student in 1989 named Jason Sawyer, whose signature still appears under the beak.
It gets a town-authorized and local business funded repaint every so often, and even has reflective paint on the eyes now, which is pretty cool.

CTMQ's Historic Rocks, Painted Rocks, & Named Rocks/Rock Formations