Everything Hebron
I've been exploring and writing about Connecticut since 2006. After a decade, I began compiling CTMQ guides for each town in the state. I plan on "completing" Hebron CTMQ-style… as well as the other 168 towns, cities, and boroughs in Connecticut. That is the ultimate goal of CTMQ.
If I've missed anything in town or if anything has closed or changed, please let me know.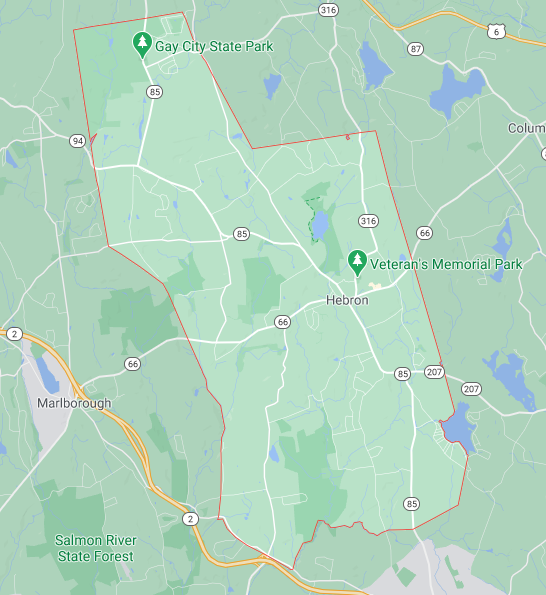 All The CTMQ Hebron Stuff
Museums
Burrows Hill Schoolhouse
Ed Hodge Agricultural Museum at the Hebron Harvest Fair
Eeyore and Donkey Museum
Gull Schoolhouse
Old Town Hall
Peters House Museum (Potential future museum)
World War II Observation Post Mini-Museum
Hikes & Bikes
Gay City State Park – Intro & Trails
Salmon River State Forest – Intro
Meshomasic State Forest – Intro
Hebron's Town Trails – Intro
Blackledge Falls Area Trails
Burnt Hill Park
Chestnut Hollow Preserve/Grist Mill Trails
Grayville Falls Town Park
Hebron Center/Veterans Memorial Park Trail
Raymond Brook Trail
Multi-Use/Rail Trails
Air Line State Park Trail – Intro
Section 3: Hop River State Park Trail to Colchester Spur
Section 4: Colchester Spur
Section 5: Colchester Spur to Jobs Pond, Portland
Food & Drink
Sadly, nothing of note. Here is an explanation as to why that's so.
Everything Else
US Only: Known Civilian Observation Post
CT Concept of Freedom Trail: Cesar and Lowis Peters House
Youngs-Rowley-Curtice House
Grayville Falls
Mapleleaf Farm
Eagle Rock
Prophet's Rock
Hebron Wrap-Up
Completion Celebration TBD