Hub of Waterbury
Hamilton Park, Waterbury
There is a lot of history at Hamilton Park in Waterbury. History I'm not going to get too deep into at all. It's just an old town park. It doesn't really rise to the level necessary to get the full CTMQ treatment.
And you won't believe this, but it also doesn't even qualify for a town trails page! Eesh. I've been known to write up town parks with, like, 100 yards of pavement if it appears in a town trails guide. But that's not the case here. There are "trails" but they're more "worn paths between fields" than anything else.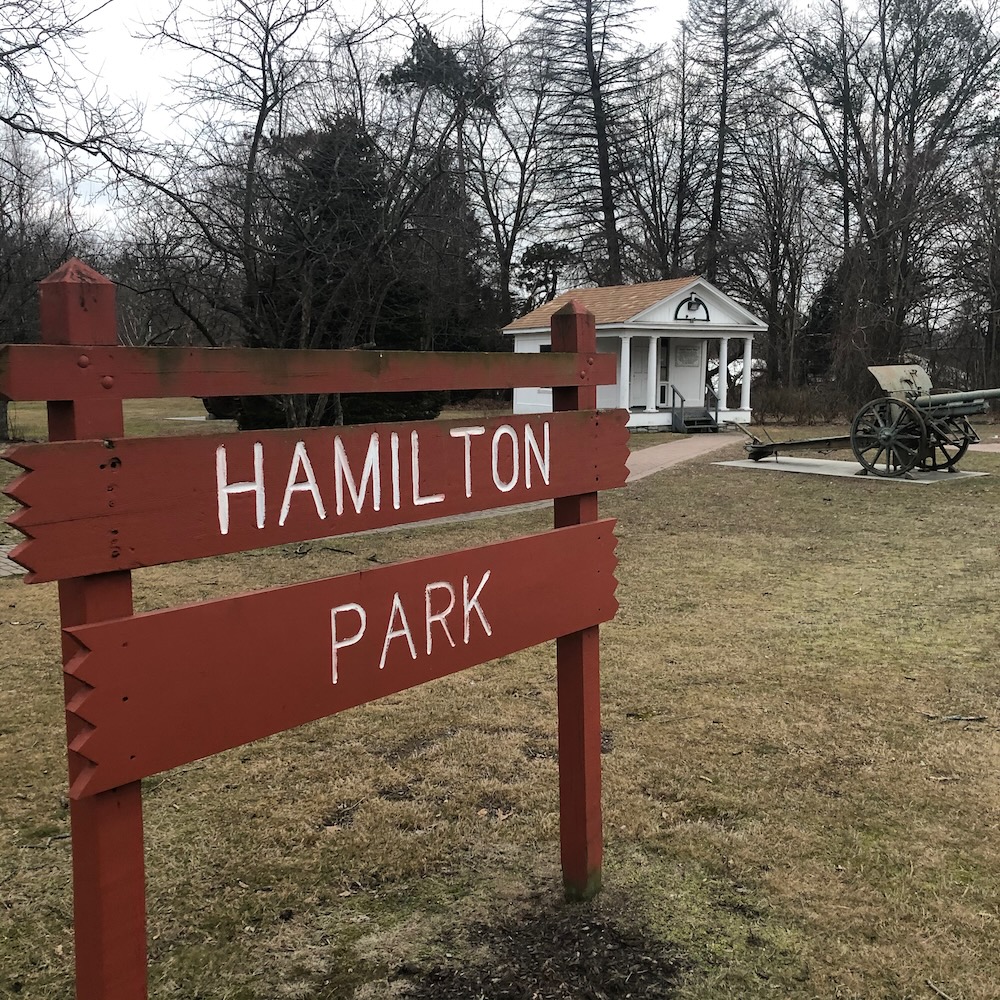 There's a bunch of athletic fields, a swimming pool, a pond, and some parking lots with locals hanging around checking out car sound systems. On nice days, it's a family gathering spot and provides Waterburians a place to run around and get some sun and exercise.
The park's namesake is David Boughton Hamilton (1824-1898) who was the president and treasurer of Rogers & Bro., best known today for their silver-plated flatware, which is still popular with collectors. Hamilton and the Rogers brothers came to Waterbury in 1858 to start the Rogers Brothers manufacturing business. After Hamilton's death, the company merged with others to become International Silver Company.
Park-bordering Silver Street takes its name from the Rogers and Hamilton silver-plating factories which were located next to the land that became Hamilton Park.
That historic tidbit – and many more – was taken from the excellent Waterbury Thoughts blog. Here's another gem:
A swimming pool opened in 1907. The playground was enlarged in 1909 and new paths were laid out. A zoo was added at this time; in 1910, the Hamilton Park Zoo had two monkeys, four raccoons, one possum, one red-tail hawk, one fox, four grey squirrels, and twenty guinea pigs. Two swans were added to the zoo in 1912. A later addition of a bear made the zoo a memorable attraction.
Aside from the monkeys, isn't that more or less… what you can see in any Connecticut park just walking around?
Okay, so why does this page exist? Really? The zoo had found squirrels?! It exists because up at the park's northern corner, there sits a CTMQ Superlative! And it's germane to Waterbury's proud history as The Brass City. And here it is!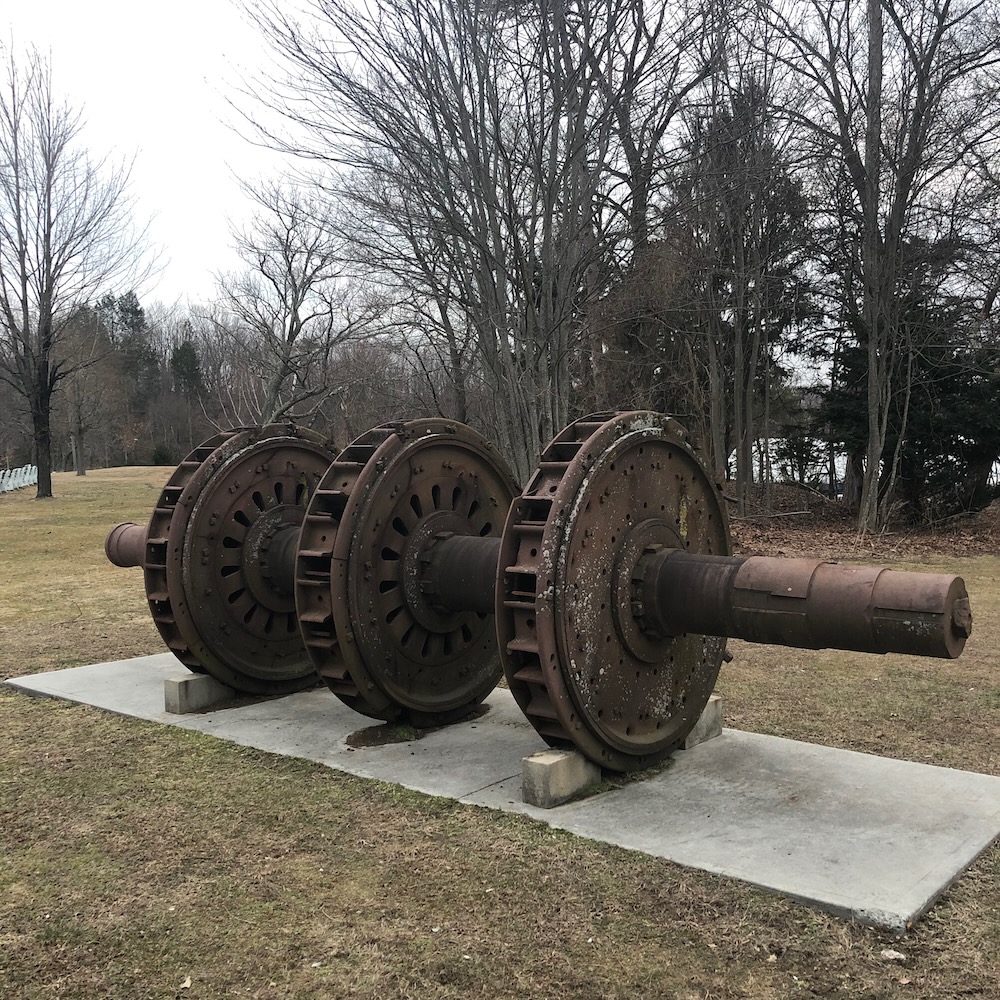 Nice! Super cool! Um… what is it? (Again, information from Waterbury Thoughts.)
That is a massive hub for a water wheel. A century ago, this was part of a wood water wheel, 30 feet in diameter, famous for being the water wheel to the first brass mill in the U.S., believed to have been in use as early as 1845. The City's Park Department acquired the wheel sometime around 1914.

The wood was allowed to rot away, and eventually the metal hub was moved from Hamilton Park to Waterville. In 2013, State Representative Selim Noujaim arranged to have it returned to Hamilton Park, where it now rests.
Nice. The first brass mill in the US! Right here in Waterbury. You all knew that, right? Of course you did.
There are other random things scattered around the fairly scattered Hamilton Park of today. The little Liberty-Victory House was moved to Hamilton Park from the Green after World War II. During World Wars I and II, the little house was used for bond rallies on the Green. It has since been joined by a World War I German 7.7cm FeldKanone 16 (field gun).
But I came here for the water wheel hub. I poked around various parts of the park on multiple occasions as my son had some soccer stuff at the indoor fields here. And like I said, while the park serves a good purpose, it doesn't serve me anything more for this website. So we're done here.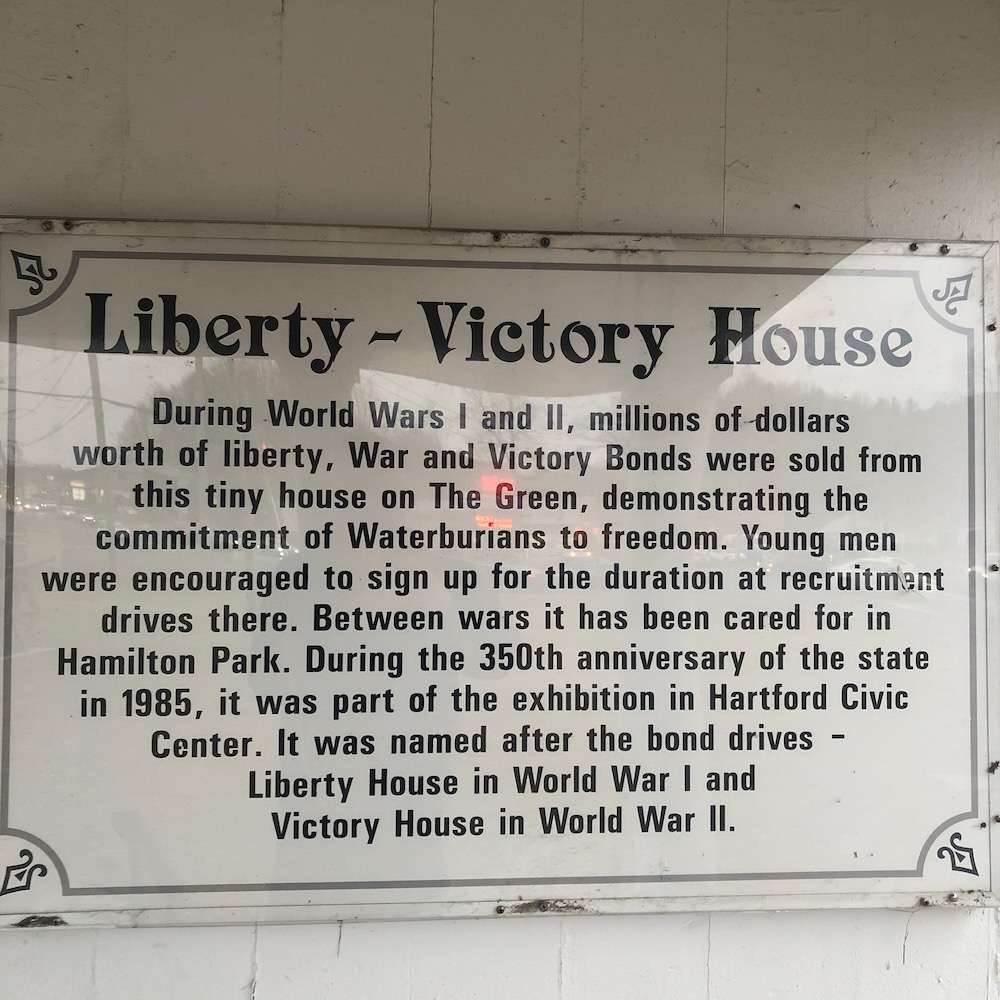 Waterbury Thoughts on Hamilton Park
Waterbury's Town Trails
CTMQ's US & World Firsts