Hickory Dickory
Hickory Ledges Farm Distillery, Canton
October 2015
I've written many times about the allure of Canton. I can't think of another Connecticut town which has such a developed and busy stretch of box stores, car dealerships, and strip malls that is not at all defined by that stretch of box stores and strip malls.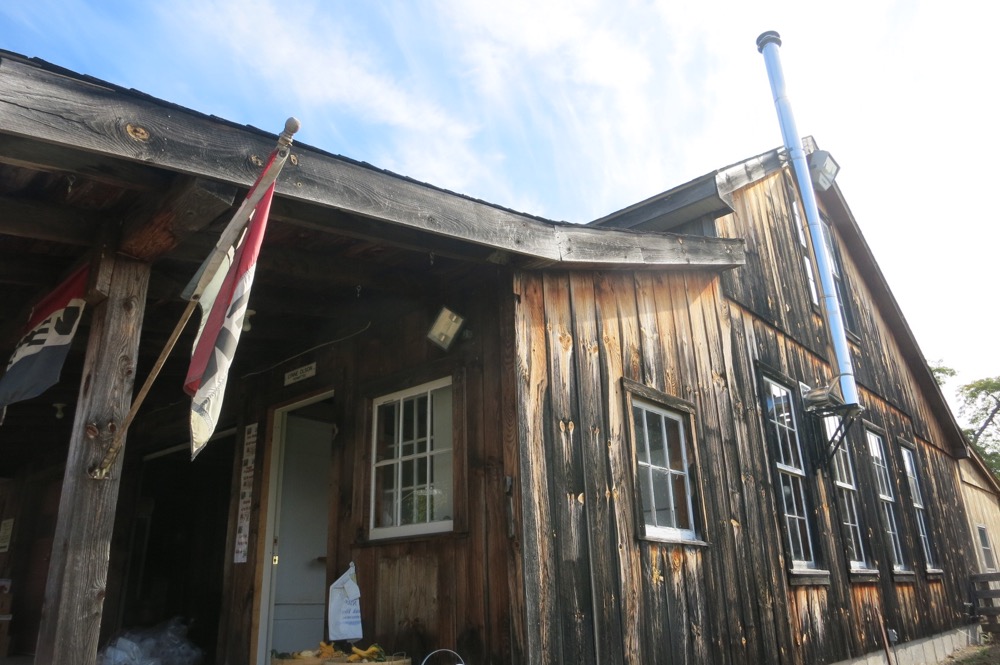 South of Route 44, there's Collinsville… Connecticut's mini Boulder, Colorado. North of it? Canton is all curvy backroads, rivers, rocky hillsides, and solitude. It never ceases to amaze me just how quickly I can leave Kohl's and suddenly be in the middle of nowhere – nowhere but with stuff to do.
One of those things to do in the middle of nowhere is Hickory Ledges Farm, home of the Full Moonshine line of spirits. The road to the farm barely allows two cars to pass at points. I love it. And I love this place.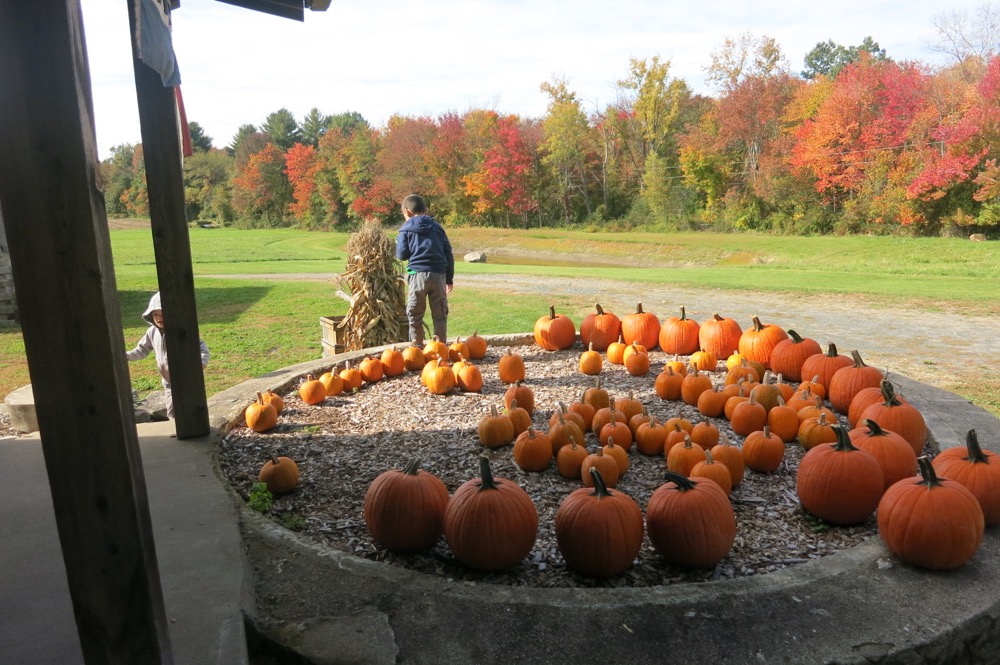 No, not because I'm a big moonshine drinker – as I'm not one at all. I love it because it's legit, it's historic, and the owners are wonderful. I realize when you see pictures on this page of my young sons enjoying a drink at the bar at a distillery that yes, it looks weird.
So before I get to the hard stuff, you should know that Hickory Ledges makes regular apple cider. If it's hot outside, they have it cold in jugs and if it's chilly out, they have it warm. We've visited in both conditions and the boys have enjoyed each temperature. I can report that their regular cider is delicious. Here are pictures from two different visits: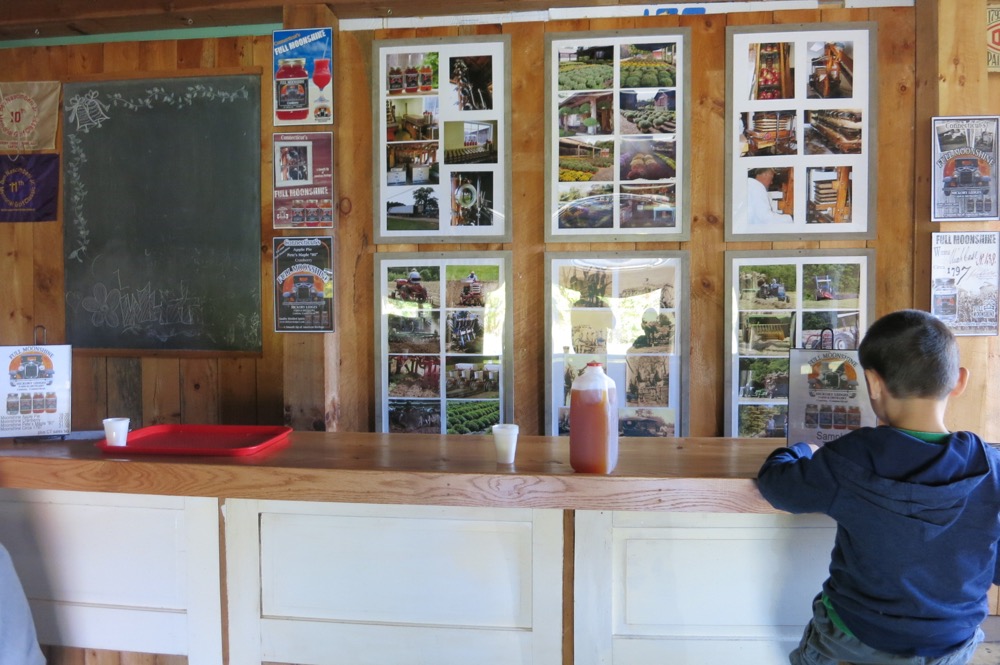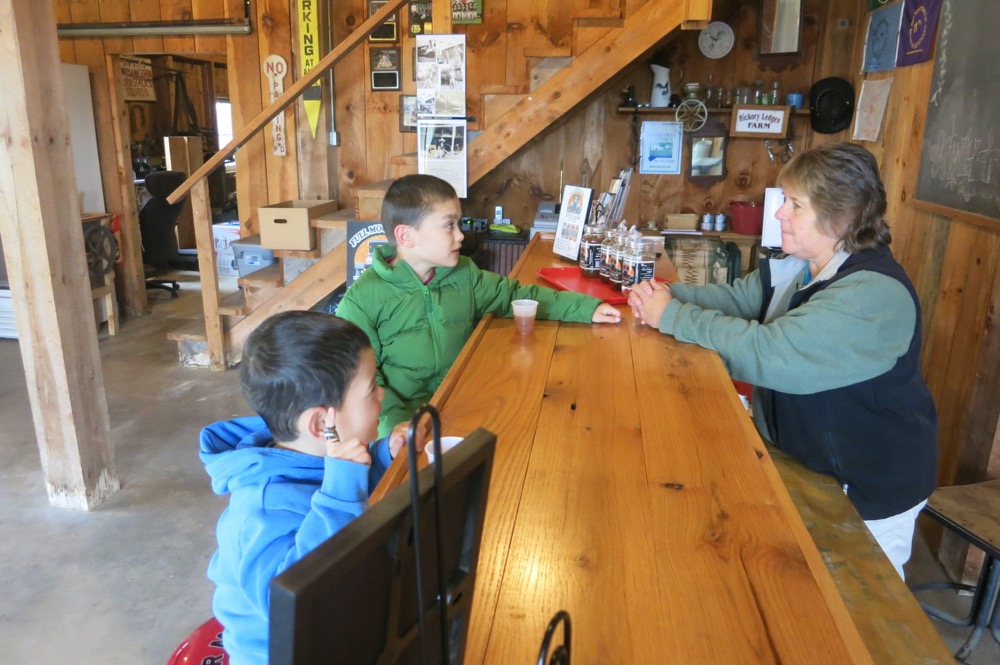 As for the high proof stuff… Hickory Ledges claims some serious history.
At Hickory Ledges, we are proud to trace our heritage as distillers to 1797, as direct descendants of Uriah Case. After serving our Country in the American Revolution, Captain Uriah Case obtained our families first permit to distill spirits in 1797. In his tradition, we use only the finest corn and impeccably clear spring water to craft Full Moonshine.
18-century corn and spring water were both probably pretty bad. No way the corn had the sugar content today's varieties have and the water was likely tainted with who knows what. I'll take today's product, thanks.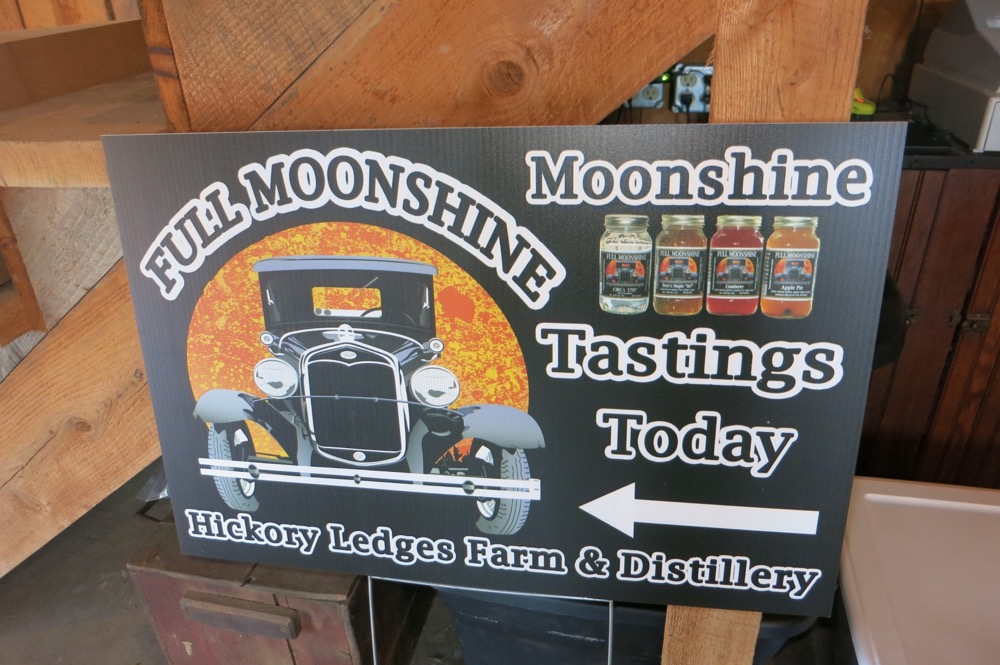 Hickory Ledges makes several varieties, including the "original" clear corn whiskey – the same kind that they'd have made in 1797. Straight up moonshine. Not something I would drink but it's not meant to be drunk straight up. Still, a bit too powerful for my delicate nature.
Fortunately, they produce several flavored options – and those additions are all local; many from Hickory Ledges Farm itself. Like the Apple Pie. Essentially moonshine with apples and cinnamon and whatever else goes into an apple pie.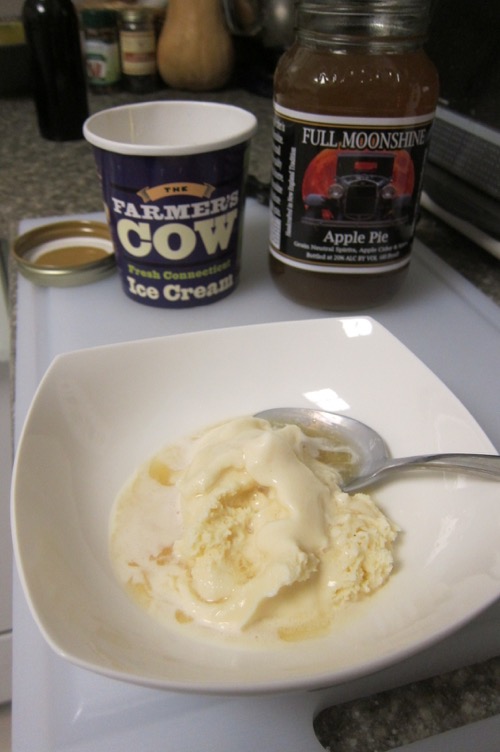 I enjoyed this over the course of (probably) a year. In mixed drinks, poured over ice cream… all sorts of nonsense. It's pretty sweet, but will also get you feeling nice and warm pretty quickly.
I've also bought and enjoyed a bottle of Pete's Maple 80, and – I have to say this. Yes, moonshine in Mason Jars is a thing. I get that. But it is my opinion that Mason Jars are terrible. They don't pour smoothly and with something like these high sugar content liquors, the threads on the screw tops get all gummed up. And don't even get me started on hipsters who drink from them. Mason/Ball Jars are good for canning vegetables. That's it. Sorry, I had to get that off my chest. What was I saying?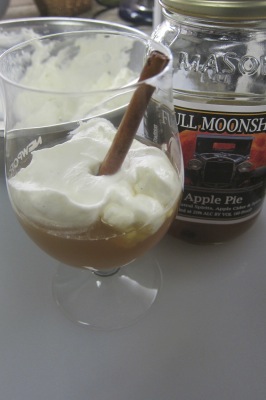 Oh yeah, Pete's Maple 80. Same base booze but with local maple syrup. I didn't like this one as much, but it's still exactly as billed. I found a picture of a cocktail I made with it with milk and ice. Jesus, that looks awful. But there it is, on the Hickory Ledges Full Moonshine recipe sheet:
White Maple:
2 parts Pete's Maple 80
3 parts milk, cream, or eggnog
Build in ice-filled glass, stir gently, garnish
Oh look, below the milk thing, another old picture I found. This one is the Pete's Maple Manhattan.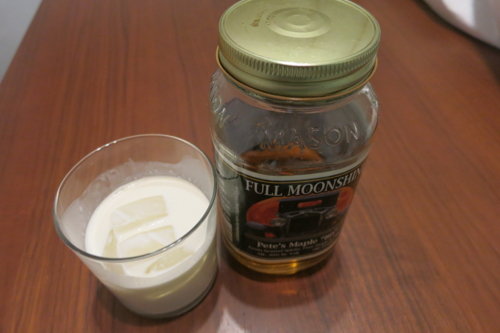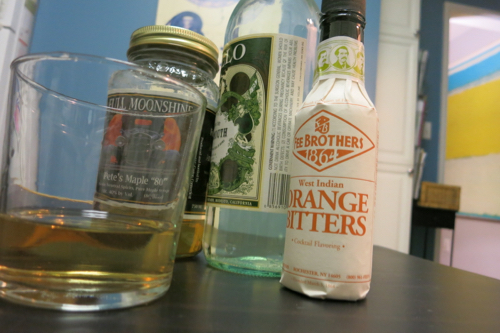 You see the ingredients there. It's a Manhattan. (I absolutely hate Maraschino cherries. I didn't mean for this page to include so many things I hate. Eh, might as well mention that I hate beets too. The absolute worst.)
Full Moonshine also makes a cranberry moonshine that I've tasted at the source and it was good. Ironically, it's probably my favorite option but I bought the two I bought so my wife could enjoy it, as she's big on desserts and I'm big on her.
That sounded weird.
I highly recommend stopping by Hickory Ledges someday. Of course it feels more "right" in the fall, but you needn't wait until then. The family that runs this place is super nice and it's always good to get away from Route 44 and explore the backroads of Canton.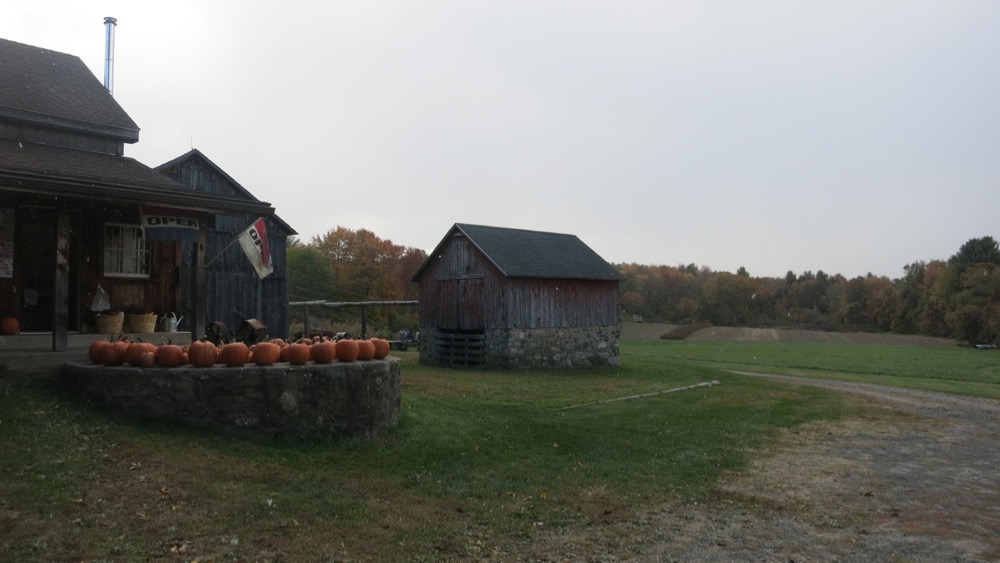 Hickory Ledges Farm
CTMQ's CT Distilleries