Verplanck… Kerplunk
Hockanum River Trails (HRLPC): Verplanck, Manchester
~1.5 miles out and back, December 2016
If you are reading these Manchester Hockanum River Trails south to north, you have already read the Laurel Marsh Trail page. If you haven't, it's a fun one and you should. I'll wait.
The Verplanck Trail's southern terminus is a short walk from the Laurel Marsh lot off of route 6/44. After writing a bit about the unfortunate activities that Laurel Marsh has attracted over the last several years (read: dudes meeting up anonymously with other dudes to engage in, um, "intimate," um, "conversation") I just sort of chuckled at a picture I took of a sign at the little parking lot.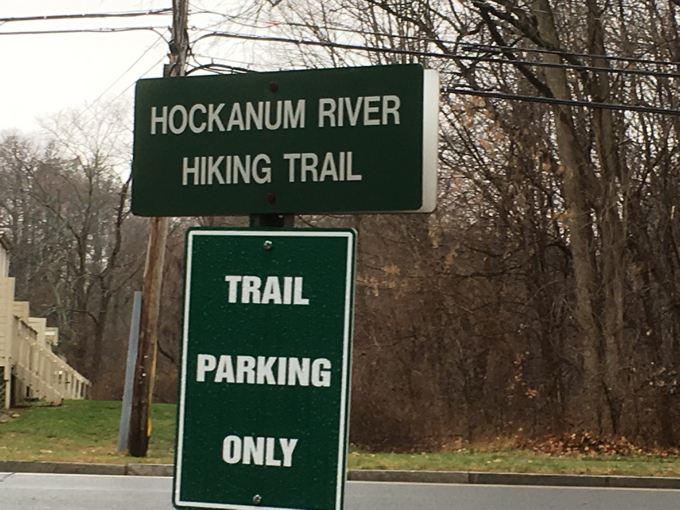 Yeah. Strong deterrence there.
Anyway, I hiked all these trails in crappy weather at odd times, so I didn't find myself interrupting any of those, um, "conversations." I hiked the Verplanck during a fairly steady icy drizzle.
I do not recommend hiking the Verplanck Trail during a steady icy drizzle. An amazing percentage of this trail is across boardwalks. If you do the math, icy drizzle + boardwalks = unbelievable slippery conditions. I can't imagine how many times my sons would have fallen had I brought them with me. We'd have been a Three Stooges episode.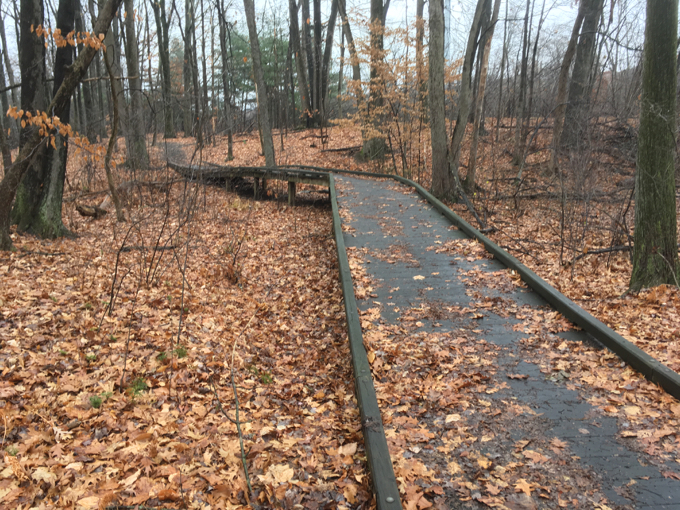 A really funny one though.
The Verplanck begins off of the "stone dust" trail at Laurel Marsh which is ostensibly for those in wheelchairs or disabilities. On a day like the day I walked around here, that would have made for a really offensive Three Stooges episode.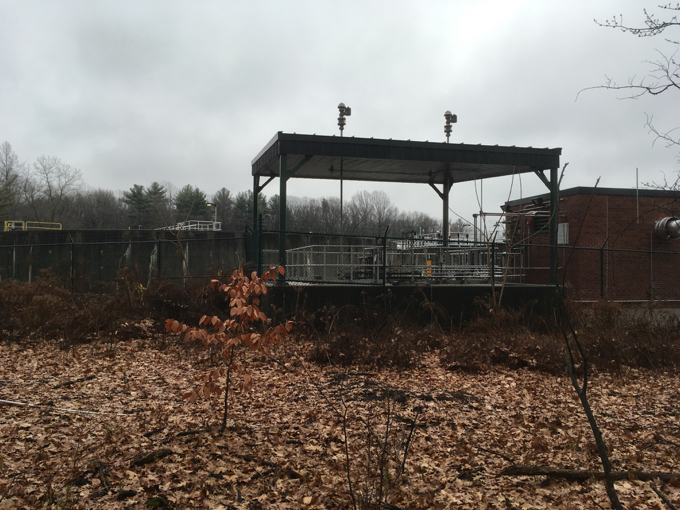 The trail first takes hikers very near the Manchester Sewage Treatment plant, so Laurel Marsh Trail veterans will get another look at it from a different angle.
But don't stare too hard, because this is where hundreds of yards of (well-made, mind you) boardwalks begin.
My word, these things are slippery in normal rain on a 70 degree day. I found myself walking beside them more often than not… but if all of the marshes were wet, hoo boy, I'd probably have fallen a bunch of times.
Even though the Verplanck Trail is short (I kept calling it the "Plank" trail in my head, what with all the planks I walked), it does take in a whole host of public utilities and such: The sewage plant, a CL&P substation, a school, massive powerlines, a radio transmission tower, and a baseball field. And since this is an out-and-back hike, I got to enjoy them all twice.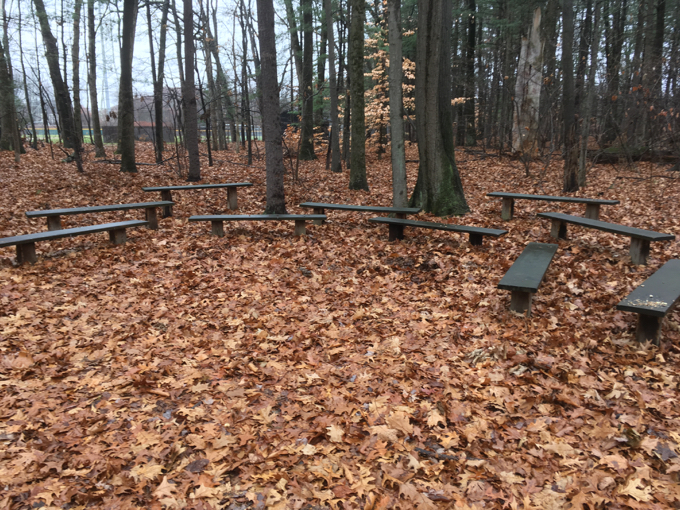 The school I mentioned is the Verplanck School, which serves as the northern terminus for this trail. From the fine folks at the HRLPC:
The school is named after Fred Ayer Verplanck, who is one of the most remarkable men to have lived in Manchester, who arrived in Manchester in a horse-and-buggy, became principal of its first high school, then became superintendent of the South Manchester Public Schools and later of all Manchester schools after they were consolidated; a post which he held until his retirement in 1935. In all Mr. Verplanck spent 53 years in Connecticut schools, 42 of them in Manchester.
Verplanck was a rad guy. You can read more about him here, via the Manchester Historical Society.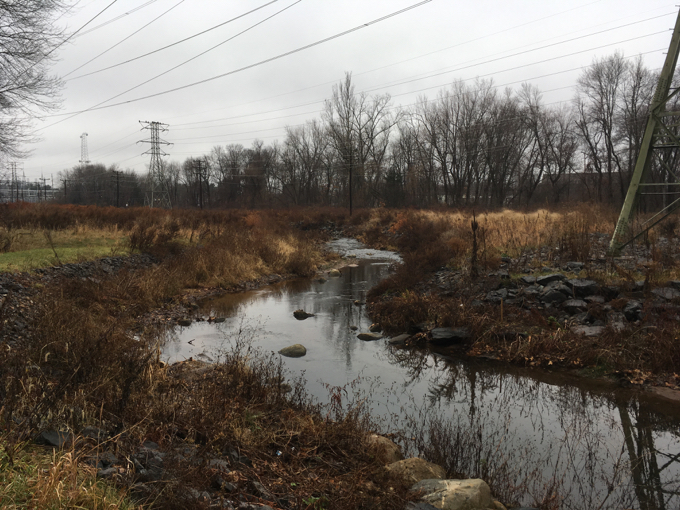 The school takes little hikes out of its backdoor and down the Verplanck Trail to learn about rivers and riparian zones, presumably. There's a nice little area among a stand of white pines with benches for the kids.
Again, I love urban trails and despite my focus on the utilities and stuff, it's cool these kids get to get into the woods now and then.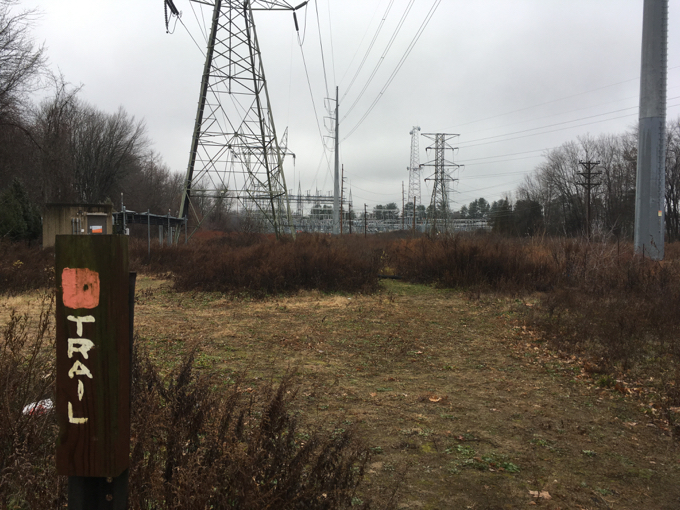 The trail crosses Olcott Street and goes around Empire Industries. "Empire is widely known and respected for providing the highest quality piping products and services to customers here in the United States and around the world."
They've been around since 1942. You have to imagine how many companies wish they could be "Empire Industries," but this little outfit in a nondescript building in Manchester along the Verplanck Trail got it. And that's pretty cool.
From here, the HRLPC describes the next section thusly: "This trail extension follows upstream close to the very scenic Hop Brook."
I applaud their loose use of the word "scenic." For the trail goes down a CL&P driveway and into a massive power line cut. But there are benches to enjoy Hop Brook along the way.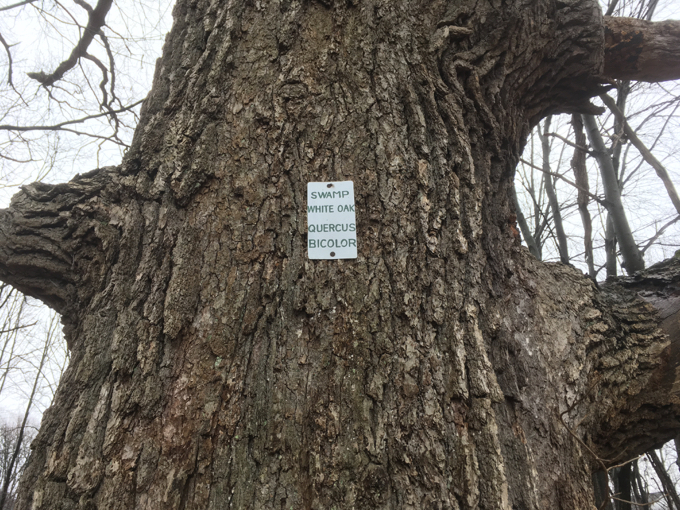 From the cut, the trail re-enters the woods and along some more boardwalks before bounding up a woodland staircase to the aforementioned Verplanck School.
Nothing to worry about. I successfully navigated every single slippery boardwalk and had the end of the trail in sight and –
I can't believe it. I actually fell on the very last boardwalk. For real. It hurt a little bit too, I must admit.
Verplank… Kerplunk.
Note: This trail, like all the HRLPC trails, was in impeccable shape considering what's involved here. The slipperiness is unavoidable. It's not a knock on the trail or its maintainers at all.
HRLPC's Laurel Marsh Trail Description (Map below)
CTMQ's Hockanum River Trails Main Page
CTMQ's Land Trusts Main Page
Hockanum River Watershed Association
The Hockanum River Linear Park Committee (Manchester only)