Landfill Sunrise
Hockanum River Trail: Laurel Marsh, Manchester
~3 miles, December 2016
If you are reading my thru-hike of the Hockanum River Trail in order (generally south to north), you have already read the Chipper Drive Trail page. If you haven't, it's a fun one and you should. Better yet, start at the beginning with the HRT introduction and catch up.

This section was my very first Hockanum experience, so please forgive my wide-eyed disbelief. You can fairly easily do a 3-mile walk up route 44 from the last East Hartford section to continue on here, or you could walk up 44 and cut over onto the Captain John Bissell Trail across from Wickham Park, or do the more adventurous stroll through neighborhoods to a "secret" cut-through from Torpey Drive.
This is the southernmost Hockanum trail in Manchester and as my friend Brendan says, "these trails are among the best kept secrets in Hartford County." He's probably right. Being a "secret" can sometimes invite some unsavory behaviors on these trails, but we'll get to that in a second. I truly do love these trails… in spite of the next couple of paragraphs.
The Laurel Marsh Trail is bounded by I-384 to the southwest, I-84 to the northwest, route 6/44 to the north, and Manchester's landfill to the east. Yes, I know. That sounds awful. Horrible. The worst hike ever…
And, I suppose, it can be pretty bad. Like if the landfill's fill is blowing across your face or if sewage fills up the brook or if you keep getting aggressively propositioned by random gay dudes on the prowl.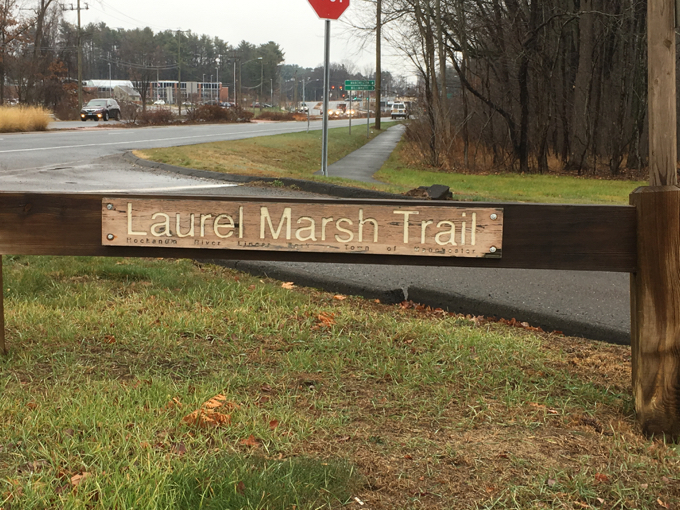 Note: I drove past the Laurel Marsh parking lot on a chilly late afternoon in November and noticed a bunch of cars there… including a Manchester cop who was going for a walk. I can only assume the cruising and hooking up still goes on here, which isn't cool. Look, I get it… half of these guys are probably super-closeted and this is the only way they can explore their true feelings anonymously. But c'mon, man.
By the way, I saw no evidence of the "pushy" and "aggressive" so-called "homeless camp" that two friends have mentioned used to exist here. Perhaps they moved on in the winter, I don't know.
So forget all of that stuff (well, don't, really forget forget because it's important and skeevy and you should be aware of it) and check out the trail. I loved it. There's a hiker's/cruisers lot on 6/44 just off of exit 60 or you can access it from the back of that weird cemetery/Park and Ride dead-end place off the Spencer Street on-ramp.
From the lot along 6/44, you have several options. There's a wheelchair-access trail that's actually pretty long (3/4 mile) and is probably fairly dicey for someone in a wheelchair to navigate. I got my first taste of the HRLPC's penchant for long, curving, and warped bridges and boardwalks here. There's the Laurel Marsh Trail, of course, and you can also easily continue on to the Verplanck and New State Road Trails from here as well – and we will.
The Hockanum trails in Manchester alone probably contain around 200 bridges and I'd guess about a mile of boardwalks. Some appear to be overkill, but that's what makes the Hock the Hock. Some of these structures are downright huge.
Every boardwalk I walked on along every Hockanum trail in Manchester was as good as you could expect it to be. Sure, some wobble a bit and others are cockamamie, but by and large, they are in great shape.
Though, warning: When it's 15 degrees out and otherwise silent they crack and crackle like a bomb going off underneath your feet.
I walked the loop clockwise, but it doesn't really matter which direction one hikes. In my case, this meant I passed the sewage treatment plant and the landfill first. Again, this sounds almost absurd, but I'm telling you, it's really unique and… dare I say cool?
The trail meanders through the marsh on its way down to the highways. I saw: mallard ducks, wood ducks, deer, muskrat, a heron, and a barred owl in my first 20 minutes.
This trail, as with all the Hockanum Trails, is incredibly well marked and cleared. I have no idea how the volunteers maintain it as well as they do. Phragmites, Japanese knotweed, multiflora; the banes of trail maintenance. Yet here, portions are mowed.
You don't see mowed trails in mid-December in Connecticut.
From this point, the trail continues along a bunch of boardwalks along the river. There's a nice little observation stand above the marsh that takes in the whole property – but also features the looming highway tangle to the west.
That's just the way it is here.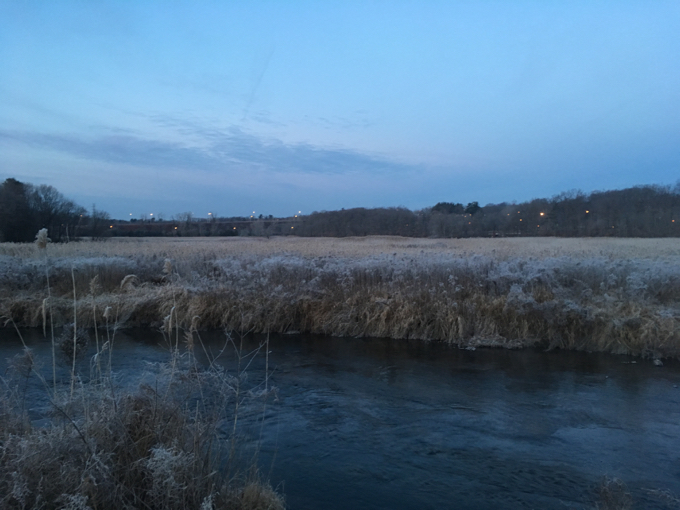 My hike at dawn certainly cut down on the traffic noise and I imagine it's quite different on a summer Saturday afternoon. Of course, the marsh would be much more vibrant, alive, and green. There's your trade off.
The sun was just beginning to peek over the horizon at this point… so let's check back on our Landfill Sunrise.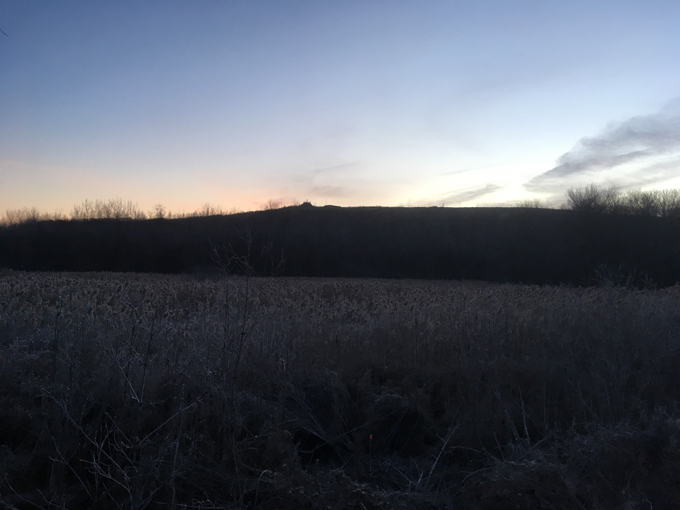 Now that I think about it, I assume a summer Saturday will also be stinkier with the sewage, the traffic, and the landfill. But at least the endless boardwalks and bridges wouldn't be slick with frost and ice. You see? Another trade off.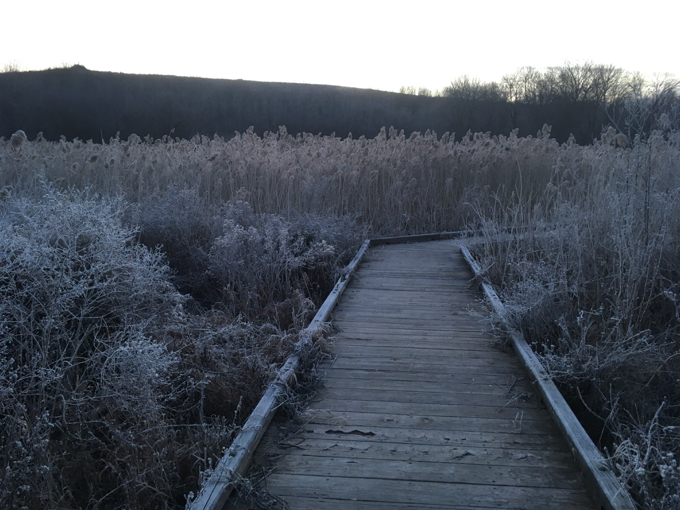 Before the highway mess, the trail leaves the marsh and enters the woods. I was (yet again) confronted with the slightly confusing signs telling me that the very trail I was hiking would constitute trespassing.
Don't worry. You're allowed to hike the blazed and cleared Laurel Marsh Trail here. This is the area nearest the Spencer Street access trail and the landfill access road, so I'm guessing it's just a ruse to try to dissuade those folks who use this area for purposes other than hiking.
The trail reaches I-384 and although it abuts a fence and the road, does an incredible job of hiding that obvious fact.
Now for the exciting part: Highway bridges! Way back in Section 1 at the mouth of the Hockanum, the trail goes under route 2. This has become a theme – another thing that's quite unique about the Hock. Although this may seem confusing, it's really not. Just follow the blazes and the map.
Rad. And as you've gathered, you better get used to it, because if you're planning on completing the entire Hockanum trail network in all four towns (and why wouldn't you?), you're going to go under more roadway bridges.
Let's check on our Landfill Sunrise again…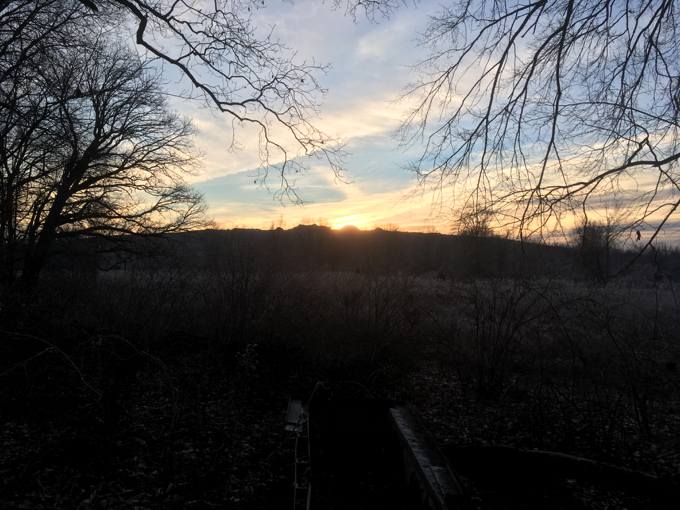 Nice.
The trail again leaves the marsh and takes hikers to higher ground in a hardwood forest full of beech and oak trees. There is an actual little hill that requires about 8 seconds of effort. There's a bench for you to catch your breath upon. (There are benches all over the place along the Hockanum trails. You'll never need to wait too long to come across another bench. Benches are a BIG thing here.)
At this point, the sun had finally risen over the landfill as the trail approached the exit ramp for route 6/44. The road walk is not really a big deal though, and it quickly dives back down to the river and marsh area.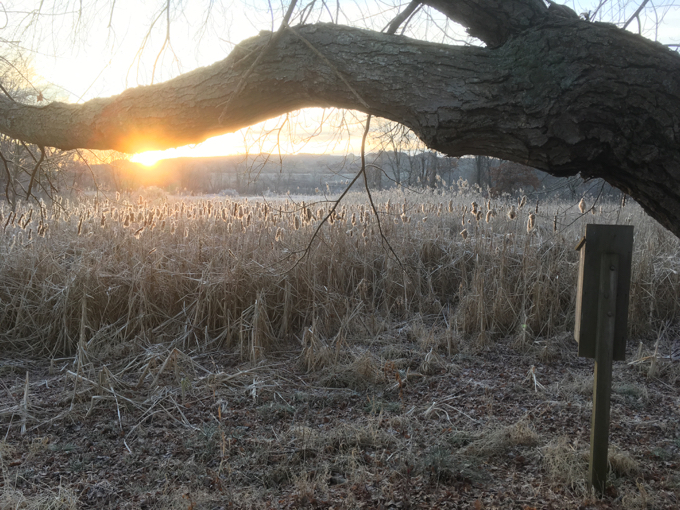 This completed the Laurel Marsh loop and reconnected me with the accessible "Stone Dust Trail" and its impressive boardwalks.
There's a handsome bridge over the Hockanum here and a nice little fishing area to boot. I checked it out before making my way back up to the lot and my car to warm my hands before setting out north on the next Hockanum hike – the New State Road Trail.
Continue to Section 10, The New State Road Trail
HRLPC's Laurel Marsh Trail Description (Map below)


CTMQ's Hockanum River Trails Main Page
CTMQ's Land Trusts Main Page
Hockanum River Watershed Association