No Indians and Not Caves
Indian Council Caves, Barkhamsted
October 20, 2013
I'm not going to get into our fine state's habit of naming boulder jumbles and overhanging cliffs "caves." It's what we do and what we've always done and we're gonna keep doing it, goshdarnit. So with that, no, these caves are not caves. They are a bunch of massive boulders, cleaved over geologic time sitting in the middle of the Tunxis State Forest along the Tunxis Trail in Barkhamsted.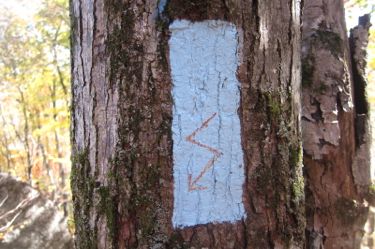 And most importantly, they are really cool. Be they caves or not.
What? I'm not going to let it go so easily? Sigh.
Yeah, our state's tourism folks wrote this: "Caves are a surprisingly regular feature along Connecticut's trails, although they are apt to be recesses in jumbles of boulders or old mines rather than the elaborate cave systems you might find elsewhere."
I like the self-contraction. It's almost like "cave" is an undefined thing.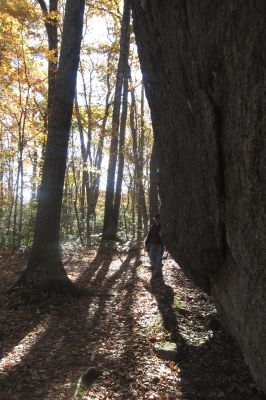 Ok, on to the matter at hand: Indian Council Caves. I encountered them with my dad during a hike along the last 13 miles of the Tunxis Trail. I've said that this 13-miles stretch of hiking is one of the best 13+ miles hikes in our state. It's rugged, remote, and happens to pass a few cool features like the caves.
If you want a 4.4 mile out-and-back hike, do the Tunxis from route 219 south of the caves. That's the hike Peter Marteka describes as a "magical romp" here. Peter is a professional writer, and descriptions like that is why he gets paid the big bucks.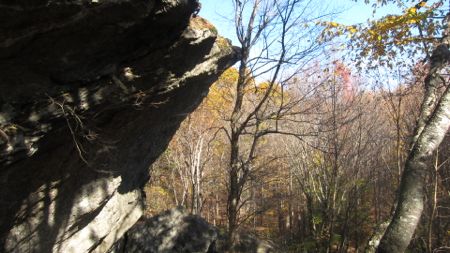 The hike up the Tunxis isn't difficult, and it does take you through some very pretty forest. However, if you want to cut your hike in half, you can park out on 179 at Legeyt Road and hike in from the east. I believe that is a very flat hike.
(And I suppose I can put it in print now – I believe the future East-West Trail will come here as well, perhaps using Legeyt Road after what will surely be an awesome walk through Enders Falls, just a mile or two to the east of the caves.)
My pictures don't nearly do this place justice. (They never do.) The Tunxis from the south approaches the boulders from the top and scuttles around to the bottom of them. The other approach from the east is less dramatic.
You can poke around the various recesses and overhangs for a good half an hour if you are so inclined. I would keep a close eye on little kids, as not only can they fall to their paralyses, they could also probably do a good job of getting stuck in one of the crevasses that are everywhere among the boulders.
And while you're there, be it with kids or adults, you might want to talk about the "Indian Coucil" thing. There is no evidence that the Native Americans held "council" here back in the day. Some small artifacts were found in the area, but beyond that… a whole lotta nothin'.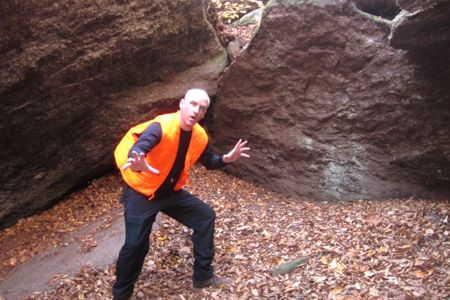 I was impressed with the general overall cleanliness of the caves. Sure, there were campfire remnants and scraps of litter here and there, but nothing egregious at all. It's not too inaccessible, but I'd imagine a bunch of cars out on 179 would draw too much attention and therefore the authorities.
I rather enjoyed our brief exploration of the caves. My dad sort of poo-pooed them, but I think he was looking for some bats and stalagmites and such. Sorry, dad, this is Connecticut and these are our caves.
I can live with that.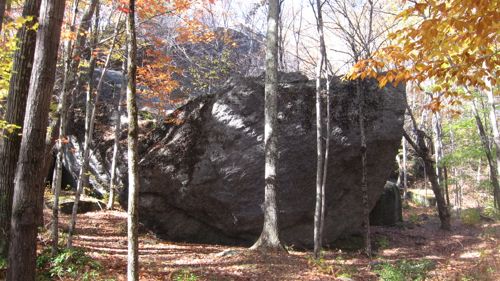 My hike through the area on the Tunxis Trail